Prototypes, Anomalies, and Fun Stuff
Prototype license plates are produced as test articles when trying out new ideas. Many of these resemble actual issued license plates, but with important differences in design. As with any jurisdiction, Wisconsin has produced its fair share of plate prototypes over the years, and their designs are both fascinating and diverse.
The following "license plate" is made of flat steel, and surfaced on eBay in March 2012. This dates to the time when the state was preparing to change from oversized 6.25" x 13.5" license plates to the current 6" x 12" standard, and was likely produced to get some idea of what a license plate would look like with the new dimensions. The red pencil scrawls on the top say "1st design, subject to change"...though aside from the positioning of "WIS," it's an accurate depiction of what wound up being the actual post-1955 license plate design.
(e)
Wisconsin considered adopting a silk-screened graphic design for its 1980 passenger issue. Although the design was scuttled in favor of a fully-embossed plate, several blanks and prototypes were made, and the typography later resurfaced on the 1985 Guard Member plate.
(e)
(e)
When the state finally chose to issue graphic license plates six years later, several prototypes were made in the process of refining the design. This particular example features a graphic montage more detailed than the final design, and a slogan printed in letters too small to read. The color scheme (blue, red, or otherwise) hadn't been selected yet: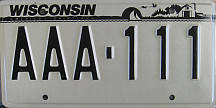 (at)9
The 1986 plates debuted with blue characters on sequential passenger, reserved-series passenger, and personalized passenger issued only. Related types such as Disabled and Motor Home appeared in red form from the outset. However, some early prototype or sample Disabled Veteran plates with blue serials and wheelchair graphics did make it out the door:
(e)
Many other interesting examples of prototype license plates circulate in collectors' hands; articles of various tests for new serial formats, stamping techniques, or color schemes. The third plate from the left features an unusual embossed area surrounding the center lower edge and serial only, and was evidently a prototype for the 1989 "Military Group" series.
(e)
(e)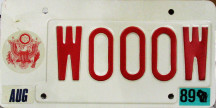 (at)2
(e)
---
Most post-1967 Wisconsin license plates have unpainted aluminum backs...however, once in a while, you'll flip one over and a surprise occurs. The following plates all date to 1986 and 1987, and were produced on dark blue blanks intended for 1986-87 Insert Truck plates: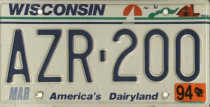 (at)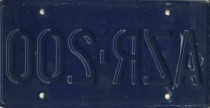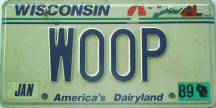 (SD)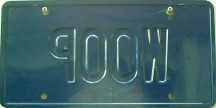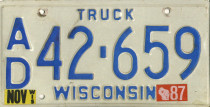 (at)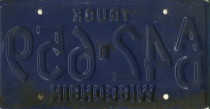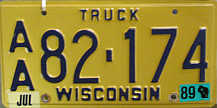 (at)4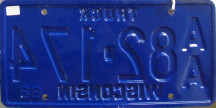 The yellow-backed plates are a bit newer, and apparently used blanks intended for 1988 Apportioned or 1991-96 Dealer plates. Besides these color schemes, plates have also been observed with white, orange, and pink backs.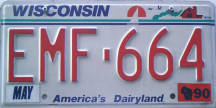 (SD)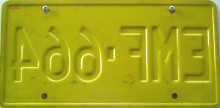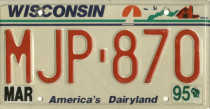 (at)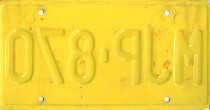 Virtually all 1990 Apportioned plates have a bare aluminum background and a pink back. Pink was never used as a color for any Wisconsin license plate issue, but the state may have intended to make the apportioned plates this color and scuttled doing so at the last minute. Were they afraid of upsetting trucker gender stereotypes?
(at)9
(at)9
(JM) (e)
(JM) (e)
---
For the 1953 passenger issue, Wisconsin used an A00-000 format that allowed a capacity of up to 99,999 registrations for each month series. By the end of the two-year baseplate's life, the format was practically depleted: At least four months have been confirmed with serials up to 99-000 or beyond, and it seems quite likely that some series were exhausted through 99-999.
One precedent for an overflow format may be seen on 1953 Insert Truck plates. When the regular A0000 format was exceeded, it was followed by A00000-format plates with narrower 1950-52 style dies:
(e)
(e)
No overflow-series plates on the 1953 base have been seen or confirmed. But following the truck plate precedent, it would seem plausible that extended-format plates with 1950-52 style dies might exist: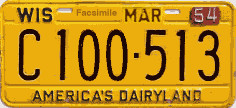 For the subsequent 1955 baseplate, the state of Wisconsin did take serial overflows into account. Plate number 99-999 was to be followed by K-1001 for each month series, according to a law authorized in April 1955. And, two-letter "AK-0000" format plates do exist for most months of the year:
(e)
But, it seems that the state didn't know what to do after K-9999 was reached. Though no actual plates have yet surfaced, microfilm research attributed to Dale and Rena Amacher has actually uncovered evidence of plate numbers up to EK10003, KK10003, and LK10001 for May, August, and September 1955-56! A seven-character 1955 baseplate would be the "holy grail" of Wisconsin collecting, exceeding even the August-December 1911 plate for sheer rarity. Just what these plates look like is anyone's guess...though it would probably be something like this: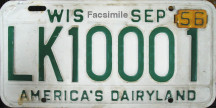 Starting with the 1957 baseplate, the "K" overflow series was followed by "L" and "N." No subsequent extra-digit anomalies are expected.
I came upon this license plate at the Spring 2010 Dairyland License Plate Collectors' meet. At first glance, it looks like an ordinary 1973-base passenger plate. It has a February expiration, as do all regular plates with "C" or "D" in the first position: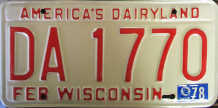 (at)4
But, the February '73 series has been confirmed only up to CN or so...DA would be an inexplicable jump from that, and May was the only month at all that broke into the second-letter two-alpha format on the 1973 base. Disabled plates did use a constant "DA" prefix through the 1970s...but Disabled plates were clearly captioned as such and expired in July, not February. Moreover, the plate was in mint, unissued condition.
An "incognito Disabled" plate? Or an error? Your guess is as good as mine.
---
The most stickers on a plate?
The current record known is eleven and counting (or twelve, counting the month). Sesquicentennial plates seem particularly prone to this kind of phenomenon...even though it seems counter-productive to pay extra for a fancy background graphic, only to cover it up!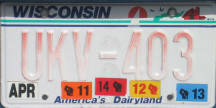 4 stickers; all visible.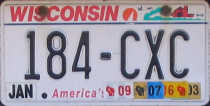 5 overlapping stickers.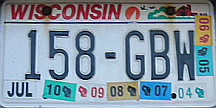 7 stickers; all visible.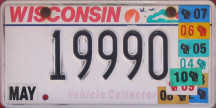 9 stickers; some overlapping.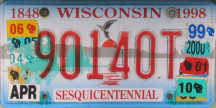 9 stickers; some overlapping.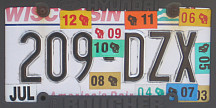 10 stickers; some overlapping.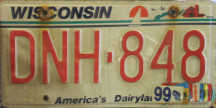 11 overlapping stickers.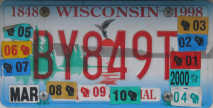 11 stickers; all visible!
These license plates are in my collection: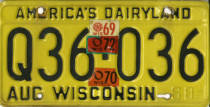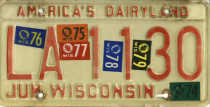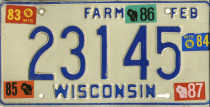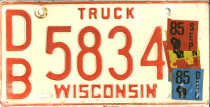 Unfortunately, some license plates are noteworthy for stickers they don't have. The phenomenon of "clipped corners" seems to be a particular problem around the Milwaukee area: