WV 290
---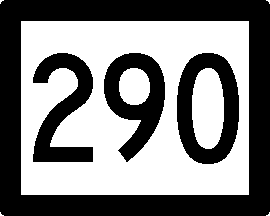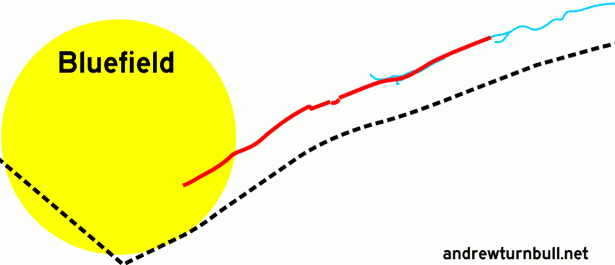 | Highway | Start | Terminus | Length (km) |
| --- | --- | --- | --- |
| WV 290 | US 52 (at Bland Rd.), Bluefield | I-77 near East River Mountain Tunnel | 9 |
---
Overview
Name all the highways that have existed in Mercer County for the last 50 years, and you're bound to miss one: West Virginia Route 290. WV 290 was a short-lived highway; a stopgap that existed for one reason only: To connect US 52 with the I-77 East River Mountain Tunnel until US 52 itself took its place.
WV 290 was routed atop East Cumberland Road from the US 52 junction at Bland Road east to the tunnel portal. A portion of the road was also widened and upgraded to Appalachian Development Corridor standards to facilitate a connection with US 460's forthcoming Corridor Q alignment, which was also under construction at the time:
"With a completion date set for late August of 1974, State Highway Department officials report that 'work is progressing at a rapid clip' on the new County [sic] Route 290, the Rock Crusher Hollow Road near Bluefield. The contract on the project was let to Vecellio and Grogan, Inc., of Beckley on Dec. 18, 1972, at $2,695,696.66. It involves the construction of a four-lane connector road which will link the new U.S. 460, Corridor 'Q' highway, with Interstate 77 near the entrance to the East River Mountain Tunnel. [...]
Roger Wood, public information officer for the SDH in Charleston, explained that the new Route 290, which will follow the approximate course of existing County Route 29, the Rock Crusher Hollow Road, will be completed 'some time earlier' than Corridor 'Q.' He said that the tunnel which will carry I-77 through East River Mountain will be open next year, however, and the necessity of rushing the connector road project was obvious. [...]
Spokesmen [sic] for the State Department of Highways said the actual construction of the new County Route 290 was launched in early January and the contract is presently four per cent complete. The contractor is building four 12-foot [3.7 m] travel lanes to be divided by a 25-foot [7.6 m] median. The road will extend 9,450 feet [2880 m] from a point near existing County Route 19/20 to the area of the East River Mountain Tunnel entrance."
—Bluefield Daily Telegraph, 1973-05-12
So the "290" signs went up, and they stayed up for the next six years: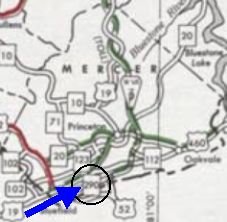 WV 290: Blink and you'll miss it! (WVDH, 1975.)
In 1980, US 52 was rerouted through the East River Mountain tunnel, replacing WV 290 in its entirety. It may be that WVDH had intended to put US 52 on WV 290's alignment all along, and "WV 290" per se had been nothing more than a temporary placeholder designation to be used until the Virginia Department of Highways and AASHTO had consented to US 52's relocation. The new route was also safer than the old, as a period editorial noted:
"An intelligent decision has been taken by the Virginia and West Virginia highway departments in eliminating the East River Mountain portion of U.S. Route 52. An earlier fatality on that stretch of highway probably would have been prevented had the decision been made sooner. The two departments soon will have signs erected which notify travelers that Route 52 no longer crosses East River Mountain at Bluefield. Instead the route will run along what is now State Route 290, the connector from Bluefield to Interstate 77, through the I-77 tunnel, and rejoin old U.S. 52 on the other side of the mountain. The present terribly hazardous portion of U.S. 52 going over the mountain will be redesignated as West Virginia and Virginia Route 598, and the present Route 290 markers will be replaced by Route 52 markers."
—Bluefield Daily Telegraph, 1980-09-21
This editorial appeared on the exact same page as a fetid, white-supremacist screed from a Princeton resident who opined that "radical, liberal judges should be impeached," yearned for a place where "the K.K.K. would ride him out of town on a rail," and endorsed the Republican Party.
Do I need any other evidence to demonstrate why I fled this area?
Prehistory
Being a relatively new highway routed atop (or built over) pre-existing infrastructure, Route 290 has an extensive prehistory.
Cumberland Road itself predates WV 290 by over a century, and is referred to in Virginia General Assembly documents as early as 1834...though the eastern portion (colourfully referred to as "Rock Crusher Hollow Road" in the BDT's 1970s reporting) is newer, not appearing on maps until the 1890s.
In the mid-1930s, the entire course of the road from US 52 east was designated as CR 29. A heavily-trafficked portion between Bland Road and Greasy Branch Road became signed as US 21 Bypass by 1945, though it had already been decommissioned by the time WV 290 had replaced it in 1974.
Etymology
The "290" number was chosen to reflect the fact that the highway's entire length had previously been numbered as CR 29.
---
Points of interest

All photos by the author, 2013 (except as otherwise noted):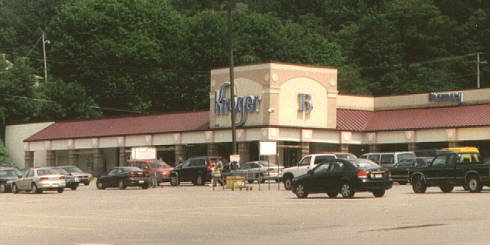 A: Even before WV 290 was commissioned as a highway, East Cumberland Road was already emerging by mid-century as Bluefield's premiere strip of motels, restaurants, and other commercial development. Bluefield Plaza opened in 1969 as the first shopping centre within the city itself, and featured Kroger and W.T. Grant (later Kmart) as anchors. (Photo by the author, 2008.)
In 2012, Kroger unceremoniously closed its 43-year-old Bluefield store as part of a Wall Street-driven ploy to trim the company's store base and drive up volumes at remaining locations. The lease was promptly snapped up by K-VA-T (a.k.a. Food City), which already operated a store in the Bluefield area and did so simply to prevent another competitor from moving in. And such it remains today, as the city suffers...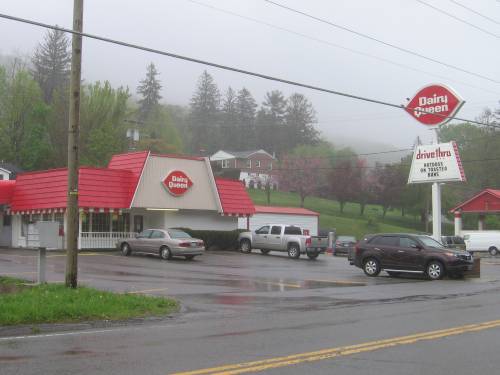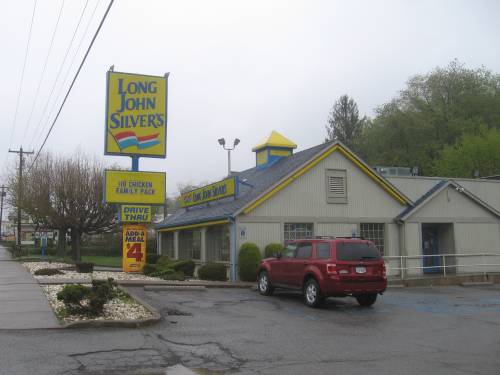 There are a fair number of quick-service retaurants on East Cumberland Road that hail to the era of WV 290 or even earlier, including this mercifully-unremodelled Dairy Queen and an only slightly-touched Long John Silver's Seafood Shoppe. The Dairy Queen is still open as of 2019 and still looks the part today, though the LJS has closed.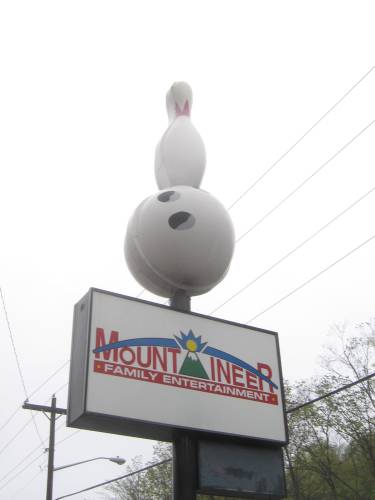 B: It's a bowling pin. And a bowling ball. As I was taking this picture from my car, someone shouted over to me from over by the building: "Like the sign?" "Yes!" I shouted back. "It's been there 50 years!" he replied with enthusiasm.
So there you go. Let's hope this particular landmark endures as it enters its next half-century! Let's also hope it's a more welcoming environment than Mercer County's other bowling alley.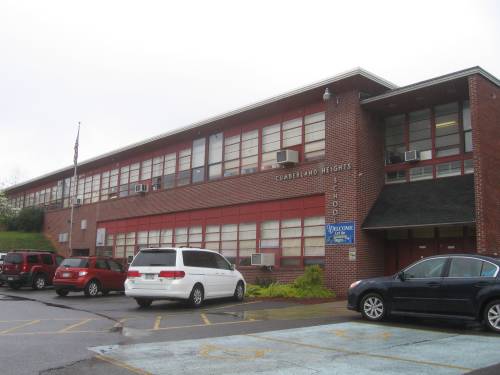 Cumberland Heights Elementary School opened in 1955. It incorporates Cumberland Road's original name ("Cumberland Heights Road"), and has been a landmark of south Bluefield for over 60 years.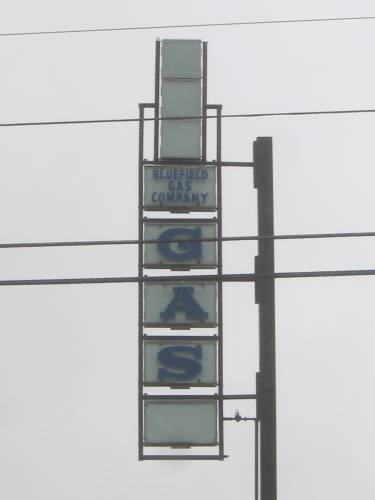 C: It's another vintage sign! It also stands on a short stretch of road where East Cumberland Road and US 460 Corridor Q run parallel to each other, with one functioning as a frontage road for the other. US 52 (290's successor) is signed along Corridor Q in this segment, while the two-lane stub of East Cumberland Road has reverted to its original status as CR 29 (290's predecessor).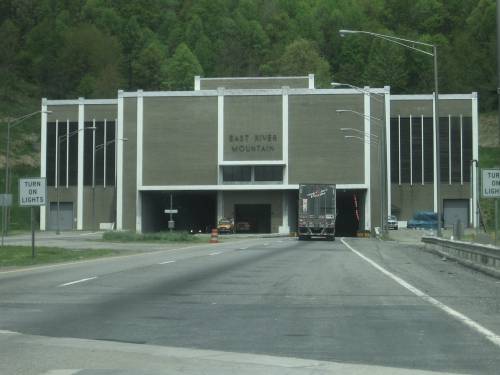 D: East River Mountain Tunnel. WV 290's basis for existence. And also the site of its eastern terminus.
---
Fractional spur roads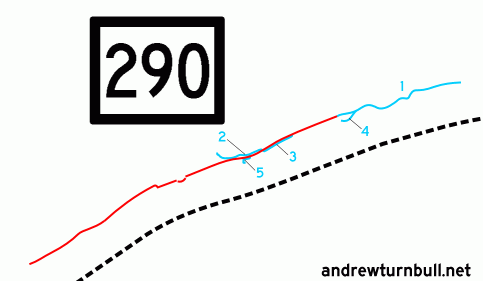 When the four-lane segment of WV 290 was built out along CR 29 in the 1970s, the designation (and the four-laning) only extended as far east as I-77 and the East River Mountain Tunnel interchange. CR 29's remaining 3-km stub remained a county highway, and assumed the title of CR 290/1.

(USGS, 1924)
It's also worth noting that this "stub" of East Cumberland Road wasn't always a stub. USGS topo maps of the early 20th century show a primitive road literally extending off the edge of the map...as far east as Pigeon Creek, near Oakvale, to be precise!


(WV SRC, 1935) (WVDOT, 2019)
By the time the State Road Commission inventorized and numbered Mercer County's minor roads in the 1930s, the newly-christened CR 29 had been truncated east of Blake (red arrow). By 1945 the road had been pared back even further to the point where CR 290/1 ends on maps today.
WV 290's other four surviving fractional spurs (290/2, 290/3, 290/4, 290/5) function as frontage roads along segments that were built up to four lanes in the 1970s.
| Road | Names | Start | Terminus | Length (km) | Notes |
| --- | --- | --- | --- | --- | --- |
| 290/1 | Rock Crusher Hollow Rd., Cumberland Industrial Centre Rd. | I-77 near East River Mountain Tunnel | dead end | 3 | Continuation of WV 290, also formerly part of CR 29. |
| 290/2 | Thompson Chapel Rd. | US 52 (former WV 290) | dead end | insignificant | Frontage road, part of which was formerly CR 29. |
| 290/3 | Chapelview Rd. | US 52 (former WV 290) | US 52 (former WV 290) | insignificant | Frontage road |
| 290/4 | Wild Turkey Rd. | US 52 (former WV 290) | dead end | insignificant | |
| 290/5 | Dillow Rd. | US 52 (former WV 290) | dead end | insignificant | |
---