Over 2,200 people chose us last year as their key to a brighter future. They chose us for a career-oriented education with a strong liberal-arts base, relevant to today's and tomorrow's employment picture. And for our numerous extracurricular entertainment and recreational activities to join in while they are enrolled at Concord.
These pages give you a glimpse of Concord College. Before you make your decision on a college education, we invite you to explore The Concord Connection. Visit our campus and tour our fine facilities. Talk to our students or alumni and listen to their comments about our campus life. Discuss our academic programs with our faculty or Admissions representatives. We think you will join those men and women who have made The Concord Connection their key to the future.
Make the Concord Connection to a broad range of extracurricular activities, whatever your interests might be. Students will welcome you into interest clubs, social organizations including eleven fraternities and sororities, professional groups, honor and leadership organizations, and the councils and boards which make up the Student Government Association.
Exploring various activities helps develop individual life styles in harmony with dissimilar, even conflicting, opinions and feelings. Learning to care about others comes from sharing the pressure of a deadline, the responsibility of fraternity or sorority leadership, the tension of an opening night, the heated debate of a student government policy, the joy of a win and the sorrow of a loss.
Performers such as Quarterflash, Jefferson Starship, the Marshall Tucker Band, and the Dazz Band appear in campus concerts arranged by the student representatives in the SGA. A portion of student fees is set aside for performances by nationally-acclaimed talents in our Artist-Lecture Series.
Our own College Theatre productions, student art exhibitions, and musical groups (The Concord Commanders jazz ensemble, The ConChords stage choir, and the College-Community Band) showcase the talents of the student body, and expand its cultural awareness.
Concord supports a balanced program of intercollegiate, intramural, and individual physical recreation activities. The Mountain Lion football squad often appears in the rankings of the nation's top twenty small-college teams; the team made the national playoffs in 1984. The Lady Lions' volleyball team is consistently in the fight for the state conference championship. Other sports for women include basketball, tennis, and softball. Men's sports include basketball, baseball, tennis, and golf. Approximately 60 percent of our students participate in at least one intramural event from a selection of twenty-nine activities, both team and individual. The fine facilities of Centennial Hall are available for individual recreational pursuits.
Make the Concord Connection whether you plan to be a resident student or commuter, with the assistance of two special administrative offices.
The Coordinator of Student Activities is responsible for the operation of the College Center, a focal point for many commuting students. Special programs are brought into this facility year-round, and activities are scheduled so that all segments of the student body may participate. In addition, the Student Government Association has an ongoing Commuter Committee to respond to matters of interest to these students.
Concord's Office of Student Residential Life works to maintain an atmosphere supportive of the academic purposes of the College. Resident directors and resident assistants conduct workshops, contests, picnics, TV parties, and other special events as an important social and educational function of students' residence hall experiences.
Group trips to destinations such as Carowinds amusement park, theatre excursions, and whitewater rafting sites, are also organized by these Concord offices.
Make the Concord Connection to a beautiful locale for your college experiences. The Concord campus spreads over 95 acres on a ridge of the beautiful Appalachian Mountains at the edge of the small town of Athens.
A four-lane Appalachian Corridor highway (U.S. 460) and the West Virginia Turnpike (Interstate 77) intersect just six miles from Campus near Princeton, making Concord easily accessible by car. Regional population centers such as Charleston, West Virginia, and Roanoke, Virginia, are within easy driving distance. The Princeton area is served by Trailways and Greyhound bus lines and the Mercer County Airport.
Fine nearby recreational and resort areas complement the college's own activities and superb physical facilities.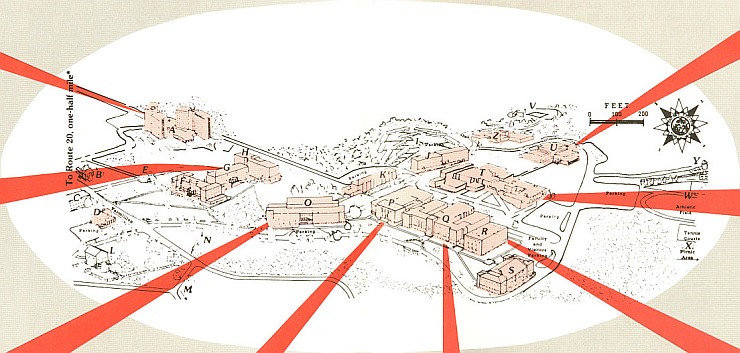 Twin Towers Residence Halls
Athens Medical Center
Holroyd Hall
Center for Economic Action
Concord Center, W.Va. College of Graduate Studies
McComas Hall
Sarvay Residence Hall and Child Development Center
Wilson Residence Hall
College Courts (apartments)
Wooddell Residence Hall
White Hall
President's Home
Witherspoon Park (faculty-staff housing)
Capt. James French Memorial
College Center
J. Frank Marsh Library
Administration Building
Science Hall
Old Gymnasium
Alexander Fine Arts Center
Centennial Hall
Anderson Field
Callaghan Stadium
Tennis Courts & Picnic Area
Observatory
Maintenance Building
Make the Concord Connection to fun at the region's recreational areas and regional shopping and entertainment facilities.
WinterPlace ski resort, just off Interstate 77 about twenty miles from Concord, offers breathtaking slopes for day and night skiing, plus lifts, rental equipment, beginner trails, and complete snowmaking capabilities.
Pipestem Resort State Park, nine miles north of campus, features horseback riding, bicycling, two fine golf courses, archery, cross-country skiing, and outdoor and indoor swimming pools. A scenic aerial tramway runs down a thousand-foot-deep canyon, connecting with miles of hiking trails. Programs for summer evening enjoyment are offered in the spectacular outdoor amphitheater.
Bluestone State Park, along the shores of the 2,000-acre Bluestone Lake near Hinton, is a magnet for campers, boaters, fishermen, and waterskiiers. The lake is the site each year for the West Virginia Water Festival. This park, like Pipestem, offers fine hiking trails and recreational activities.
Other nearby nature preserves are Grandview State Park near Beckley, home of the "Hatfields and McCoys" historical drama; Camp Creek State Forest; and, in Virginia, the Cascades near Pembroke and the Jefferson National Forest.
Shopping opportunities are conveniently available in Princeton and Bluefield. Between the two cities is the region's newest shopping center, the Mercer Mall, with 70 establishments under one roof, including major retail stores. The Beckley area showcases not one, but two, shopping complexes: the Raleigh Mall and Crossroads Mall.
Make the Concord Connection work for you to its fullest by realizing the physical resources available on our campus. Here is a capsule description of several of Concord's major buildings:
The J. Frank Marsh Library, central in the academic life of students and faculty, offers a carefully selected collection of 146,887 volumes, subscriptions to 543 periodicals, 3,646 items of non-print media, and 15,368 microform items. A modern Learning Resources Center, completed in 1980, contains a darkroom, TV and studio, graphics room, and audio-visual services for campus.
The Oakey Logan Alexander Center for the Creative and Performing Arts, one of the finest facilities of its kind, incorporates two multi-level complexes, one for the visual arts and the other for communication arts and music. The Center is equipped with comprehensive laboratories for commercial art, electronic music, and television production, plus spacious areas for use in stagecraft and band activities.
Centennial Hall, opened in 1972, is a modern physical education center with two gymnasiums, an Olympic-sized swimming pool, squash and handball courts, weight lifting rooms, dance studio, and classrooms.
The College Center, nucleus of social activity and a campus meeting place, includes the cafeteria, bookstore, alumni lounge, conference rooms, ballroom, snack bar, and areas for video games, billiards, and bowling. Students enjoy relaxing in the Lions' Den and Rathskeller for relaxation.
Twin Towers Residence Halls are the homes for up to 668 men and women. Tower suites consist of two double rooms, a private bath, and foyer. A lobby and recreation areas complete the Towers complex. Concord's three other residence halls and the College Courts (apartments for family living) are located nearby.
Make the Concord Connection by plugging into one of our twelve fields of study designed, and constantly refined, to appeal to employers and/or graduate institutions. Concord was established over a century ago as a teacher training school; its mission has gradually expanded to include, besides education, the basic arts and sciences, as well as a variety of more career-oriented, non-technology-intensive fields in business and public service. A complete list of our degree offerings appears on the inside front cover of this viewbook.
Our newest degree (effective in the Fall Semester 1985), Computer Information Systems, was created with an eye toward the demands of the rapidly-growing world of integrated microcomputer systems. Its unique user-oriented curriculum begins with a core of classes which produces a thorough understanding of the hardware and programming of computer systems. From there, you are ready for extensive laboratory experiences and internships to enable you to meet the information management needs of a variety of computer users and environments.
Be ready to take your place as a creator, manager, or executive in the fast-moving communication industry through our career-oriented Communication Arts program. A Semester-long internship during your senior year puts your classroom learning experience to practical application, and provides you with valuable employer contacts.
Learning practical knowledge in the field of Business Administration has proven to be the key to success for hundreds of Concord graduates now working in the business community nationwide. You may elect to concentrate in one or more of seven attractive concentrations in the business program.
The Teacher Education program at Concord is fully accredited by the National Council for the Accreditation of Teacher Education (NCATE). The Elementary Self-Contained Classroom program has an optional concentration in Reading and/or endorsements in Early Education, Special Education-Mental Retardation, and/or Early Education of the Handicapped. Subject specializations exist for teaching in the Middle School (grades four through eight). Junior high fields include, Language Arts, Mathematics, and Social Studies.
Comprehensive major programs for kindergarten through grade twelve are available in Art, Music, Physical Education, School Library-Media Specialist, School Social Services and Attendance, and Special Education. Comprehensive Secondary Education fields are offered in Business Education and Social Studies, while individual secondary fields are available in Art, Biology Business Principles, Chemistry, English, General Science, Mathematics, Physical Education, Secretarial Studies, and Speech.
Major programs in the Arts and Humanities at Concord are Ceramics, Commercial Art/Advertising, Studio Art, English (with emphases in journalism, literature, and writing), Geography, History (with optional concentration in philosophy), Political Science, Psychology, and Sociology. A fulfilling career and/or further study in one of these fields will be yours by gaining the in-depth understanding offered in the Bachelor of Arts degrees at Concord.
Majoring in a Science field at Concord prepares you to enter the challenging profession in medicine and other health careers, veterinary science, computer science, or chemistry. Majors are offered in Biology, Chemistry, Mathematics, and Mathematics/Computer Science. The Department of Physical Science teaches courses in physics and geology as well as chemistry.
The career potential remains bright, and you gain options for advancement, as a major in the Travel Industry Management program. A broad selection of concentrations and innovative internships are features of this popular field of study.
Concord's practical Social Work degree prepares you for a wide range of professional competencies and responsibilities in human service fields, with emphasis on rural social welfare needs, services, and issues. The program is fully accredited by the Council on Social Work Education.
The Medical Technology program trains you in clinical equipment and procedures leading to employment and advancement in the medical support fields. The courses offered here also help to prepare you for entrance to medical school—while providing you with an immediately employable skill. A twelve-month internship comprises your fourth year of study.
You have the opportunity to tailor your own course of study in the arts or sciences, meeting your personal goals, through the Interdisciplinary Degree route. After at least one semester of study, students wishing to construct an Interdisciplinary Study program prepare a proposal that lists their desired combination of courses, working in consultation with a faculty committee.
The Regents' Bachelor of Arts (RBA) program is designed for adults who are interested in obtaining a bachelor's degree but who cannot interrupt their normal activities to attend college. Credit is awarded for knowledge gained outside the traditional classroom that is comparable to information imparted in an academic course. For further information contact the Assistant Dean's Office at Concord College.
Concord offers minors in Appalachian Studies, Art, Biology, Chemistry, Computer Science, Dramatic Arts, English, Geography, History, Mathematics, Musics, Physics, Philosophy, Political Science, Psychology, Sociology, Speech, Statistics, and Travel Industry Management.
Many Concord programs contain independent study and honors courses. All students participate in a well-balanced Program of General Studies. In addition, the West Virginia College of Graduate Studies (COGS) offers graduate classes on campus, often utilizing Concord faculty members.
Concord College offers its four-year Business Administration degree completely in Raleigh County through cooperative arrangements with Beckley College, a two-year private institution. Concord also offers numerous classes in teacher education in Raleigh County, and certain classes at the National Mine Health and Safety Academy near Beckley. Some upper-level education offerings are taught by Concord at Southern West Virginia Community College.
Make the Concord Connection beyond the classroom through our extensive field experiences. Many of our programs combine training in the classroom with these "on-the-job" placements, giving you the opportunity to apply and fully develop the skills you obtained in class.
At Concord, we believe that field experiences are an important part of your four years, because in many ways these can be the best "teachers." They provide you with actual work experience, allow you to preview the actual operations of your chosen employment area, and often add a depth of understanding to your classroom subject matter.
Valuable Contacts: Working in the field allows you the opportunity to meet people already employed in your area of specialty and to establish contacts with other professionals, both of which will be helpful upon your graduation.
Edge in the Job Market: The experience you receive from your internships provides you with an edge when job hunting. Employers are always looking to hire those with experience listed on their resumes.
Here are some examples of our internships.
The field placement in Social Work is a very active part of the student's final year. Creative arrangements are worked out with a host of agencies, consisting of over 400 clock hours of actual contact and helpful supervision. As part of the learning experience, students apply for field placement, submit resumes, and are interviewed as though they are seeking employment. The student, agency, and college enter into a mutual agreement with a contract stating each party's goals and expectations. Occasionally a student is offered continuing employment with the agency before he or she even completes the internship.
Majors in Commercial Art/Advertising apply their creativity to actual job demands in full-time internships usually occurring in the summer between their junior and senior year. The assortment of placements includes advertising agencies, outdoor ad companies, printing companies, newspapers, and in-house art departments of manufacturers and television stations. Students benefit from the information gained by a faculty member who has conferred with professionals in the field in every major U.S. market. Out-of-state placements with major businesses are not uncommon for these interns.
Internships for majors in the five Travel Industry Management concentrations provide actual work experience and the opportunity to observe the practical techniques employed in such businesses. The internships are in the form of block placements, similar to full-time employment, with grading on a "pass-fail" system. Placements have included management understudy duties at Pipestem State Park, The Greenbrier resort, state travel development and promotional offices, and various hotel management departments such as personnel, sales, and marketing.
The Concord program in Medical Technology, under a system established by the American Medical Association, offers the first three years of training on-campus and in area labs, followed by a full twelve-month internship in residence at a cooperating hospital. Concord College then accepts the relevant course credits awarded by the cooperating hospital to complete the Med Tech degree requirements. Keep in mind that acceptance into the professional clinical year is competitive, just as is acceptance into any school of a health-related profession.
Numerous classes in the Business Administration programs give our students the opportunity to tackle real-world field experiences. For instance, marketing students conduct marketing research, developing and administering questionnaires. Students also function as professional problem-solving counselors through the Center for Economic Action's Small Business Institutes, where they assist area businessmen in such matters as accounting, computerized information processing, and management techniques.
Essential field training in Communication Arts, critical to the development of a competent communicator, is provided for in each of the four concentrations in this program. During the senior year, each enrollee will register for the six-credit-hour course, Communication Internship. Here, the student learns from within the work environment of one of the many cooperating firms in the area. Outside-the-classroom work is also provided through the "Corporation Metaphor" in the Department of Communication Arts, in which students work as "employees" in various production arms of the department, such as the student newspaper, the radio station, the College Theatre, and the television facilities.
Concord's trusted reputation for producing high quality teachers is grounded in a teacher preparation program featuring field experiences beginning in the student's freshman year, and continuing through the Professional Block (student teaching). The Coordinator of Field Experiences in the Education Department draws upon contacts with scores of school administrators in both Virginias and occasionally, beyond to provide appropriate and desired placements.
Make the Concord Connection by contacting our Admissions Office for further information. More details on specific degree programs, residence halls, or other areas of interest will be forwarded by our friendly, professional staff, who encourage you to discuss your goals with them.
Students must meet the following admission requirements as approved by the state Board of Regents:
have an overall high school grade point average of at least 2.0 (C) or better or a composite score of at least 14 on the American College Testing (ACT) exam;
complete a minimum of 17 high school units in grades nine through twelve, including 4 English, 2 Science, 2 Mathematics, 3 Social Studies, and 1 Health and Physical Education;
complete our application form; and
arrange for official copies of high school credentials, the results of ACT testing, and a satisfactory health form (after admission) to be forwarded to the Admissions Office.
If you left high school before graduating, you may still be admitted by qualifying for a high school equivalency diploma or certificate and meeting certain other criteria set by Concord.
Superior high school seniors, upon the recommendation of their principal or counselor, may on occasion be granted by permission to enroll for full-time at Concord without completing the normal high school program.
Concord welcomes transfer students. Credentials from all colleges previously attended must be forwarded for evaluation by the Registrar's Office. For this reason, such students should apply as early as possible.
Veterans: Concord College makes a special effort to serve veterans, primarily through the Veterans' Affairs Office located in the Financial Aid Office. The Veterans' Affairs Office works closely with other college offices to serve the needs of veterans.

Scholarships, grants, loans, and part-time employment are available for eligible students. Concord has developed a varied and broad financial aid program in order to help all students. Different forms of aid are based on ability and/or need.
The prospective student should work closely with his or her guidance counselor in completing the Financial Aid Form (FAF) from the College Scholarship Service so that the results will arrive at the college by April 15 for the following fall. This multipurpose application must be submitted to apply for all federal, state, and institutional aid. (A separate local application is required for academic scholarships.)
Bachelor of Arts

Ceramics
Commercial Art/Advertising
Studio Art
English: Journalism Emphasis
English: Literature Emphasis
English: Writing Emphasis
Geography
History
History with Philosophy Concentration
Psychology
Political Science
Sociology

Bachelor of Science in Medical Technology
Bachelor of Science

Biology
Chemistry (Comprehensive)
Chemistry (Pre-Professional)
Mathematics
Mathematics Comprehensive
Mathematics/Computer Science

Bachelor of Science in Business Administration

Accounting
Computer Science
Finance
Management
Marketing Management
Office and Secretarial Administration
Small Business Management

Bachelor of Science in Travel Industry Management

Travel Services Management
Lodging Management
Food and Beverage Management
Park and Resort Management
Tourist Development Planning and Promotion
Bachelor of Science in Education—Elementary*

Early Education, grades N-K
Art, grades 4-8
General Science, grades 4-8
Language Arts, grades 4-8
Mathematics, grades 4-8
Physical Education, grades 4-8
Social Studies, grades 4-8
Speech, grades 4-8
Reading Concentration

Bachelor of Science in Education—Secondary*

Business Educ. Comprehensive, grades 7-12
Social Studies Comprehensive, grades 7-12
Art, grades 7-12
Business Principles, grades 7-12
Biology, grades 7-12
Chemistry, grades 7-12
English, grades 7-12
General Science, grades 7-12
Mathematics, grades 7-12
Physical Education, grades 7-12
Secretarial Studies, grades 7-12
Speech, grades 7-8
Art, grades K-12
Physical Education, grades K-12
Music, grades K-12
School Library-Media Specialist, grades K-12
School Social Service and Attendance, K-12
Language Arts, grades 7-9
Mathematics, grades 7-9
Social Studies, grades 7-9
Bachelor of Science in Education—Special Education*

Special Education-Mental Retardation, grades K-12
Early Education N-K and Pre-School Handicapped

Bachelor of Social Work
B.A./B.S. in Interdisciplinary Studies
Regents Bachelor of Arts (RBA)
Bachelor of Arts in Communication Arts

Broadcasting and Journalism
Advertising and Public Relations
Organizational and Public Communication
Creative Writing and Performance

Bachelor of Science in Computer Information Systems (official starting date, August 1985)
*As this was printed the education offerings were being reclassified to conform with new state guidelines. Contact the Department of Education at Concord College for further information.
Concord College admits students of any race, color, sex, religion, and national or ethnic origin and does not discriminate on the basis of handicap in the recruitment and admission of students, the recruitment and employment of faculty and staff, and the operation of any of its programs and activities as specified in federal laws and regulations. Mr. William B. Adams, Assistant Business Manager is the designated coordinator for compliance with Section 504 of the Rehabilitation Act of 1973, as amended.
Make The Concord Connection