Welcome to the personal website of Andrew Turnbull. This outpost features tons of stupefying and trivial things pertaining to various and diverse interests of mine. Chances are, if there's something I know about or like that doesn't much other representation on the 'net...there's a bit of it here.
The front page (usually) updates every week. And it is just a static page.
---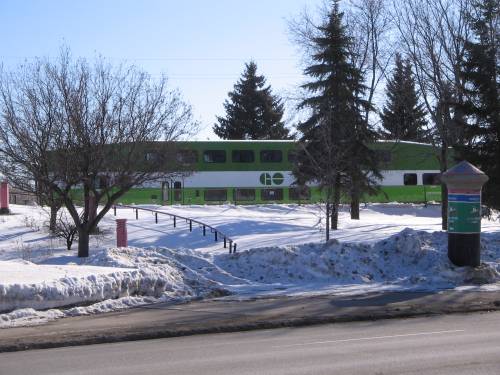 There is no passenger rail transportation in Thunder Bay, Ontario. There hasn't been any since January 1990, when the Mulroney government took a machete to most of VIA Rail's routes on CP lines. In spite of mumblings about changing that, nothing about the situation has changed in the intervening 30 years. The Lakehead has been left high, dry, and isolated to anyone without a car.
Meanwhile, rail passenger coaches for GO Transit in the Toronto area are built by Bombardier in Thunder Bay.
Which means that in Thunder Bay, you're subjected to the constant tease of trains pulling passenger cars. Cars you can't board. On trains you can't board. Going places you can't go.
---
I wrote a thing!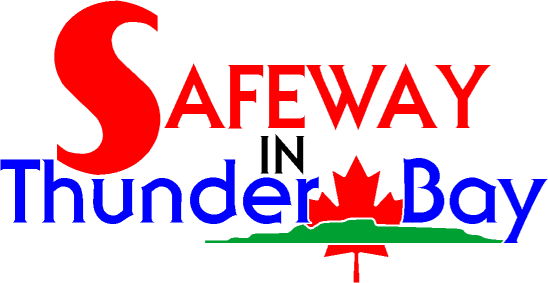 Enjoy.
---
I harbour no love for archaic 18th-century units of measure...but I'm always interested in artifacts and holdovers in signage, and this includes reminders of Canada's pre-metric past.
Here, a modern metric clearance sign is posted astride an old painted designation in feet and inches. 11'2" works out to 3.4m, not 3.3, so the clearance has evidently been reduced due to road paving over the last 42 years!
"132.80" is a marker for the Canadian Pacific railway, and I honestly have no idea whether they ever converted to kilometres or not.
---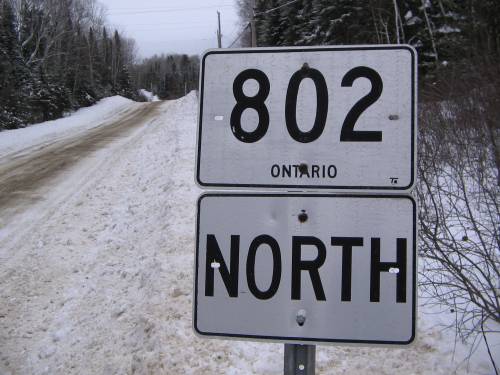 Here's something you don't see every day: An Ontario tertiary provincial highway! These are gravel-surfaced roads, denoted by tiny, unadorned markers with high numbers in the 800 range.
Tertiary highways connect locales such as lumber camps and ghost towns to main thoroughfares...and they have never been common. In southern Ontario any road of minor stature would fall under county or city control...so tertiary highways only exist in the northern reaches of the province. Tertiary highways cease to be tertiary when they've undergone paving, striping, or other improvements. Factor in Mike Harris' 1997 gutting and filleting of the provincial highway system on top of that, and you have a real unicorn on your hands! Only five tertiary roads currently exist...and all are tricky and time-consuming to get to, unless you live in Thunder Bay.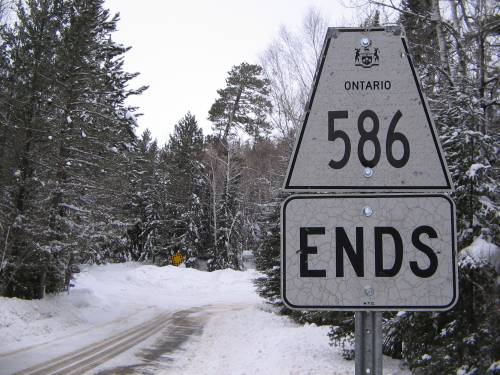 Ontario's secondary highway classification is also pretty well exclusive to northern Ontario these days, though that hasn't always been the case. These are marked by flowerpot signs similar to those used for southern Ontario county highways, but with the shape reversed.
Highway 586 is a 5-km spur that extends along the shore of Lake Shebandowan...which is also where the historic Dawson Road from Port Arthur terminated in the nineteenth century. And yes, I followed it to its end in the January snow. Those who know me would expect no less.
---
Minnesota Supermartifacts
It's difficult for me to write about anything as the world figuratively and literally burns...even the geeky stuff that I like to write in the best of times. Nevertheless, I try...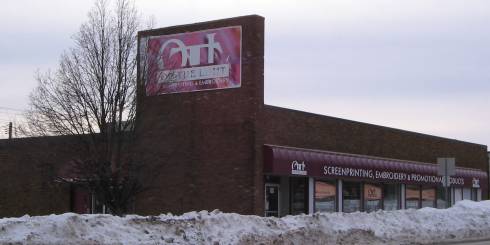 2224 W. Superior St., Duluth, MN

What geeky stuff do I have today? Just a continuation of the Minnesota tangent that I'm on, crossed with my determination to deconstruct the history of supermarkets and the cities they served.
Loblaws' defunct stateside subsidiary National Tea used to operate stores in Minnesota...just like in Michigan and Wisconsin. The cities of Minnesota are littered with repurposed National buildings...just like in Michigan and Wisconsin. Unlike in Michigan or Wisconsin, however, National's Minnesota division managed to last until the 1980s and this store could have housed its original occupant as little as...well, thirty-seven years ago. (Damn, where has the time flown?)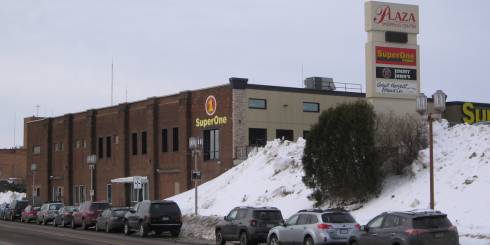 15 S. 13th Ave. E., Duluth, MN

Yet another old supermarket building in Duluth. Like the last, I managed to confirm this one as a former National location. Unlike the last, it's still selling groceries under auspices of Super One Foods, a local chain. And also unlike the last, this one is housed on the upper floor of an absolutely bizarre two-story building with buttresses and windows running down the side! Have I ever seen anything like this before? I think not...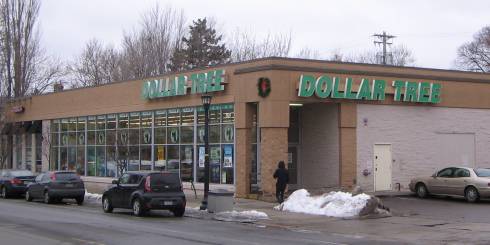 4626 Nicollet Ave., Minneapolis, MN

The Kroger Company of Ohio once had stores in Minneapolis, Minnesota. "What?!", you say. "That's preposterous!"
But it's true. Between 1960 and 1970, four Kroger stores opened their doors in the city of Minneapolis. All four had closed by 1975, as the company cut its losses and bailed from the area. Yet, two of the buildings still stand: This one on Nicollet straddling the King Field and Tangletown neighbourhoods, and an identical store on 3010 Penn Avenue. Both buildings feature a three-tier window arrangement and fieldstone wall accents, and would have looked identical to this Kroger in Grosse Isle Township, Michigan at one time. This fact is extremely interesting to...well, probably one other person.
All for now...
---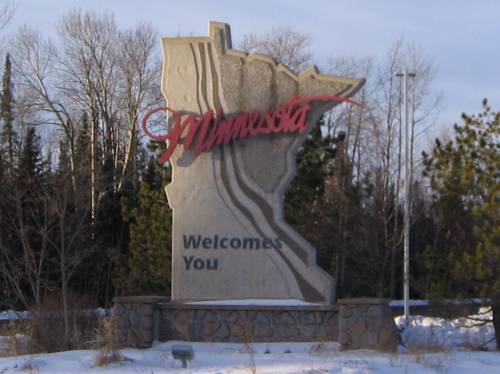 Road Signs of Minnesota
Well! Shall we begin our tour? Of course...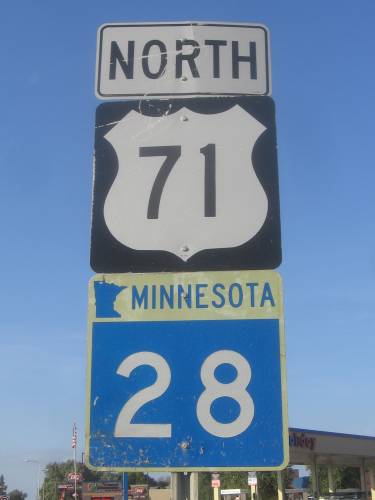 We'll begin with the route marker signs. US highways are signed pretty much the same in Minnesota as they are anywhere else, but state highways are not. Minnesota's state route marker design is unusually ornate and colourful, and you won't get any complaints about it out of me! Except for one thing: At a distance, it looks like an Interstate shield. Blue signs are crapshoots for road class in Minnesota.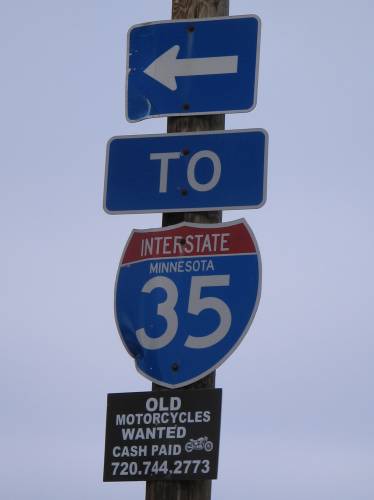 And speaking of Interstate shields, here's a specimen that happens to have the state name emblazoned on it! This is unusual for Minnesota, where most shields bear the route number, the Interstate legend, and nothing more.
I strongly suspect this is less a case of being an older sign, and more a case of a county- or township-level sign shop inadvertently fabricating a new sign from an obsolete template. I've tacked over and around the course of I-35 between Grand Portage and the Twin Cities in both directions...and the only "state name" Interstate shields appeared off the highway, which lends corroboration to the latter scenario. The peculiar arrow placement is probably also the fault of a county- or township-level authority.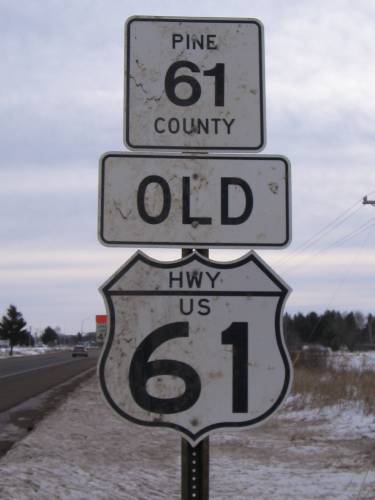 The most lore- and fame-ridden highway in Minnesota might be U.S. 61, immortalized by Duluth native Bob Dylan in Highway 61 Revisited in 1965. Over half the highway's length was also decommissioned or downloaded in 1990, due to I-35 making it redundant. In some segments between Duluth and the Twin Cities, the old course of the road has been signed with these interesting pseudo-historical cutout "Old Hwy US 61" markers; though I can testify through experience that the quality of signage isn't good enough to prevent a traveller from getting lost trying to follow them!
This photo also shows one of the methods in which county highways are signed in Minnesota. There isn't a lot of consistency here.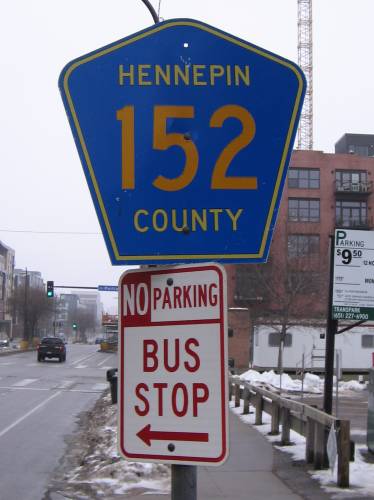 Yes, there isn't a lot of consistency in signing county highways in Minnesota. Some counties prefer white squares, others blue pentagons, others both.
The idea of numbered county highways is a bit novel in itself in the eastern half of Hennepin County, which basically consists of urban Minneapolis city streets. At least Hennepin actually uses numerals in the proper, regulatory yellow colour: A fair number of counties are lazy, and just stick white numerals intended for Minnesota state or Interstate route markers onto the blue pentagon-shaped blanks.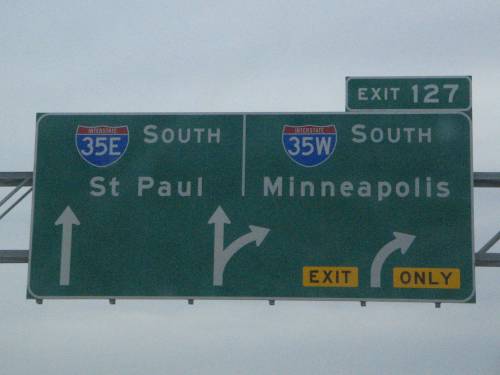 Minnesota is one of the rare places where an Interstate highway takes on a split with letter suffixes. Such splits were actually fairly common in the Interstate System's earliest days, but most were eliminated by renumberings by the 1980s. This couldn't have worked in the Twin Cities, though: I-35E serves St. Paul, I-35W serves Minneapolis, and to "demote" one segment to another number would have meant demoting one Twin City in favour of the other! And that would never fly in Minnesota.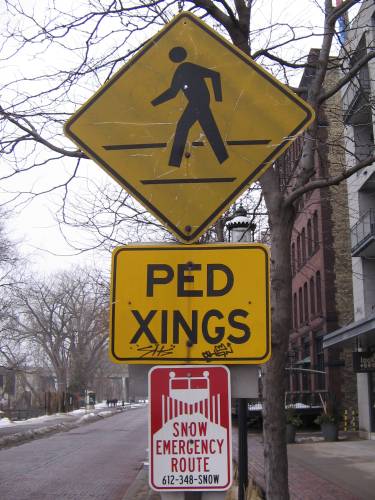 Let's get away from route markers for a bit. This Pedestrian Crossing sign in downtown Minneapolis is obviously on the old side, because it's a) cracked and discoloured, and b) plain yellow instead of fluorescent yellow-green. What caught my eye, though, was the supplementary plaque reading "Ped Xings," in the plural. Was this an old Minnesota standard, or just a one-off deviation cooked up for this installation? I wish I knew the answer.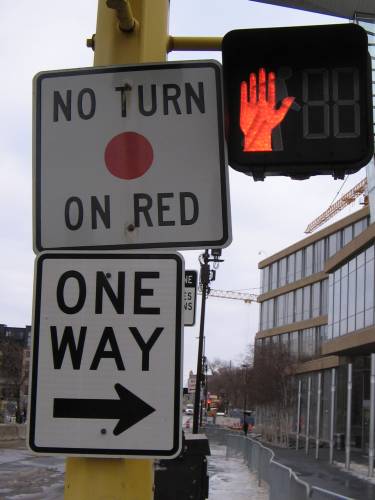 And speaking of old Minnesota standards, downtown Minneapolis is the only place I ever recall seeing "No Turn On Red" signs with a red ball in the middle! A bit disorienting to read from top to bottom, but I like it.
There's nothing unusual at all about the "One Way" sign, or the crossing signal with built-in countdown. And that concludes our tour this week...
---
Feeling disoriented? Here's the site map that used to be on the front page.
---