Welcome to the personal website of Andrew Turnbull. This outpost features tons of stupefying and trivial things pertaining to various and diverse interests of mine. Chances are, if there's something I know about or like that doesn't much other representation on the 'net...there's a bit of it here.
The front page updates every week. And it is just a static page.
---
London's bygone Dundas Street markets
Dundas Street forms the heart of London, Ontario's downtown. It forms part of the historical course of Ontario Highway 2, connecting London to the like-named street in Toronto. It bisects the street grid for 11 kilometres, and forms the densest strip of commercial property in the city.
Anyone who's read my Supermartifacts pages will probably be aware that one of the best ways to get a sense of the history and development of a community is through its grocery stores. What tale does Dundas tell?
56 & 94
The westernmost chain grocer that ever opened up shop on Dundas Street was A. Hassan & Co., a local two-store outfit that operated in 1925 from an address a scant block from the river. Loblaws opened a store on the same block two decades later, and it proved to be long-lived...not closing until Loblaws' financial crisis of the early 1970s. This 1940s-era storefront was likely a living relic by this time. Unfortunately, neither it nor Hassan's store currently stand; modern high-rises now inhabit the block.
118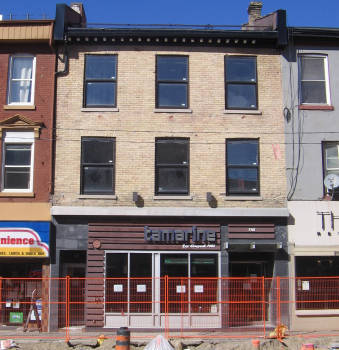 The predecessor of Loblaws' 94 Dundas store may have been the very first Loblaws store in the city, opening in the late 1920s and closing in the early 1940s. The building itself still stands in intact condition, and currently houses a Vietnamese restaurant on the lower level.
123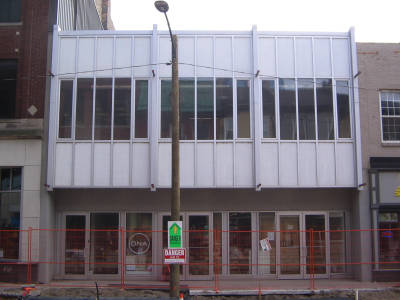 Just across the street lies 123 Dundas...the site of a Carroll's grocery store from 1935 to 1940. I'm unclear whether this was the actual building, though: The 1960s-mod façade is simply too modern for the era. It's possible that the original building was given a massive façadectomy along the way; or it could have been demolished and rebuilt, little as I like to admit that...
124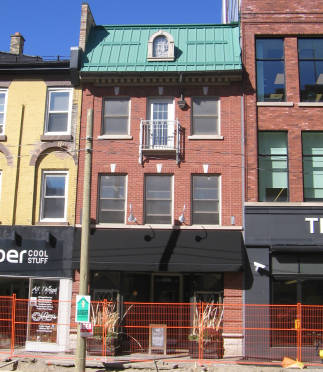 Dominion was the first large grocery chain to operate in London in the 1920s. This was not Dominion's first London store, however. This one opened by 1930, and operated through at least 1945 before replacement. The building itself likely predates 1930 by an order of magnitude, and houses a hair salon (among other things) today.
195
195 Dundas Street was home to a short-lived mid-1930s A&P store, completing the "big four" grocers that once competed in the area. Don't expect to see much of it, though: This location is now a vacant lot.
260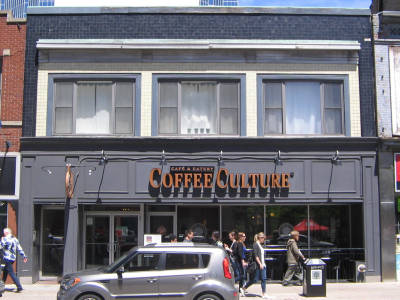 260 Dundas was another long-lived Loblaws location, opening by 1935 and not closing until after 1961. I have a suspicion that the black and pale yellow tiling on the upper facade was also added by Loblaws, as it matches the colour scheme of many of their freestanding mid-century stores. It houses a coffee shop today.
From the 1940s to the 1960s, Loblaws operated two Dundas Street stores in London's city centre. This density was typical in the bygone days of the "neighbourhood market," though it seems quaint today.
310 & 332
310 Dundas Street might have been the first Dominion store in the city, opening in the first half of the 1920s. It's difficult to say with any certainty that it was, however: Dominion had 8 local stores by 1925, and this wasn't even the location closest to the city's centre.
Roughly around the same time Dominion vacated their store in the early 1930s, A&P opened a veritable supermarket on the same block. This grocery edifice had a relatively long life, remaining open until the late 1950s. Don't expect to see a trace of either store now: The City Place high-rise apartments now stand on the block.
496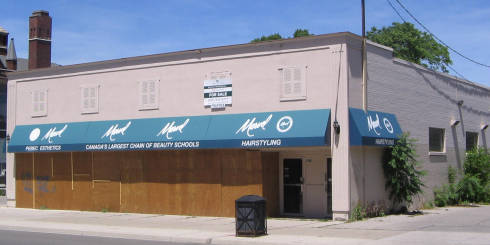 Here is another Dominion location...and a world apart from all the stores that preceded it on the street. Instead of being an occupant in a multistory building with no parking in sight, this was an example of the type of store that gripped the lower-density areas of cities in the early postwar years: A one-story building built expressly as a supermarket, and adjoined by a parking lot.
This store might have been the first "modern" supermarket in London, opening by 1950 and closing after 1975. The building was later reoccupied by a beauty school, but is currently vacant.
650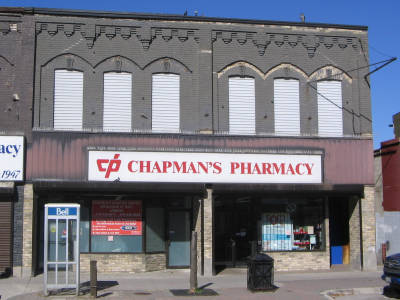 650 Dundas Street comes quite a few blocks after 496...and by this point, we're no longer close to the city centre. We're now in the Old East Village neighbourhood, smack dab in its own "downtown!"
The right half of this building was home to another very early Dominion location, opening by 1925 and closing after 1935. Currently it's home to Chapman's Pharmacy, which has subsumed no fewer than five adjacent storefronts on the block; this one included.
662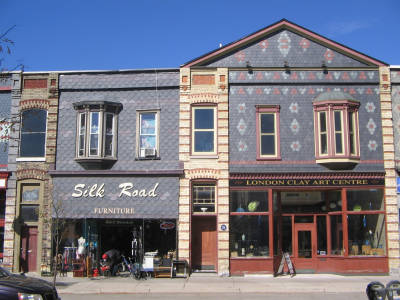 The biggest architectural treasure of the Old East Village neighbourhood might be this Victorian structure, clad in attactive multicolour tiles, sporting contrasting brick, and spanning eight storefronts. The building has been the focus of cultural heritage studies, and recently had its 1912-era façade restored.
The storefront in the left half of this photo is tied with 118 Dundas as being home to the first Loblaws store in the city, opening in the 1920s and closing after 1940. Currently, it is home to a furniture store.
674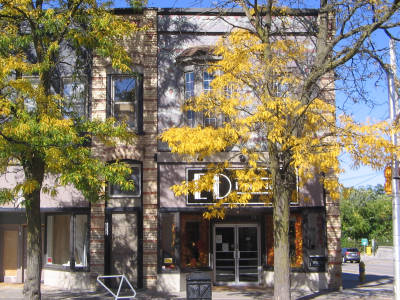 In around 1940, Dominion replaced its initial Old East Village store with a new store housed in the same attractive eight-storefront Victorian structure as Loblaws. (At one point, a local grocer named W.A. Bailey & Son also operated a store in this structure.) Here is Dominion's space, somewhat obscured by trees; a tattoo shop now calls it home.
684 & 688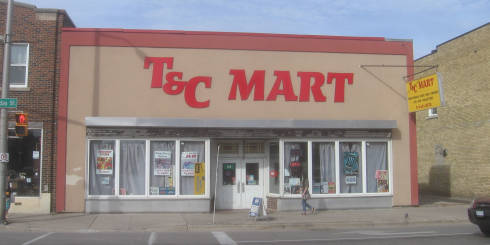 This address has several layers of chronology and numerology to untangle. A&P was the first grocer to set up shop on this site, operating a store at 684 between 1935 and 1940. By 1945, A&P had moved out and Loblaws had moved in...incrementing the number to "684-688," and quite possibly building a new single-story supermarket on the premises in the process. Loblaws remained until closing during the chain's financial crisis of the early 1970s. Today the building houses a convenience store...and groceries are still being sold from this spot after more than 80 years.
754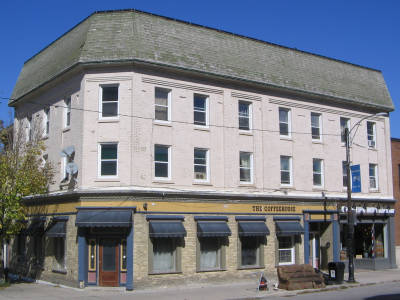 This imposing 3-story building occupies the corner of Dundas and English streets, and currently houses a coffeehouse within. Back in the 1930s and early 1940s, however, it was home to a Carroll's grocery store.
The Carroll's firm was based in Hamilton, and had a major presence in Ontario until selling itself to the American Grand Union firm in 1953. This kicked off a domino effect of acquisitions, divestitures, and name changes that still hasn't let up: Grand Union eventually sold its Canadian stores to Steinberg of Quebec, who eventually rebranded them under the Miracle Food Mart name. Miracle Food Mart was eventually sold to A&P, who eventually sold their Canadian division to Metro, who eventually rebranded many stores as Food Basics.
831
A&P opened a store on this site by 1955, and closed it after 1975. As with all of A&P's bygone Dundas Street stores, however, the original building no longer stands.
1002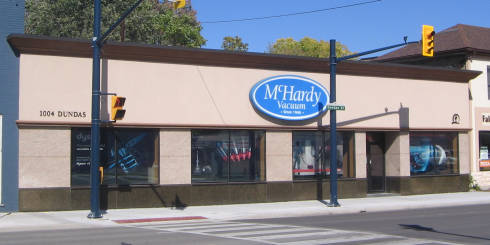 Before exiting London's Old East Village, the last grocery relic we see is this one-story specimen, which briefly housed a Dominion store around 1940. Dominion didn't last long, but the site remained open as John's Market through the early postwar years.
Dominion's store only occupied the left third of the storefront you see here. The space was later consolidated with an adjacent building, and hidden behind a new unified façade.
1014
1014 Dundas was the predecessor of Dominion's 1002 Dundas store. It was also another first-wave location, opening by 1925 and closing after 1935. I'm unclear, however, whether or not the original building still exists.
1500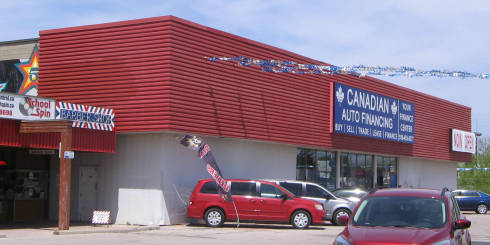 Two kilometres east, we find ourselves far away from the spaces where "neighbourhood markets" once thrived. This is a newer part of the city...less walkability, more cul-de-sacs, more concrete sprawl.
This store is also the newest of any we've seen on Dundas so far: This was a Dominion supermarket, opening by 1960 and remaining open until A&P bought the chain in 1985. The location was spun off and housed a local Knechtel supermarket in 1990, but it didn't last long. Today, it's a front for a used car lot. I'm also almost sure that labelscar from the old Dominion sign is still visible if you squint a bit in the right light...
1920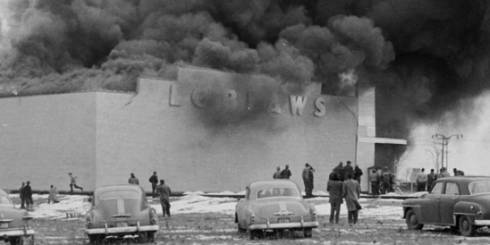 The crossroads of Dundas Street and Clarke Road on London's east side has long been a magnet for development. It's also been a magnet for Loblaws stores: The big Ontario grocer opened its first on the site in October 1953. The resulting supermarket was thoroughly modern, and featured a yellow porcelain enamel front characteristic of Loblaws supermarkets of this era. Its operational life was cut short, however: A fire broke out on 3 January 1954, consuming and destroying the structure.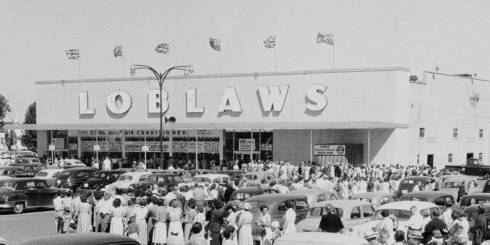 Loblaws pulled out the stops to rebuild on the site, and a replacement store opened the following July. This store managed to survive the next two decades without burning down. It couldn't survive the 1970s push for larger and more modern stores, however...and 1920 Dundas gave way to 1925 (below). The old store was eventually demolished, and a small shopping centre was constructed on the site.
(Photos credit London Free Press/Western Archives; reproduced under fair dealing provisions for non-commercial research.)
1925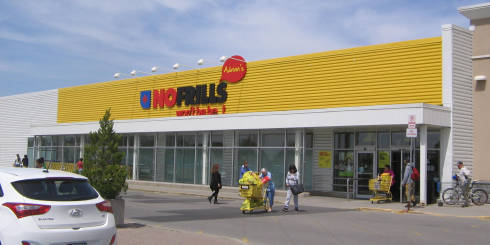 The easternmost store on our Dundas Street tour is also the newest...and it's one of only two still selling groceries today. This store is located at the Argyle Mall, originally anchored by Woolco. Loblaws moved to this site by 1975, replacing its earlier store just across the street. The store was converted to Loblaws' No Frills discount concept in the late 1980s. Several decades and store owners later, it's still in business.
The road goes on, but our tour ends here.
---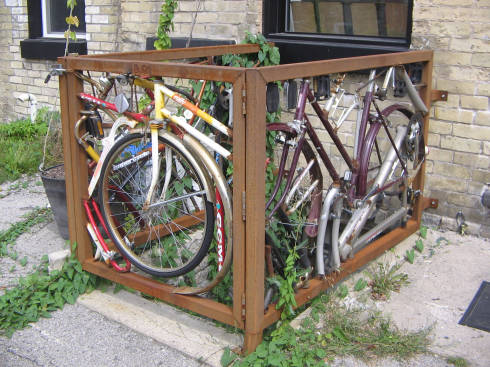 Somewhere in London, Ontario.
---
Feeling disoriented? Here's the site map that used to be on the front page.
---
All older posts have been split off to a quarterly archive page.