Welcome to the personal website of Andrew Turnbull. This outpost features tons of stupefying and trivial things pertaining to various and diverse interests of mine. Chances are, if there's something I know about or like that doesn't much other representation on the 'net...there's a bit of it here.
---
April-June 2019 Archive
---
The motherlode of all Supermartifacts updates.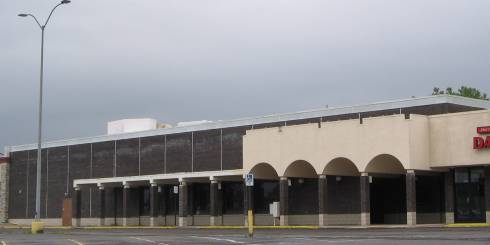 New photos! New descriptions! Yes, my obsessive, Quixotic attempt to document the world's supermarkets is coming to fruitation.
124 Queen St. E., Sault Ste. Marie, ON
1919 S. Industrial Hwy., Ann Arbor, MI
2789 Plymouth Rd., Ann Arbor, MI
201 3rd St., Belleville, MI
2624 W. 11 Mile Rd., Berkley, MI
555 S. Adams Rd., Birmingham, MI
3600 W. Maple Rd., Bloomfield Twp., MI
27335 W. Warren St., Dearborn Heights, MI
3681 Gratiot Ave., Detroit, MI
15061 Houston Whittier St., Detroit, MI
5858 Vernor Hwy., Detroit, MI
33503 5 Mile Rd., Livonia, MI
3232 Orchard Lake Rd., Orchard Lake, MI
775 Baldwin St., Pontiac, MI
11055 Allen Rd., Southgate, MI
66030 Van Dyke, Washington, MI
1003 Emerick St., Ypsilanti, MI
29583 5 Mile Rd., Livonia, MI
51328 Gratiot Ave., New Baltimore, MI
35170 Dodge Park Rd., Sterling Heights, MI
35400 E. Michigan Ave., Wayne, MI
701 Pine St., Sault Ste. Marie, ON
275 Second Line W., Sault Ste. Marie, ON
1225 Broadway St., Tillsonburg, ON
227 Vodden St. E., Brampton, ON
150 Churchill Blvd., Sault Ste. Marie, ON
248 Northern Ave. E., Sault Ste. Marie, ON
704 S. Main St., Ann Arbor, MI
2111 Packard St., Ann Arbor, MI
755 State St., Caro, MI
23001 Michigan Ave., Dearborn, MI
8999 Macomb St., Grosse Ile Twp., MI
240 N. Main St., Plymouth, MI
2020 Green Rd., Ann Arbor, MI
601 Euclid St., Bay City, MI
2986 Center St., Essexville, MI
27335 Telegraph Rd., Flat Rock, MI
2907 Krafft Rd., Port Huron, MI
3815 15 Mile Rd., Sterling Heights, MI
19001 West Rd., Woodhaven, MI
2641 Plymouth Rd., Ann Arbor, MI
1771 E. Michigan Ave., Ypsilanti, MI
176 S. Main St., Mt. Clemens, MI
50 Ecorse Rd., Ypsilanti, MI
21 W. Nelson St., Brampton, ON
745 Cebtre St., Espanola, ON
1020 10th St. W., Owen Sound, ON
44 Great Northern Rd., Sault Ste. Marie, ON
275 Second Line W., Sault Ste. Marie, ON
625 Trunk Rd., Sault Ste. Marie, ON
1515 King St. E., Cambridge, ON
835 Queen St., Chatham, ON
297 Eramosa Rd., Guelph, ON
696 Belmont Ave. W., Kitchener, ON
600 Mitchell Rd. S., Listowel, ON
1150 6th St. E, Owen Sound, ON
865 Ontario St., Stratford, ON
400 Simcoe St., Tillsonburg, ON
---
Six strange and surprising things I saw last week in northern Ontario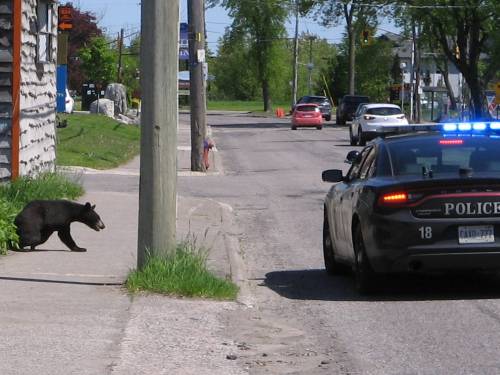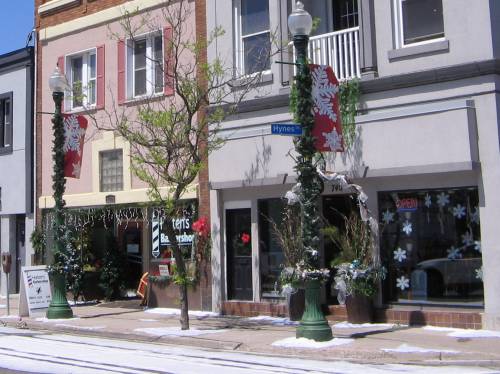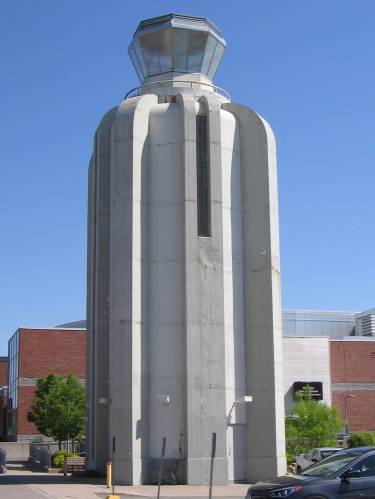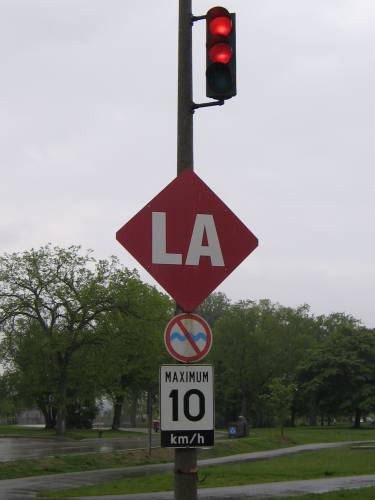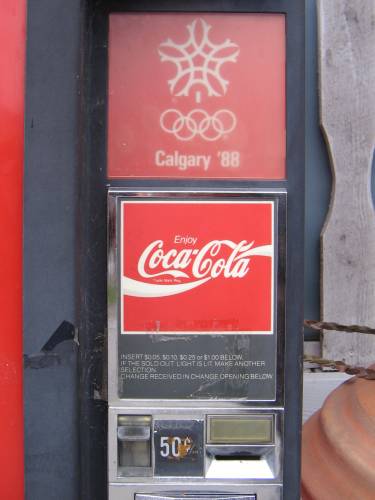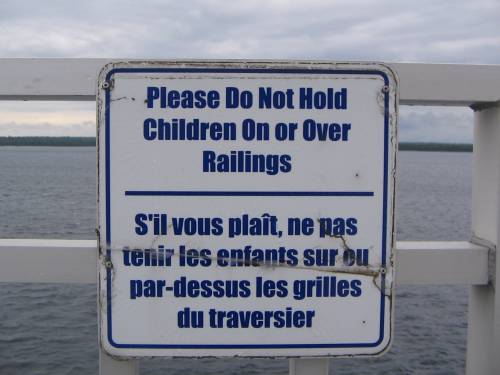 Yes, I get around...
---
Andrew's two-minute tour of Metro Detroit
Climb into the 1986 Ford Escort wagon. It's time to go for a ride!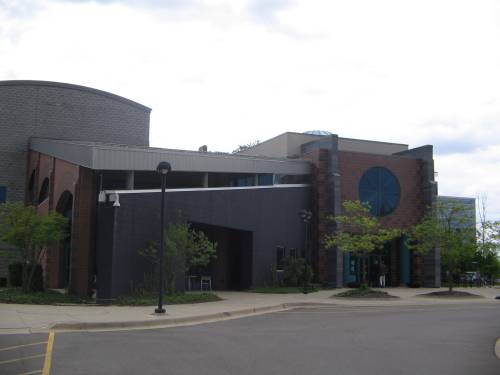 We'll start our tour in Ypsilanti...the smallish city east of Ann Arbor that both Eastern Michigan University and my cousin call home. Downtown Ypsi is a charming place, and the oldest branch of the Ypsilanti District Library is located there. The main branch, however, is in a cavernous postmod building located some 4 kilometres south in Ypsilanti Charter Township. What's a "charter township," you say? It's a strange, Michigan-specific form of incorporation that exists for no reason other than to prevent cities from taking on new land.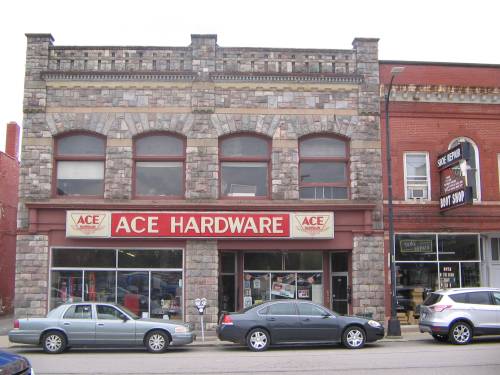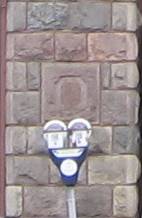 Go back downtown to 111 Pearl Street, and you'll find a hewn stone building with arched windows and older signage from the Ace Hardware franchise chain. Charming indeed. And...is that my imagination, or is that a storefront letter on the lower facade? Looks like an O to me. Or is that a Greek omega? Maybe this store was built for Isaac Izard.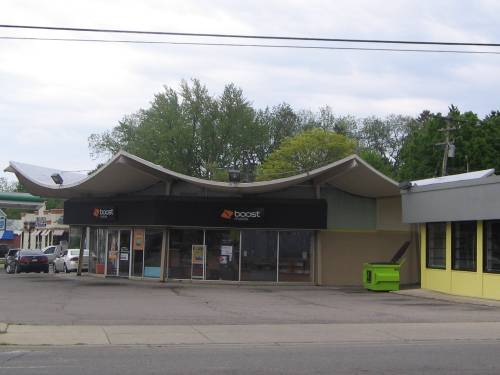 We're still not out of Ypsilanti. If you head west past the city's uh...interesting water tower and follow Washtenaw Avenue a bit, you'll eventually encounter this marvellous eight-sided scalloped building, built in the 1960s as a Big Top convenience store. Apparently, this is the only one that exists outside of Colorado.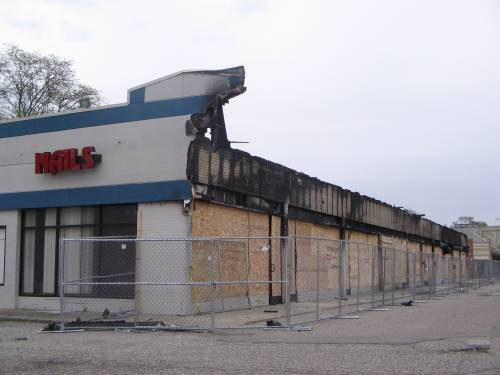 Follow Michigan Road to Inkster and you'll see...this. What happened here? Something involving six jugs of gasoline and an arsonist targeting victims of Middle Eastern descent, that's what. This is the cruel and callous state of America today, and trapezing around the Metro isn't enough to make it go away.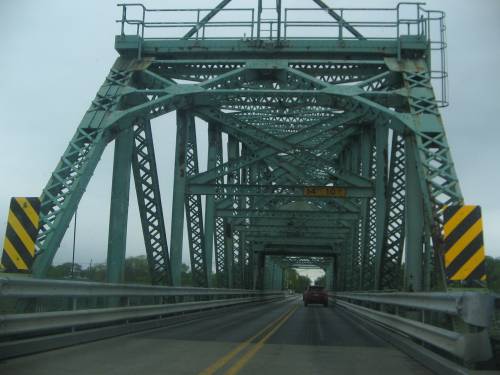 Drive down to Flat Rock, and you'll see reactionary "In God We Trust" signs at the city limits. Head east from there, and you'll end up in the extremely wealthy archipelago of Grosse Ile Township. Not all is lost, though: You get to cross over this nifty 1932-vintage camelback through truss bridge to get there and back.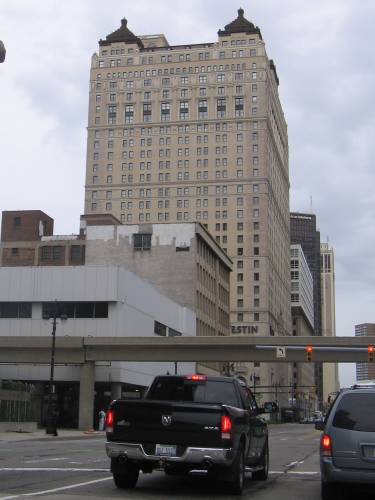 Finally, we're in Detroit...specifically downtown Detroit, at the corner of Cass and Michigan. In the foreground is the elevated electric track of the 1980s People Mover...a neat concept to be sure, but a pale shadow of the unfunded public transportation infrastructure that Detroit sorely needs. In the background is the Book Cadillac Hotel...a magnificent 1924 high-rise which reopened its doors in 2008 following a two-decade period of abandonment when no one other than scrappers and vandals called it home. If there's any potent symbol for the revival of the city, this is it.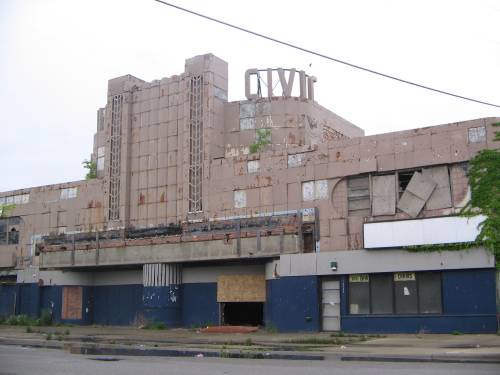 Not every part of Detroit has enjoyed the seeds of revival...and the Civic Theatre, which has been closed longer than I have been alive, falls into the latter category. 1941 "before" photo here.
Nearby is a long line of identical houses...some occupied, and others with trees growing through holes in the roof. Grim though the scene was, I still felt a sense of humanity in the neighbourhood that every gated subdivision north of Eight Mile lacks.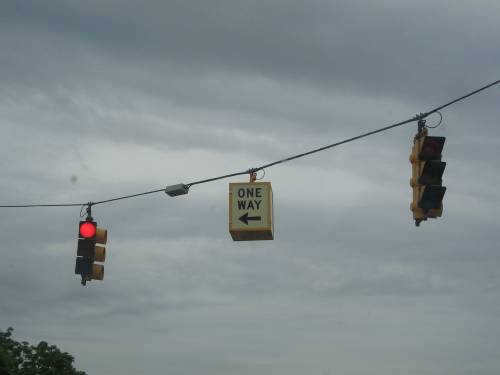 Here are some 3M High Visibility Traffic Signals, seen somewhere near Warren. These have distinctive square housings with flat lenses, and are none too common these days. This image also shows one of the four-sided "illuminated signs" that are peculiar to Michigan intersections.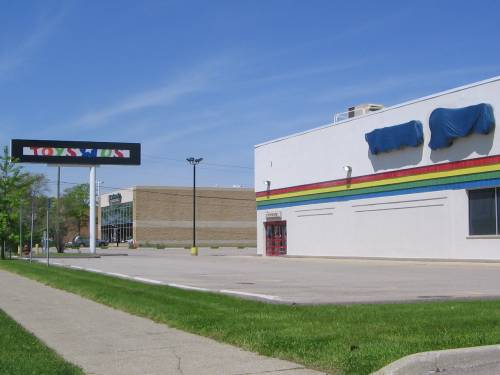 Toys "R" no longer Us in Livonia, just across the street from the (former site of the demolished) Livonia Mall. If it's toys that you want, you go to Canada.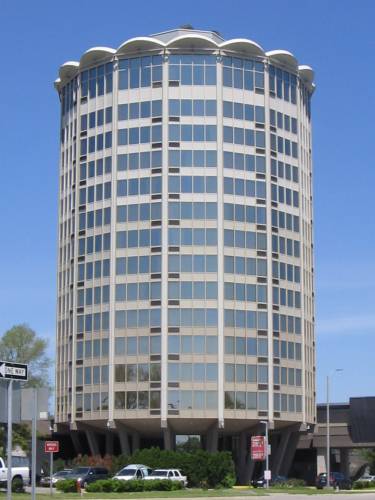 Get out of Livonia. Turn north onto Telegraph Road, cranking Dire Straits' "Love Over Gold" on the stereo to get in the proper mood. There's six lanes of traffic, three lanes moving slow. And across them all, you see...a cylinder? Hmm, the song never said anything about that...
This is on my short list of favourite buildings in Metro Detroit. For years, it housed Southfield's Holiday Inn hotel. It lost its franchise in the 2000s and spent a number of years in a state of abandonment, but was eventually refurbished and reopened as a Best Western in 2016. Not quite the riches to rags to riches tale of the Book Cadillac, but nice nevertheless.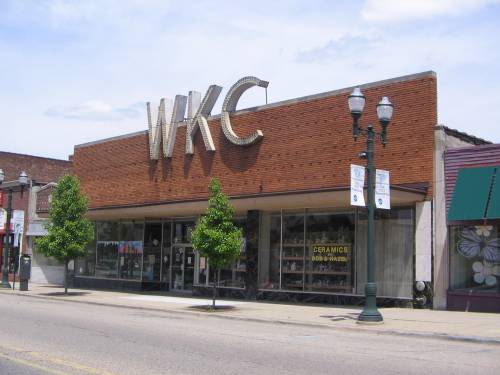 Follow Telegraph Road long and far enough, and you'll end up in Pontiac, Michigan. Pontiac's downtown is perpetually deserted, but it's still a place with some good photo-ops and artifacts of the past...including the WKC Building, a mid-century storefront with enormous lettering jutting from the upper wall.
What was WKC? Surprisingly, there's a dearth of information about it. From what little I've been able to dredge up, it was a "furniture and appliance sales organization." Was it a chain, or a one-off store in Pontiac? And what did "WKC" stand for? Your guess is as good as mine.
And with that mystery to ponder, our tour ends.
---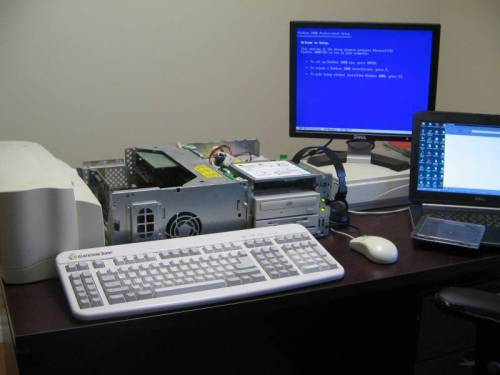 I hoped I'd be able to make a quick follow-up to Detroit, with stories to go around and dozens of additions to Supermartifacts. For now, however, I've been sidelined by a distraction: The old hard drive in my equally-old Compaq computer has died. This is my "vintage" computer, tasked to work with hardware and software that a new machine couldn't touch...although it wasn't vintage when I got it.
Fortunately, I'm good about data backups. I also had a secondary hard drive, so I rejigged the jumpers and had a fresh installation of Windows 2000 booting within an hour! This was followed, of course, by the customization regimen I go through before I consider any Windows 2000 installation good enough to use:
Remove quick launch toolbar.
Delete IE desktop icon. (I hate IE, and don't want reminders of its pernicious presence.)
Delete the entire contents of the Favorites menu. (Ditto.)
Go to Folder Options to turn off web view, show hidden files and extensions, and make shell windows open in details view by default.
Rejig the shell toolbars to get rid of IE-like back and forward buttons
Go to Control Panel and...

Disable Automatic Updates.
Change the title and menu bar font to MS Sans Serif (and get rid of the obnoxious gradients).
Tell Windows not to hide mnemonic access letters from menus.
Disable all sounds.
Disable the mouse cursor shadow.
Add "/n,/e,c:\" to the end of the target path for the Windows Explorer Start Menu item so that it opens properly in the root folder.
Fumble about with workgroups so that my desktop and laptop can see each other on the network.

Delete IE throbbers from shell windows using registry hack. (Did I mention that I hate IE?)
Track down and download TweakUI, and...

Disable all UI animations.
Prevent CD-ROMs from ever executing automatically. (Who in Redmond ever thought that this was a good idea?)

Install the newest compatible version of SeaMonkey (that increasingly chokes on the "modern" web, no thanks to Google. But this is primarily an offline machine.)
I've long been of the opinion that Microsoft's GUI research and development peaked in 1995, and virtually everything they've done since has been in regression. Windows 2000 is annoying enough, if the list above is any indication. XP is an order of magnitude worse...and when I bought a laptop with Windows 7, it took me an entire day and third-party mods to give the OS a modicum of functionality, responsiveness, and user control.
---
A special thanks and gratitude go out to reader Amy, who cracked the mystery of the storefront initials! It turns out that these cryptic letters were the initials of the original owners of the buildings, placed in the masonry as a subtle way of flaunting their holdings to passerby. Here are their identities, exhumed from historical building records:
| Location | Letter | Construction date | Owner |
| --- | --- | --- | --- |
| Thiensville, Main | G | 1927 | Paul Gruenwald |
| Madison, Park | S | 1922 | William Sinaiko |
| Madison, Gorham | S | 1925 | August Schmitz |
| Madison, Main | M overlapped with C | 1916 | Max Cohn |
Sharing with readers, it's always heartening when readers share back.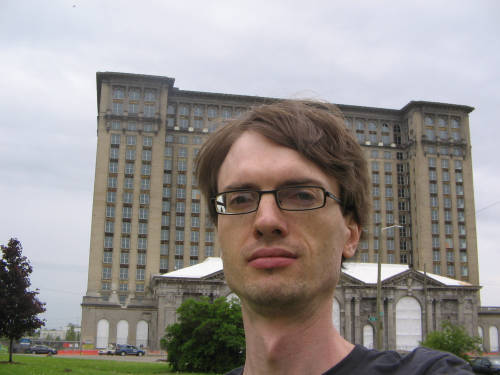 In April, I became a permanent resident of Canada. One month later, my permanent resident card arrived in the mail...the last piece of the personal puzzle I had spent two and a half years working to piece together. This card serves as unambiguous proof of my freedom to be in Canada. And since it eases border crossings, it also ironically makes me feel more free to go out of Canada than ever before.
I also feel a sense of urgency...to get out and do things, while there's time before the world gets worse. I feel as if everything I don't do now is something I'll regret not doing later.
So I spent two days in and around Detroit and Ann Arbor. And I wrung out every moment I could either driving around, soaking up sights, or taking as many pictures of things capturing my fancy as was practically possible.
I'm sure I'll write more about what I found in the days and weeks ahead. But for now, I'm pooped.
---
G...S...S...M?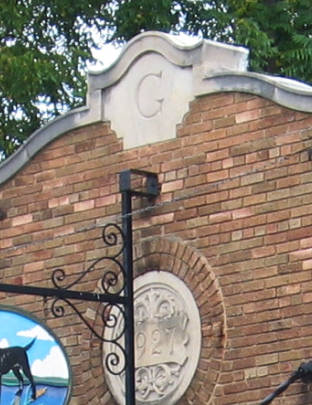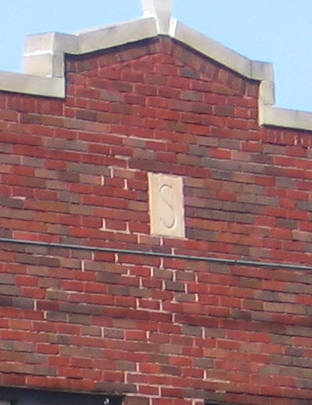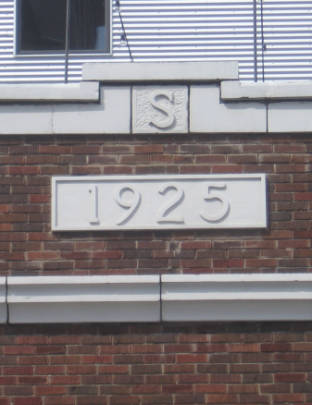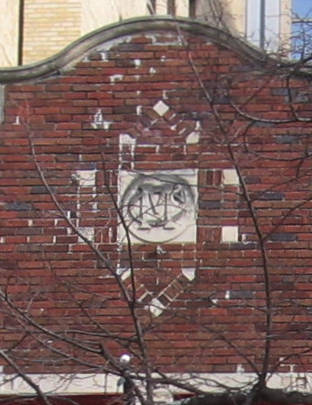 For years, I've seen letters tucked up high on the facades of old downtown buildings. And for just as many years, I've been puzzled by them. Are these the initials of the builders? Or the architects? Or the original owners of the buildings? Or the original tenants of the storefronts below? I wish I knew.
The Internet is a bottomless well of information on many topics, yet I've never gotten a straight answer out of the tubes for this. "Initials on building facades" brings up anything and everything on Google and DuckDuckGo, and I can't think of anything more accurate to search by.
All four of these pictures were captured in Wisconsin, the extremely disappointing state that I used to call home. If you'd like to scout out these locations for yourself (and solve the mystery of each?), here's where they are: 130 S. Main St., Thiensville. 520 S. Park St., Madison. 408 W. Gorham St., Madison. And, 7 W. Main St., Madison. Good luck!
---
Supermartifacts returns.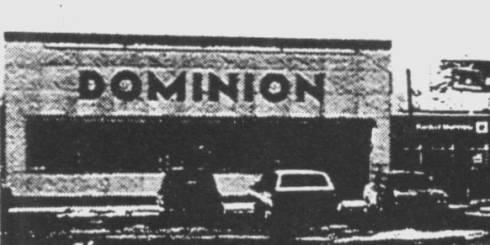 Oh, the merry month of May is here! And do you know what that means? It means that I'm ready to bore both of my readers to death with annals of Supermarket History.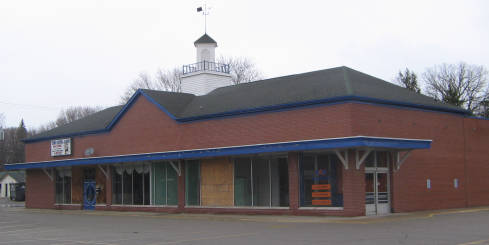 Yes, folks: Supermartifacts is back with dozens of new pictures and information from my romps and research around Canada and the US. Here are all the locations being included for the first time:
416 St. Clair St., Chatham, ON
1639 Garfield St., Port Huron, MI
729 Howard St., Port Huron, MI
95 Water St. N., Cambridge, ON
448 St. Clair St., Chatham, ON
925 Ontario St., Stratford, ON
330 Speedvale Ave. E., Guelph, ON
124, 650, 674, 1002 Dundas St., London, ON
349, 778 Hamilton Rd., London, ON
581 Richmond St., London, ON
560 Exmouth St., Sarnia, ON
260 Indian Rd., Sarnia, ON
477 Huron St., Stratford, ON
1335 24th St., Port Huron, MI
1215 24th St., Port Huron, MI
666 Woolwich St., Guelph, ON
417 King St. W., Kitchener, ON
118, 662 Dundas St., London, ON
106, 186 Christina St., Sarnia, ON
836 Colborne Rd., Sarnia, ON
7641 W. Beloit Rd., West Allis, WI
791 St. Clair St., Chatham, ON
889 Exmouth St., Sarnia, ON
600 Murphy Rd., Sarnia, ON
274 Highland Rd. W., Kitchener, ON
351 Margaret Ave., Kitchener, ON
754 Dundas St., London, ON
1375 London Rd., Sarnia, ON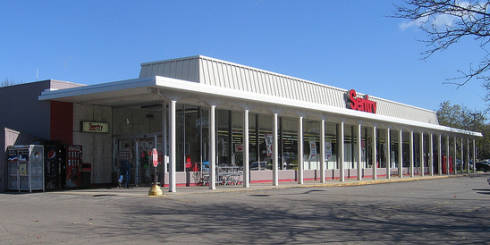 And that's not all. While little love may be lost between Wisconsin and I, I have retraced my steps back to the state I spent nine years in to unveil a brand new feature: The Artifacts of Sentry, documenting the physical and architectural record of a once-prevalent and now nearly-defunct chain.
1220 S. Webster Ave., Allouez, WI
2130 S. Memorial Dr., Appleton, WI
2110 S. Ridge Rd., Ashwaubenon, WI (Joel Hodgson's store!)
707 N. Main St., Brillion, WI
328 Washington St., Fort Atkinson, WI
105 S. Madison St., Lake Mills, WI
4602 Cottage Grove Rd., Madison, WI
3817 Mineral Point Rd., Madison, WI
4412 W. Capitol Dr., Milwaukee, WI
4130 S. Howell Ave., Milwaukee, WI
1601 N. Bowen St., Oshkosh, WI
101 W. 7 Hills Rd., Port Washington, WI
645 3rd St., Prairie du Sac, WI
1110 W. Main St., Sun Prairie, WI
2206, 2300 Forest Ave., Two Rivers, WI
Enjoy!
---
Action in Acton.
My interest in license plates sometimes waxes and wanes. At the time of the Acton hobby meet one year ago, I was buoyed by enthusiasm about my surroundings and it was in a wax. This year, it's in a wane. You can blame our illustrious premier and his plans to turn plates into billboards glorifying the corporate pillage of the province for that. West Virginia, you continue to haunt me to this day.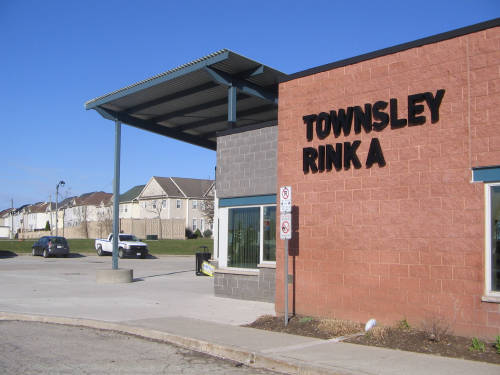 Cyclical though my interests may be, calendars have a way of enforcing a cyclical schedule of their own. The last weekend of April had arrived, and it was time to go to a license plate meet once again: Same town as before, same hockey rink of a venue, same yawn-inducing hour of the day. So I pulled myself out of bed around six in the morning and hopped in the car, bound and determined to get to Acton by eight.
I pulled in at 8:20. An unforeseen highway closure had diverted me away from my desired planned-to-the-minute straight-as-an-arrow path, and I was running late. But I was there. What would I find for myself at my first plate meet of 2019?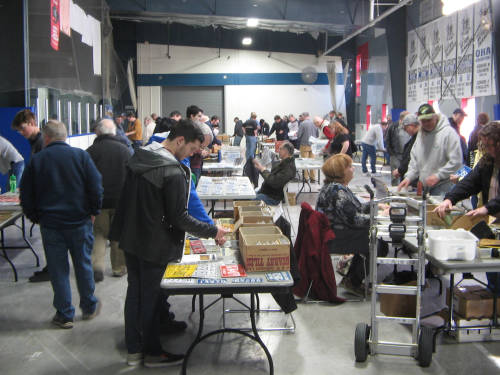 One thing I couldn't initially find was a table: Every early bird had wandered in at 8:00 sharp and snapped up every four-legged platform in the room for themselves. I also couldn't find much in the way of displays: I had left Birthyear Motorcycles Below the 49th at home this year, and no one else (save one) had been in the mood to pick up the slack. But there were plates there for the picking, and there were people. David Wilson, Joe Sallmen, Jon Upton, Eric Vettoretti, and David Steckley were all there, and I must have talked to each of them somewhere between two and ten times before the morning was through. (Jon was also sporting this kewl Sloan shirt, which notably improved my mood.)
So, what did I find? Not too much. Nothing too exciting. Nothing too valuable. But some nice finds just the same: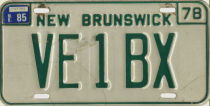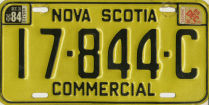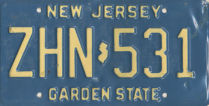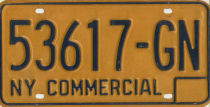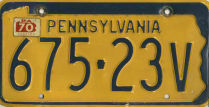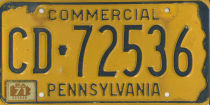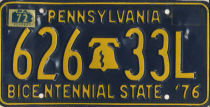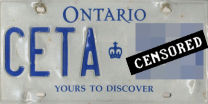 A peculiar New Brunswick amateur radio plate with extra-tall dies that weren't used on any other type. (Blame the vendor, Waldale. They're the only ones who know why they did this.) Conveniently, this plate also fits into my birthyear run.
Manitoba, Nova Scotia, New Jersey, and New York plates that also fit into my vaunted birthyear run. (Yes, I'm in a rut.)
Pennsylvania plates. Why? No reason, really, other than that they look nice and the price was right. Oh, and one of them has the mutant map that annexes part of New York State! Gotta love that.
Last but not least: A road-worn Ontario plate from the fourth Waldale production run. This one's new enough to potentially be unexpired, so I'm going to be circumspect about the exact number for now.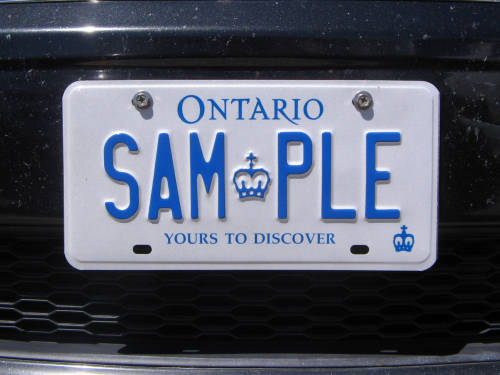 The trade wasn't all one-way, either: By noon, I actually had a couple of sales under my belt. I had also taken pictures of the sole display and arena, so I headed out to the parking lot to see what interesting plates fellow collectors had registered to their vehicles. The lot did not disappoint: Someone had driven up in Maine wheelchair number 8. Someone else had nabbed the logic-defying "Sam-ple" plate seen above.
One of my favourite things about plate meets is that since everyone is there for the same reason and has similar inclinations, you can photograph cars to your heart's content and no one will think that you're a cop or vandal while doing so. So while I crouched with a camera for the "Sam-ple" shot, I was launched into confusion when a random person came up out of nowhere and threw a peremptory question in my face: "Why are you taking pictures of peoples' cars?"
I was dumbfounded: Surely you know? So I said: "We're all license plate collectors, and we're looking for interesting things." The person shrugged in perplexion, then got into a nondescript car (which was not among any I had photographed) and drove away.
I stepped back inside, but the venue was clearing out: Finding an empty table would have been no trouble now! I was ready to go myself, but David Steckley had a small lunchtime party planned...and this turned out to be as much a highlight of the day as the actual meet. (Maybe I'll show you some of his collection. Maybe someday.)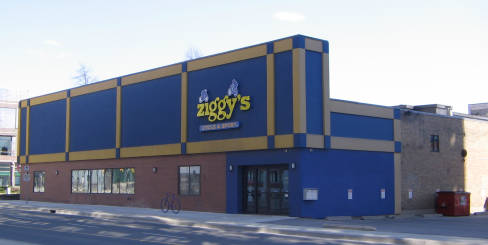 I successfully avoided highway closures and road detours on the drive home. I also avoided major highways: Instead I took two-lane roads down through Guelph and Kitchener, where I was determined to photograph some older buildings of interest for my Supermartifacts pages. That I did, and you can expect some updates there soon.
---
Some sights from the weekend.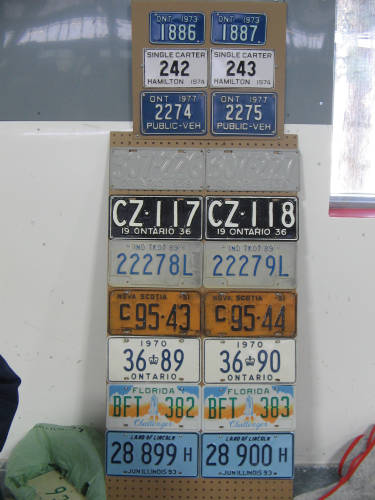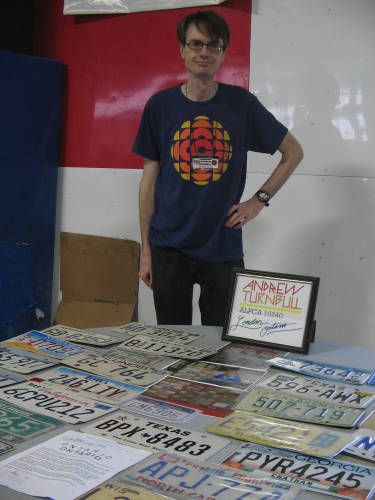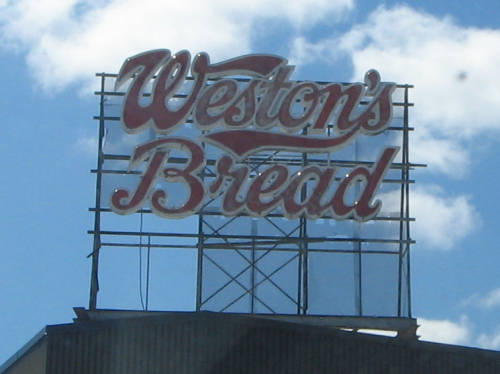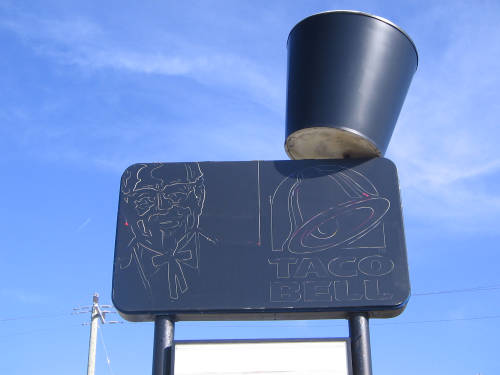 To be continued...
---
I am officially a Canadian.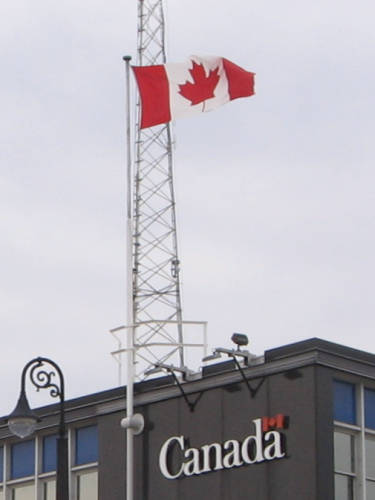 Friday, April 5th. The vaunted envelope containing my Confirmation of Permanent Residence arrived in the mail. This was the moment that I had spent the last 29 months working to achieve...and had contemplated as early as 2002.
I wasn't quite done, though. For a Canadian immigrant to officially become a permanent resident, their letter must be validated. There are two ways to accomplish this:
Call up Immigration, Refugees and Citizenship Canada and schedule an appointment at an inland office.
Leave the country, come back, and present myself to Canadian officials at the border. (A.K.A. "flagpoling.")
I dread crossing the U.S.-Canadian border, and IRCC has started to discourage flagpoling in subtle and not-so-subtle ways...so I initially tried the inland option. One problem, though: The IRCC phone number is unplugged on Friday evenings and weekends. So I waited until Monday, navigated the phone tree...only to reach a recording imploring me to e-mail them instead. So I tried to do that...but after waiting a full week and a half with no response and no appointment, my patience was at an end.
So, I hatched a plan. I would drive to Port Huron, Michigan...the nearest port of entry on the U.S.-Canadian border. I would treat the trip as a tourist visit. And I would "land" as a permanent resident on the way back. I contemplated each step, fetched a copy of every immigration-related document I thought I might need, set the coffee machine...and waited for a new day.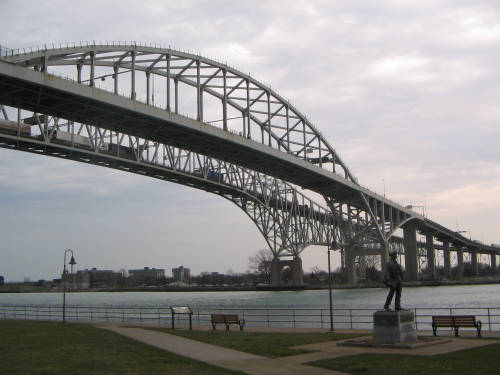 Next morning I grabbed my documents, grabbed my coffee, and pointed the car in the direction of the United States. The highway became ominously emptier and emptier the closer I got to the Blue Water Bridge...until I was on the bridge itself, where traffic was stopped dead in its tracks. I creeped forward in line at a snail's pace for the next half-hour, my clutch-pedal foot getting number and my heartbeat racing faster with each mounting minute. Would this be the nightmare of 2015 all over again?
Me: "Hello."
Agent: "Your identification?"
I hand over my U.S. passport, which the agent scrutinizes for a few moments.
Agent: "Citizen?"
Me: "Yes."
Agent, after a pause: "Did you say 'yes,' or 'US?'"
Me, trying hard not to chuckle: "Yes, and US!"
Agent: "Have you come through this port of entry before?"
Me: "Yes, in 2017."
Agent: "Where are you going?"
Me: "Port Huron."
Agent: "What do you plan to do there?"
Me: "I plan to visit the Fort Gratiot Lighthouse and Port Huron Museum." The agent pauses, and writes this down.
Agent: "Why do you want to visit the lighthouse?"
Me, having anticipated that question: "Because the Fort Gratiot Lighthouse is the oldest lighthouse in the state of Michigan."
Agent, after another pause: "And this museum you speak of...where is it?"
Me: "It's downtown."
Agent, handing my passport back: "Have a good day."
Me: "Thank you."

I had made it through. Now on American soil, I kept my word and immediately made tracks for the Fort Gratiot Lighthouse. It looked impressive, if a little lonely: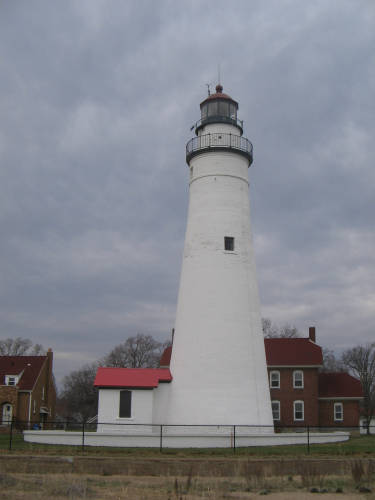 From that point I went to town, making hay out of Port Huron for the next hour by looking for interesting things to photograph...much like I used to do in the days when Flickr was still a thing. Here's a small sampling of that: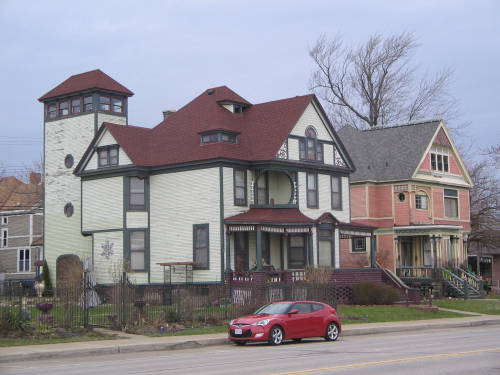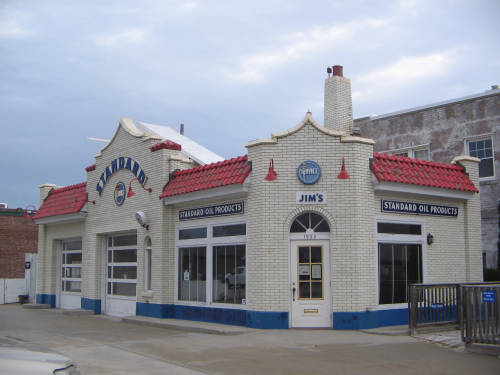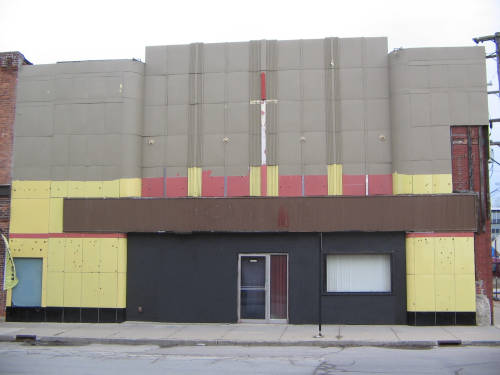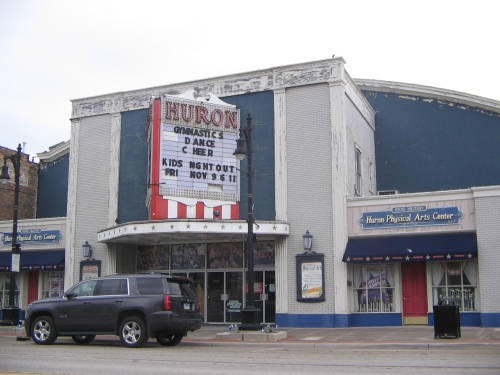 I circled round, and eventually wound up in the vicinity of the museum downtown. I saw not a single other Ontario car on Port Huron streets. The U.S. police state has succeeded in scaring cross-border tourist traffic away.
After a bit of an adventure trying to buy gas (a Canadian address never fails to foul ZIP code calculators up), I had had enough. It was time to kiss Port Huron goodbye, land in Canada...and start the rest of my life.
I pulled onto the eastbound ramp leading I-94 to the 402, and paid the requisite four-dollar toll for the bridge. Traffic on the bridge moved much more quickly out of the States than into it. I was nervous...but also overcome with excitement. The conversation at the booth went something like this.
Me: "Hello."
Agent: "Your identification?"
I hand over my U.S. passport, which the agent scrutinizes for a few moments.
Agent: "What is your status in Canada?"
Me: "I currently have a work permit."
Agent: "Do you have the permit with you?"
Me, motioning to a stack of papers next to me: "I do! And today, I am landing."
Agent, raising his eyes with interest and enthusiasm: "Oh!!!!"
I'm handed my passport and a yellow piece of paper, and am motioned to proceed to the customs house just ahead. I pull in...and after a momentary spot of confusion trying to park and get out of the car, I walk inside with my paperwork in tow. Would there be a long line leading up to the "Immigration" window? Would I have to wait for hours to have my paperwork processed?
No: There's only one other person standing in line in the entire building. I approach the mat leading up to the "Immigration" window, and barely wait 30 seconds before someone calls me over. I announce that I'm landing, and I pull out the stack of documents I brought along...with the important ones (my passport, my work permit, and my Confirmation of Permanent Residence letter) on top. The official is about my age, and responds to my request without hesitation.
I'm directed to the waiting area, where a television set blares news about the latest depravities south of the border. I sit down, then get up to scrutinize the display cases of prohibited animal by-products that had been seized at the border.
Five minutes later, I hear my name. "Andrew?"
The official is ready to validate my paperwork. He goes over the requisite questions:
"Have you been charged or convicted of a crime or offence in any country, refused admission to Canada or required to leave Canada?"
"No."
"Have you any dependants?"
"No."

I sign and initial both copies of the confirmation letter, one of which remains with me. At that moment, it becomes official: I am a permanent resident of Canada.
I later stop at Service Canada in Sarnia to obtain a new Social Insurance Number, where I joke that "my great-grandfather moved from Canada to the U.S. one hundred years ago. Now, I've basically reversed his legacy...and if there's a strange rumbling coming out of the ground in southeast Michigan tonight, it's because he's rolling in his grave!"
Then the magnitude of my achievement dawns on me: I am a Canadian...full stop. I am qualified to work, partake in social benefits, and live anywhere from St. John's to Victoria for the rest of my life. I am on an equal footing for jobs. And I will qualify for citizenship in three years' time, allowing me to obtain a passport and vote in my new surroundings.
And "all" it took was tens of thousands of dollars, acceptance into graduate school, one full year of fervent studying at maximum course load, a Master's Degree, a language test, a medical test, five years of skilled employment, literally dozens of paper and online documents to get in order, a lot of time, and a lot of luck.
That's the sobering undercurrent of immigration: If you're old, or you're sick, or you're poor, or you don't have an advanced degree or very specific qualifications, or you can't get a passport that reflects your self-identified gender, or you can't get a passport at all...the door is closed. I may have pulled it off, but there are legions of marginalized people (both in the U.S. and in the rest of the world) that cannot. And that's what keeps me from being too happy about it all.
---
The final days of ShopKo...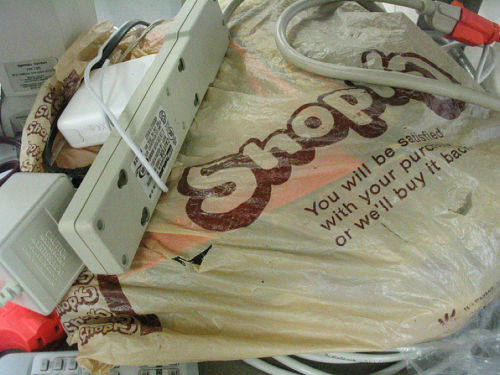 Is today the last day that ShopKo stores are open? It seems to be, in a lot of places...but who knows what's going on down there anymore? The company is in its death throes, having been slowly run into the ground by a corporate raider"private equity" firm. Hundreds of lower-level employees are losing their jobs, while capitalist suits somewhere are laughing their way to the bank. As usual, in America.
If you've never heard of ShopKo, I can't blame you. You wouldn't cross paths with a store by that name unless you lived in Wisconsin...or one of the far-flung western U.S. states that make up its strange and perplexing trade area. With businesses like Towers, Zodys, Fed-Mart, Caldor and Hills long-gone and with Kmart resembling Monty Python's parrot more and more by the hour ("He's not dead...he's, he's restin'!"), ShopKo was arguably the second-to-last direct competitor to Wal-Mart left in existence...and one of the last surviving regional retail chains of any sort. I went to ShopKo fairly often during the years of the Failed Wisconsin Experiment, and always found their stores to be clean, well-stocked...and utterly devoid of people.
The Internet's token ShopKo Fan is probably devastated. (Never mind, he made one post in 2009 and never touched his damn website again.)
I left ShopKo behind when I uprooted and left the States in 2017, but I still feel like dredging up a few pictures: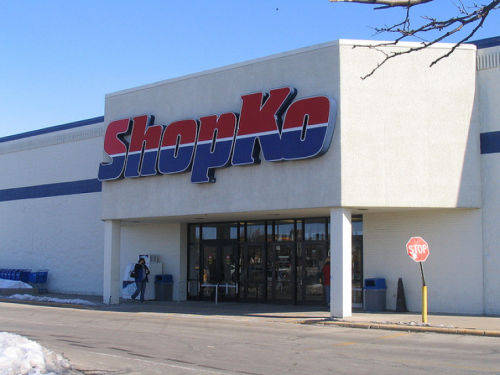 First off, here's the ShopKo store in De Pere that was still wearing its 1990s-era red and blue livery when I took this picture in the winter of 2010. Apparently, this one has already closed.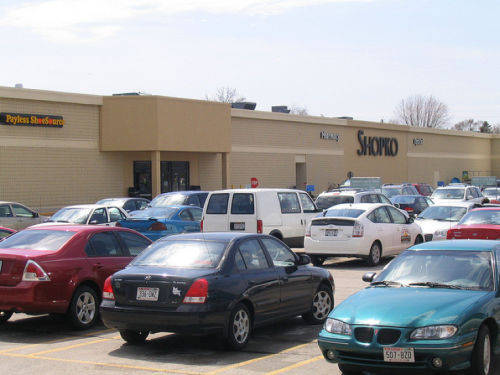 One of the stores on today's closing list was the ShopKo of Manitowoc, shown here in 2009 sporting the boring beige livery that defined the chain's later existence. This store was one of a seemingly eternal number of businesses I interviewed for that flat-out refused to hire me during the four years I wasted in that city.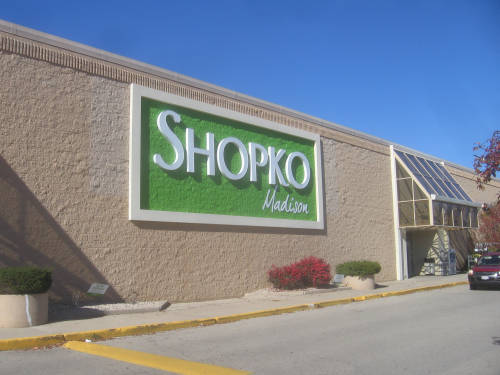 Finally, here's "my" local store in Madison, pictured shortly after its 2016 "reimaging"...which was the same as the previous image, only with the sign backing and interior walls painted green. No negative associations with this one, other than that it usually felt like a ghost town when I shopped there. And that it evokes yet another closed and gone chapter of my past...
---
Good things come in large envelopes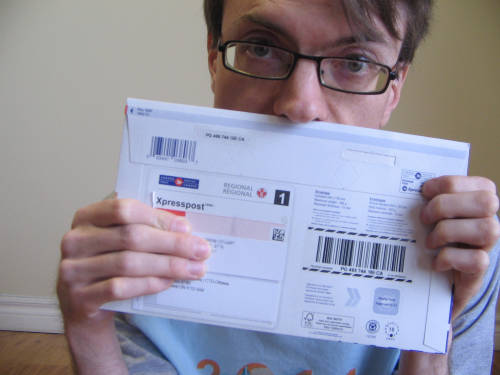 I have been approved for permanent residency in Canada. I still have to "land" and have my confirmation letter validated before my status is official, but I'm basically 99% of the way there.
This comes three months after I submitted my application, five months after I graduated from Western University with my master's degree, and a little more than a year and a half after I stepped foot on Canadian soil in the summer of 2017. I'm excited for my future here.
And, about those numbers...
I said "more to come next time" after last week's post, didn't I? Sure I did. So never fear, more stupefying trivia about the record industry is here!
A&M
A&M's main numbering series started at LP-101 in 1962. This became SP-4101 with the addition of a stereo prefix, and worked its way up to 5403 (the Gin Blossoms' New Miserable Experience) 30 years later. As with Capitol's ST prefix, this series wasn't pegged to any specific price...it merely indicated the "standard" price, which ranged anywhere from $4.98 to $8.98 depending on the era.
A&M Records also had several smaller numbering series that were used to indicate deviations from the "standard." In the early 1970s, certain big-name albums were cordoned off in the SP-3500 series with a dollar-higher $5.98 list price. A $6.98 SP-3600 series followed in 1973...and for most of 1974, this became the main series as the industry hiked list prices across the board in the wake of the 1973 oil embargo. Eventually the main series was also bumped to $6.98, and it resumed at SP-4501 in 1975.
The SP-3700 sequence started in 1973 as a series of $7.98 double albums, at a time when standard single albums were $5.98. By 1979 the standard album price had risen to $7.98, and the SP-3700 series was recast as a series of "highline" $8.98 albums. Some records were recatalogued with different numbers as pricing changed: For instance, Herb Alpert's Rise (1979) started off as SP-4790 ($7.98), was bumped to SP-3714 ($8.98) as it rode high on the charts, then dropped to SP-3274 ($5.98 or $6.98) as it assumed midline catalogue status. The SP-3700 series eventually became redundant when the main series assumed the $8.98 price point, but in 1986 a series of pricy $9.98 albums was introduced numbered off from (what else?) SP-3900.
In 1989 A&M was sold to PolyGram, a company with a practice of doling out catalogue numbers to its constituent labels from a single worldwide numbering series. A&M was assigned two blocks of numbers: One for albums in the 31454 0000s, and one for singles in the 31458 0000s. This continued until 1999, when PolyGram was subsumed into Universal Music and A&M essentially ceased to exist.
Atlantic distributed and subsidiary labels
I discussed the Atlantic label's catalogue numbering blocks in my introductory post on the topic two weeks ago. The Atlantic Group was more than just Atlantic per se, though: The company had numerous subsidiaries and handled distribution for a wide range of independent and international labels as well. Each of these had its own numbering series in the 1970s, with a different block of numbers for each price point...making any comprehensive Atlantic discography an excessively complex thing to behold!
List price
4.98
5.98
6.98
7.98
8.98
Era
Pre-71
1970-74
1974-77
1977-81
1979-81
Atlantic
SD 8000
SD 7000
SD 18000
SD 19000
SD 16000
Atco
SD 33-000
SD 7000
SD 36-000
SD 38-000
SD 32-000
Cotillion
SD 9000
SD 9900
SD 9900
SD 5200
SD 16000
Nemperor
-
-
NE 400
NE 900
-
Rolling Stones
-
COC 59000
COC 79000
COC 39000
COC 16000
RSO
-
SO 870
SO 4800
-
-
Swan Song
-
-
SS 8400
SS 8500
SS 16000
The above table doesn't even tell the whole story. There was also Atlantic's SD 1000 jazz series, which in the 1960s was priced a dollar more than pop albums...though what price it carried in the 1970s is anyone's guess. There were short-lived series for other distributed labels that simply didn't last long enough to splinter into more than one price point. Then there were special series for multi-record sets...which of course cost more, and which were essentially unique numbers.
Atlantic started taking steps to rationalize its catalogue numbering system in 1979, when $8.98 pricing was introduced. All records at this new price point were numbered off in two consolidated series (16000 and 32-000) regardless of which subsidiary they had come from. Albums from new subsidiaries and newly-assumed distributorships like Mirage and Modern Records were also subsumed into existing series instead of being given new numbering blocks of their own. Finally in 1982, Atlantic unveiled a completely new numbering system that reduced all the prevailing series to just two: One block of numbers starting at 80001 for the Atlantic label, and one starting at 90001 for distributed labels and subsidiaries. These series lasted for the next 25 years...or into the next millennium and beyond.
---
Strange symbol, presented without explanation: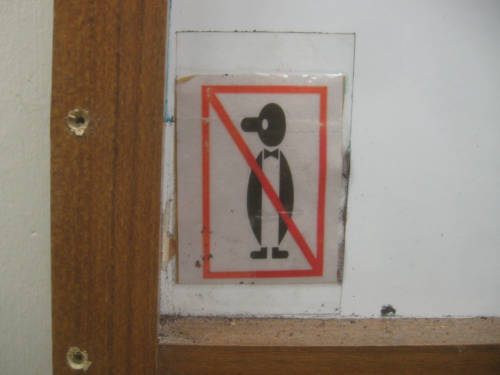 And, about those numbers...
As a follow-up to last week's post, here are explanations of some of the price-coding systems used by other record labels of the 1970s.
Capitol
Capitol's system is notoriously confusing. From the 1950s to the 1980s, the label relied on a system of letter prefixes keyed to price points...but while an "ST" record may have cost $4.98 in 1965, it certainly didn't cost that in 1985! That's because the label's approach to codes was a little different from most. "ST" didn't necessarily denote a $4.98 LP; it merely meant a stereo record at the "standard" price, whatever that may have been at the time.
Other letters were used to show deviations: "SM" and "SN" records were discount-priced, whereas "SW" was used for "premium" albums costing a dollar more. When list prices rose to $6.98 in 1974, Capitol appears to have used "SO" to introduce the new price point...then let it be assumed by "SW" and then "ST" as the new pricing structure became established. The same appears to have happened in 1977 for $7.98 records. When $8.98 records came out, however, it happened so soon after the previous price increase that using "SO" would have caused confusion. Capitol's solution was to add an extra letter ("SOO") and skip the SW stage of progression altogether, letting the $8.98 price point "graduate" directly from SOO to ST. When $9.98 records began to appear in the 1980s, they were denoted with the "SJ" and "PJ" prefixes. (Some early "SJ" albums may have still been $8.98.) This very briefly became "CLJ" ("CLT" for $8.98) when EMI consolidated its worldwide numbering systems in 1987...then the codes disappeared for good.
This information, by the way, is specific to "normal" vinyl albums actually on the Capitol label. Subsidiaries like Liberty and EMI America added peculiar twists and wrinkles to the system, as did cassette and 8-track tapes. Then there were special packages and multi-item sets, which piled on the letters to produce codes such as "SMAS" or "STCL." One could write a book about this (and someone probably has), but this is the point where I step off of this particular train...
United Artists
In 1972, United Artists adopted a straightforward and orderly consolidated numbering system across its entire sphere of subsidiaries and distributed labels. A typical number looked like UA-LA072-F, with four constituent parts:
A label code:

UA

=United Artists,

BN

=Blue Note, and so forth.
A format code:

LA

=LP,

CA

=cassette,

EA

=8-track.
A sequential number, starting at

001

and working upward.
A simple and consistent price code:

F

=$5.98,

G

=$6.98,

H

=$7.98, and so forth.
This system was not used for a particularly long period of time. Why? United Artists in the 1970s was owned by Transamerica Corporation, an insurance conglomerate that knew absolutely zilch about the music business. By the second half of the 1970s, UAR was shedding talent and bleeding money...and Transamerica's solution was to sell the label to the executives running it, who immediately defaulted on their loans and left Capitol Records holding the bag. The very first word of order that Capitol did was scrap the United Artists code system and replace it with its own...shortly before scrapping the United Artists name, and shutting the label down altogether.
More to come next time.
---