The Sentry Foods grocery chain was once the largest and most ubiquitous in the state of Wisconsin. As with Kohl's, the company expanded and competed aggressively in the 1960s...and how. By 1971, the chain had grown to 75 stores and secured a foothold in over 80% of the state's markets:
Sentry Foods imposed consistency to the disparate parts of its chain, including uniform store designs. Slowly, however, it began to unravel. In 1987 the chain was sold to Fleming, an Oklahoma-based wholesaler with little retailing experience. Fleming proceeded to sell Sentry's stores to local operators...before plunging into bankruptcy in 2003.
Today, Sentry exists only as the whittled-down, loosely-connected remnants of a chain. Only about half a dozen stores still remain in operation under the banner, almost all in southern Wisconsin.
Unless noted otherwise, all photos on these pages were taken by Andrew Turnbull over a period of more than 10 years.
---
1950s stores
Sentry appears to have originated in the early 1950s as an operator of IGA stores in Madison and Milwaukee. The IGA name began to be de-emphasized by mid-decade as Sentry developed into a chain in its own right.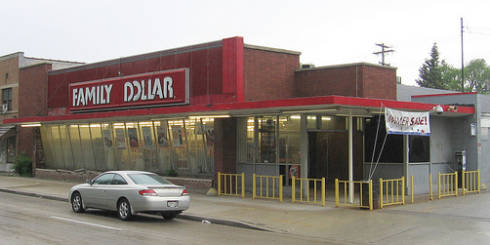 4412 W. Capitol Dr., Milwaukee, WI
2011
This store was built in 1953, and is a fantastic example of an early Sentry. The facade is finished off in deep red porcelain-enamel tile that is original to the store. Combined with the out-tilted glass and multi-level roof, this makes for a very eye-catching building, and a true survivor!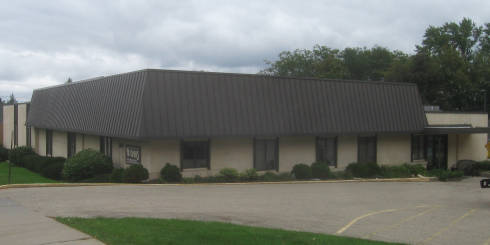 3817 Mineral Point Rd., Madison, WI
2016
Built in 1951. By 1955 this store had become part of the Sentry chain...and it remained a Sentry for nearly three decades thereafter. It closed by 1985, when the property was given an unfortunate "blandification" and converted to office space.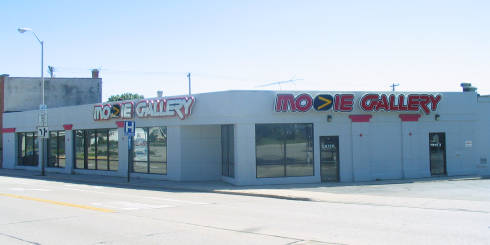 2206 Forest Ave., Two Rivers, WI
2010
This store opened 27 Jun. 1957, and was originally operated by the Stegemann family. It was replaced in 1975, and the building has since housed a Ben Franklin store, Movie Gallery store, and numerous other enterprises. Period newspapers make mention of a "red and white porcelain" facade; unfortunately, this has not survived.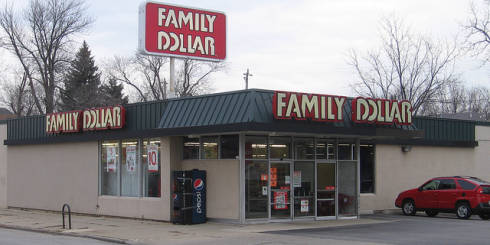 4130 S. Howell Ave., Milwaukee, WI
2011
Another of Milwaukee's early Sentry locations hails from South Howell Avenue, which was a major conduit of mid-century development. Like the last, it features a street-flush alignment. According to public data, this structure was built in 1958 and remained open until the 2000s.
---
Colonnade stores
Sentry's most common and recognizable store design featured a column-fronted walkway with side-facing entrances at each front corner, not unlike the layout of a Safeway marina store. Dozens of these buildings sprouted in eastern and southern Wisconsin cities during the 1960s and 1970s, and a fair number of them remained open until Fleming's 2003 collapse.
I've decided to name this store design "colonnade," in deference to classical architecture.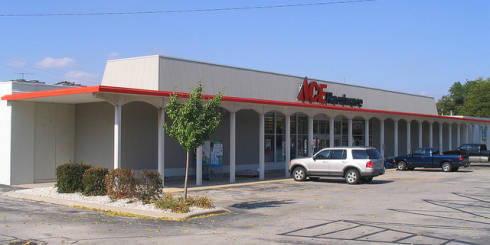 2110 S. Ridge Rd., Ashwaubenon, WI
2010
Ashwaubenon is Joel Hodgson's hometown, and he actually referenced this store on season two of MST3K (Catalina Caper) when he reminisced about 1969: "No, Joel, you can't go to Woodstock; you're nine years old. We're going to the opening of the new Sentry store! Oh yeah, on Echo Lane! Three days of peace, love, and pizza rolls! We're going to buy you a shopping cart for your birthday!" Echo Lane runs within half a block of this store.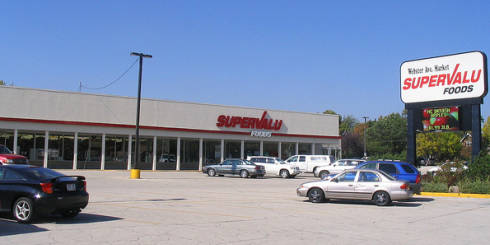 1220 S. Webster Ave., Allouez, WI
2010
This store is located in the Fox River village of Allouez (literally one foot outside Green Bay city limits), and opened by 1971. The upper facade has been remodelled, but the lower tier remains untouched.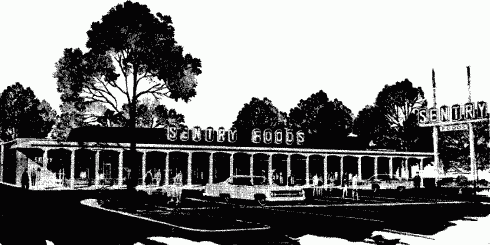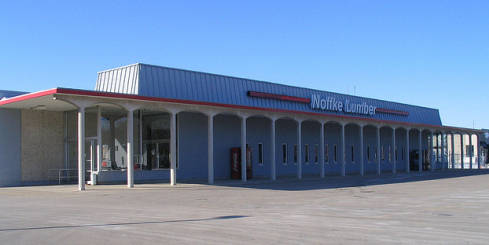 1601 N. Bowen St., Oshkosh, WI
1971 (newspaper ad illustration), 2010
Opened 6 Oct. 1971, reportedly as the 75th store in the chain. The building survives today in completely original condition aside from windows.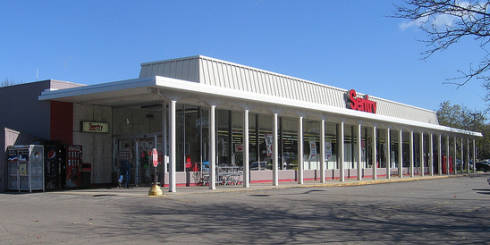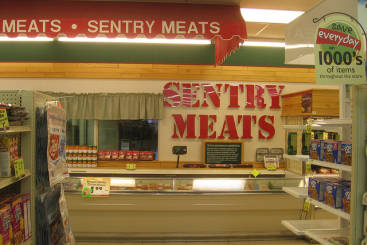 4602 Cottage Grove Rd., Madison, WI
2011, 2013
This store opened 12 July 1972. This was the very last intact colonnade-style Sentry in operation, outliving the Fleming collapse by more than ten years. It retained wood-and-stencil interior decor from the early 1990s. Unfortunately, the store did ultimately succomb to competitive pressures and closed in July 2014.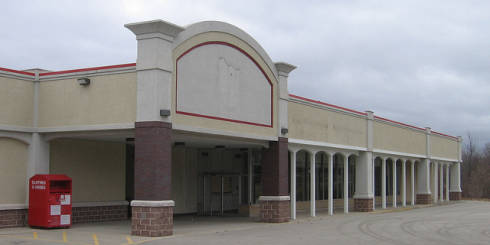 707 N. Main St., Brillion, WI
2011
This store was built in 1974, closed as a Sentry around the time of Fleming's 2003 implosion, then lived out brief tenures as a Supervalu franchise and Piggly Wiggly store before closing permanently. One entry door has been sealed over and a heap of newfangled architectural renovations have been piled on top, but the lineage of the architecture is still fairly obvious.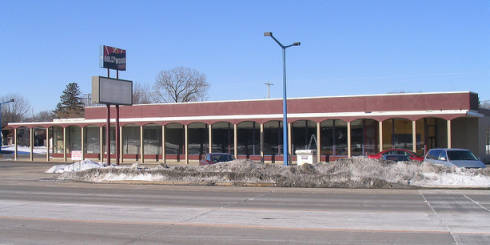 2130 S. Memorial Dr., Appleton, WI
2010
Since this photo was taken, the building has been reoccupied by a thrift store.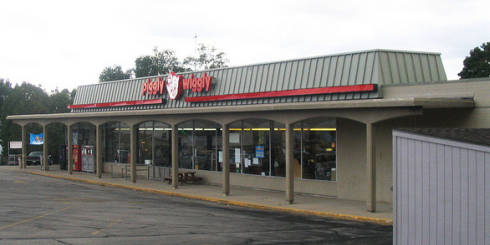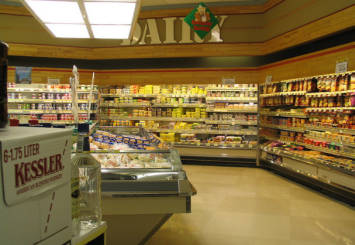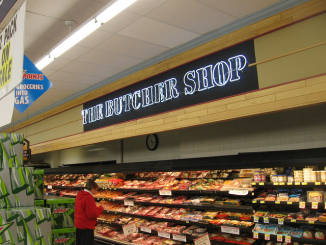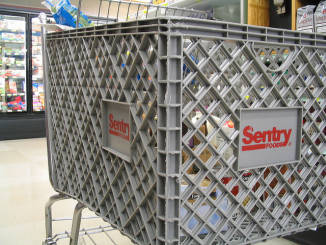 2300 Forest Ave., Two Rivers, WI
2009, 2010, 2011
Opened 26 Feb. 1975 next door to its 1950s predecessor; rebranded as Piggly Wiggly following the 2003 Fleming collapse. This store is a favourite of mine that retains original floor-to-ceiling windows, original automatic doors with "magic carpet" mats, original shelves, original refrigerator cases, Sentry-carryover interior decor, and Sentry-carryover shopping carts. Or at least, it still did around the year 2010 when I (briefly) lived in the area!
---
Subsequent and renovated stores
Sentry retired the colonnade motif by the 1980s, and later Sentry stores took on a variety of styles. It should be noted, however, that a fair number of "later" Sentry stores are actually earlier buildings with extensive renovations.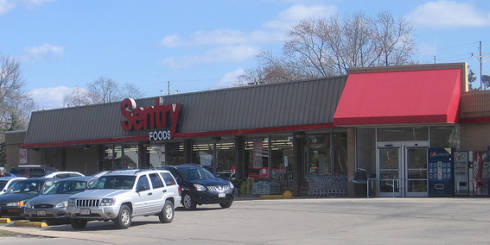 105 S. Madison St., Lake Mills, WI
2013
Putting an era on this store is difficult to do. That's because it's actually a late 1950s- or 1960s-era supermarket that was expanded in the 1970s to twice its original size, refronted with a pillarless version of the standard Sentry facade, then expanded yet again in the 1990s! Miraculously, this is still open as a Sentry today.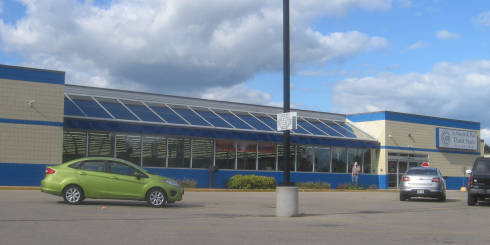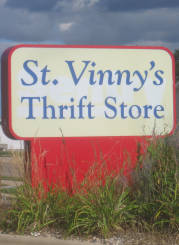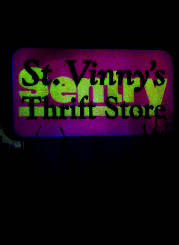 1110 W. Main St., Sun Prairie, WI
2015
This store was built in 1967 and most likely once sported the colonnade architecture typical of that era; however, it was later expanded and given a new greenhouse-style facade reminiscent of an 1980s Kroger or Canadian A&P. The Sentry logo is still faintly visible on the sign, which has been reused by the current tenant. (Or not-so-faintly visible. For the "enhanced" image at far right, I used a palette swap and heavy contrast adjustments to make the hidden message pop.)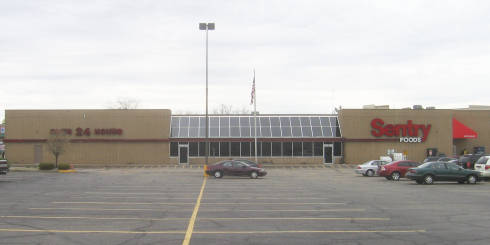 328 Washington St., Fort Atkinson, WI
2013
This store opened by 1971, and was expanded and re-fronted with a greenhouse-style facade in the 1980s or 1990s. It has since been converted to a Festival Foods store.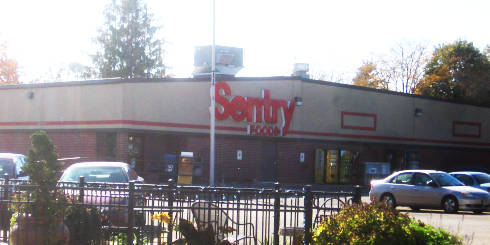 645 3rd St., Prairie du Sac, WI
2015
This store backed straight into the sun on the day I drove past it...but by 2015, surviving Sentry stores were so few and far between that I wasn't about to let one go without a picture! This store also remains open, but I'm unclear if it's still branded as Sentry.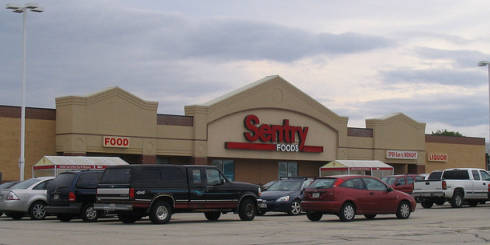 101 W. 7 Hills Rd., Port Washington, WI
2010
Built in 1987, and expanded (and re-fronted) in the 1990s. As of 2019, this location has been rebranded as a Piggly Wiggly store.
---