Supermartifacts / The Artifacts of Kohl's Food Stores

Any Wisconsinite can recognize them. Arch-roof store buildings; often with curved beams extending to anchors planted in the ground. These were the buildings used by the Kohl's food store chain...a precursor to the modern Kohl's department store chain, and a onetime institution in its own right.
The early years of Kohl's were rife with experimentation. Max Kohl was intrigued by the then-new concept of self-service supermarkets and opened three stores to this model in the 1930s, followed by larger stores complete with automatic doors and on-site parking in 1942 and 1946. These early store locations were housed in typical flat-roofed buildings; however, after observing a Penn Fruit store in Philadelphia, Mr. Kohl was inspired to adopt an arch-roofed design with prominently-visible structural members. The first Kohl's store implementing these elements opened in 1951.
Dozens of arch-roofed buildings were built in the company's trade area throughout the 1950s, 1960s, and 1970s, and the family supplemented the grocery endeavors with their first general-merchandise department store in 1962. At its height, Kohl's operated no fewer than 60 food stores in Wisconsin, Illinois, and Indiana.
Eventually, however, the chain declined. In 1972 a controlling stake in the company was sold to the British-American Tobacco Company...an odd overseer if there ever was one. In 1979, the Kohl family stepped down from management. BATUS sold the food stores to A&P in 1983 (forming an entity called "Kohl's II"), and sold the department stores separately three years later. A&P gradually retrenched Kohl's operations to two counties, shuttering them completely in 2003. But, the distinctive buildings live on; empty or repurposed; monuments of glorious curves upon the landscape to times gone by.


Kohl's stores were very distinctive and aesthetically significant, but the buildings also had a bit of variation and contained various "hallmarks" for identification. Many of the earlier stores were built with floor-to-ceiling glass, while later stores cut down on the glass surfacing and replaced it with opaque paneling in bright colours. This facade was often repainted or partially covered over on subsequent remodelings of stores. Both styles contained a set of five narrow-spaced "channels" on the side of the facade opposite the entrance doors to carry the "kohl's" lettering.


Many stores had an extended beam on the front facade that attached to concrete anchors on the ground...however, others did not. Yet another distinctive element on some of the stores was a unique pattern of textured brick facing visible on the sides.
All of these "hallmarks" make it easy to positively identify a former Kohl's building, even if it's been reoccupied by a completely different business and remodeled severely.
Unless noted otherwise, all photos on these pages were taken by Andrew Turnbull.
---
Arch-roof stores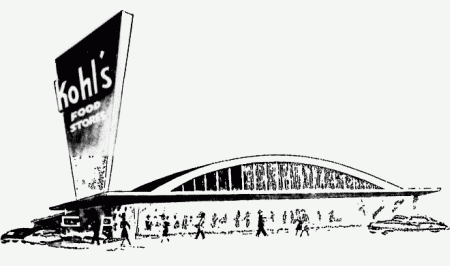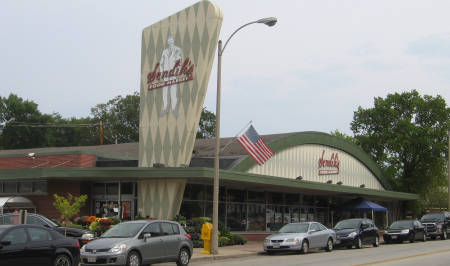 8616 W. North Ave., Wauwatosa, WI
1951 (newspaper ad illustration), 2011
Opened 22 Aug. 1951. Yes, the very first arch-roofed store that was built still stands in Wauwatosa today. It doesn't have floor-to-ceiling glass, but it does have a unique pylon that I haven't seen anywhere else. The most unusual thing about the building, however, is that it's still selling groceries: The store has been reoccupied by the local Sendik's outfit, which is doing a very good job of keeping the snug property in tidy shape. The Wisconsin Historical Society also maintains a property record on this location.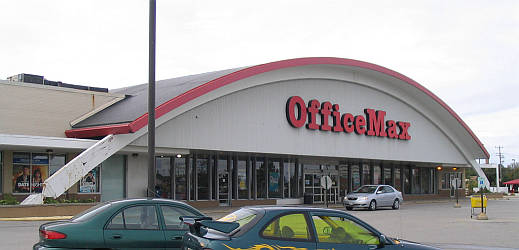 3555 S. 27th St., Milwaukee, WI
2010
Here's a more typical Kohl's store, from Milwaukee's 27th Street goldmine of 1950s-1970s retail development. Opened 22 Oct. 1959. The top half of the window framework has been covered over, but the five narrow channels for conveying the "kohl's" lettering are intact.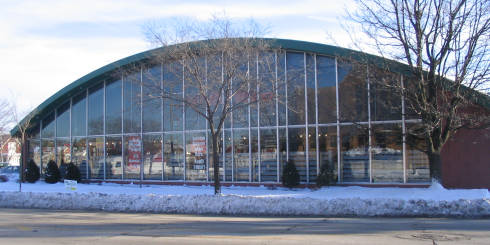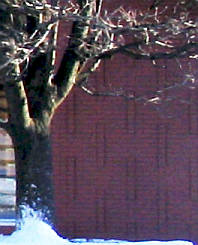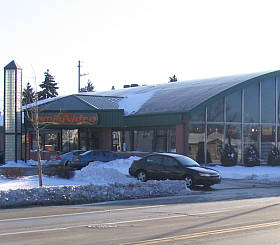 1715 S. 76th St., West Allis, WI
2010
The West Allis location was built in 1964. Family Video has reoccupied this store and added a new entrance configuration on the side, but the front of it (with the five signature channels) is just about perfectly preserved. Textured brick details are visible on the opposite wall, and these are also featured in the property record that the Wisconsin Historical Society maintains on this location.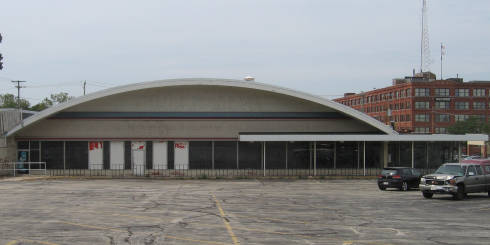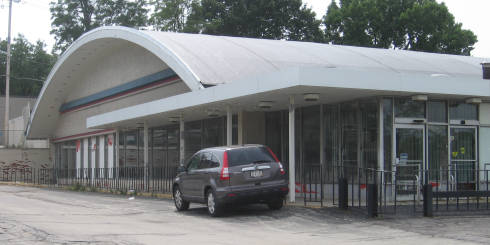 3525 W. Juneau Ave., Milwaukee, WI
2011
Yet another Milwaukee store built in 1964; this time literally within the shadow of Harley-Davidson headquarters. This one evidently received a few updates during its operational life, with much of the glasswork replaced by opaque paneling. Labelscar from a later-era Kohl's sign is clearly visible in front, as well as marks from a repurpose as something called the Juneau Mall. Although I neglected capturing it in the shot, this building contains ridged brick details down the side.
This store has since been demolished.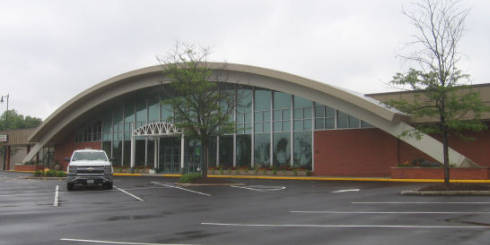 5747 W. Dempster St., Morton Grove, IL
2014
I stumbled upon this store while putzing about the north edges of Chicago one fine summer day, and it immediately caught my attention. Kohl's wasn't always confined north of the Illinois state line: They had a significant footprint in the Chicago area in the 1970s, and this address is listed as a Kohl's in a 1980 directory. This store's window configuration may have been changed to eliminate the telltale channels, and a small line of street-facing stores have been carved out along one side.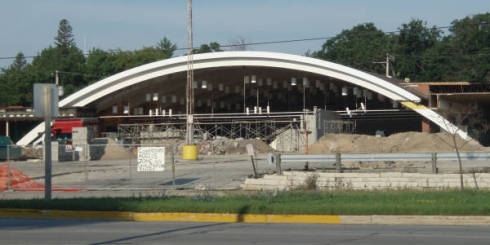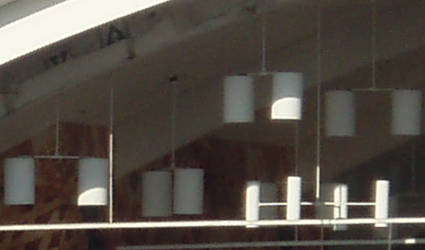 5455 S. 27th St., Greenfield, WI
2009 (Dave Reckhouse)
Dave Reckhouse managed to capture these shots of a former 1965-built Kohl's store in Greenfield while it was in the midst of being gutted for redevelopment in 2009. The facade had been removed, revealing row after row of vintage barrel-style light fixtures that may have been original to the store.
This building currently houses an Asian grocery store called Pacific Produce, and the original roofline is still partially visible today. Also worth noting about this location is that it literally faces Milwaukee, as the city boundary runs down the middle of the street.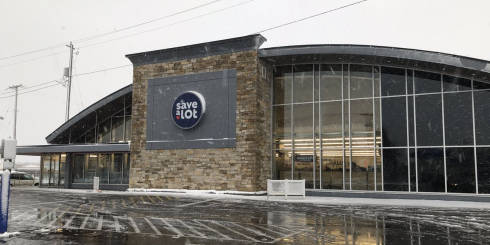 2322 W. Oak St., Milwaukee, WI
2019 (David Gwynn)
Built in 1965 with an all-glass facade. The property has recently been renovated to house a Save-a-Lot store, and one-quarter of the storefront has been covered by a pile of rocks.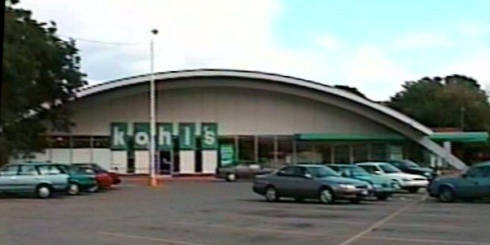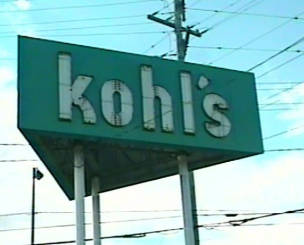 2525 Winnebago St., Madison, WI
1997 (David Gwynn)
Kohl's Food Stores were still a going concern back in the 1990s, and David Gwynn was fortuitous enough to gather this video footage on a trip through Madison back in the day. He also maintains his own web pages.
Incidentally, this store was the very first Kohl's food store in Madison, opening on 30 Nov. 1966. It closed with the chain in 2003, and was demolished shortly thereafter.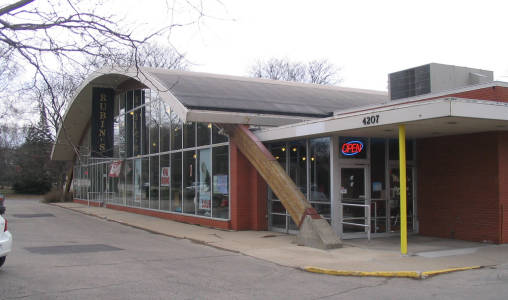 4207 Monona Dr., Monona, WI
2010
Kohls' second store in metro Madison was this superb architectural example, opening 20 Mar. 1968. At the time I captured it in 2010, the building was housing a furniture store. As of 2019 it still stands, and it's now home to a Habitat for Humanity ReStore.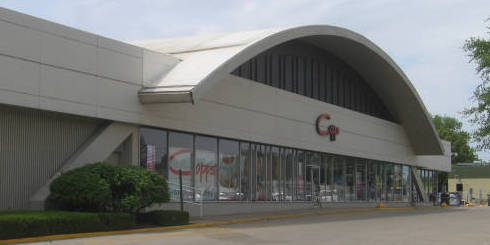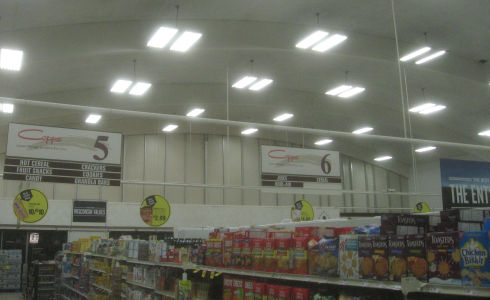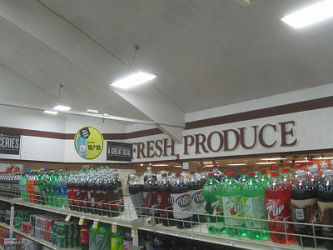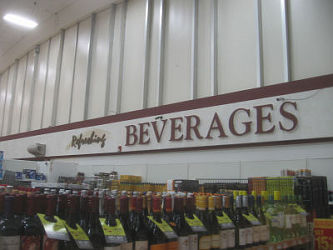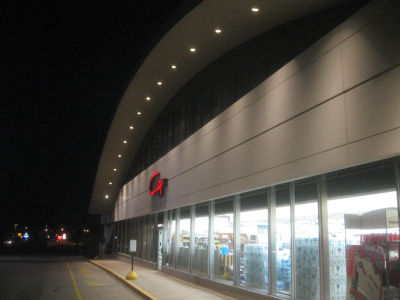 1312 S. Park St., Madison, WI
2014, 2017
Like Wauwatosa's store, Madison's Park Street arch is very unusual chiefly because it still actually houses a supermarket within! It opened 30 Oct. 1968. The building has gone through a few modifications and expansions over the years...for example, the entire produce department has been relocated to an annex with a low ceiling level...yet it still manages to survive with its architectural integrity intact.
I'm not entirely sure if the pictured decor originated with Kohl's, with A&P, or with Roundy's. Don't expect to see it now: These interior pictures were taken in early 2017, mere weeks before Roundy's new owner Kroger remodeled this quaint neighbourhood market and rebranded it under the Pick 'n Save name.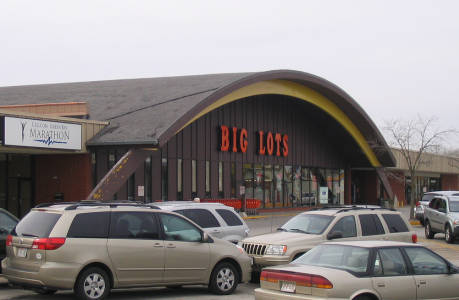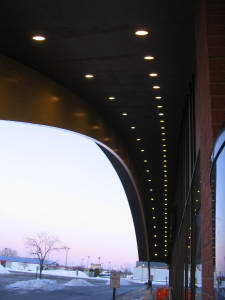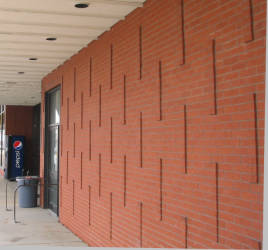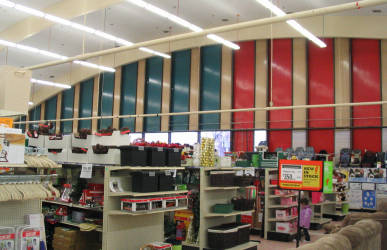 1177 Lombardi Access Rd., Ashwaubenon, WI
2009
This location was notable for several reasons. It represented the northernmost Kohl's store I was aware of. It was half a block away from Lambeau Field. And, it was superbly well-preserved inside, with original wall coverings and floor tile around and about.
Reportedly, the store closed as a Kohl's in August 1992 and converted to Big Lots immediately after the fact. Unfortunately, this building has to be referred to in the past tense: The land it was on is owned by the Green Bay Packers, who spent several years letting leases expire with the intention of razing the entire block of retail developments and building a football-oriented visitor attraction in its place. Big Lots closed in 2010, and this is now a flattened field.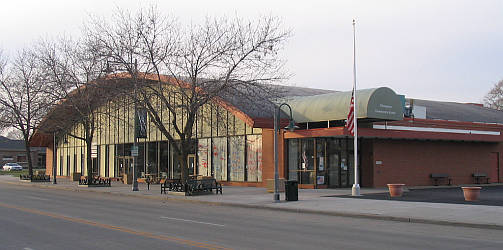 820 W. College Ave., Appleton, WI
2009
Time has been somewhat kinder to the downtown Appleton location several miles upstream, which now houses some sort of community centre for older adults. Opened in 1973. Both it and the Ashwaubenon building have identical front paneling.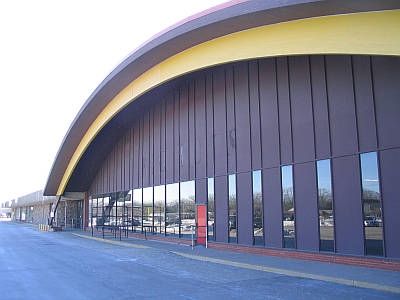 877 S. Green Bay Rd., Neenah, WI
2010
Opened 14 Aug. 1974. Neenah's Kohl's followed a trajectory identical to Ashwaubenon's, with a metamorphosis with original wall coverings and interior furnishings into Big Lots. It had already closed by the time I photographed it in January 2010, and the building has since sadly been demolished.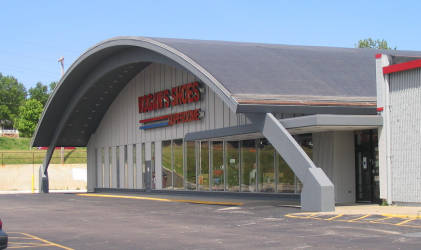 2151 Main St., Green Bay, WI
2009
A second Green Bay area Kohl's store existed in what eventually morphed into the vicinity of the East Town Mall, and was built in 1974. Another well-preserved example on the outside (battleship-grey paint notwithstanding); it now houses a "superdome" for Rogan's Shoes.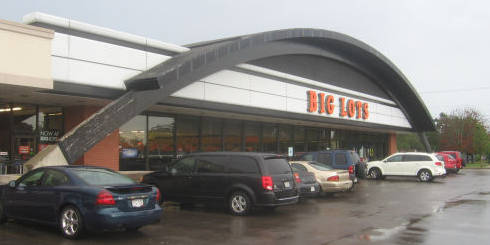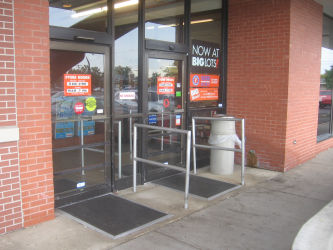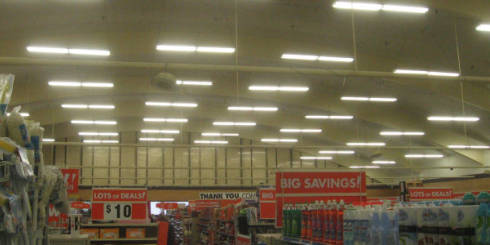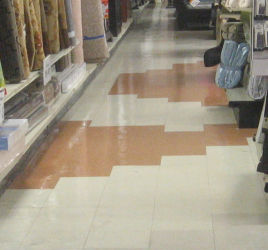 1714 Milton Ave., Janesville, WI
2014
With the demolition of the Ashwaubenon and Neenah locations, the Kohl's-to-Big Lots conversion in Janesville (built 1975) now stands as the best-preserved store building of the lot. It's not perfect...part of the upper facade with canopy lighting was covered over while Kohl's was still in operation...but a lot of other details survive intact, including original floor tiles and the "magic carpet" entrance configuration!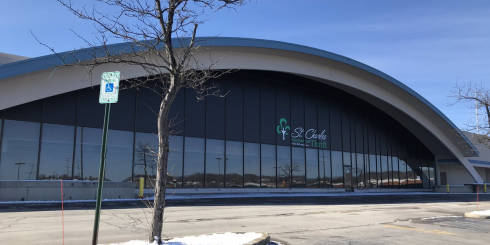 8211 W. Brown Deer Rd., Milwaukee, WI
2019 (David Gwynn)
What was the last Kohl's store to be built with an arch roof? This one just might be a contender for the title. Like the Janesville store, it was built in 1975. And also like Janesville, it features smoked aluminum trim (à la Sears Tower) that makes it look a little more contemporary than these buildings' 1960s forebears. This store has also aged gracefully; much more gracefully than what it stands across the street from: The crumbling remains of the Northridge Mall.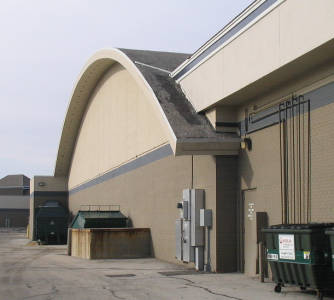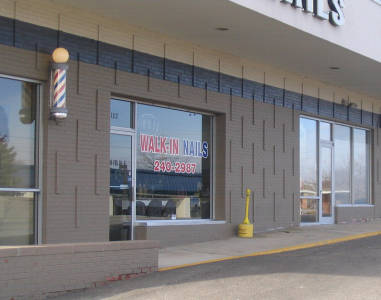 11110 N. Pt. Washington Rd., Mequon, WI
2010
This one's a bit of an agent in disguise. A subsequent occupant (or the shopping-centre management) had the front of the store completely covered by a tacky, square-rigged false front...but the original roofline is still visible behind. With appropriate irony, the unscathed end is what's in plain sight of millions of motorists annually on I-43! The side face of the store has a line of small storefronts carved out of it, but the vertical ridges in the brickwork leave a definitive hallmark as to the property's original purpose.
This store operated as a Kohl's until approximately 1989, when it was replaced by a new and nondescript Kohl's store at the opposite end of the centre. I'd link to a citation, but the Google Journal-Sentinel archives disappeared from the intertubes.
---
Imposter stores
S. Water and E. Pine Sts., Platteville, WI
2011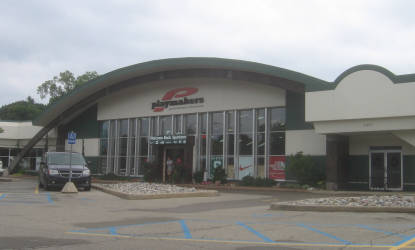 2299 W. Grand River Ave., Okemos, MI
2016
Although the Kohl's store design is distinctive, it should be disclosed that not every supermarket-sized building with an arched roofline was a Kohl's store...even in Wisconsin.
The Platteville store has an arched roof, but the styling of the facade is slightly different from that of a Kohl's store, and Kohl's never expanded its supermarket trade area west of Madison. It was once a Dick's supermarket, a defunct southwest Wisconsin grocer.
The Okemos store is an even closer facsimile of the Kohl's store design, complete with a frontal beam anchored to the ground...but it was never a Kohl's, either, and Kohl's never expanded to Michigan (though they did tread close at one point). This once housed a Schmidt's supermarket, a once-sizable Lansing chain.
---
Post-arch store buildings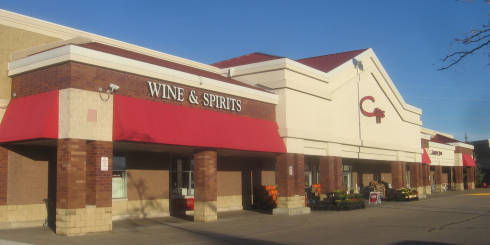 261 Junction Rd., Madison, WI
2016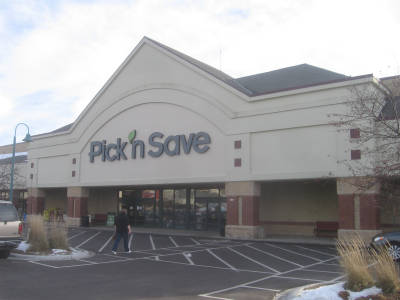 6540 Monona Dr., Monona, WI
2017
It may be best to draw a discreet veil over the latter days of Kohl's in the 1980s through 2000s...a time of declining fortunes and a perpetually shrinking trade area at the hands of indifferent A&P management.
Kohl's did occasionally open new stores in this era; though any grand architectural ambitions were neutered after 1979. Both of these buildings are representative of A&P's corporate-wide store designs of the 1990s, and are identical to stores that would have operated under names such as A&P, Farmer Jack, or SuperFresh elsewhere in the country.
When A&P wound Kohl's down in 2003, the Madison-area stores were sold to Roundy's...which rebranded them under the Copps moniker. A dozen years later, A&P was history...and Roundy's was sold to Kroger, a chain that had previously done business in Wisconsin from 1928 until 1971.
Ironically, the strength and expansion of Kohl's during the 1960s and 1970s was once a factor in the local decline of Kroger and A&P.
---
There are many other old Kohl's buildings in existence still waiting to be photographed and discovered. A fair number of these are at imminent risk of being demolished or renovated beyond recognition, so you can never be too soon in documenting a place.
Related links:
Groceteria: David Gwynn's supermarket history website, focusing on both Canada and the US.
Razed in Milwaukee: Remember Kohlís Food Store? A blog post by Megan Daniels. Thanks for the mention!
A Different Design for a Grocery Store: From the Schaumburg Township District Library in Illinois.
The Kohl's Food Stores photo pool that I maintain on Flickr.
---