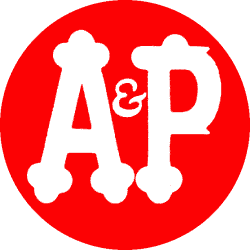 Unless noted otherwise, all photos on these pages were taken by Andrew Turnbull over a period of more than 10 years.
---
Subsequent U.S. stores
Although the Centennial architecture prevailed for A&P store construction until the 1970s, several of the stores that A&P opened in malls and shopping centres during this period eschewed the Centennial motif in favour of architecture that blended in with the centre as a whole. As the 1970s wore on into the 1980s, A&P also began building larger stores with a variety of architectural motifs that sometimes varied from division to division. Many of these concepts are explored in this section, although the fragmentation of the chain during this period makes it difficult to document in photos.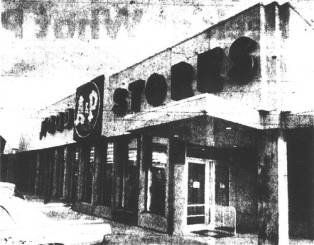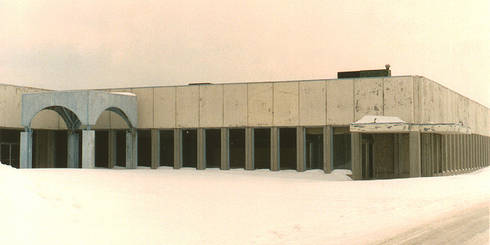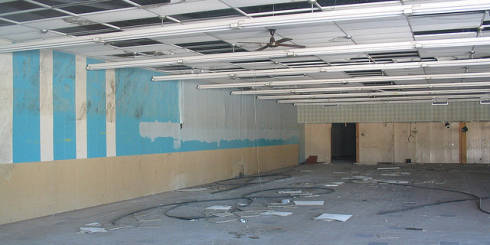 828 Memorial Dr., Manitowoc, WI
1968 (Herald-Times-Reporter) and 2009
This supermarket was developed as part of the Mid-Cities Mall, opening 1 May 1968, closing as an A&P in 1979, and briefly reopening as an independent market before closing permanently. By the time I photographed it in 2009, this portion of the property had sat abandoned for two decades. Since demolished.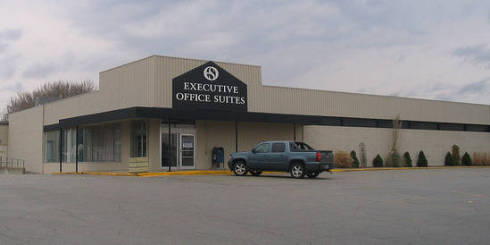 1039 W. Mason St., Green Bay, WI
2010
An architecturally bland and generic shopping-centre supermarket. Most likely closed in 1979 during A&P's first exit from Wisconsin.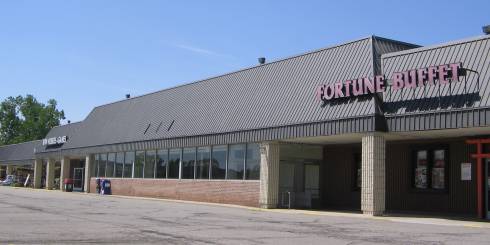 29583 5 Mile Rd., Livonia, MI
2019
A&P's usual store design of the mid-to-late 1970s consisted of some form of mansard over a central entry vestibule, at least in the midwest. This one might have been built as a replacement store for 33503 5 Mile, located just 3 km down the street.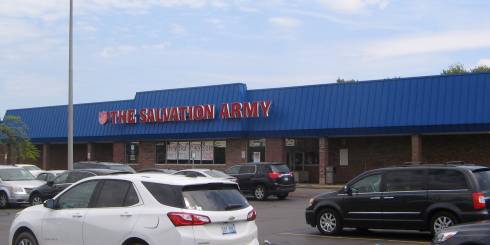 35170 Dodge Park Rd., Sterling Heights, MI
2019
Here's another variation on the typical late-'70s A&P, little changed since it last sold groceries.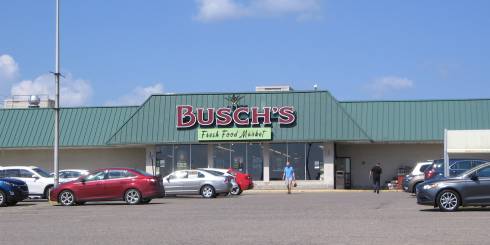 41840 W. 10 Mile Rd., Novi, MI
2019
And yet another! This one is still selling groceries under the auspices of Busch's, a local Detroit-area chain.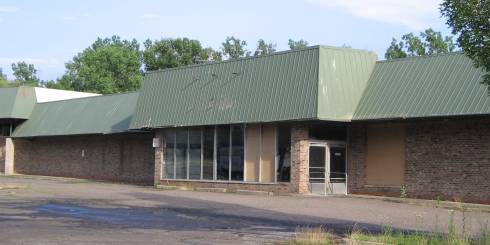 42475 W. 7 Mile Rd., Northville Twp., MI
2019
This A&P store opened on 15 Feb. 1976, and most likely closed in 1997 when a replacement store opened. That means this property has been standing abandoned for over two decades...and it's in a frightening shape.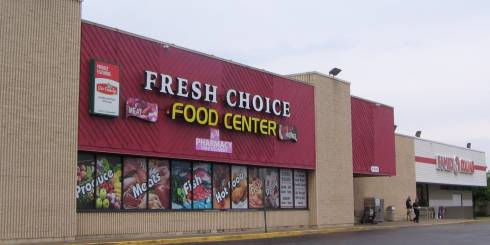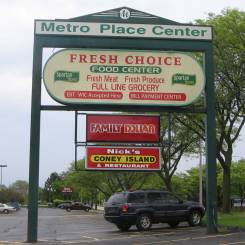 35400 E. Michigan Ave., Wayne, MI
2019
This store in Michigan has diagonal wood slats on the facade, and opened by 1983. It is still selling groceries today as a Spartan Nash affiliate, and the original A&P pill-shaped signframe has also been reused.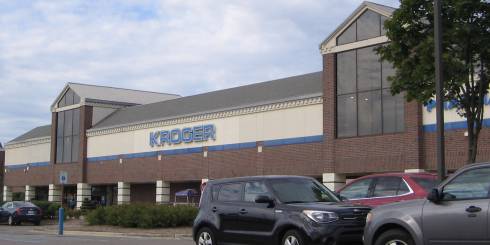 17447 Haggerty Rd., Northville Twp., MI
2019
Opened 25 June 1997 as a Farmer Jack store under A&P ownership; sold to Kroger in 2007.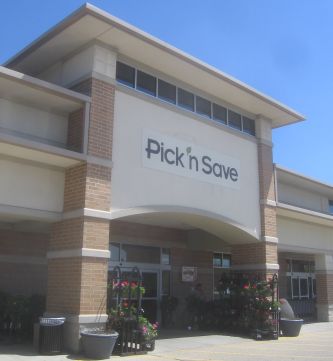 3650 University Ave., Shorewood Hills, WI
2017
Opened 16 January 2002 as Kohl's Food Emporium, replacing a 1966 arch-roofed store on the same site. It operated under A&P ownership for scarcely a year before being sold to Roundy's, who reopened it under the Copps name on 21 May 2003. Re-rebranded under the Pick 'n Save name in 2017.
---
Peaked-roof double-column stores
After twenty years of tossing various store concepts at the wall and giving local divisions leeway to do their own thing, A&P began moving back towards consistent store architecture in the late 1990s. New stores took on an instantly-recognizable design, with a peaked facade over an arched ridge and four pairs of double columns flanking the entrance. This wound up being something of a final hurrah for the company...A&P's last chainwide achievement before it pulled out of the southeast and midwest, divested its healthy Canadian division, spiraled into bankruptcy, and shut down for good.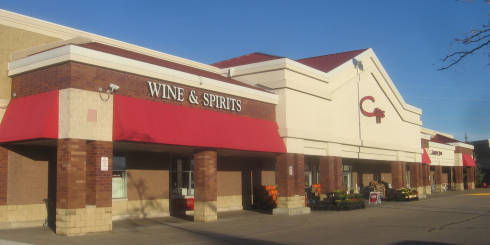 261 Junction Rd., Madison, WI
2016
Opened 14 May 1997 as a Kohl's food store under A&P ownership; sold to Roundy's (dba Copps) in 2003. This was my local supermarket during my time in Madison. Architecturally, it's representative of A&P's US store construction during this period.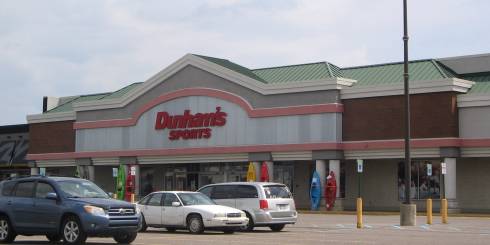 51328 Gratiot Ave., New Baltimore, MI
2019
Opened as a Farmer Jack store under A&P ownership. Closed during A&P's 2007 withdrawal from Michigan, and subsequently repurposed.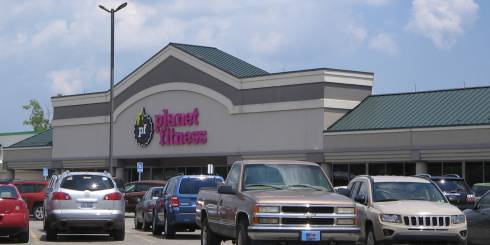 50 N. Groesbeck Hwy., Mt. Clemens, MI
2019
Opened as a Farmer Jack store under A&P ownership. Closed during A&P's 2007 withdrawal from Michigan, and subsequently repurposed.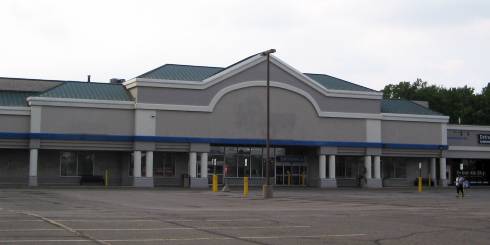 23000 Michigan Ave., Dearborn, MI
2019
Opened as a Farmer Jack store under A&P ownership. Following A&P's 2007 withdrawal, the store was reoccupied by Kroger...even though Kroger already had a modern store across the street! In spite of this ludicrous situation, both stores remained open until 2019 when the lights went off at the old Farmer Jack at last.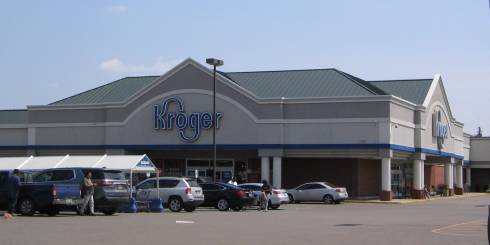 15255 Michigan Ave., Dearborn, MI
2019
Opened as a Farmer Jack store under A&P ownership, and sold to Kroger in 2007. This building is a little bit unusual in that it features a corner entrance, and the side of the building features a repetition of the multi-columned facade. It sits next door to a much-older C.F. Smith and National building.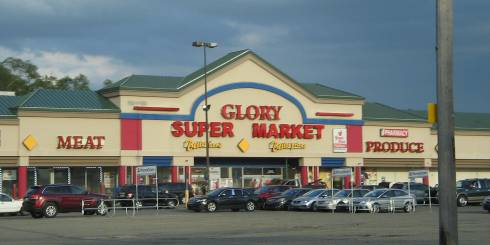 19150 Telegraph Rd., Detroit, MI
2019
This store seriously confuses me. It bears the 1990s A&P corporate facade...but A&P was known to occasionally update old stores with new facades. Public data for the address suggests the store was built in 1964...and sure enough, a 1965 Savon ad (predecessor to Farmer Jack) lists a store at "7 Mile near Telegraph," the crossroads of this address. Yet historic aerial imagery proves that in the 1960s and early 1970s, this store building didn't exist at all!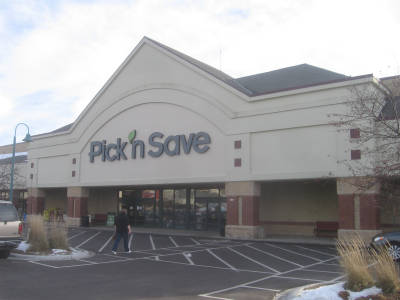 6540 Monona Dr., Monona, WI
2017
Opened 31 Oct. 1999 as a Kohl's under A&P ownership. A&P withdrew from Wisconsin a second time in 2003, and liquidated its last U.S. assets by 2015.
---
A&P's Canadian stores had a reputation in later years as being run somewhat better than their stateside equivalents. A&P Canada also made use of a fair amount of unique architecture, which persisted until 2005 when the division was sold to Metro of Quebec. Most former A&P stores now operate under the Metro or Food Basics banners.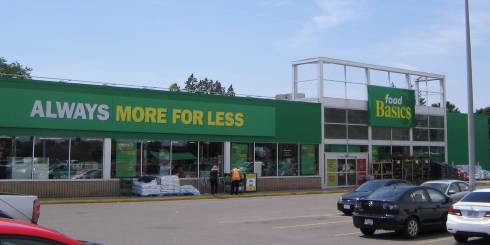 868 Dundas St., Woodstock, ON
2019
This store is deceptively old, opening by 1966 and operating over the years under the A&P, A&P Super Fresh, and Food Basics names. The original structure has been renovated to oblivion and expanded on all four sides, however, leaving little clue of its historic disposition.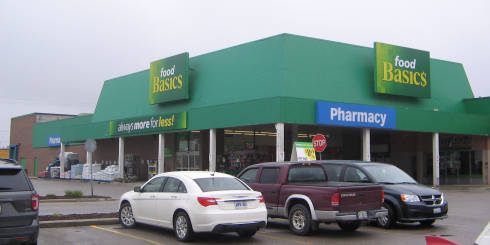 925 Ontario St., Stratford, ON
2019
This rather boxy store (A&P's fourth in the city) hails from the first half of the 1970s, and appears to have been modified little over the years.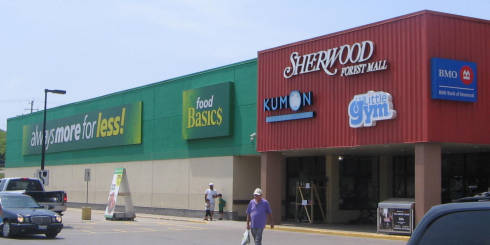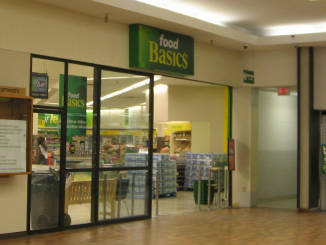 1225 Wonderland Rd. N., London, ON
2018
This store opened at London's Sherwood Forest Mall in the 1970s, and features access from the interior corridor only. It survived as A&P to the end in 2008-09, then converted to Metro and Food Basics.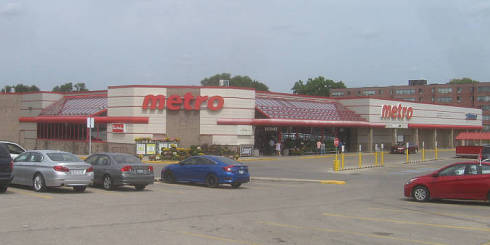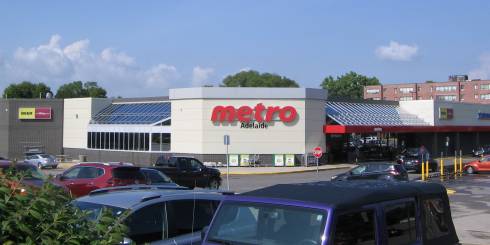 1030 Adelaide St. N., London, ON
2017, 2019
Opened circa 1980; still in operation as Metro. As with London's Clarke Road location (seen below), I suspect that this A&P store received an exterior renovation at some point. It was renovated yet again in 2019 (right picture), though you'd be hard-pressed to notice the difference.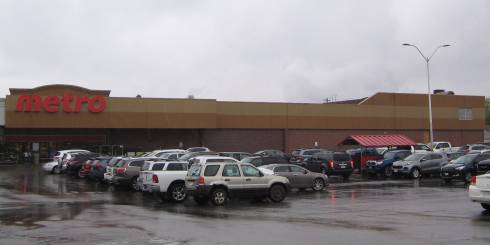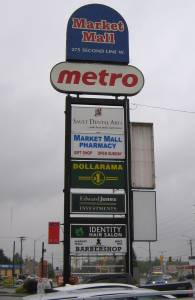 275 Second Line W., Sault Ste. Marie, ON
2019
This store at the Market Mall in Sault Sainte Marie originated in the 1970s as a Loblaws location, and is also featured on that page. It was transferred to A&P in the 1980s, and the A&P pill-shaped signframe continues to be used by Metro today.
---
Split-level stores
A&P Canada built a number of stores in the 1980s with an unusual split-level facade: A high central portion over a central window, flanked by lower "wings" cut off at 45-degree angles. These survive in various states of condition.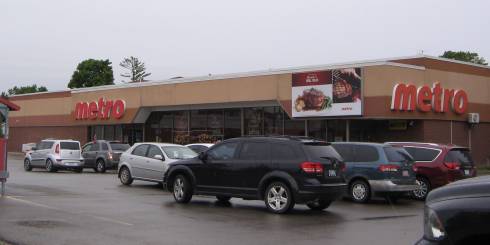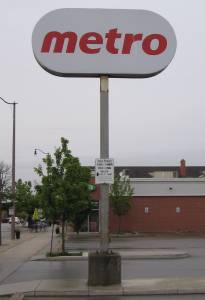 1225 Broadway St., Tillsonburg, ON
2019
This example in Tillsonburg is an archetypal example of this style, and is better-preserved than most. The A&P signframe (shaped to fit the chain's fatter, 2006-era logo) has also been preserved.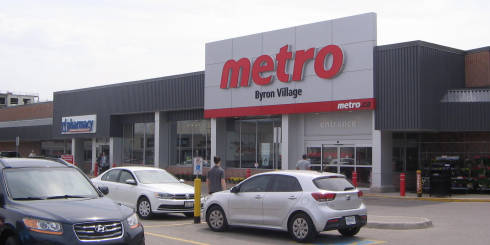 1244 Commissioner's Rd. W., London, ON
2018
Here's another example of an 1980s split-level A&P store, this time disguised with a silver sign backing and new aluminum trim covering over the 45-degree transitions on the facade.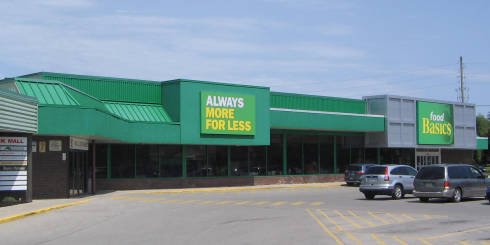 51 Front St. E., Strathroy, ON
2018
Yet another split-level store that would have once looked similar to the Tillsonburg example. Of course, not even Food Basics stores are safe from Metro's remodelling itch these days...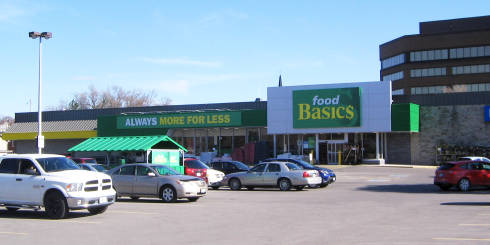 95 Water St. N., Cambridge, ON
2019
And still another split-level store that's been mucked up a bit over the years. Opened circa 1980; still in operation as Food Basics.
---
Slant-top tower stores
These stores hail from the 1980s, picking up chronologically where the split-level stores left off. These also represent A&P Canada's architecture at its most consistent and attractive. Most stores of this style contain full-length skylight panels over the display window area, although these are sometimes removed in renovations.
Strangely, a disproportionate number of these stores appear to have been built on the sites of pre-existing 1950s and 1960s A&P stores. Some older stores (such as Clarke Road, London) were also physically updated into variations of this style.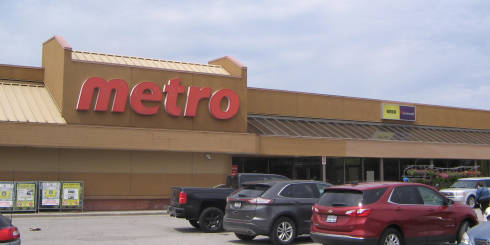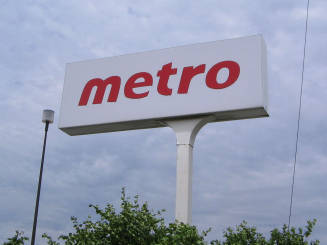 155 Clarke Rd., London, ON
2018
This store hails from A&P's Canadian division and opened by 1975; however, it likely received an extensive exterior renovation in the 1980s. The off-centre A&P signpole has been retained by Metro.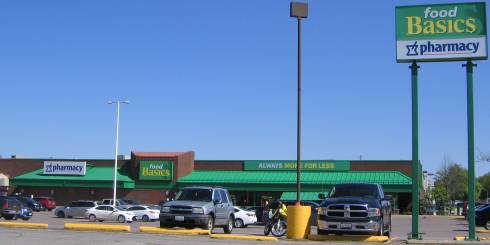 701 Pine St., Sault Ste. Marie, ON
2019
Opened in the 1980s on the site of a 1960s predecessor store. Converted to A&P's Food Basics discount format by 2000.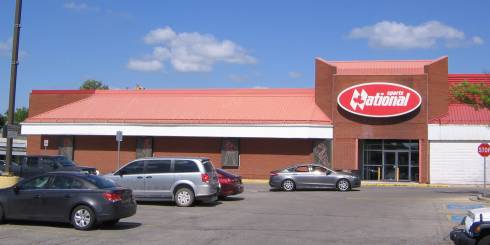 346 Wellington Rd., London, ON
2019
Here is another instance of an 1980s store built on the site of a much older predecessor (dating to the 1950s, in this case). This one seems to have had a brief life, since yet another new store opened half a block away by 1995.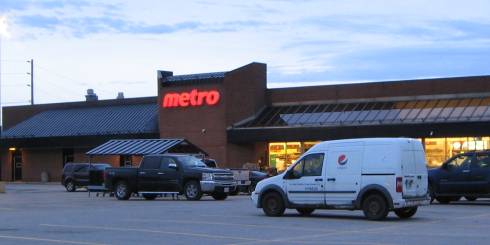 1070 2nd Ave., Owen Sound, ON
2019
This store carries a familiar story: Built in the 1980s on a site that had been home to a pre-existing A&P, that existed at least as early as 1968.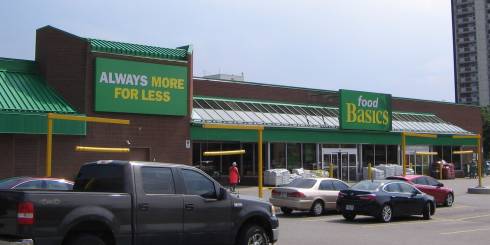 3880 Goyeau St., Windsor, ON
2019
This store is two blocks from the south portal of the Detroit-Windsor Tunnel, and opened by 1985. It's also a virtual clone of the buildings in Sault Ste. Marie, Owen Sound, and London, and an ample demonstration of how consistent A&P's Canadian architecture was during this period.
---
Later Canadian A&P stores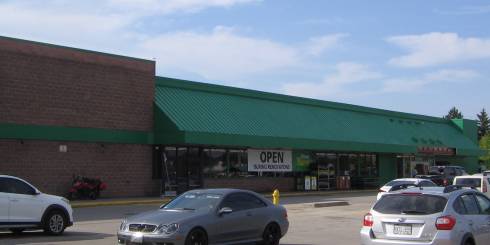 100 Jamieson Pkwy., Cambridge, ON
2019
Opened as A&P in the late 1980s, and later converted to the Food Basics banner and format. I captured this one on the eve of major renovations, so don't expect it to look like this now.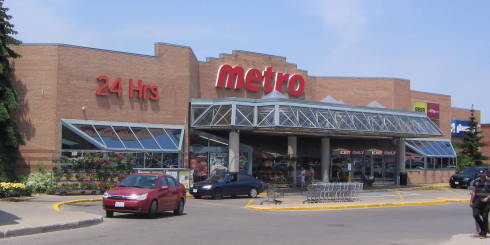 395 Wellington Rd., London, ON
2018
Opened in 1991, and remains in operation as Metro. I have a hankering suspicion that this store was planned as a Miracle Food Mart, but opened after A&P's acquisition of the operation.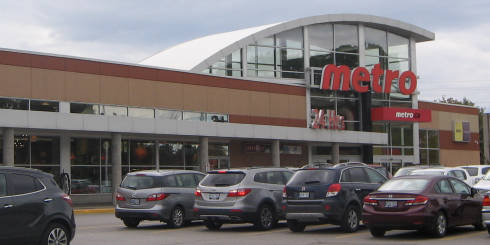 243 King St. E., Bowmanville, ON
2018
Bowmanville is east of Oshawa. This ex-A&P was originally a Miracle Food Mart store; however, the glassed-in archway over the entrance is characteristic of A&P's late Canadian architecture and was added in the mid-2000s.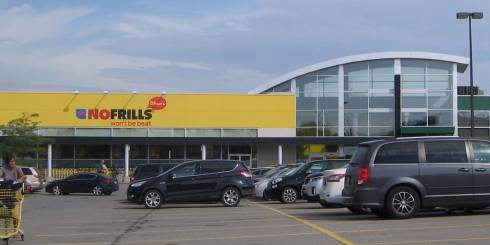 980 Franklin Rd., Cambridge, ON
2019
Here's something you don't see every day: A modern (2000s) A&P store that was closed and then converted to a competitor's banner! Since No Frills is a limited-selection store, this gargantuan structure was actually downsized from its A&P-era footprint and subdivided in order to accomodate this.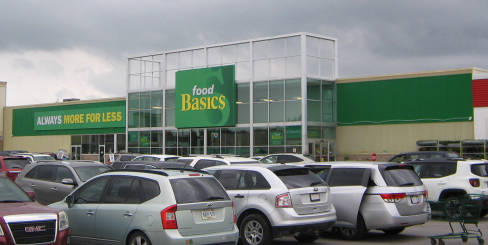 363 Kent St. W., Lindsay, ON
2018
Opened after 1995 and before 2007, likely replacing an older A&P store at the nearby Lindsay Square Mall.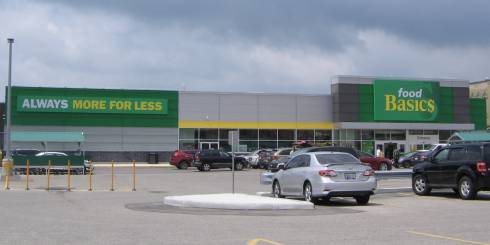 780 Talbot St., St. Thomas, ON
2019
This store was designed and built from the outset as a Food Basics and is as new as they get, opening for business on 21 Mar. 2019. Interestingly, it stands on the site of an bygone A&P store operating from the mid-1950s through at least 1996.
---