Unless noted otherwise, all photos on these pages were taken by Andrew Turnbull.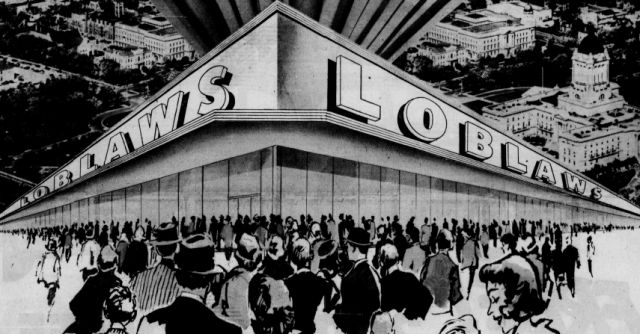 1958 (Advertisement, Winnipeg Tribune)
Not sure what else you'd call these. This appears to have been a standard building design rivalling competitor Dominion's cookie-cutter late-1950s stores, and it was deployed widely in the same era.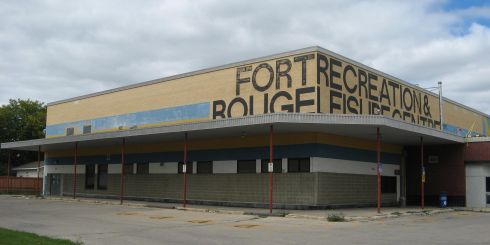 625 Osborne St., Winnipeg, MB
2021
Opened 2 December 1958, and closed in 1976. The building was later repurposed by the city of Winnipeg to house the Fort Rouge Recreation & Leisure Centre, an unusual and ingenious reuse of a supermarket if there ever was one.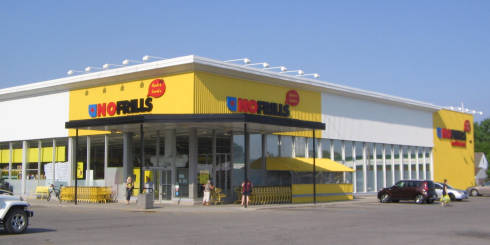 960 Hamilton Rd., London, ON
2018
Opened 1959 as Loblaws; converted in 1979 to one of the very first No Frills stores in the country. This was my favourite supermarket to visit in London, largely because of its vintage vibes and cozy feel.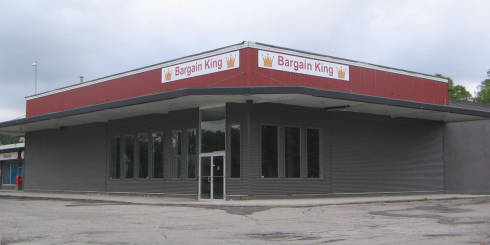 150 King Edward Ave., London, ON
2018
A short-lived store that opened in the 1960s and closed in the 1970s. It's a close cousin of 960 Hamilton Road.
---
Later purpose-built stores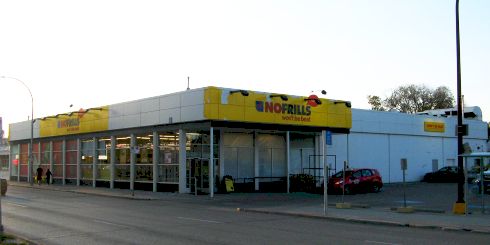 161 Goulet St., Winnipeg, MB
2021
This store in Winnipeg's St. Boniface neighbourhood was built to fit the street grid that surrounds it, and originally featured two entrances facing opposite parking lots. It opened on 17 June 1965. The building is surprisingly original, and has successively housed stores branded under the Loblaws, Econo-Mart, Extra Foods, and No Frills names.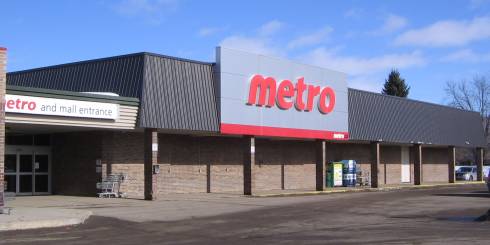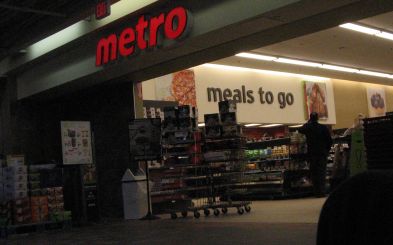 1101 Arthur St. W., Thunder Bay, ON
2020
Part of the Thunder Bay Mall, which opened in 1972. This was one of the very last stores that Loblaws opened prior to the advent of their stylized "L" logo in 1972, and the signage originally consisted of "LOBLAWS" in multi-colour block letters.
In 1982 this store was transferred to A&P; possibly in the same transaction as several of Loblaws' Sault Ste. Marie stores. In spite of this change (and A&P's subsequent sale of its Canadian division to Metro), the exterior of the building has been altered little from its original 1972 appearance.
1275 Highbury Ave., London, ON
2018
Opened 1970s as Loblaws; converted to No Frills in the 1980s.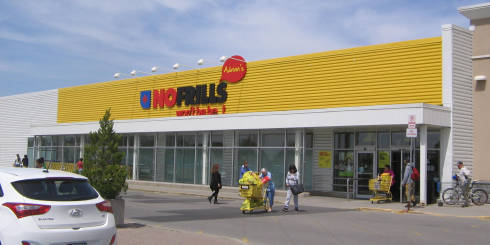 1925 Dundas St., London, ON
2018
Opened ca. 1975 as Loblaws; converted to No Frills in the 1980s.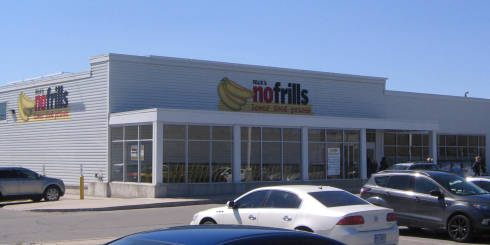 71 Dundas St. E., Paris, ON
2018
A rare appearance of the older No Frills "bananas" logo. I don't know the details about this store's provenance, but it's bound to be yet another former Loblaws location...unless it was a cast-off from Loeb, Dominion, or some other company that divested stores to Loblaws at some point in its life.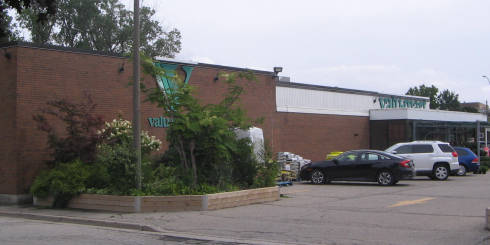 125 John St. N., Aylmer, ON
2018
I can only guess that this Valu-Mart store in Elgin County, Ontario may have been yet another former Loblaws location...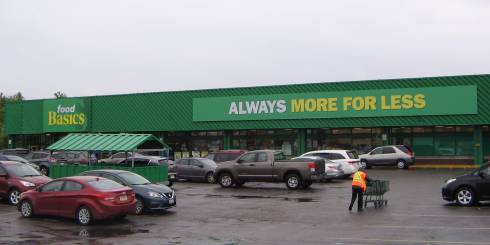 625 Trunk Rd., Sault Ste. Marie, ON
2019
This Food Basics store at the Wellington Square Mall in Sault Ste. Marie originated in the late '70s as a Loblaws store. Loblaws sold two of its three Sault stores to A&P in the 1980s, however...which explains how this came to be what it is in spite of the property's original lineage.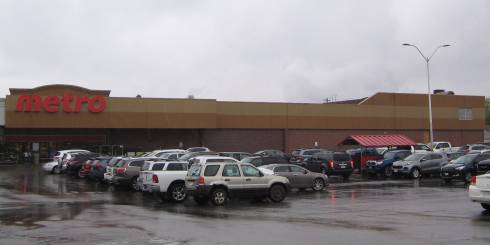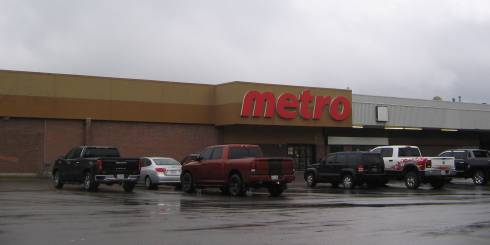 275 Second Line W., Sault Ste. Marie, ON
2019
Here is Loblaws' other Sault castoff, operating in the 1970s before being transferred to A&P (and ultimately Metro) in the 1980s. The most unusual characteristic of the store is that it's part of a mall that flanks parking lots on two sides, and entrances are situated in both the front and back.
---
Loblaws Superstores
In the late 1970s and 1980s, Loblaws opened a number of upsized stores under the "Loblaws Superstore" name (distinct from the later Real Canadian Superstore concept). Most of these stores featured an unusual slanted facade faced in corrugated siding, originally painted yellow (à la No Frills) with "Superstore" emblazoned over the entire wall. Few remain in operation today.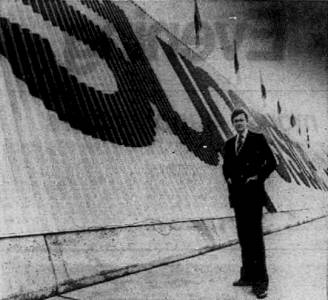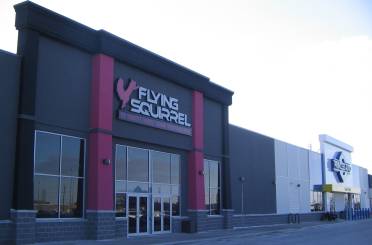 4380 Wellington Rd., London, ON
1979 (London Free Press, with Loblaws president David Nichol in the foreground), 2019
On 30 October 1979, a Loblaws Superstore opened for business at London's Superstore (née Treasure Island) Mall as the largest food store in southwest Ontario. The store was briefly rebranded as Zehrs Food Plus around 1990, and was replaced in 1996. In 2017, the largely-vacant building was sheathed in a boxy new facade and divvied up into new development. The slanted walls are gone, the mall is closed, and Loblaws Superstore may be nothing more than a memory now...but the "Superstore" name continues to be emblazoned on the shuttered mall entrance, jogging the memories of passerby to this day.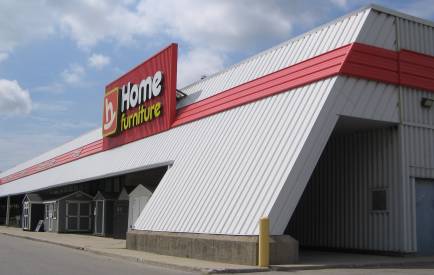 295 Wellington St., St. Thomas, ON
2019
An identical sloped-front Loblaws Superstore opened in St. Thomas in the 1980s. It was rebranded as Zehrs by 1992, and replaced in the 2000s. Although the building has been reoccupied by Home Hardware/Furniture in the years since, the unusual facade survives.
---
Miscellaneous later stores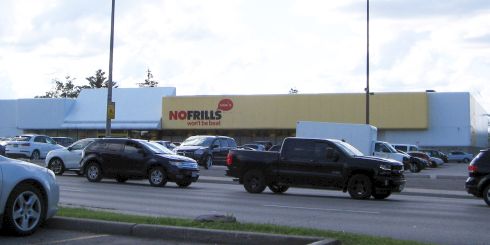 345 Main St. N., Brampton, ON
2019
Originally a Loblaws store; converted to No Frills. I assume this one opened in the early 1980s...but without having any detailed information to go by, it's nothing more than a hunch.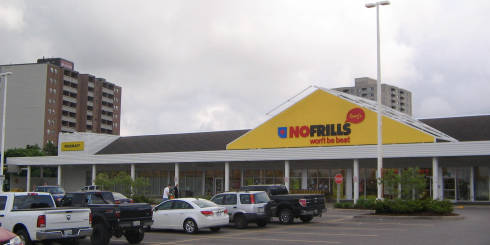 7 Base Line Rd. E., London, ON
2018
This store appears to have opened around 1990 on the site of an older Loblaws store. I'm unclear, however, whether this store opened as a Loblaws or operated as No Frills from day one.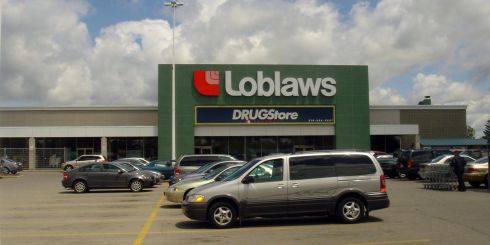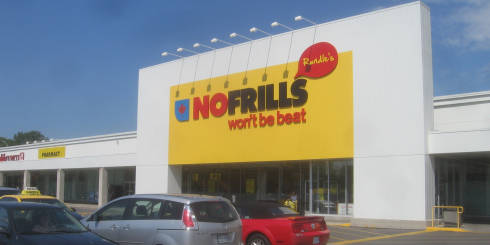 635 Southdale Rd. E., London, ON
2008 (Ryan Wellborn), 2017
Opened 1996 as Loblaws, converted to No Frills in 2008. You can see the result.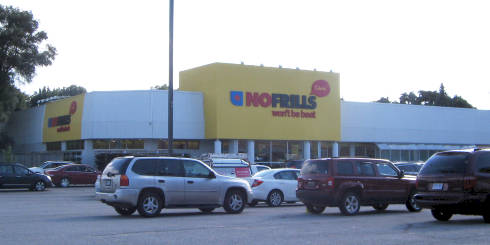 889 Exmouth St., Sarnia, ON
2018
I'm not sure how old this one is. It may have been a No Frills from day one.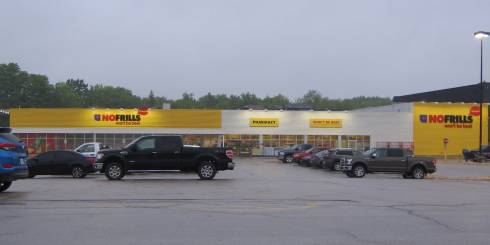 1020 10th St. W., Owen Sound, ON
2019
A No Frills from day one, constructed in the 2000s as a replacement for a previous No Frills housed in a former Loblaws that had opened by 1972. Both stores were part of the Grey County Mall, which has been reconfigured beyond recognition.
599 Fanshawe Park Rd. W., London, ON
2017
Opened 2005. I believe this actually was a No Frills from day one.
657 John St. N., Aylmer, ON
2018
This store is on the large side, and I believe it also was actually a No Frills from day one!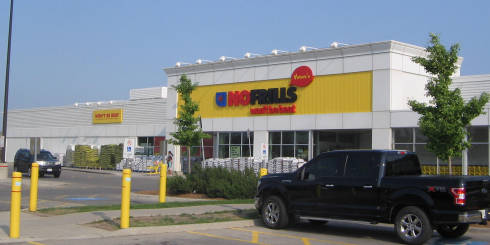 925 Southdale Rd. W., London, ON
2018
Built and opened in 2010. And yes: This was a No Frills from day one.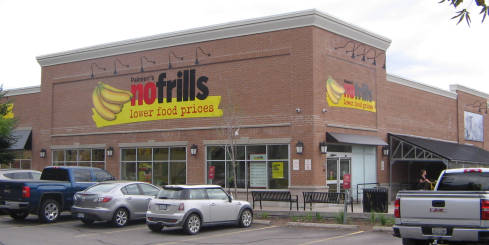 80 King Ave. W., Newcastle, ON
2018
This rather fancy-looking (frilly?) No Frills store opened on 9 Nov 2012. The entrance and parking area are located in the "back" of the building, while the "front" of the store facing the street is actually the back.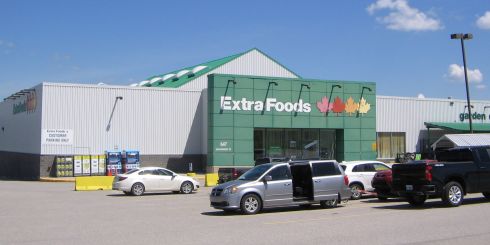 647 Government St., Dryden, ON
2020
Name all the banners that Loblaws uses in Ontario, and you might miss one: Extra Foods, the company's western Canada banner. Extra stores have also been getting scarce as Loblaws downloads them to franchises or replaces them with Superstores, so don't blame yourself if you've never seen one. Indeed, the Dryden store is the only Extra Foods that still exists in Ontario!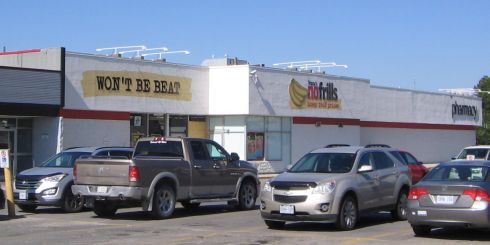 538 Park St., Kenora, ON
2020
Yet another onetime-Extra Foods store in Ontario's far-flung northwest reaches; now converted to a Loblaws franchise doing business under the No Frills name. (And yet another appearance of the now-rare previous-generation No Frills "bananas" signage.)
---
Contemporary Loblaws stores and Real Canadian Superstores
Yes, there is more to Loblaws than just No Frills and Valu-Mart! Full-service stores still exist as well, typically as "destinations" in larger population centres. Real Canadian Superstores have a food selection similar to that of Loblaws-branded stores, but with a much larger selection of general merchandise. Since the 1990s, both concepts have followed very consistent architecture. Interested? Read on.
---
Type 0: Opaque storefront, entrance flanked by enormous lattice-type flagpoles.
I'm cheating a bit, here. This is what Real Canadian Superstores looked like in the days when they were a phenomenon peculiar to western Canada, and had yet to appear on the other side of Lake Superior: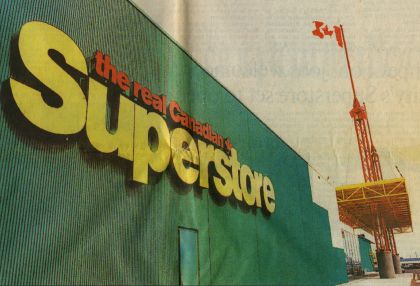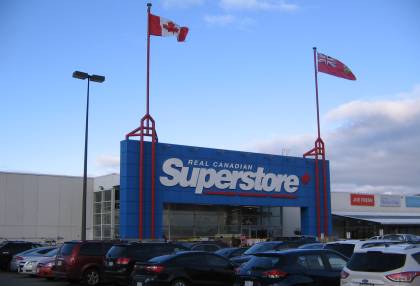 600 Harbour Expwy., Thunder Bay, ON
1993 (Advertisement, Chronicle-Journal), 2019
The first (and for many years only) Real Canadian Superstore in Ontario, opening on 14 April 1993. The building was given a substantial remodel in the 2000s, reconstructing the entrance vestibule and slathering over the green walls with a new coat of white and blue...yet, the changes don't seem to have affected the building's appearance too much.
---
Type 1: Peaked roof and peaked entrance
Most newer Loblaws stores feature "glass house" architecture with a pitched frontal roof and a peak over the entrance, sometimes with a smaller peak for a Joe Fresh boutique at the other end. This is the predominant style for stores actually branded as "Loblaws" (or "Loblaw," as the case may be.)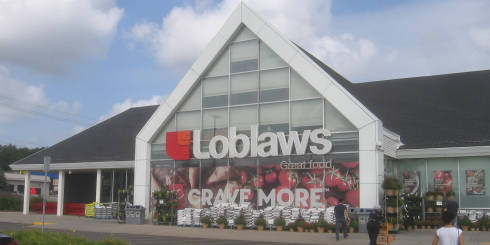 1740 Richmond St., London, ON
2017
Built in 1998.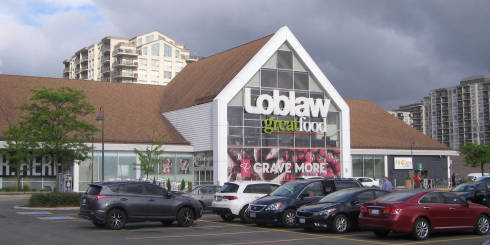 3040 Wonderland Rd. S., London, ON
2018
Opened in 2001. Note that the sign simply says "Loblaw," in the singular: Apparently, this is an indicator of operational differences.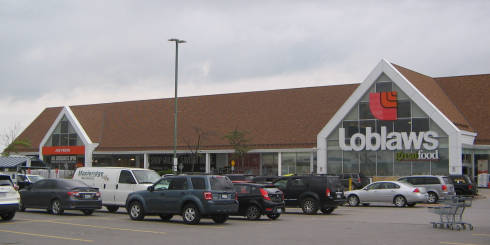 400 Kent St. W., Lindsay, ON
2018
Opened after 1995 and before 2007. On the small side by contemporary Loblaws standards, but it looks the part.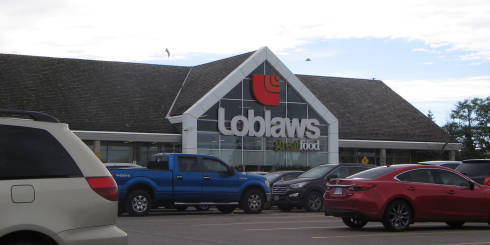 2375 Highway 2, Bowmanville, ON
2018
Yet another present-day Loblaws, much the same as the last. Opened prior to 2005.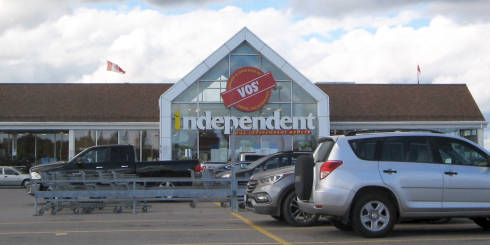 1893 Scugog St., Port Perry, ON
2018
Loblaws supplies a number of "Independent Your Independent Grocer" stores (yes, that's what it literally says on the sign) that are franchise operations largely identical to Loblaws-branded stores. They look identical, too! This one bears the older "Independent" logo, and opened before 2005.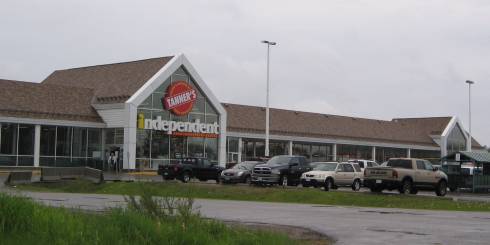 745 Cebtre St., Espanola, ON
2019
This Your Independent store is one of several grocery options available to shoppers in the remote northern Ontario community of Espanola, which originated as a company town for the paper industry.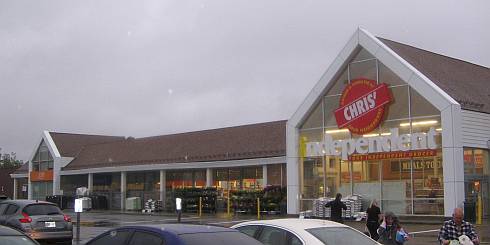 82 Lorne St., Sudbury, ON
2019
Basically the same story as before. Opened by 2004.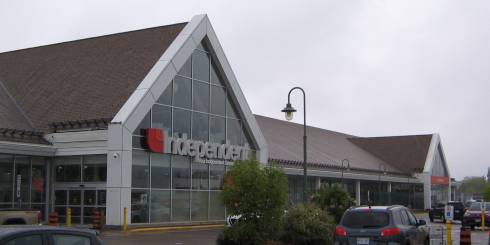 44 Great Northern Rd., Sault Ste. Marie, ON
2019
And yet another Independent, this time in Sault Sainte Marie. A Loblaws-affiliated store has existed at this shopping centre continually from 1955 to the present, although it's undoubtedly been rebuilt and relocated within the centre a few times over the years.
---
Type 2: Flat roof and peaked entrance
These stores feature dark-coloured "panels" on the upper facade with contrasting vertical stripes, with an entrance configuration identical to Type 1 buildings. I'm not sure if any Loblaws-branded stores exist in this style, though both Real Canadian Superstores and Independent franchises do exist.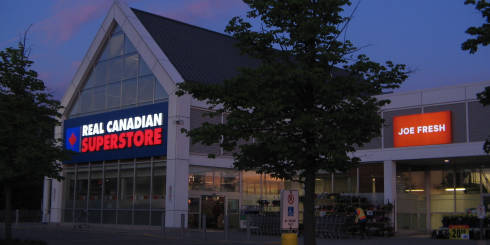 825 Oxford St. E., London, ON
2018
Opened in 2005, although the signage is more recent.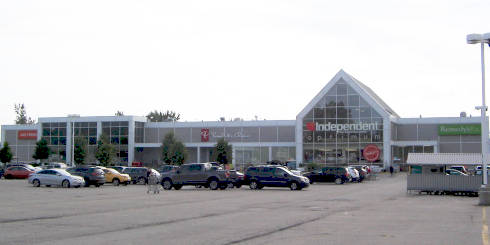 273 King St. W., Ingersoll, ON
2018
Opened in 2014. This "Independent Your Independent Grocer" store follows the exact same template in store construction as the Superstore on the left, with a flat frontal roof and covered walkway.
---
Type 3: Flat roof and flat-topped entrance
This is the most common architectural style for Real Canadian Superstore buildings. Aside from the plainer (and possibly less-costly) entrance configuration, these structures are fundamentally identical to Type 2.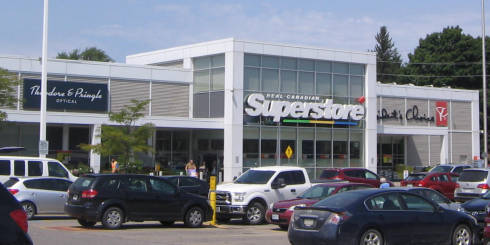 626 Victoria St., Strathroy, ON
2018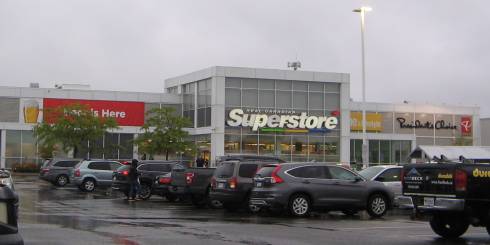 1485 La Salle Blvd., Sudbury, ON
2019
Interestingly, the site that this Real Canadian Superstore stands on was previously home to a Loblaws store in the 1970s and early 1980s and a Loblaws-affiliated Your Independent Grocer franchise in the 1990s and early 2000s.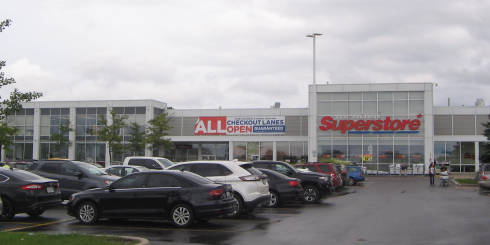 1063 Talbot St., St. Thomas, ON
2018
Essentially a carbon copy of the Strathroy store, apart from the colouring of the sign. The red signage is slightly newer than the white, although both versions remain in wide use.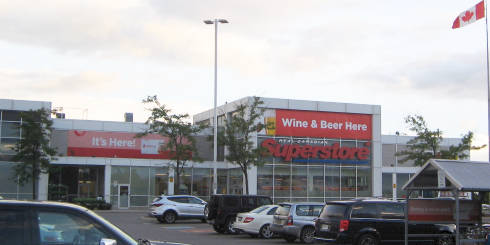 171 Guelph St., Georgetown, ON
2018
Opened in 2007. Remember what I said about carbon copies?
---
Type 4: Entire upper storefront is glassed in, with no distinct entrance vestibule
It's hard to say whether or not this is the newest style of architecture for Superstores, but it's certainly the boldest.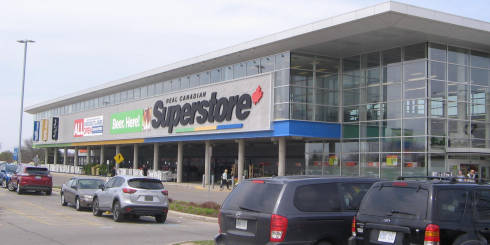 1201 Oxford St. W., London, ON
2018
Opened in 2006 on the former site of a Loblaws store.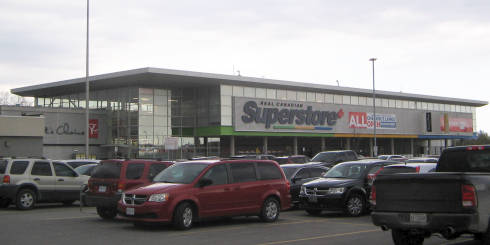 791 St. Clair St., Chatham, ON
2019
Opened by 2007, replacing an earlier Zehrs in the same shopping centre.
---