Unless noted otherwise, all photos on these pages were taken by Andrew Turnbull.
---
Contemporary Loblaws stores and Real Canadian Superstores
Yes, there is more to Loblaws than just No Frills and Valu-Mart. Full-service stores still exist as well, typically as "destinations" in larger population centres. Real Canadian Superstores have a food selection similar to that of Loblaws-branded stores, but with a much larger selection of general merchandise. Since the 1990s, both concepts have followed very consistent architecture. Interested? Read on.
---
Type 1: Peaked roof and peaked entrance
Most newer Loblaws stores feature "glass house" architecture with a pitched frontal roof and a peak over the entrance, sometimes with a smaller peak for a Joe Fresh boutique at the other end. This is the predominant style for stores actually branded as "Loblaws" (or "Loblaw," as the case may be.)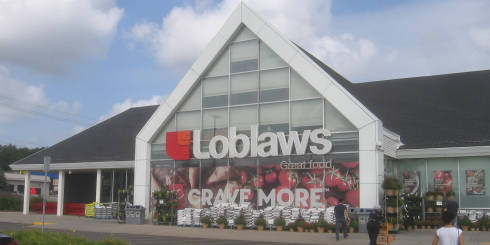 1740 Richmond St., London, ON
2017
Built in 1998.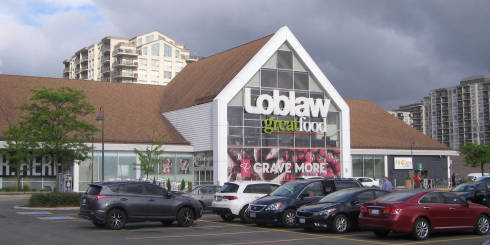 3040 Wonderland Rd. S., London, ON
2018
Opened in 2001. Note that the sign simply says "Loblaw," in the singular: Apparently, this is an indicator of operational differences.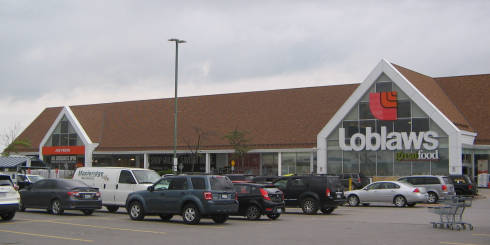 400 Kent St. W., Lindsay, ON
2018
Opened after 1995 and before 2007. On the small side by contemporary Loblaws standards, but it looks the part.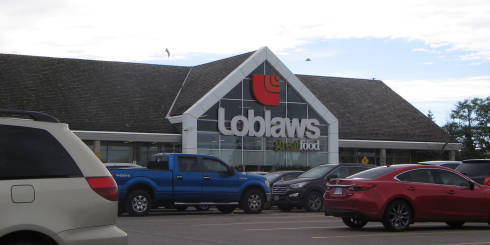 2375 Durham Regional Hwy. 2, Bowmanville, ON
2018
Yet another present-day Loblaws, much the same as the last. Opened prior to 2005.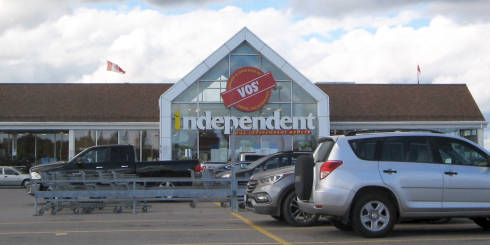 1893 Scugog St., Port Perry, ON
2018
Loblaws supplies a number of "Independent Your Independent Grocer" stores (yes, that's what it says on the sign) that are franchise operations largely identical to Loblaws-branded stores. They look identical, too! This one bears the older "Independent" logo, and opened before 2005.
---
Type 2: Flat roof and peaked entrance
These stores feature dark-coloured "panels" on the upper facade with contrasting vertical stripes, with an entrance configuration identical to Type 1 buildings. I'm not sure if any Loblaws-branded stores exist in this style, though both Real Canadian Superstores and Independent franchises do exist.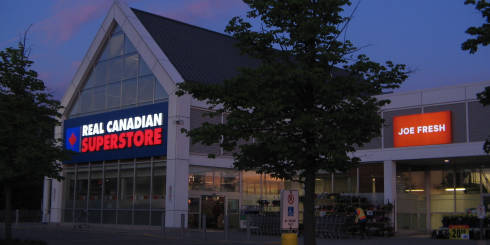 825 Oxford St. E., London, ON
2018
Opened in 2005, although the signage is more recent.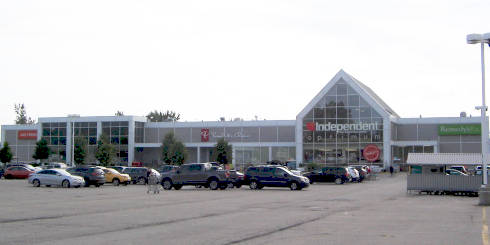 273 King St. W., Ingersoll, ON
2018
Opened in 2014. This Independent Your Independent Grocer store follows the exact same template in store construction as the Superstore on the left, with a flat frontal roof and covered walkway.
---
Type 3: Flat roof and flat-topped entrance
This is the most common architectural style for Real Canadian Superstore buildings. Aside from the plainer (and possibly less-costly) entrance configuration, these structures are fundamentally identical to Type 2.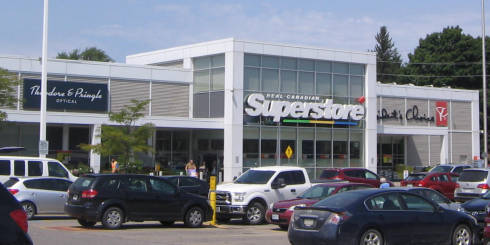 626 Victoria St., Strathroy, ON
2018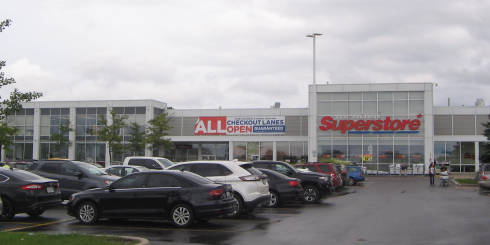 1063 Talbot St., St. Thomas, ON
2018
Essentially a carbon copy of the Strathroy store, apart from the colouring of the sign.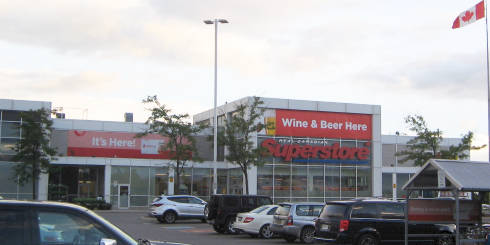 171 Guelph St., Georgetown, ON
2018
Built in 2005. Remember what I said about carbon copies?
---
Type 4: Entire upper storefront is glassed in, with no distinct entrance vestibule
So far, I've seen this style of architecture used in one location only: The west side Real Canadian Superstore in London, Ontario.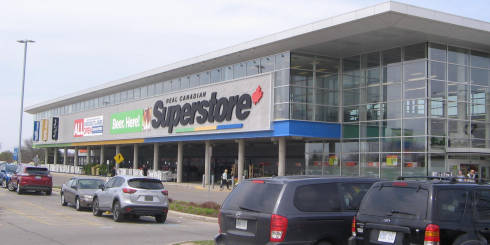 1201 Oxford St. W., London, ON
2018
Opened in 2006 on the former site of a Loblaws store. Conveniently, this is the one store that looks different from all the others.
---