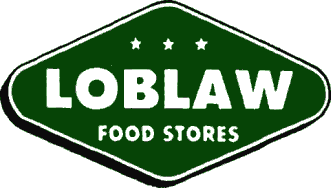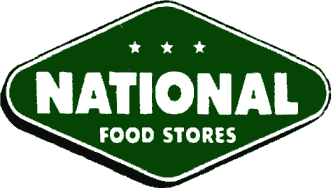 Matching diamond-shaped logos, devised by National Tea and used by Loblaws' U.S. division.
Loblaw Companies is Canada's largest food retailer, bar none...as well as the country's oldest surviving grocery chain of any stripe. In the 1920s, it perpetruated the new concept of self-service "Groceterias" where patrons could pick their own foods off a shelf. Loblaws formerly retailed in the US as well, operating stores both under its own name (concentrated in the Lake Erie and Lake Ontario watersheds) and that of National Tea, a Chicago grocer acquired in 1955 that once had a footprint across the American midwest and down the Mississippi.
National didn't exactly run a tight ship in the '50s: For every city they did well in, there were four or five where they showed up late, trailed competitors in store development, and withdrew with a whimper. By the 1970s, these problems were spreading to the Canadian home turf and threatening to sink the company. Loblaws responded aggressively, cutting overhead by shuttering hundreds of outdated and undersized stores. Under design leadership of Don Watt, the company unveiled a new logo and proactively remodelled stores to attract shoppers. They also introduced No Frills and other low-priced concepts, often franchised. A number of older Loblaws stores survived in operation by being converted to No Frills or Valu-Mart stores, giving them an extra lease of life.
Today the company does business throughout Canada under its own name as well as that of Zehrs, Real Canadian Superstore, Atlantic Superstore, Provigo, Maxi, No Frills, Valu-Mart, Fresh Mart, City Market, and other brands. One casualty of the company's development, however, was its operations in the United States. By the late 1980s, these had been curtailed to a clump in St. Louis, a clump in New Orleans, and a clump in upstate New York and northwestern Pennsylvania. By the mid-1990s, these were also gone.
Unless noted otherwise, all photos on these pages were taken by Andrew Turnbull.
---
National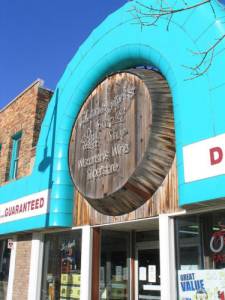 522 W. College Ave., Appleton, WI, US
2010
Today, this storefront in the Fox Cities of Wisconsin has the end of a wine barrel embedded in its facade. This is merely a newer chapter in its history, however, as this address was the site of a National Tea food store in 1936.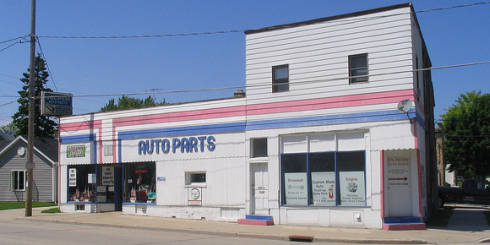 1806 Western Ave., Manitowoc, WI, US
2010
This unassuming storefront of two buildings cobbled together is an example of the type of retail edifice that National operated out of in its northern reaches 75 years ago. National Tea withdrew from northeast Wisconsin before the end of the 1940s, so this store never had the chance to operate for very long.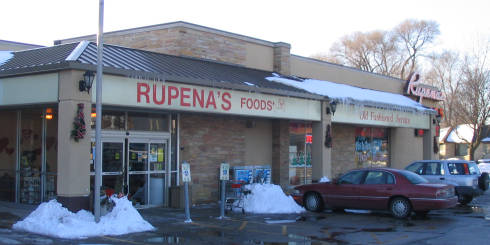 7641 W. Beloit Rd., West Allis, WI, US
2010
This freestanding store was built in 1954 and operated as a National supermarket through at least 1964. The site is currently home to Rupena's Foods, a long-established local specialty grocer. Milwaukee, incidentally, was one of National's more successful markets. The company retailed there from the 1920s until 1976.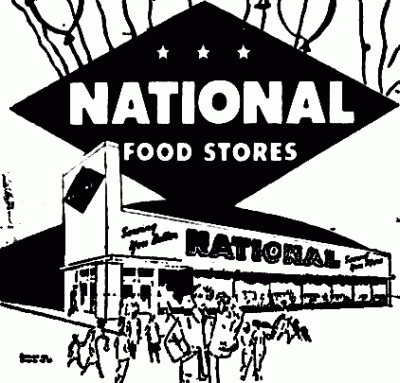 Illustration
1957 (ad, Milwaukee Journal)
National's most recognizable stores were characterized by a flat brick pylon over the entrance. However, the exact design varied somewhat from one city to another, with some markets eschewing the pylon or substituting a flat roof for the arched roof evident here.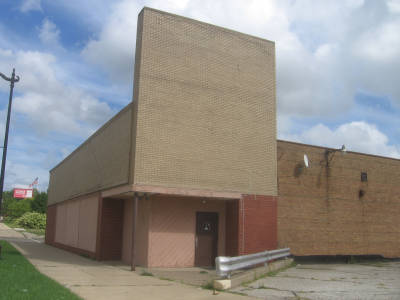 326 E. Main St., Benton Harbor, MI, US
2016
An example of one of these 1950s-era stores bearing National's most recognizable architecture. A diamond-shaped sign would have originally been attached to both sides of this.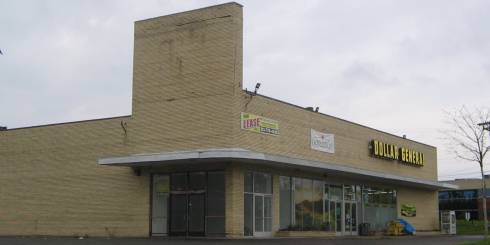 50 Ecorse Rd., Ypsilanti, MI, US
2019
National expanded to Michigan in 1952 by buying out C.F. Smith of Detroit and an ad-hoc patchwork of other local chains...not exactly the ingredients for long-term success. By 1967, they were gone. This particular store had a fairly long post-National afterlife, however, housing a Hamady Bros., Farmer Jack, and Galaxy Foods store all the way to 2000. It still stands in perfectly-intact condition today.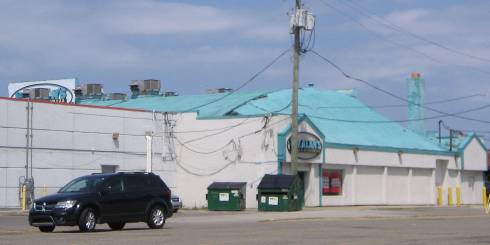 15219 Michigan Ave., Dearborn, MI, US
2019
This store opened by 1953, and originally retained the C.F. Smith name before being rebranded as National by 1955. The front face of the building is difficult to access due to trees and a busy road in the way...but the rear of the building is the end worth seeing, with a bowstring-truss barrel roof bulging dramatically over an unusually-low roofline. An incinerator smokestack is also plainly visible, typical of early 1950s supermarkets.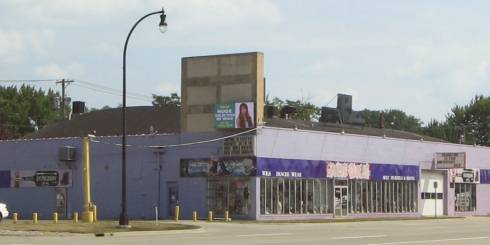 2319 Fort St., Wyandotte, MI, US
2019
Even though National has been absent from Michigan for more than 50 years, the Detroit Metro is still littered with intact ex-National supermarket buildings...most of which have structural pylons and prominently-visible barrel roofs. Downriver Locations Thru the Years confirms this address as a National in both 1957 and 1962.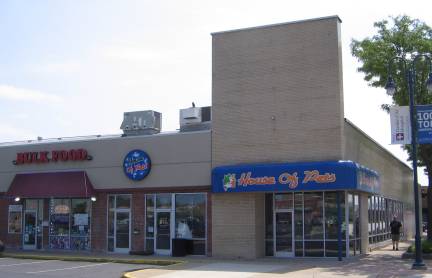 5736 Middlebelt Rd., Garden City, MI, US
2019
This particular specimen is clad in glazed brick, and housed a Chatham store for many years after National's departure. Several small stores have been carved out of the side, but the front of the building is completely original and intact.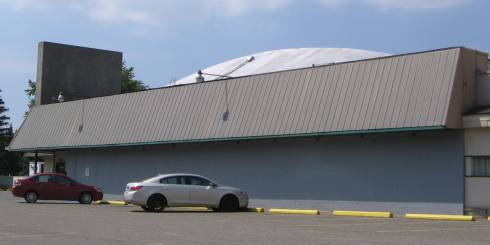 12850 Sibley Rd., Riverview, MI, US
2019
Confirmed as National in 1956. Now repurposed as a nightclub and banquet hall!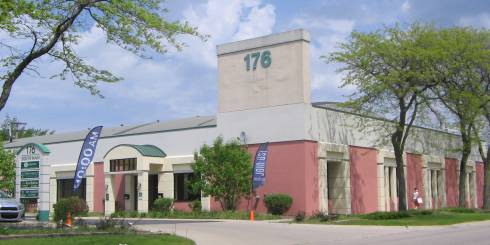 176 S. Main St., Mt. Clemens, MI, US
2019
This building is a near-clone of the last six...and sure enough, it's yet another confirmed artifact of National's attempted Michigan expansion, opening by 1954 and closing by 1966. The street it's on was part of Gratiot Avenue until a 1990s realignment.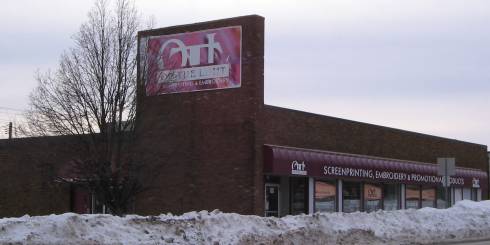 2224 W. Superior St., Duluth, MN, US
2019
In Michigan, most of the pylon-type stores that National built in the 1950s were blonde in colour. In Minnesota, they were dark red. National was also fairly prosperous in Minnesota, surviving under Loblaws' arm until 1983 when the company divested the division to Gateway Foods. A fair number of National stores survived later under the Applebaum's and Rainbow Foods names...though it's anyone's guess if that's what happened here.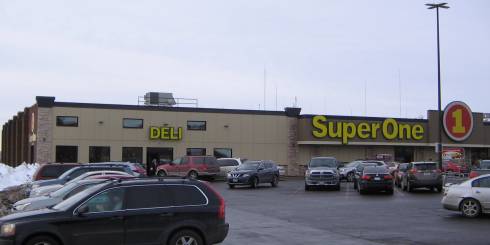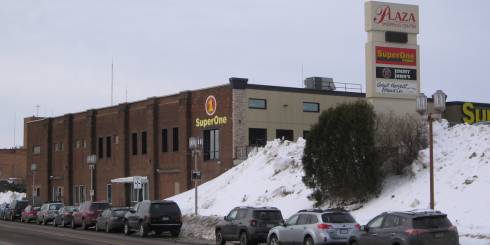 15 S. 13th Ave. E., Duluth, MN, US
2019
Like the last building in Duluth, this location is confirmed as the home of a former National food store. Unlike the last, it's still selling groceries under auspices of Super One Foods. And also unlike the last, this one is housed on the upper floor of an absolutely bizarre two-storey building with buttresses and windows running down the side! Have I ever seen anything like this before? I think not...
---
Loblaws
I lived for two years in London, Ontario. Given the pervasiveness of Loblaws there, this section effectively serves as a capsule grocery history of the city...as well as places beyond.
Storefront stores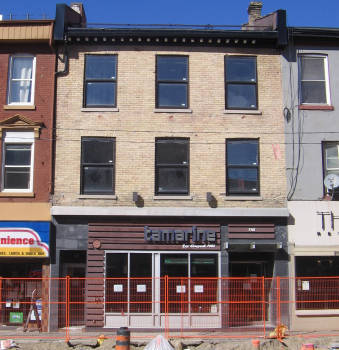 118 Dundas St., London, ON
2018
This site may have been the very first Loblaws in London, opening in the mid-1920s and closing in the early 1940s. The building itself still stands in intact condition, and currently houses a Vietnamese restaurant on the lower level.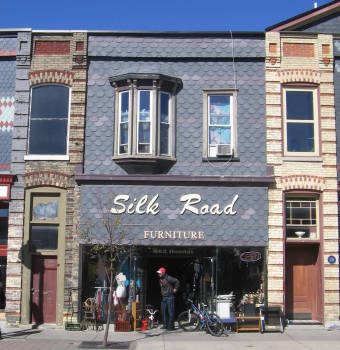 662 Dundas St., London, ON
2018
Loblaws' second London store opened nearly simultaneously with the first, and served the Old East Village neighbourhood until the 1940s. The building itself has been the focus of cultural heritage studies, and recently had its 1912-era fašade restored.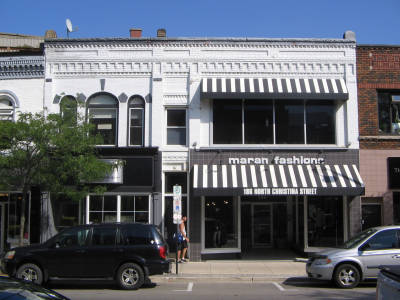 186 Christina St., Sarnia, ON
2018
The site of Sarnia's first Loblaws store, operating from the late 1920s until just barely after WWII.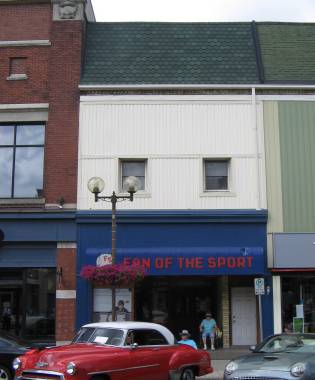 571 Talbot St., St. Thomas, ON
2019
The site of what may have been the first Loblaws Groceteria in St. Thomas, opening by 1930. Both this store and a second down the street were replaced by 1940.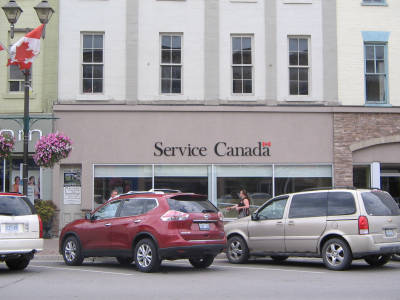 57 Kent St. W., Lindsay, ON
2018
The left half of this unassuming storefront housed the original, pre-supermarket Loblaws store in the quiet southeast Ontario town of Lindsay in the 1920s and 1930s. The space has long been subsumed.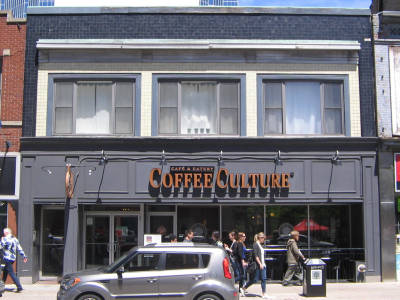 260 Dundas St., London, ON
2018
This downtown building in London, Ontario housed a Loblaws supermarket until the 1960s. I have a suspicion that the black and pale yellow tiling on the upper facade was also added by Loblaws, as it matches the colour scheme of their other mid-century stores.
---
Early purpose-built stores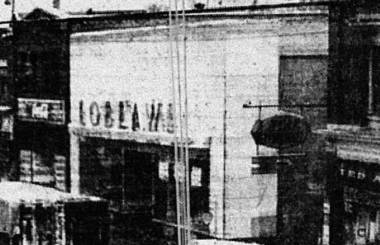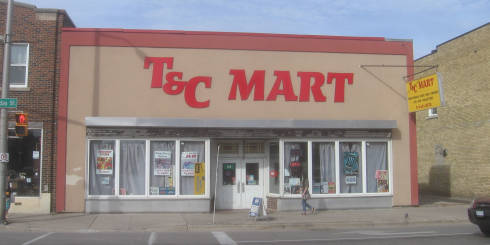 688 Dundas St., London, ON
1948 (London Free Press), 2017
Opened 20 November 1947 on the former site of an A&P store. Closed during Loblaws' financial crisis of the early 1970s, and houses a convenience store today.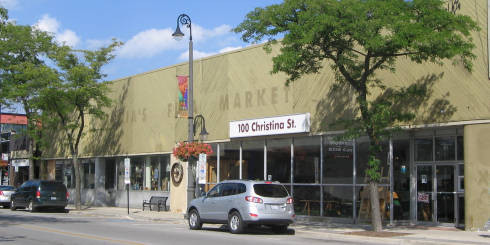 106 Christina St., Sarnia, ON
2018
Sarnia's second Loblaws (replacing the first after WWII) was housed in the single-storey downtown building seen here, now part of a block-long flea market. It remained open until the early 1970s.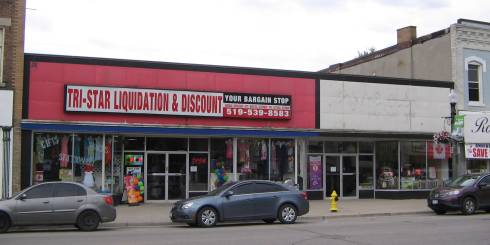 478 Dundas St., Woodstock, ON
2019
This was the site of Woodstock's first Loblaws store, opening by 1930 and lasting until the mid-1950s. I'm unclear of the provenance of the building, however...which has a squat profile and porcelain enamel tile that make it look like it was built in the 1950s. Could Loblaws have rebuilt on the site in the early 1950s, just before relocating altogether? Or was the current building never a Loblaws? Your guess is as good as mine.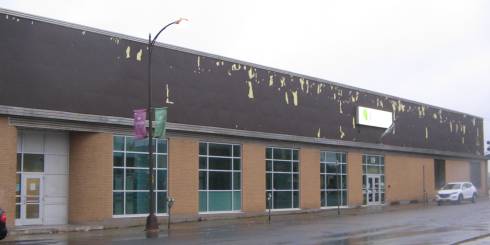 19 Frood Rd., Sudbury, ON
2019
In the 1950s and 1960s, Loblaws boasted a store in downtown Sudbury housed in part of this block-long Art Moderne building. Though the store closed by 1976, it's well-preserved...and the paint on the upper facade is chipping to reveal Loblaws' characteristic yellow porcelain enamel trim!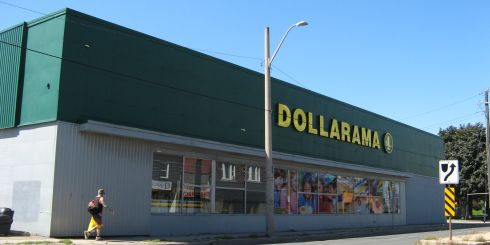 1124 Main St. E., Hamilton, ON
2023
Opened by 1950; closed by 1980. As in Sudbury, painted-over porcelain enamel tile remains on the facade.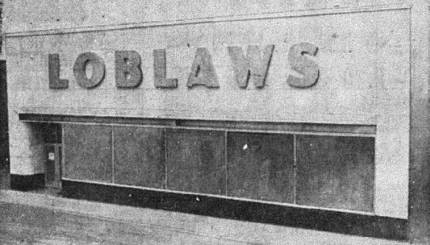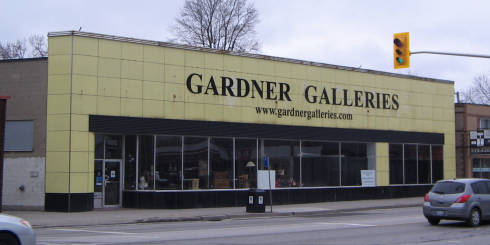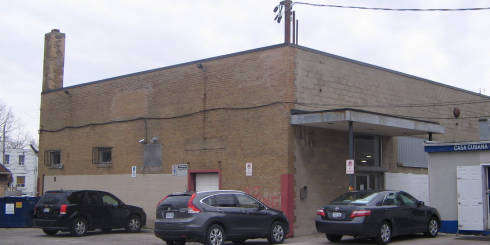 407 Hamilton Rd., London, ON
1951 (London Free Press), 2018, 2019
This store opened on 1 March 1951, and is a fantastically-preserved specimen clad in yellow porcelain enamel tile. The structure was expanded at some point after 1957 (the original west wall is still visible as an extra yellow pillar on the facade), and it operated as Loblaws until the 1970s. The rear of the store is clad in blonde brick and features an incinerator smokestack, typical for food stores of this era.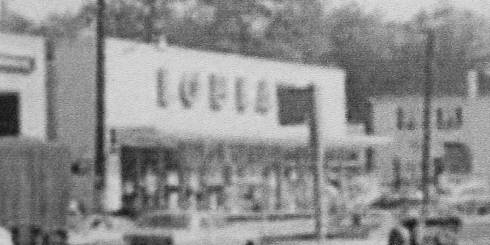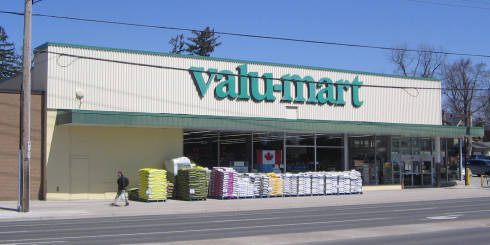 234 Oxford St. E., London, ON
1965 (Western Archives), 2018
Opened 31 May 1951 as Loblaws; converted to Valu-Mart in the 1980s. The original opening ad for this store describes it as "streamlined," and touts "electrically operated checking desks" as a modern feature. Given how much narrower the frontage looks in the 1965 photo, I strongly suspect that this store has been added onto on the right side.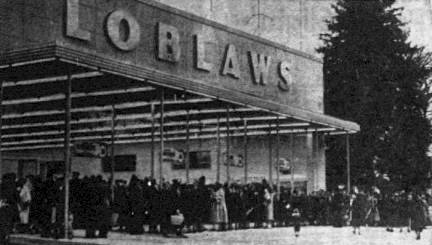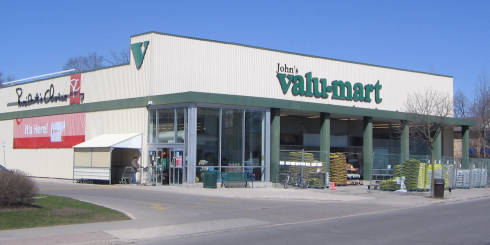 179 Wortley Rd., London, ON
1952 (London Free Press), 2018
Opened 6 November 1952 as Loblaws; converted to Valu-Mart in the 1980s. A period account of the store's opening day notes the pandemonium that erupted: "Police were needed to handle the crowds jamming sidewalks," and a free pound of coffee was given to the first thousand customers through the doors. The building was constructed with an arched "barrel" roof in order to facilitate a column-free floorspace, and has been expanded slightly on the left side.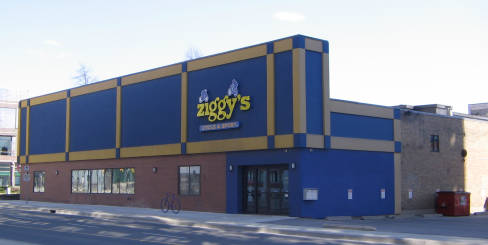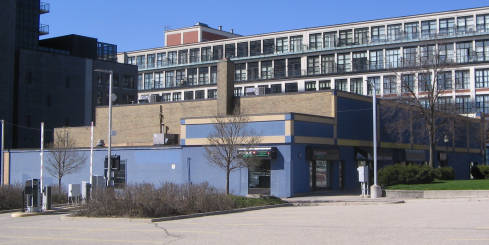 417 King St. W., Kitchener, ON
2019
Opened in or before 1955 as Loblaws; closed by 1970. Even though this building has been repurposed, subdivided, and expanded slightly since its grocery days ended, it still stands in recognizable condition today. This is particularly true in back, where the original blonde brickwork and smokestack are still visible.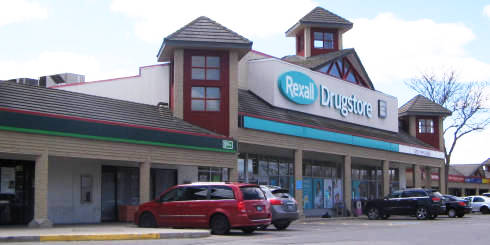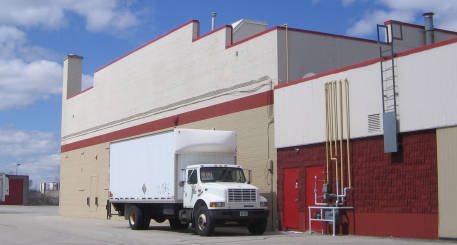 666 Woolwich St., Guelph, ON
2019
Opened in or before 1955 as Loblaws; closed in the 1970s. The front of the building has been obscured by a modern facade; however, the original form of the building is more apparent in the rear, where the original incinerator smokestack and stairstep wall profile (so as to wrap around an arched roof) are in plain sight.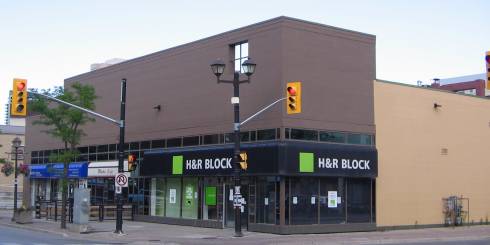 21 W. Nelson St., Brampton, ON
2019
This street-flush downtown building (with no parking in sight!) housed a Loblaws store through at least 1975. It also features a barrel roof, and stands in recognizable condition.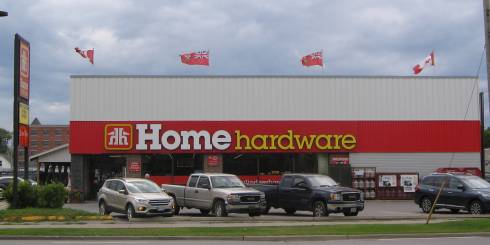 205 Kent St., Lindsay, ON
2018
I'm unclear when this building in the Kawartha Lakes region of Ontario was constructed, but its size and shape imply that it hails from the 1950s. According to local directories, a Loblaws store operated at this site until being replaced by 1981.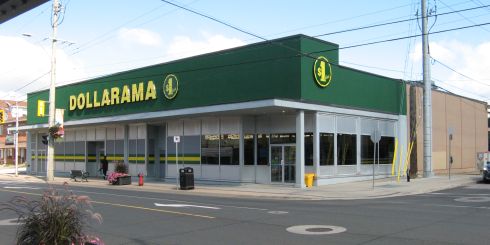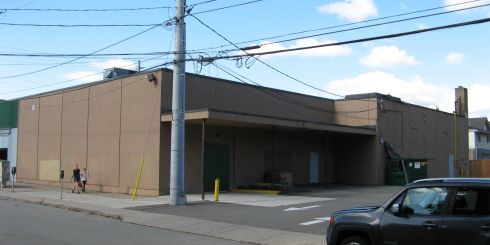 503 Concession St., Hamilton, ON
2023
Opened by 1955 as Loblaws; closed in the 1970s. The aluminum-frame windows bear evidence of there once being dual entrances in opposite corners, and may be a 1960s retrofit.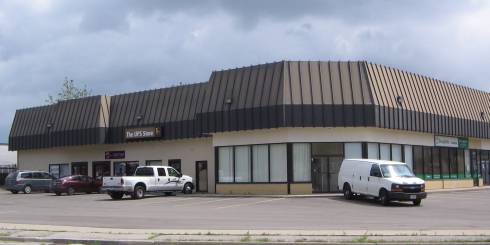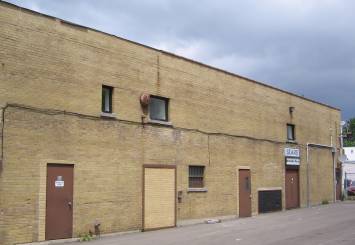 41 Mondamin St., St. Thomas, ON
2019
Opened by 1959, and replaced in the 1980s. The building has been expanded, subdivided, and re-facaded...but as so often is the case, its original appearance is still completely evident in the back.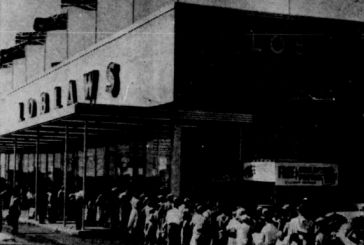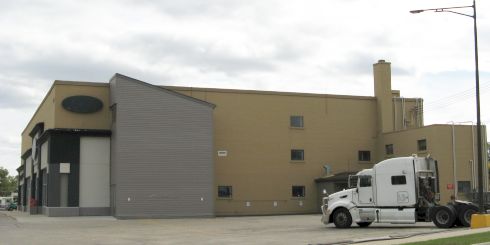 1295 Pembina Hwy., Winnipeg, MB
1958 (Winnipeg Tribune), 2021
Opened 24 July 1958, and closed in the 1980s. Later a Rexall drugstore, but vacant by the time of photography. The building has a few features that look odd (three-storey windows?!), but its 13000sf footprint and incinerator smokestack are very typical for a Loblaws store of this period.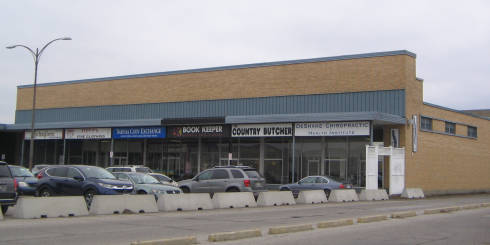 836 Colborne Rd., Sarnia, ON
2019
If I'm not mistaken, a Loblaws store opened at the west end of Sarnia's Northgate Plaza in the late 1950s, taking its address from the street it backed up into. It remained open until the early 1980s.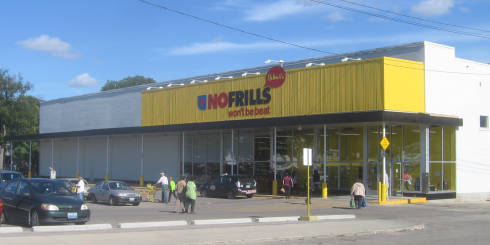 1445 Main St., Winnipeg, MB
2015
Opened 30 April 1959 as Loblaws; later Econo-Mart, Extra Foods, and No Frills.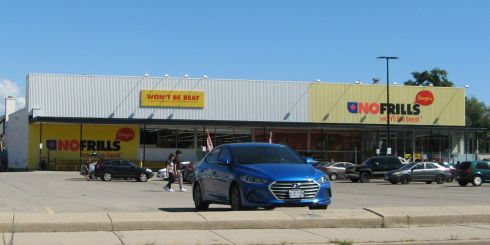 435 Main St. E., Hamilton, ON
2023
Opened by 1960 as Loblaws; converted to No Frills by 1985.
---