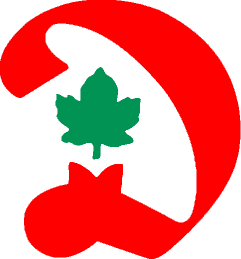 Unless noted otherwise, all photos on these pages were taken by Andrew Turnbull.
---
Late 1950s store design
In the late 1950s, Dominion built a number of stores to an identical blueprint, with elements that recur from one site to another like consistent hallmarks:
Frontal display windows with thick columns dividing every third pane, and a horizontal division between the upper quarter and lower three-quarters of the glass.
A long strip of glass block on one side wall.
Six windows and vents on the upper rear side wall, opening into the storeroom mezzanine.
A mezzanine door and staircase in the rear corner.
A small canopy over the rear loading area.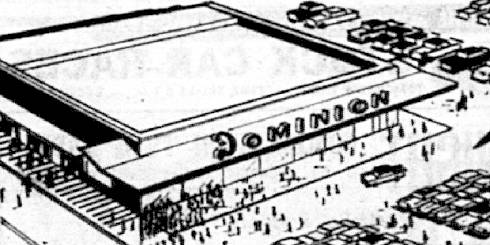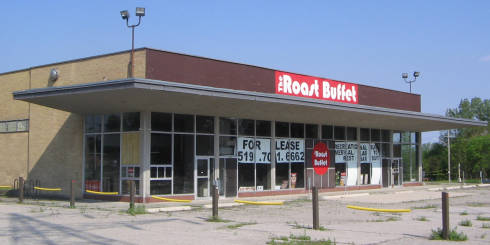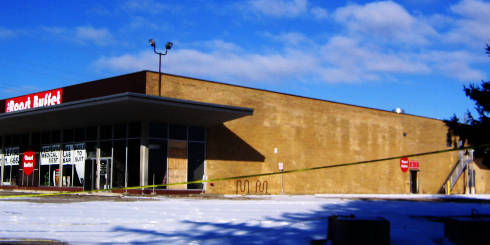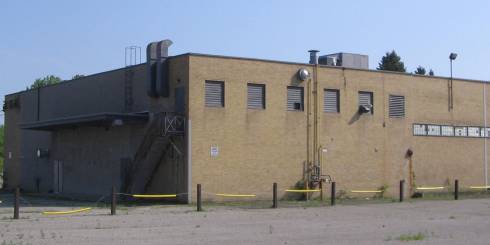 1154 Hamilton Rd., London, ON
1957 (newspaper ad illustration), 2018, 2019
This store opened on 15 August 1957. It survived in operation until the 1980s. It's also a perennial favourite of mine that stimulated my interest in Dominion.
How so? For starters, the building survives in almost completely original condition, and has never been expanded. The 1950s modernist canopy is still intact, so is the window work, and so are all the assorted "hallmarks" of this design visible 'round back: The strip of glass block, the six windows and vents, the mezzanine staircase, the rear canopy. As the cherry on top, a faint "Dominion" labelscar is still visible on the south side of the building after more than 30 years.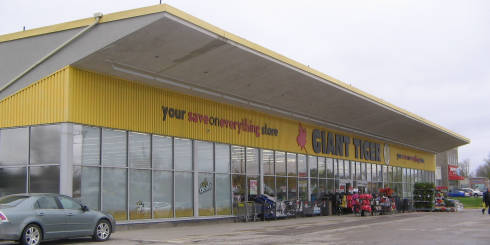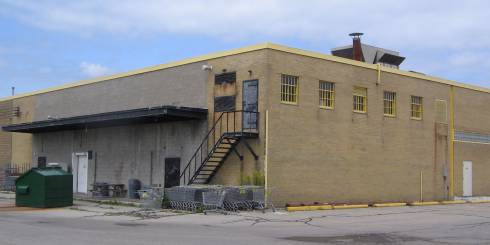 477 Huron St., Stratford, ON
2019
Now this is snazzy! This provocatively-canted store opened by 1959, and has been expanded to twice its original footprint. It's possible that this facade was retrofitted at the time of expansion, and that the original facade was identical to 1154 Hamilton Road in London. The rear corner is identical to the London store, and how: Same strip of glass block down the side, same six windows and vents, same mezzanine staircase, same rear canopy! Dominion was so consistent in this period that it's scary.
This store was converted to Mr. Grocer in the 1980s like many other Dominions, and survived in operation until the 1990s before closing.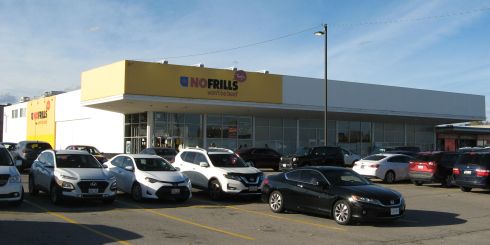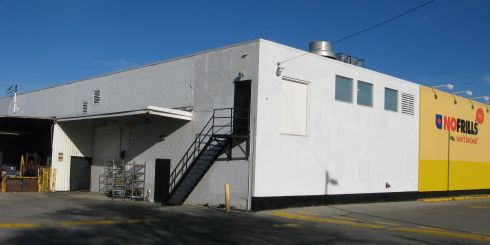 770 Upper James St., Hamilton, ON
2022
Opened by 1955, converting to Mr. Grocer in the 1980s and then to No Frills. The original store footprint and canopy (identical to the London store) have been retained.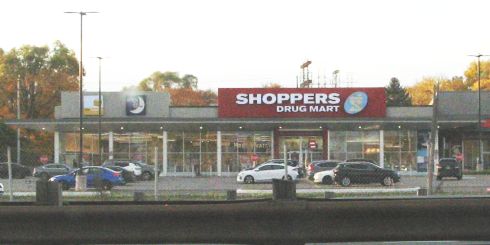 1077 N. Service Rd., Mississauga, ON
2022
Part of the Applewood Village shopping centre, which was completed in 1955. The original canopy is intact.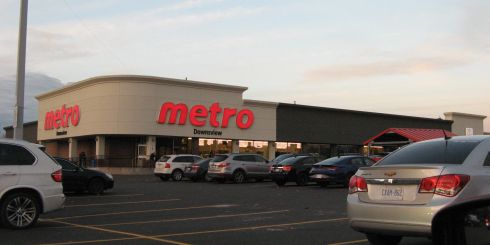 1090 Wilson Ave., North York, ON
2022
Part of the Downsview shopping centre. Believe it or not, there is a late-1950s Dominion lurking somewhere under this structure, buried behind a slew of expansions and renovations! Now I need to go back there, and photograph the six mezzanine windows on the other side of the building...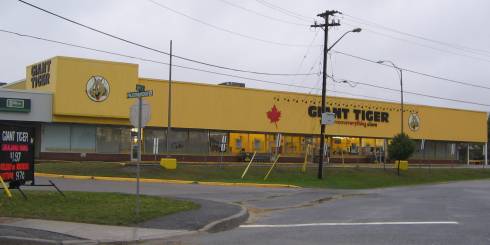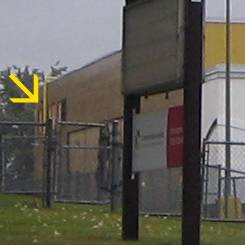 2208 La Salle Blvd., Sudbury, ON
2019
Opened as Dominion in the 1950s; closed by 1985. Much like Stratford, this building has been expanded to twice its original footprint. The original facade has been removed, while a new facade has been added on the side face of the expansion. But the rear corner tells all: The characteristic row of six windows and vents is there (see arrow); so is the mezzanine staircase, and so is the rear canopy! With a roster of hallmarks like that, the building might as well still have "Dominion" written all over it.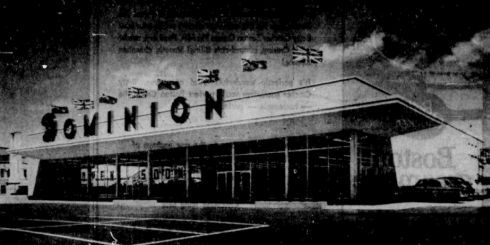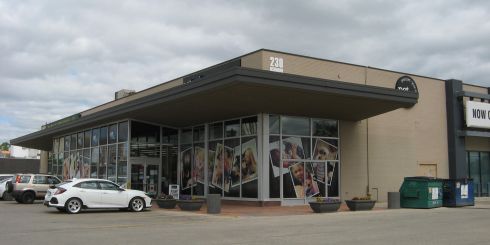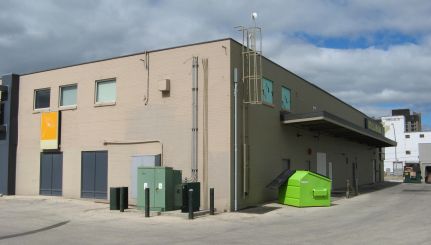 Confusion Corner (230 Osborne St.), Winnipeg, MB
1958 (Winnipeg Tribune), 2021
Opened 13 August 1958, and remained open until the 1983 divestiture of Dominion's western Canada operations. On this particular subvariation, the rear mezzanine windows wrap around to the back of the building.
---
11-window variation
Dominion stores of the late 1950s had astounding similarity from site to site. Though the aforementioned design appears to have been the most common, some store buildings had a slightly different blueprint with 11 small mezzanine windows along one side of the building. This variation also appeared with remarkable consistency.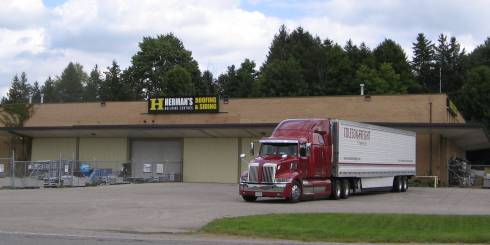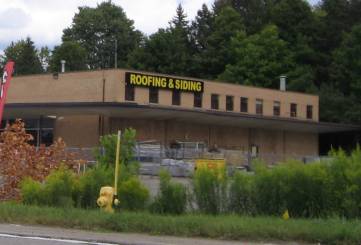 171 Ingersoll Rd., Woodstock, ON
2019
This store most likely opened in the late 1950s, and it closed by 1980. Though its layout is slightly different from the archetype for this style, it shares some features in common with it including blonde brick, a column-free frontal canopy, and mezzanine windows. The original display windows and parking lot lights were still intact until about ten years ago, when the premises were repurposed by Herman's Roofing & Siding.
319 Blake St., Barrie, ON
2019
A nigh identical 11-window building was constructed at Simcoe Plaza shopping centre in Barrie during the same period. This store operated as Dominion through the early 1980s...and once again, it amply proves that the company's consistency in this era was almost scary!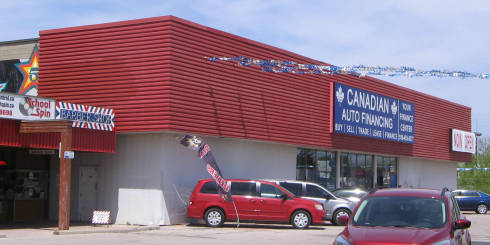 1500 Dundas St., London, ON
2018
Opened by 1960. Closed in the 1980s at the time of the A&P acquisition, and briefly reoccupied by a Knechtel market. This store had the 11 telltale mezzanine windows on the back, not the side, and also had its original canopy removed.
---
1960s-1970s stores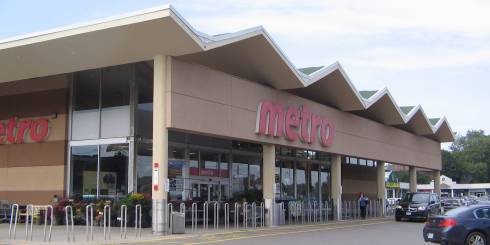 1500 Royal York Rd., Etobicoke, ON
2019
Whoa. Could this be the most perfect expression of mid-century modern supermarket architecture in existence? This zigzaggy specimen opened as Dominion before 1965, and retained the Dominion name until being rebranded by Metro in 2008.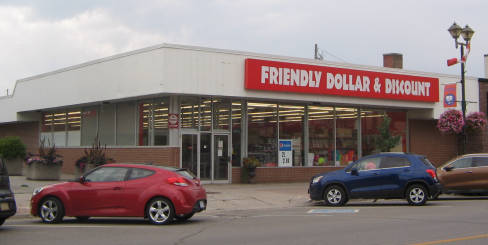 131 Kent St. W., Lindsay, ON
2018
This small downtown store is a veritable grocery gem, with a perfect 1960s-era exterior. This location was converted to Mr. Grocer in the 1980s and operated until the early 1990s when a replacement Mr. Grocer store (now Valu-Mart) was opened next door.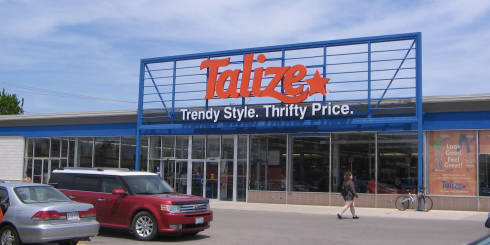 1345 Huron St., London, ON
2018
Opened in the early 1960s, converted to A&P in the 1980s, and closed after 2000. The rectangular frame over the entrance is a recent addition by the current tenant. The building has been expanded from its original footprint.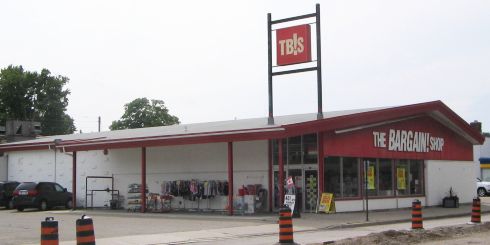 154 Talbot St. W., Aylmer, ON
2018
This rakish building design was a special format of store that Dominion deployed in small Ontario towns in the 1960s. This example in Aylmer is very well preserved, and housed a No Frills franchise at one point. Identical buildings also existed in Huntsville, Prescott, and Napanee.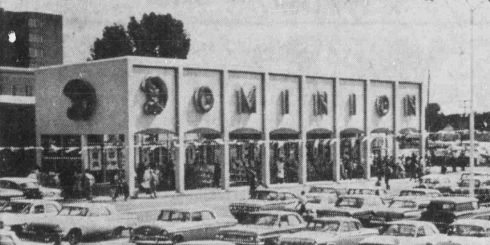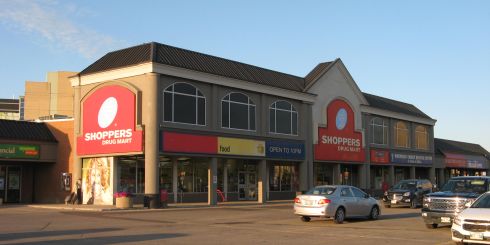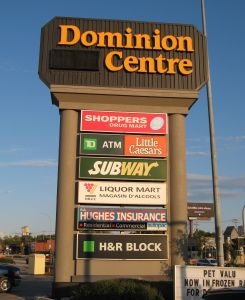 43 Marion St., Winnipeg, MB
1964 (Winnipeg Tribune), 2021
Opened 25 June 1964, and remained open until the 1983 divestiture of Dominion's western Canada operations. Though the store building has been renovated, its original appearance is still evident from the nine columns, recessed display windows, and incuse upper facade. Dominion also visibly lives on through the name of the shopping centre itself!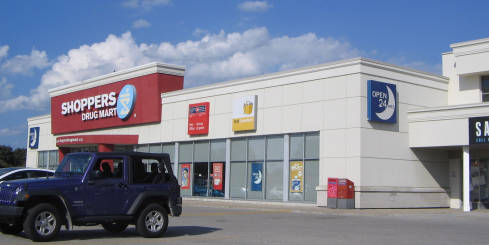 260 Indian Rd., Sarnia, ON
2018
Opened in the early 1960s; closed after the A&P sale of 1985. The building survives, though Shoppers Drug Mart has slathered over it with one of their generic facades.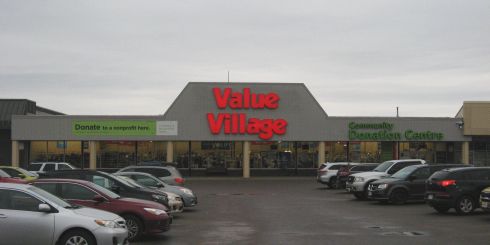 248 Northern Ave. E., Sault Ste. Marie, ON
2023
This Dominion store opened in 1964 in tandem with a Kmart in the same shopping centre. It presently houses a Value Village, and still retains its supermarket entrance configuration.
Dominion's Sault stores were sold to A&P in tandem with the chain itself, and converted to the A&P name by the end of the 1980s. In 1992 a replacement store building was erected side-by-side to the original, and this remains open under the Metro name today.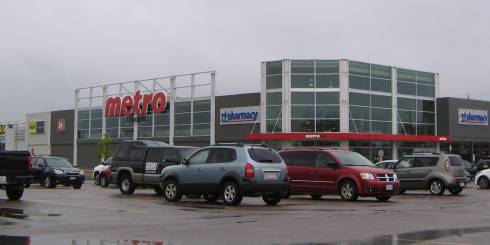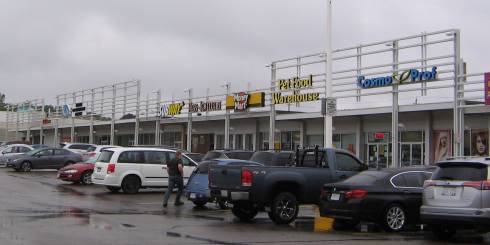 150 Churchill Blvd., Sault Ste. Marie, ON
2018
A Dominion store opened at this shopping centre by 1965, later converting to A&P and Metro. The store has been renovated to oblivion in the intervening five decades (or possibly rebuilt altogether), yet the adjacent shopping centre still looks the same now as it did in 1965. Funny how often that happens in Ontario...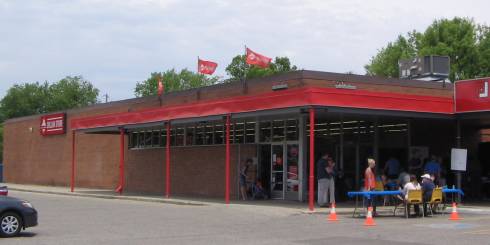 236 Springbank St., Woodstock, ON
2019
This store had a surprisingly brief operational existence, opening by 1966 and closing in 1973 when Dominion jumped ship to Woodstock's new (and now-gone) Blandford Square Mall. Their early exit might have been unintentionally beneficial for long-term preservation, since the building basically looks the same now as it did in 1973.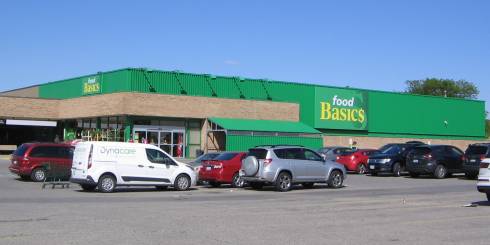 227 Vodden St. E., Brampton, ON
2018
Part of the Centennial Mall, which I'm guessing means that it opened in 1967.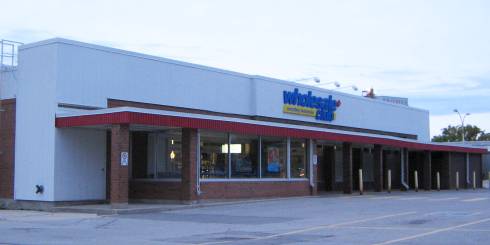 1120 2nd Ave. E., Owen Sound, ON
2019
Opened as Dominion by 1968. Divested and converted to Mr. Grocer by 1985. Eventually inherited by Loblaws, who converted the property to a foodservice-oriented Wholesale Club outlet.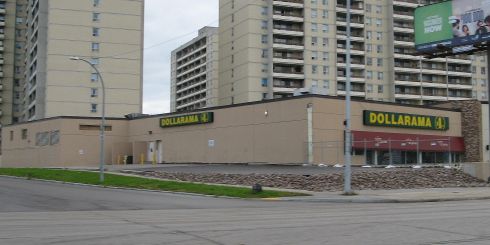 2727 Portage Ave., Winnipeg, MB
2021
Opened 26 June 1968, and remained open until the 1983 divestiture of Dominion's western Canada operations. Later an IGA, but converted to other businesses by 2016.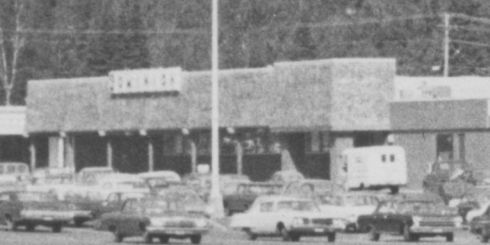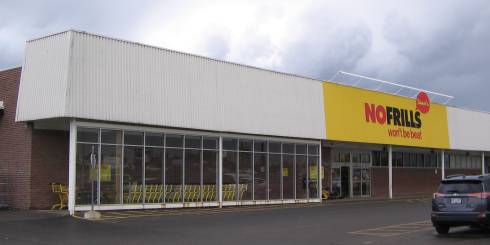 1020 Dawson Rd., Thunder Bay, ON
1970 (Port Arthur News-Chronicle), 2019
Although Dominion was the first grocery chain to enter many a city in southern Ontario, it was late to apply its commercial acumen to northern and western Canada markets. When the chain opened its doors at Port Arthur's new County Fair Plaza on 13 August 1969, it was playing frantic catch-up to Safeway, A&P, and Loblaws, who had been operating on the Lakehead for years. Dominion's local conquest was ultimately unsuccessful, and this store has been repurposed by Safeway, Quality Markets, and No Frills since 1983.
Being a mall store, this supermarket was originally laid out with checkouts on the right wall that opened into a shared interior corridor. The mall entrance was sealed, the checkouts were relocated to the front of the building, and a new entrance was carved into the facade as part of the conversion to No Frills in the 2010s.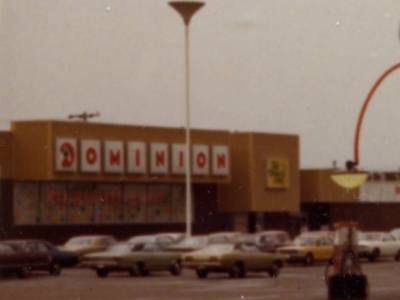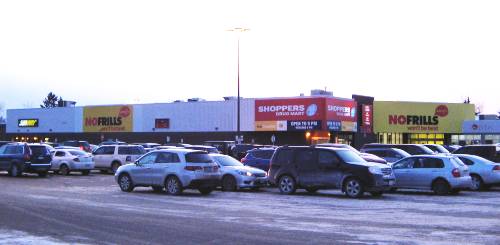 425 Edward St. N., Thunder Bay, ON
1972 (Thunder Bay Museum acc. no. 994.115.10), 2019
Until 1970, the city of Thunder Bay consisted of two cities named Port Arthur and Fort William...and any commercial development in one was bound to be erected in parallel in the other. Likewise, a second shopping plaza (anchored by a second Dominion store) opened its doors to shoppers in the city's hitherto-Fort William half on 21 July 1971.
Although the layout of the store and its companion mall were identical to those of their Port Arthur predecessor, Fort William's Dominion had a distinct (and distinctly boxy) facade. The facade was later obliterated by the construction of a frontal annex...but the store itself survives in operation as a No Frills franchise, like its companion.
---
1970s-1980s stores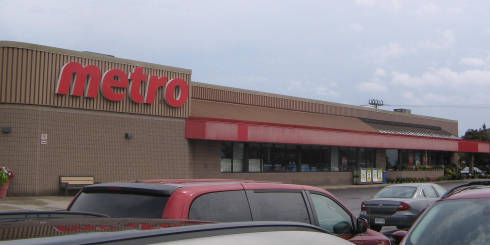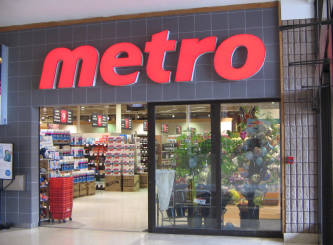 417 Wellington St., St. Thomas, ON
2018
This store is located at the Elgin Mall in St. Thomas, which opened in 1975. The skylight panels at the front of a store are a recurring theme on Canadian A&P stores of this era, and I suspect they may have been added to this store after A&P acquired Dominion in 1985.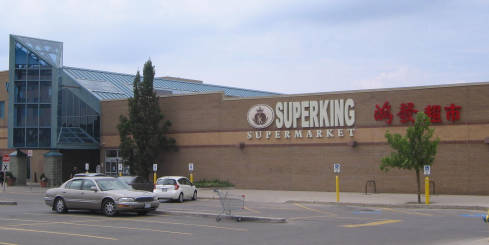 785 Wonderland Rd. S., London, ON
2018
A mall store forming part of Westmount Centre and opening in the 1970s. Later A&P and Metro, but converted to an Asian supermarket in 2013.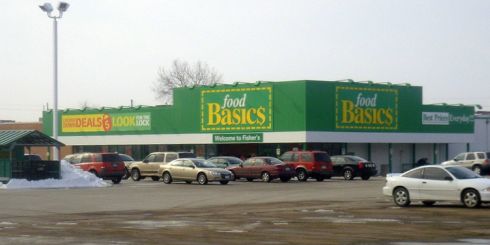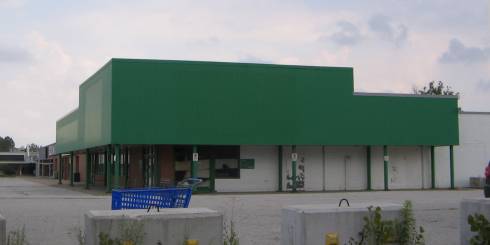 2491 Dougall Ave., Windsor, ON
c2008 (Ryan Wellborn), 2019
This site offers up a bundle of confusion. A Dominion opened at this shopping centre in the late 1970s, replacing a 1950s store next door. In May 1989, it was reportedly rebranded as Farmer Jack in one of A&P's strangest cross-border pollinations of brands. However, Dominion was reportedly housed at the south end of the centre. Farmer Jack spanned 70000 square feet in size...which corresponds to the footprint of the north anchor of the centre! So either Dominion relocated within the centre (unlikely, given their dire finances of the 1980s), A&P executives in 1989 were confused about the size of the new Farmer Jack store, or the Farmer Jack store was not actually housed in the former Dominion location.
To no one's surprise, the north anchor pad was eventually downsized, re-rebranded, and lived out its final days as Food Basics, which closed in 2014.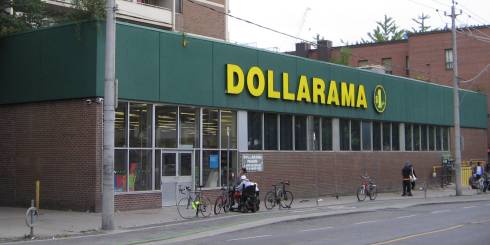 149 Sherbourne St., Toronto, ON
2019
Dominion in the 1970s wasn't adverse to opening stores in urban areas: This squat ex-supermarket in Toronto is less than one kilometre from Yonge and Dundas...which might as well be the centre of the universe!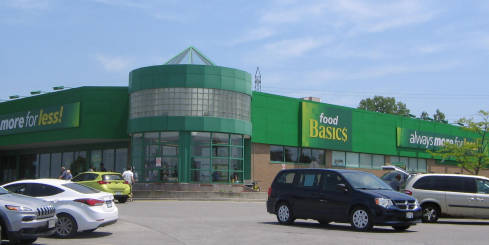 1200 Commissioner's Rd. E., London, ON
2018
This store opened in the 1980s as the last new Dominion in London. It features an elaborate entrance configuration, with a cylinder at the corner topped by glass block.
---
Postmortem stores
After already having shed many of its stores and divisions in the early 1980s, the rump of Dominion was sold in 1985 to A&P. Although the Dominion name continued to be used in the greater Toronto area as late as 2009, later stores reflected A&P business practices and building designs...meaning that the trail of Dominion artifacts ends here.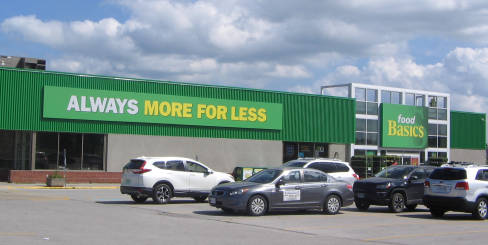 17725 Yonge St., Newmarket, ON
2018
Though I'm unclear when this store opened, it undoubtedly originated as a Dominion location. Much like on Marion Street in Winnipeg, the most damning evidence of this is the name of the shopping centre it's in: Dominion Centre Plaza!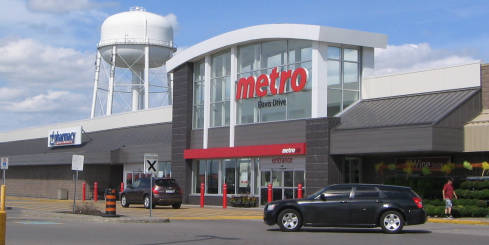 1111 Davis Dr., Newmarket, ON
2018
Another one of Newmarket's former Dominions. This one probably opened after the 1985 sale to A&P when Dominion became "in name only" and limited to the Toronto area, and the glassed-in archway is typical of A&P.
---