The Artifacts of A&P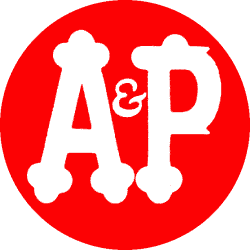 The Great Atlantic & Pacific Tea Company was founded in 1859 as a New York coffee and tea merchant. The company competed aggressively in the early 20th century, and by the 1930s A&P was not only the largest food retailer in the United States (with a strong presence in Canada as well) but the largest retailer of any sort in the world.
The higher they rise, the harder they fall. A&P began to falter in the 1950s, when the chain found itself falling behind on retailing trends. The west coast division was shuttered in 1969, followed by divestitures throughout the southeast and midwest through the course of the 1970s, 1980s, 1990s, and 2000s. A&P's Canadian stores were sold to Metro in 2005, and by 2009 the chain's trade area was little more than a clump in the New York-Philadelphia corridor. A&P then plunged into bankruptcy, liquidating its assets by the end of 2015 and leaving behind little more than a glut of empty buildings. And it is those buildings that this page explores.
Unless noted otherwise, all photos on these pages were taken by Andrew Turnbull over a period of more than 10 years.
---
Early stores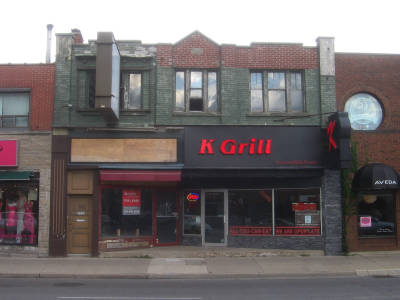 742 Richmond St., London, ON, Canada
2017
This particular storefront hails from 1925 and housed an A&P store until 1955. The space was subsequently reoccupied and for many years was home to Bob Turnbull Flowers, a business owned by my first cousin twice removed.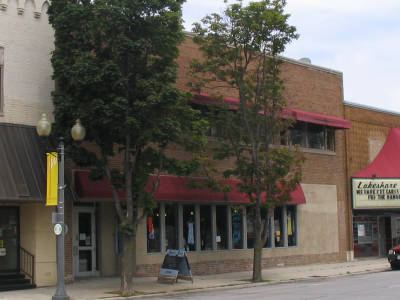 1120 Washington St., Manitowoc, WI
2009
Another typical downtown storefront, housing an A&P in this case from the 1940s (if not earlier) until 1972. A&P was notorious for retaining anachronistic stores such as these for years after most of its competitors had modernized.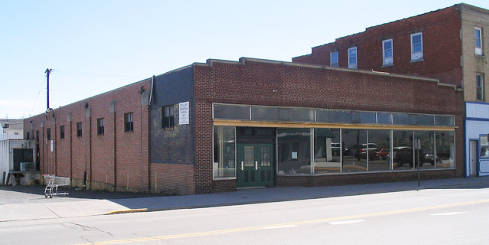 743 Mercer St., Princeton, WV
2009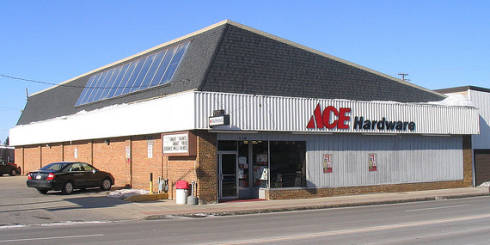 516 N. Commercial St., Neenah, WI
2010
Both of these stores are excellent examples of early purpose-built A&P supermarkets from the late 1930s and early 1940s. The Princeton store opened in approximately 1941, and was replaced in 1969. The Neenah store dates to the same timeframe and would have originally looked very similar, though the lifted roof and solar panels are obviously a much later alteration.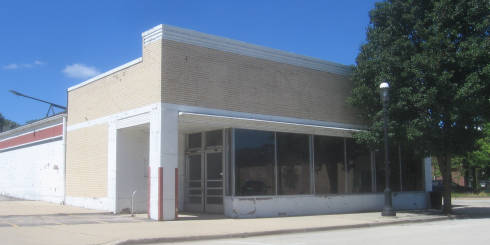 118 S. 1st St., West Dundee, IL
2016
An example of a later (but still quite old and small) store with street-flush alignment; possibly from the early 1950s. Most likely closed as an A&P in 1973.
---
Centennial stores
A&P's most widespread and recognizable store design was the colonial-style "Centennial" building, fronted by a peaked facade with a cupola and windmill atop. Hundreds of these structures were built throughout the 1960s (with overspill into the 1950s and 1970s), with many of them replacing downtown store locations.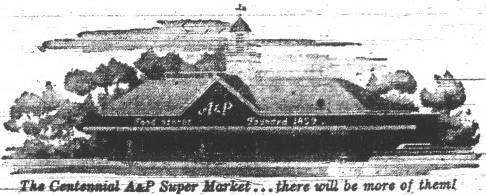 This artistic rendition of an archetypal Centennial store appeared in a 1959 newspaper ad commemorating A&P's 100th anniversary that year. The pitched roof features longer hips and lower eaves than the actual stores as built, but it is otherwise an accurate representation.
These buildings are widespread throughout the eastern and midwestern United States, and appear in portions of Canada as well. They also represent A&P's trade area at its zenith: In the 1970s A&P was bleeding red ink and systematically closing stores, kicking off a protracted four-decade decline that ultimately ended in the bankruptcy and liquidation of the chain.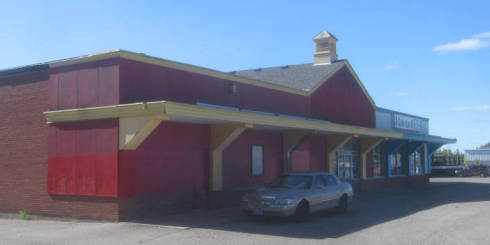 1165 Oxford St. E., London, ON, Canada
2018
Contains only a central peak, lacking the full-width pitched roof.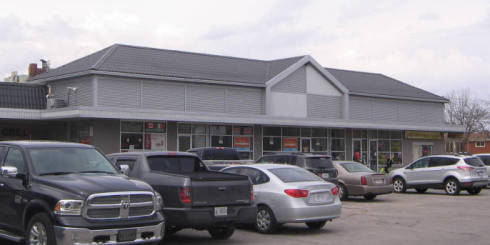 1050 Kipps Ln., London, ON, Canada
2018
One of the few centennial stores built in Canada, and one of two in London. This store appears to have had a short operational history, both coming and going within the duration of the 1970s.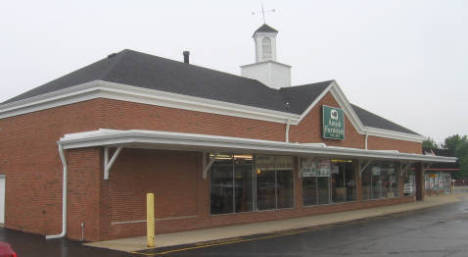 301 West Virginia St., Crystal Lake, IL
2014
The brickwork of this building has since been painted over, and the cupola has been removed.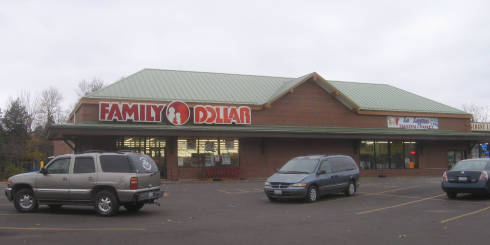 301 Ave. G, Sterling, IL
2015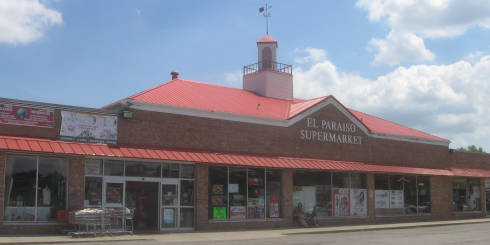 4135 Hessen Cassel Rd., Fort Wayne, IN
2016
Still in operation as a Mexican supermarket.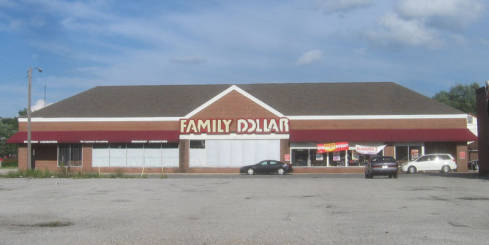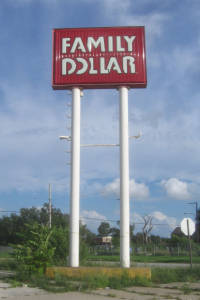 1401 Massachusetts St., Gary, IN
2016
Original signposts with ladder rungs are intact.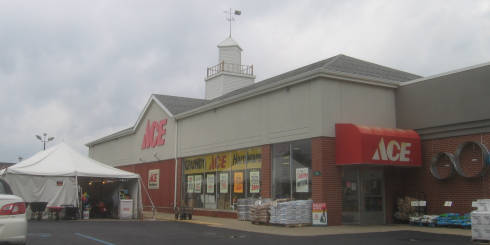 1250 E. Grand River Rd., Howell, MI
2016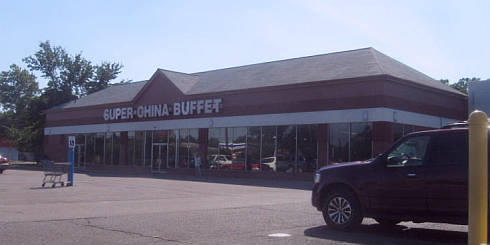 8234 Telegraph Rd., Taylor, MI
2016
Entrance configuration has been changed.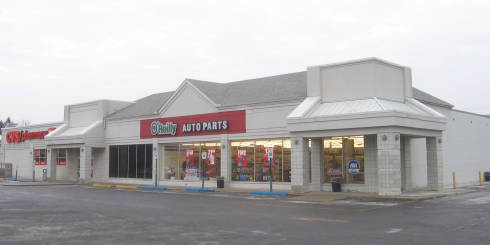 2165 Washtenaw Ave., Ypsilanti Twp., MI
2013
Lightly disguised with outward-jutting towers on both ends.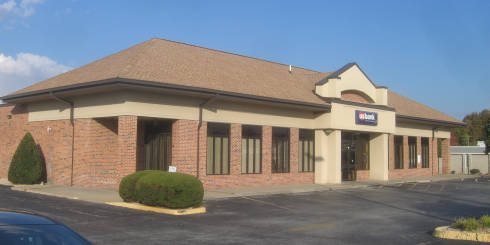 1615 S. Glenstone Ave., Springfield, MO
2016
Disguised with subsequent alterations; now houses a bank.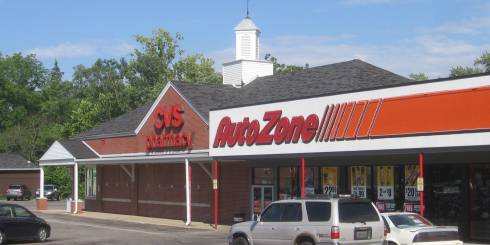 170 E. Main St., Geneva, OH
2014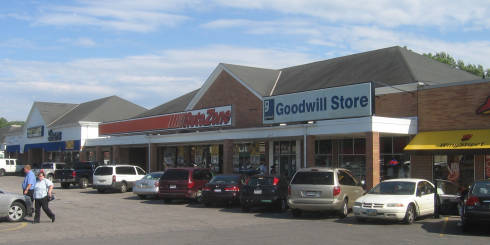 6644-6656 N. Ridge Rd., Madison, OH
2014
This is a truly unusual structure (built 1969) that appears to consist of two centennial A&P stores conjoined side-by-side. It's possible that only one of the two actually housed an A&P supermarket, and the lookalike centennial roof was built for a companion tenant.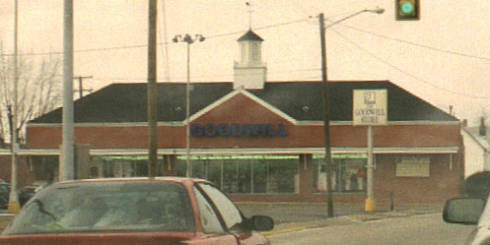 1910 Robinson Ave., Portsmouth, OH
2009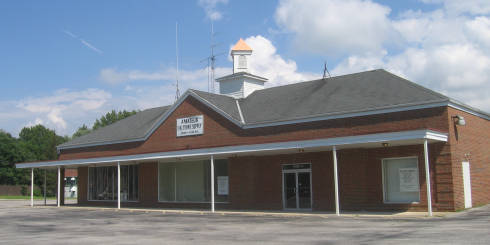 28940 Euclid Ave., Wickliffe, OH
2014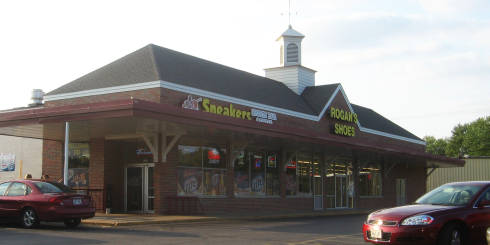 1221 Woodman Rd., Janesville, WI
2013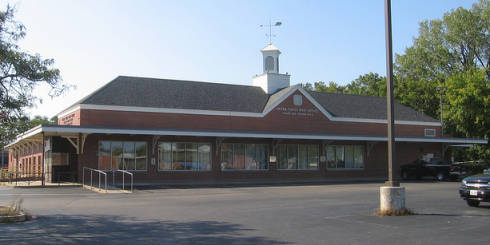 820 W. Wingra Dr., Madison, WI
2012
Now houses a post office.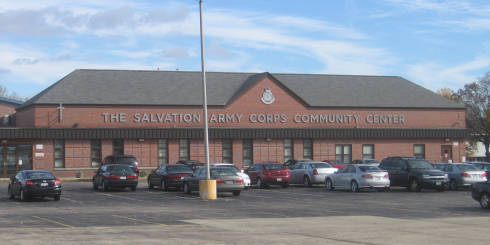 3030 Darbo Dr., Madison, WI
2012
Now houses a Salvation Army facility, of all things.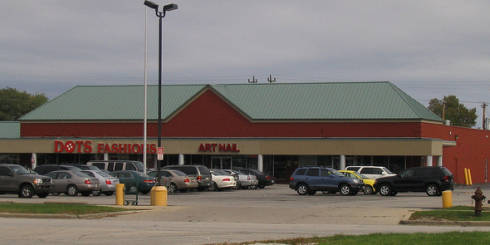 3750 S. 27th St., Milwaukee, WI
2010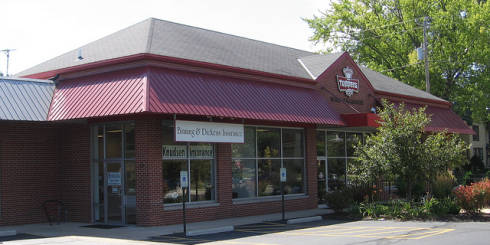 325 W. Center St., Whitewater, WI
2011
A smaller-scale variation of the centennial roof, possibly retrofitted to an earlier building. Now a pizza parlour.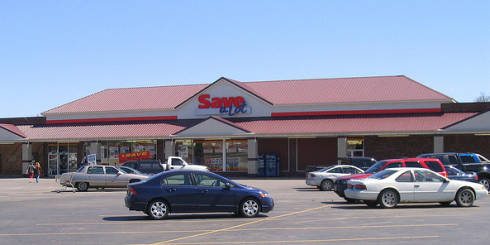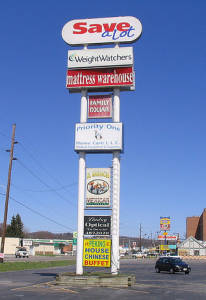 1117 Stafford Dr., Princeton, WV
2009
Opened in 1969 and closed as an A&P in 1981. Has housed a succession of other supermarkets since. The original signposts with ladder rungs are intact, and are still topped with an A&P pill-shaped signframe.
---
Subsequent stores
Although the Centennial architecture prevailed for A&P store construction until the 1970s, several of the stores that A&P opened in malls and shopping centres during this period eschewed the Centennial motif in favour of architecture that blended in with the centre as a whole. As the 1970s wore on into the 1980s, A&P also began building larger stores with a variety of architectural motifs that sometimes varied from division to division. Many of these concepts are explored in this section, although the fragmentation of the chain during this period makes it difficult to document in photos.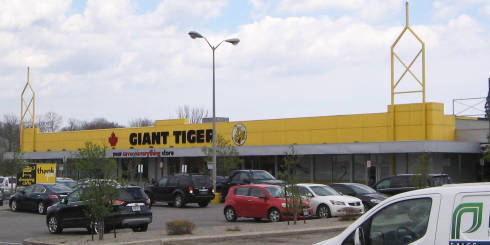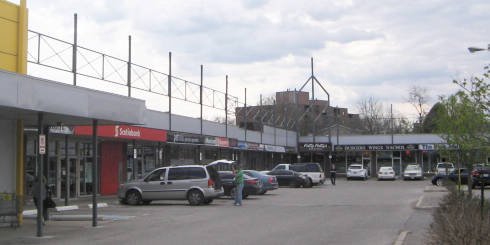 390 Springbank Dr., London, ON, Canada
2018
An A&P store operated in this shopping centre from the early 1960s to the early 1980s; though I'm unclear whether it was the anchor store (now Giant Tiger) or housed in a smaller inline spot. The entire centre is decorated with unusual metal towers and lattices that are likely unique to this location.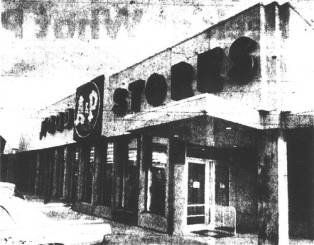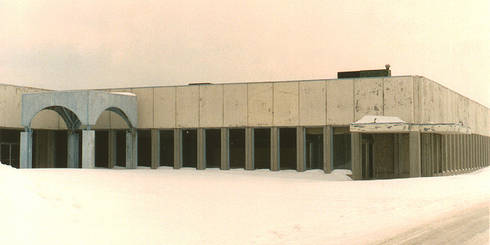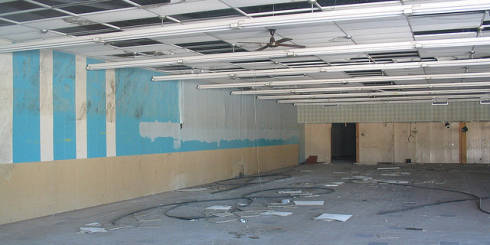 828 Memorial Dr., Manitowoc, WI
1968 (newspaper photo) and 2009
This supermarket was developed as part of the Mid-Cities Mall, opening in 1968, closing as an A&P in 1979, and briefly reopening as an independent market before closing permanently. By the time I photographed it in 2009, this portion of the property had sat abandoned for two decades. Since demolished.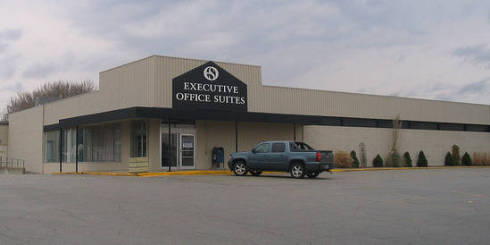 1039 W. Mason St., Green Bay, WI
2010
An architecturally bland and generic shopping-centre supermarket. Most likely closed in 1979 during A&P's first exit from Wisconsin.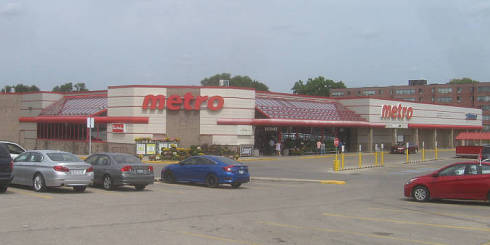 1030 Adelaide St. N., London, ON, Canada
2018
Opened circa 1980 and possibly renovated since; still in operation as Metro.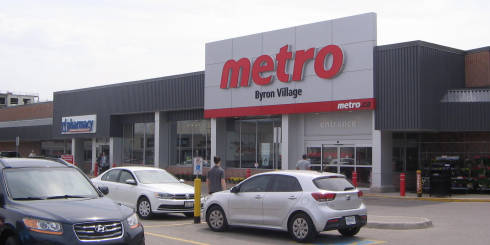 1244 Commissioner's Rd. W., London, ON, Canada
2018
Another excellent example of an 1980s Canadian A&P.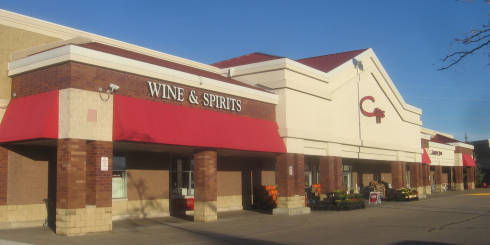 261 Junction Rd., Madison, WI
2016
Built in 1996 as a Kohl's food store under A&P ownership.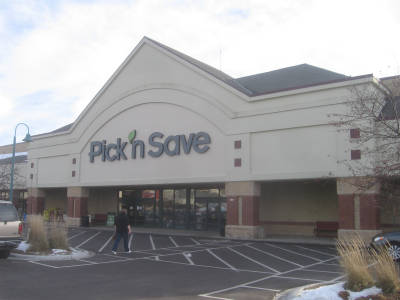 6540 Monona Dr., Monona, WI
2017
Also built as a Kohl's food store under A&P ownership.
---