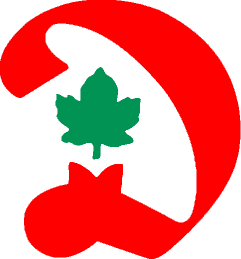 The name and company may be consigned to the history books today, but Dominion was at one time Canada's leading grocer. The company was founded in Toronto in 1919, and grew from one store to a chain of sixty-one in only a year. The company eventually maintained a near-national presence, with stores spanning the continent from B.C. to Newfoundland. That was then.
In the 1980s, Dominion was essentially raided. The Quebec and western markets were let go. A&P snapped up the core of the company in a 1985 takeover bid. Some stores were excluded from the sale, and converted to Mr. Grocer in a union-busting ploy. A&P assimilated Dominion's store base with its own, with combined operations taking on the A&P name in some cities and Dominion in others. A&P then sold its Canadian division to Metro, who swept the last remnants of the Dominion name from sight in 2009.
Or did it? Way out in the isolated province of Newfoundland & Labrador, Dominion's stores were resold to local owners. Loblaws then bought the stores, and Loblaws has retained the Dominion name (albeit with Loblaws branding) to this day. But it's not quite the same.
Unless noted otherwise, all photos on these pages were taken by Andrew Turnbull.
---
Storefront stores in London, Ontario
Dominion saturated cities with small neighbourhood stores throughout the 1920s, 1930s, and 1940s. Many of these stores originally featured counter service, and only a tiny selection of produce or meats: The industry transition to self-service supermarkets was still a few years away. Given the sheer quantity of stores from this era (and the fact that most were housed in pre-existing buildings not specifically devised as supermarkets), it would be a fool's errand to photograph them all. Nevertheless, I've done my best to document the early Dominion sites of London, and these locations provide a tantalizing glimpse at early 20th-century retail development.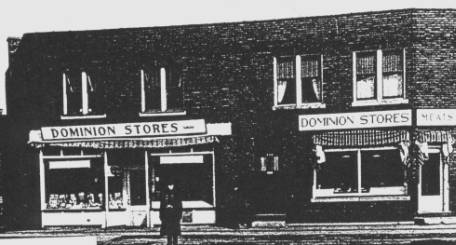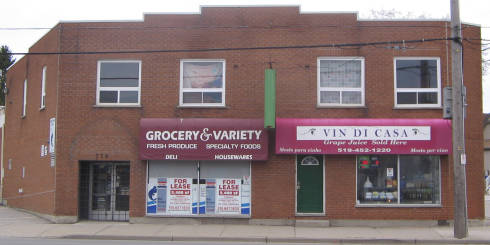 778 Hamilton Rd., London, ON
1941 (A Collection from the Hamilton Road Area, credited in turn to "200 Canada"), 2019
Dominion was very quick to sweep in and establish a presence in the cities of southern Ontario, and the firm was operating no fewer than eight stores in London by 1925...of which five still stand. This particular location opened in 1923 and may have been one of their most successful, expanding into an adjacent storefront by 1940 before being replaced altogther in 1946. The property later became home to a long-lived IGA store run by Featherstone's and Carruther's, and it continues to sell groceries as a local specialty market today.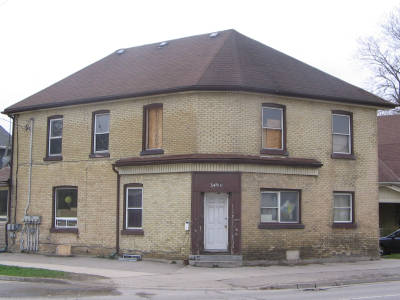 349 Hamilton Rd., London, ON
2019
This inauspicious corner building housed another of Dominion's premiere London stores in the first half of the 1920s. This one didn't have as much staying power: By 1930, it had closed and been replaced by two new neighbourhood markets each three blocks away. Neither of those still stand.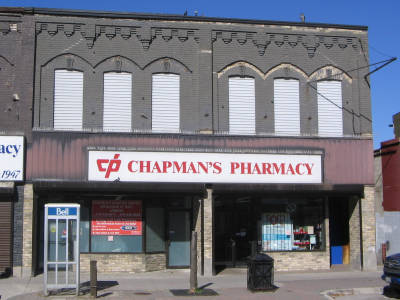 650 Dundas St., London, ON
2018
The right half of this building was home to another very early Dominion location, opening by 1925 and closing after 1935. Currently it's home to Chapman's Pharmacy, which has subsumed no fewer than five adjacent storefronts on the block.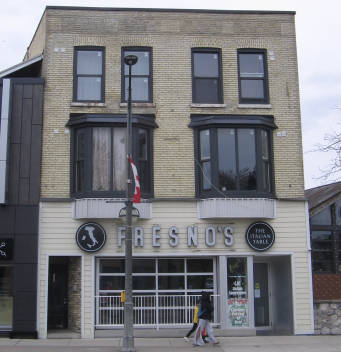 581 Richmond St., London, ON
2019
This location was the longest-lived of London's first wave of Dominions, opening by 1925 and closing after 1945. A replacement store stands next door.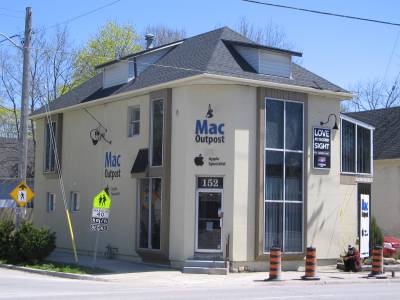 152 Wharncliffe Rd., London, ON
2019
Dominion's "class of 1925" was crowned by this south-side store, now the site of an Apple Computer dealer. The building has been stuccoed and remodelled severely, but I suspect the bones of an early 20th century corner storefront are still underneath it all.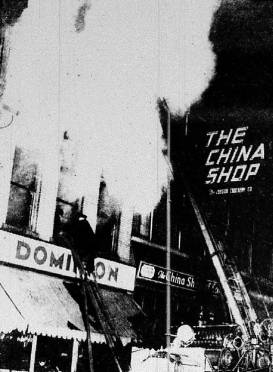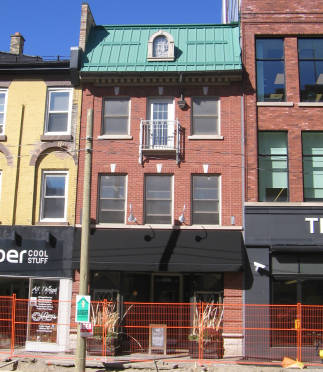 124 Dundas St., London, ON
1946 (London Free Press), 2018
Though it's tiny, this storefront actually hails from Dominion's second wave of local expansion in London, opening by 1930 and persisting until a fire on the evening of 19 December 1946 gutted the structure and destroyed $12,000 worth of "canned goods and other food." The outer walls of the building survived the fire, and the refitted structure houses a hair salon (among other things) today.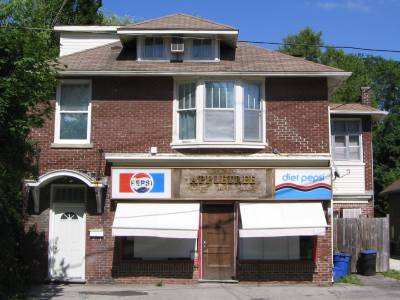 184 Ridout St. S., London, ON
2019
This store was another second-wave Dominion in London, opening by 1930. The building itself is in its own "island" smack dab in a residential neighbourhood, with no other adjacent retail.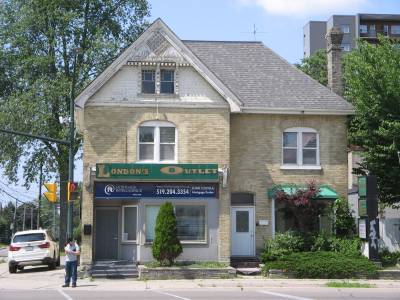 169 Wellington St., London, ON
2019
The lower level of this house-like structure housed the neighbourhood Dominion store for south-of-downtown patrons for approximately 20 years, opening by 1930 and closing by 1950.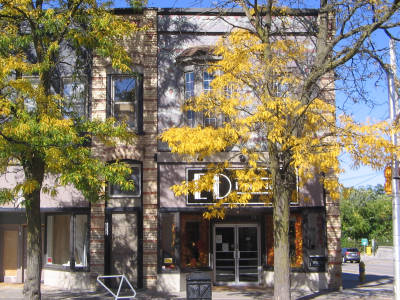 674 Dundas St., London, ON
2018
In around 1940, Dominion replaced its London location at 650 Dundas with a new store housed in an attractive eight-storefront Victorian structure...that also housed a Loblaws Groceteria and an Eaton/W.A. Bailey & Son food store! Here is Dominion's space, somewhat obscured by trees; a tattoo shop now calls it home.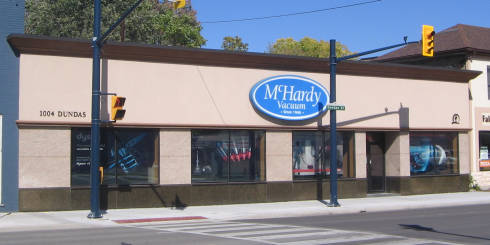 1002 Dundas St., London, ON
2018
The left third of this one-story structure briefly housed a Dominion store around 1940. Dominion didn't last long, but the site remained open as John's Market through the early postwar years. The space was later consolidated with an adjacent building, and hidden behind a unified fašade.
---
Other storefront stores
Once again, the sheer quantity of pre-1940s Dominion stores (and the fact they were small neighbourhood stores housed in buildings not specifically built for Dominion) makes attempts to photograph them all Quixotic at best. Even so, the following pictures from outside London help illustrate the sheer variety in store sites of this era: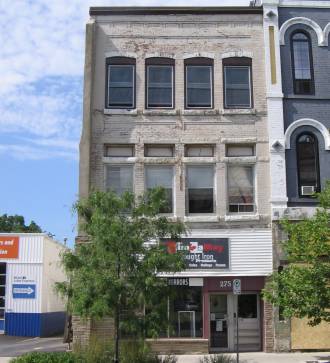 275 Talbot St., St. Thomas, ON
2019
This building was home to one of the two premiere Dominion stores south of London in St. Thomas, Ontario, opening by 1925. It was replaced by 1940.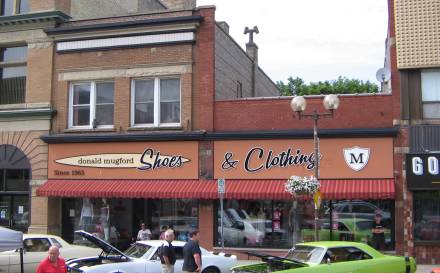 431 Talbot St., St. Thomas, ON
2019
The right half of this present-day shoe and clothing store was the site of yet another early Dominion, opening by 1935. It's interesting insofar that it was a single-story building, not housing apartments overhead.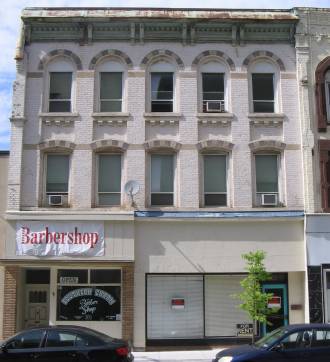 309 Talbot St., St. Thomas, ON
2019
There were no fewer than eight Dominion stores that opened up shop in St. Thomas' downtown between 1925 and 1940. All of them were short-lived, and by 1945 this storefront housed the only one surviving of the lot. The "storefront era" was almost over for Dominion, and the company spent the post-WWII years uprooting its operations to new standalone buildings.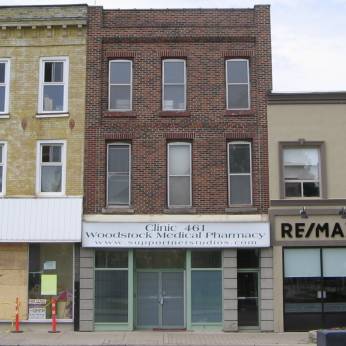 461 Dundas St., Woodstock, ON
2019
The site of the longest-lived Dominion in Woodstock, opening by 1930 and remaining in business until being replaced by a modern supermarket in the late 1950s.
---
Early purpose-built stores
Dominion kicked off new store construction in a big way after WWII, inaugurating a wave of freestanding supermarkets that it called "Master Markets" in advertising: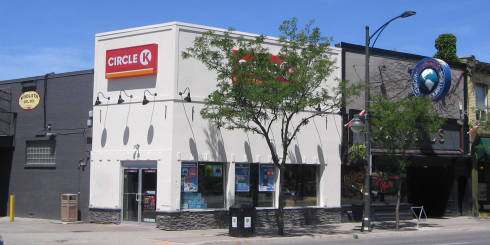 595 Richmond St., London, ON
2018
Though still downtown (and adjacent to a previous store), this building was planned and built explicitly as a supermarket; opening by 1949, and surviving in operation all the way up to the late 1970s. Currently it stands subdivided.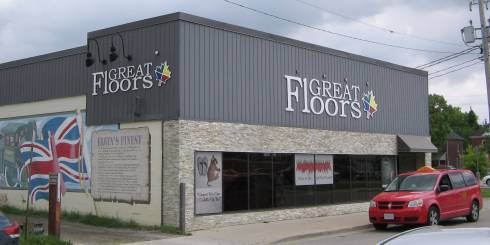 7 White St., St. Thomas, ON
2019
Opened by 1949, replacing Dominion's last prewar storefront in St. Thomas. This store also had a long life, surviving in operation through the mid-1970s.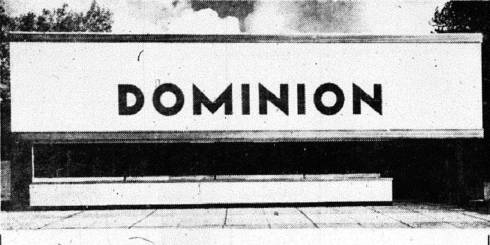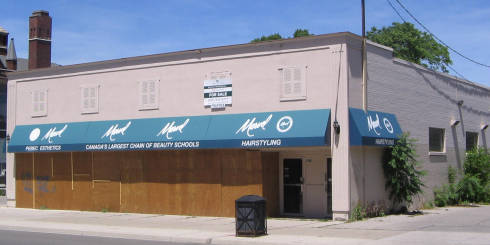 496 Dundas St., London, ON
1949 (Advertisement, London Free Press), 2018
Opened 2 June 1949. This store made quite a splash when it opened as the second Dominion "Master Market" in London, and a period account notes that the site it was constructed on was previously home to a Moose temple. As with most of Dominion's early postwar stores, the front of the building was originally decked out in cream-yellow porcelain enamel tile with "DOMINION" in red. It survived in operation until the late 1970s, and currently stands vacant.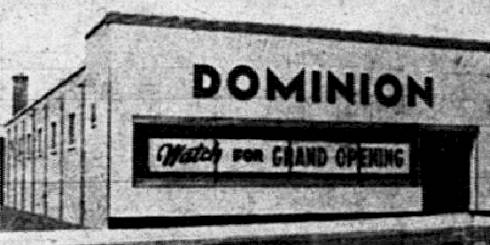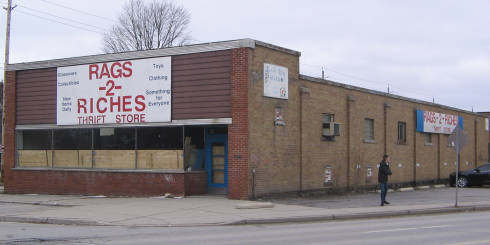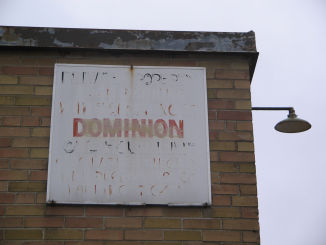 577 Hamilton Rd., London, ON
1950 (London Free Press), 2018
This Dominion supermarket building is situated on an odd, trapezoidal plot of land, and opened 16 May 1950. It closed in December 1975, later reopening as the independent Forest City Market and later still as an Asian market. Surprisingly, a small sign bearing the Dominion name is still visible near the back of the store more than four decades after it last operated as such! The building itself survives in surprisingly original condition complete with original doors and wooden flooring, although the original porcelain enamel front is gone.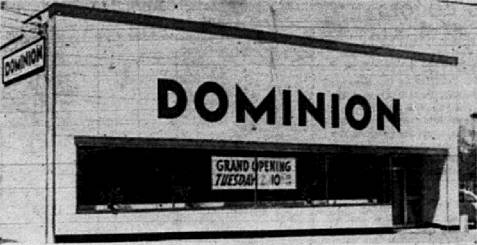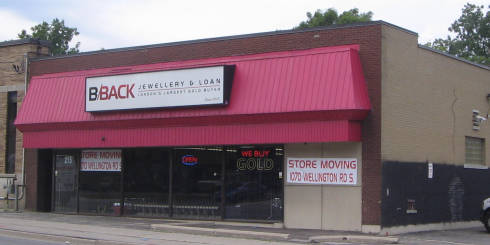 215 Wharncliffe Rd. S., London, ON
1951 (London Free Press), 2018
A virtually identical store in London's Southcrest neighbourhood opened on 10 April 1951. Like the last two Dominions, this one closed in the 1970s...and like the last two, the building still stands today in relatively intact and recognizable condition.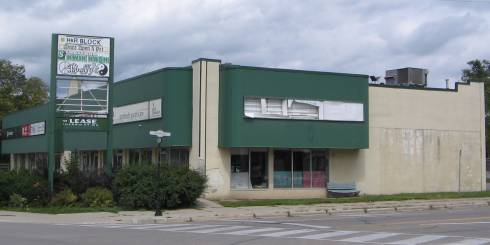 2 Douro St., Stratford, ON
2019
It may not look like much, but this modestly-sized building (now subdivided into inline shops) is undoubtedly the oldest surviving freestanding supermarket in Stratford. It opened as Dominion by 1955, and closed in the late 1970s.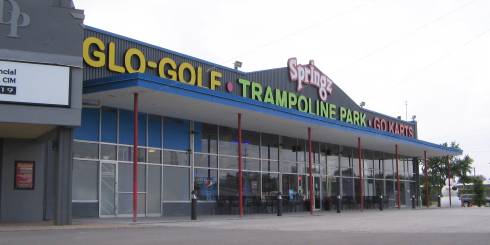 2411 Dougall Ave., Windsor, ON
2019
Opened by 1955; replaced in the late 1970s.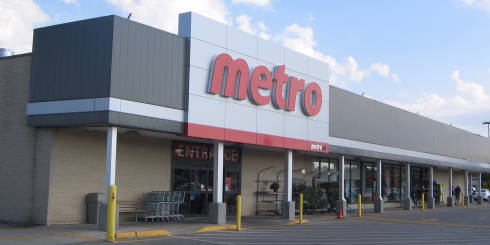 560 Exmouth St., Sarnia, ON
2018
Opened in 1955 as part of Northgate Plaza, Sarnia's first shopping centre. Later expanded, converted to A&P, A&P Super Fresh, and Metro, and still open after more than six decades.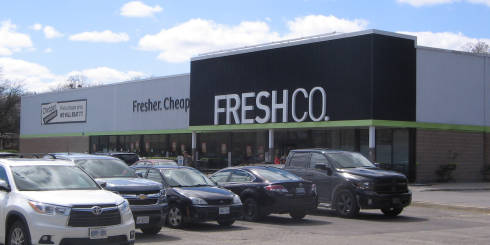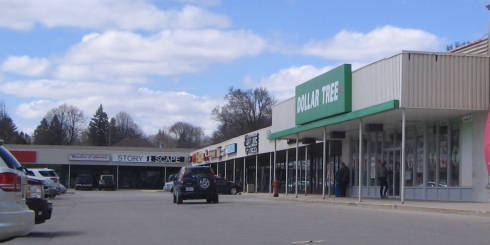 330 Speedvale Ave. E., Guelph, ON
2019
This Dominion store was constructed on the former site of a drive-in theatre, and opened by 1961. It remained open into the 1980s, and somehow morphed into a Fresh Co. store thanks to a series of transpirations over the last 35 years that I'm not entirely clear on! The supermarket building has been renovated and expanded to 5/3 of its original footprint; however, the rest of the shopping centre still retains its original 1960s appearance.