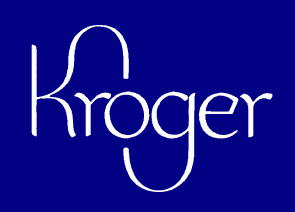 Unless noted otherwise, all photos on these pages were taken by Andrew Turnbull over a period of more than 10 years.
---
Greenhouse stores

In 1979, Kroger updated its chainwide store design yet again. Dark brick and subdued colours were out; replaced by painted block exteriors, brightly-trimmed interiors, and colossal expanses of slanted, tinted windows.
These stores lent a dramatic visual impact upon the shopping landscape. They also progressed through several chronological variations: The earliest greenhouse-type supermarkets featured a small slanted-glass area with no pillars directly undernath. By 1981, larger stores were being constructed that used columns to divide the under-glass area into three "bays." This swelled to five bays in 1984, as store sizes continued to increase. Sometimes a separate slanted-glass area was provided for an adjacent SupeRx drugstore, forming a "double greenhouse" facade.
The "greenhouse" name is actually an invention dubbed by commercial architecture geeks: Kroger continued to refer to these stores as "superstores" in advertising copy. Being newer, the greenhouse stores tend to have higher survival rates than the 1970s superstores, and several continue to operate today in original exterior condition.
---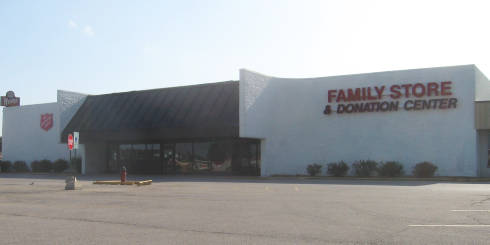 Litchfield Plaza, Litchfield, IL
2015
A very early greenhouse store with a small footprint and no columns.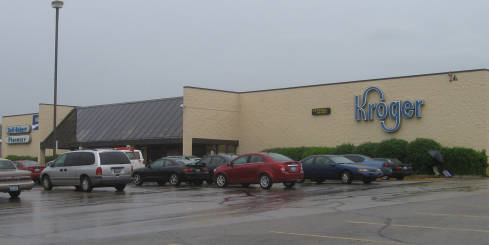 1525 Madison Ave., Covington, KY
2013
Still in operation, although the exterior has since been painted.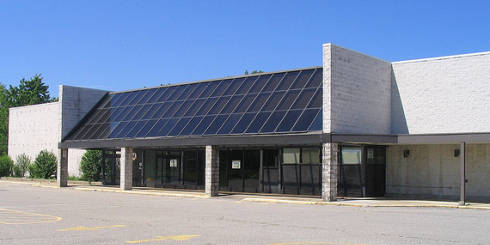 199 Gateway Ave., Conneaut, OH
2009
Kroger pulled out of the northeast Ohio and western Pennsylvania markets rather abruptly in the mid-1980s, consigning this store to a very brief existence as such.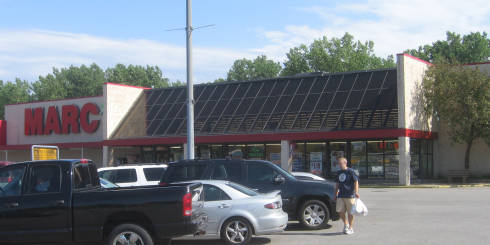 6570 N. Ridge Rd., Madison, OH
2014
Built 1981. Another northeast Ohio closure.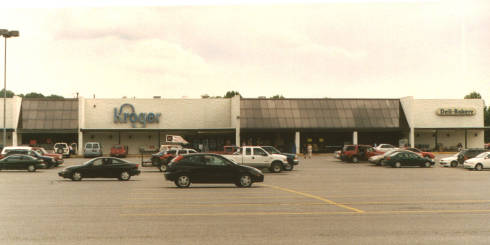 South View Mall, U.S. Rte. 52, Bluewell, WV
2008
Opened 17 Nov. 1981. A "dual greenhouse" store that originally featured an adjacent SupeRx drugstore. Still in operation with an original exterior.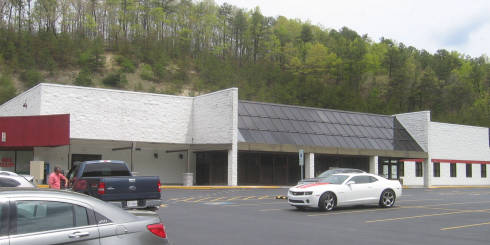 717 S. College Ave., Bluefield, VA
2013
Opened 15 July 1984; closed without replacement in 2004. The greenhouse glass has since been obscured.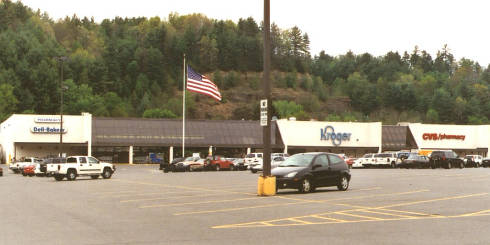 151 Beaver Plaza, Beaver, WV
2008
Another "dual greenhouse" store, still in operation with an original exterior. The adjacent SupeRx is now CVS.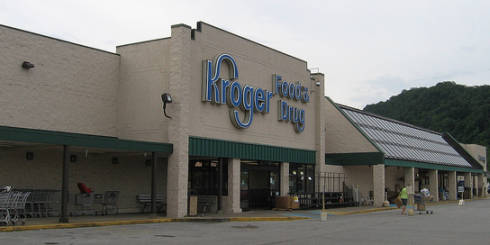 5717 MacCorkle Ave. S.E., Charleston, WV
2011
Still in operation.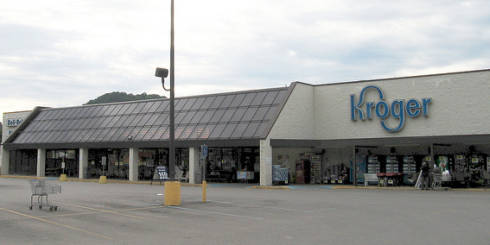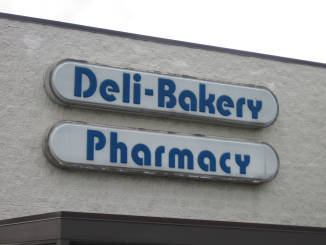 10635 MacCorkle Ave., Marmet, WV
2011
Still in operation with an original exterior.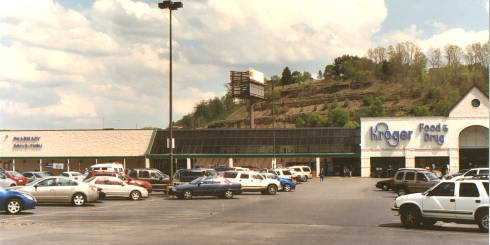 1213 Stafford Dr., Princeton, WV
2008
Opened 13 Feb. 1985. Still in operation.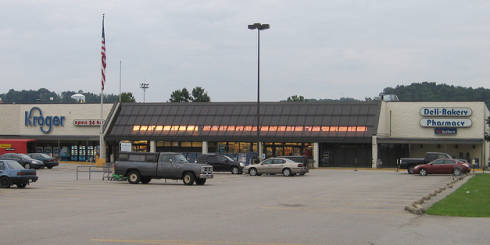 302 Great Teays Blvd., Scott Depot, WV
2011
Still in operation with an original exterior.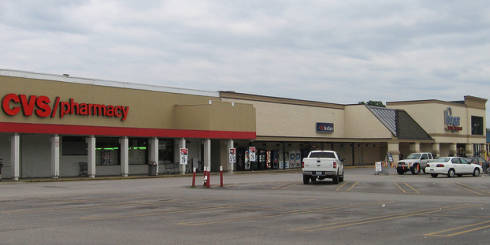 1439 MacCorkle Ave. S.W., St. Albans, WV
2011
A Frankenstein-like greenhouse store, with multiple tiers of renovations from different eras visible. The adjacent CVS store (née SupeRx) still bears a 1970s superstore facade.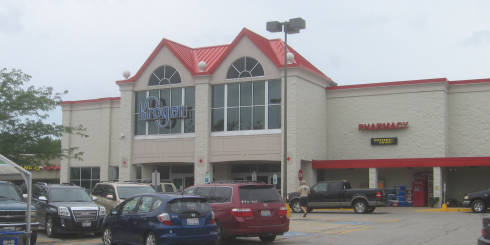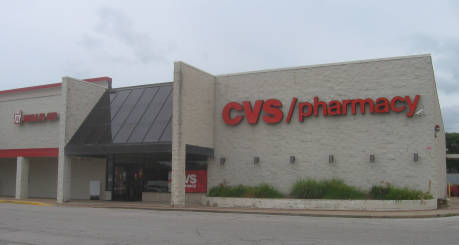 603 S. 4th St., Chillicothe, IL
2015
Another Frankenstein-like spectacle, this time on a Kroger/SupeRx "dual greenhouse" pairing. The Kroger half of the structure has been expanded and renovated beyond recognition, yet the original 1980s exterior of the adjacent SupeRx store is completely intact!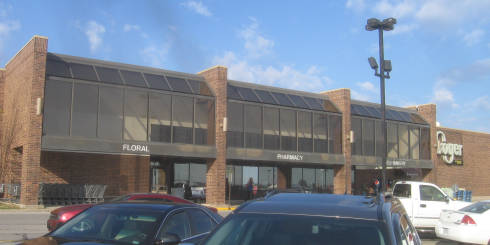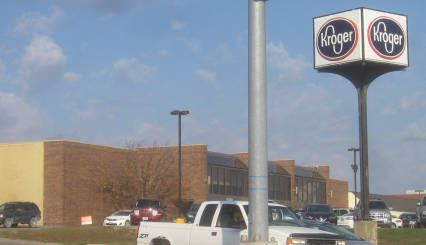 1 Troy Square, Troy, MO
2016
This flattened facade was the last variation of Kroger's greenhouse motif, constructed for a short time in the late 1980s.
---
Subsequent stores
After the greenhouse "era" ended at the tail end of the 1980s, Kroger built a number of stores distinguished by a slanted, trapezoidal expanse of metal trim that juts upwards and back into the facade. I refer to these as "wedge-style" stores, and this likely represents the last era in which consistent store designs were used across all of Kroger's regional divisions: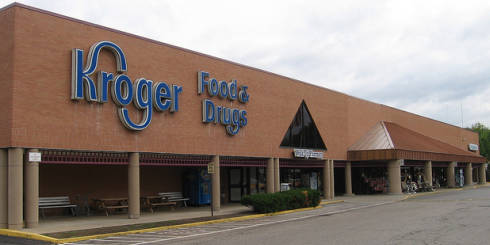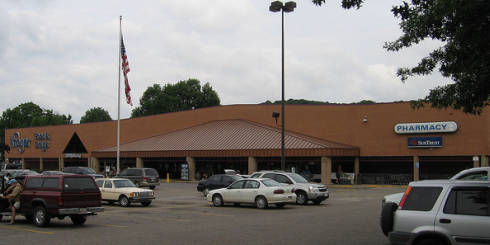 5 River Walk Mall, South Charleston, WV
2011
Opened in 1989.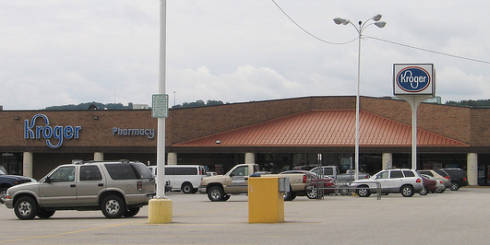 981 Dunbar Village, Dunbar, WV
2011
Built in the 1990s on the site of a superstore that had opened in 1973.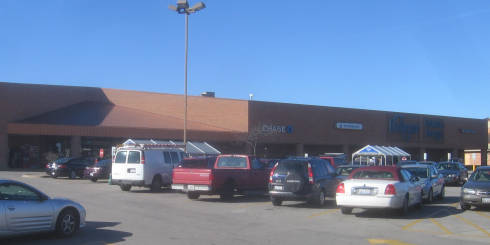 3311 N. Sterling Ave., Peoria, IL
2016
Built in 1991, and located next door to its 1970s superstore predecessor.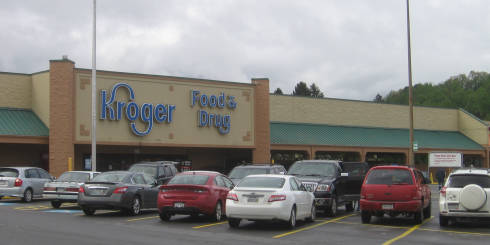 133 Beckley Crossing, Beckley, WV
2013
Opened by 1990. Not a wedge-style store, but a similar motif.
---