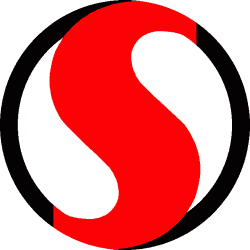 The Safeway grocery chain evolved into existence through the 1920s merging of three companies: The Sam Seelig Company of southern California, Skaggs Cash Stores of Idaho, and the Sanitary Grocery Company of Washington, D.C. A Canadian division was established in Manitoba in 1929. The next ninety years have been characterized by expansions, retrenchments, iconic store designs, and corporate foibles.
Although there was never any "gentlemen's agreement" between the two, it's interesting to note that Safeway's historical trade area was fairly exclusive of A&P's: Safeway was strong in the west, A&P was strong in the east, and only occasionally did the two companies compete directly with one another. A&P today no longer exists at all, and Safeway no longer exists as an independent company: Their Canadian operations were sold to Sobeys in 2013; their US operations were sold to Albertsons a year later, and there is no longer a connection between the two.
It's worth noting that until moving to Thunder Bay in 2019, I'd never actually lived in Safeway's trade area. Because of this, all of my Safeway pictures until then came from road trips to places beyond the realm of everyday familiarity.
Unless noted otherwise, all photos on these pages were taken by Andrew Turnbull.
---
Early stores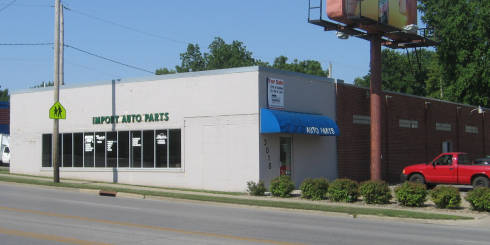 3018 S.W. 9th St, Des Moines, IA
2012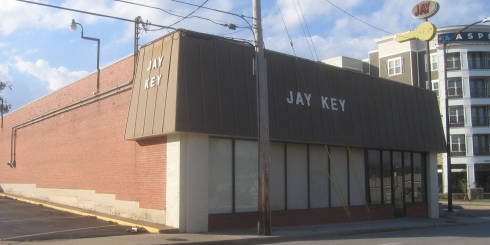 1106 E. St. Louis St., Springfield, MO
2016
Early examples of Safeway's purpose-built supermarkets were simple slab-faced brick structures, occasionally with textured detailing near the edges. The Des Moines store was built in 1946, while the Springfield store looks to be slightly newer in spite of having a smaller footprint. By the mid-1950s, larger versions of these buildings were being constructed with integral pylons serving as signs.
Due to Safeway's late 1950s and 1960s push for modernization, it's doubtful that either of these stores survived very long in operation before being replaced. Safeway ultimately exited Iowa in 1982, and departed from Missouri just a little bit later.
---
Marina stores
Most Safeway stores of the 1960s featured a curved roof tapering to horizontal or upturned wings on each end, with a glass facade and visible ceiling beams. These distinctive and attractive modernist buildings are commonly referred to as "marina stores," named for the Marina District of San Francisco where the first store of this design opened in 1959. Of all the things to look for on road trips, these just might be my favourite roadside sights.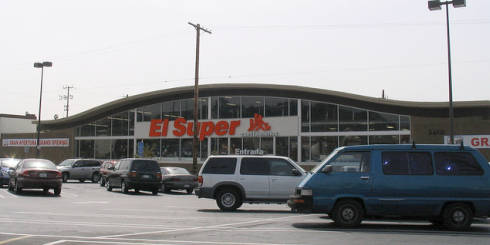 5610 York Blvd., Los Angeles, CA
2010
Currently home to El Super Mexican supermarket.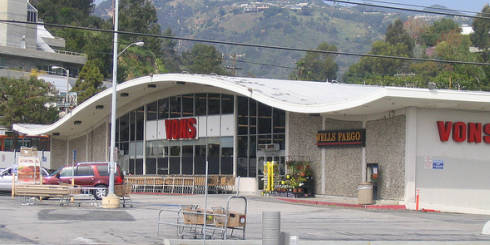 17380 Sunset Blvd., Pacific Palisades, CA
2010
This store is situated next to the Pacific Ocean, and may quite possibly be the most picturesque supermarket ever built. Still in operation as a Vons store under Safeway ownership.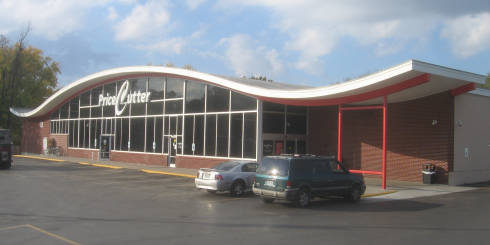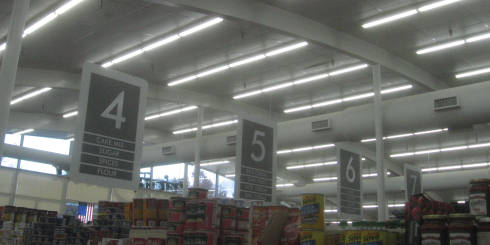 712 W. Commercial St., Springfield, MO
2016
An almost pristine Safeway marina of the 1960s, still serving groceries under auspices of Missouri's local Price Cutter chain to this day. It features loopy wings, and only one entrance...the far corner is built out, and I assume from the configuration of the lot that it had always been this way. The seven panels for the S-A-F-E-W-A-Y lettering (and the portal by the entrance for the circle-S symbol) are plainly visible.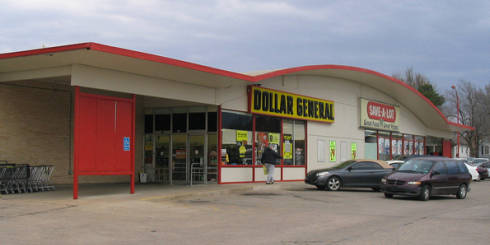 400 Sunset Dr., El Reno, OK
2010
Subdivided, and now reportedly half-vacant.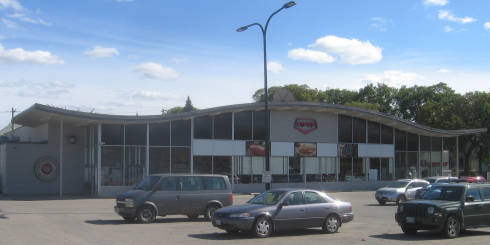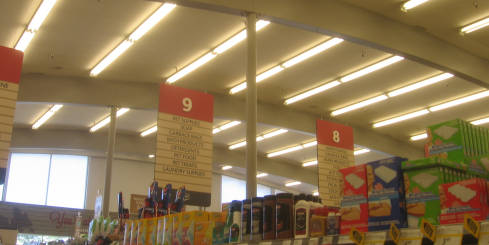 1441 Main St., Winnipeg, MB, Canada
2015
Opened 13 Apr. 1965; closed as a Safeway in 2014. At the time I photographed it, this store had been reoccupied by the Red River Co-Op, which continued to operate a supermarket in much the same fashion as before. Unfortunately, a 2016 lease dispute led to the co-op being evicted from the premises, and it is unlikely that this building will ever house a food store again.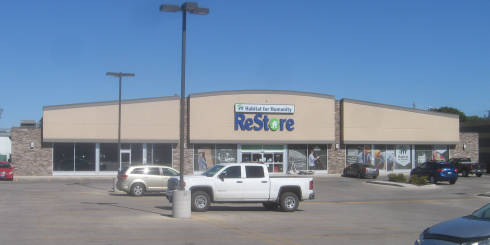 1081 Ellice Ave., Winnipeg, MB, Canada
2015
Opened 5 Nov. 1964; closed as a Safeway in 2008. The building was subsequently gutted and re-fronted for a new tenant, but the arched roofline is still clearly visible.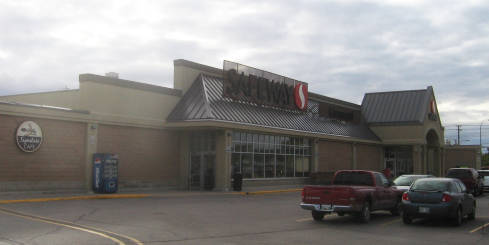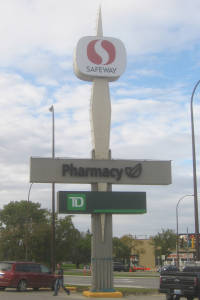 1319 Pembina Hwy., Winnipeg, MB, Canada
2015
An older Safeway that's still in operation! There's a 1960s marina store buried somewhere behind that modern facade, but you may have to take my word for it. Opened 26 Nov. 1963. The original googie sign by the roadside also still stands; although modified and shorn of flash.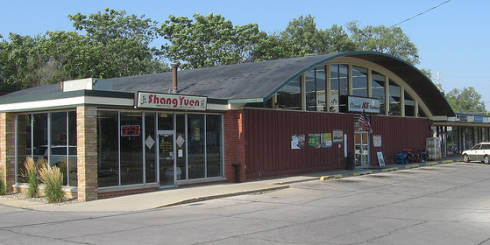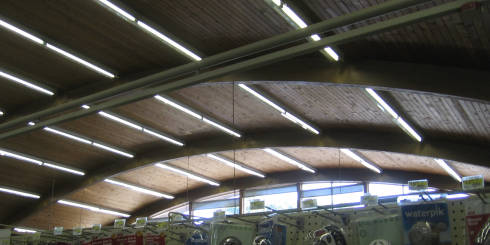 5707 Hickman Ave, Des Moines, IA
2012
This narrow and wide-winged variation on the marina design is one of the few Safeway artifacts that survive in the capital of Iowa. Public data suggests that the store was built in 1952, added onto in 1955, and renovated (and re-roofed?) in 1965, which may account for the unusual proportions.
---
Other styles of stores
Although I have artifacts of Safeway's mid-century history well documented, pictures of newer stores are in slight supply. There are several reasons for this:
Safeway built fewer stores in the 1970s than in the 1960s, and the stores it did build were much plainer and harder to recognize as such.
Safeway withdrew from central U.S. markets in the 1980s, ending the architectural trail then and there.
I've never lived in Safeway's trade areas, present or historical.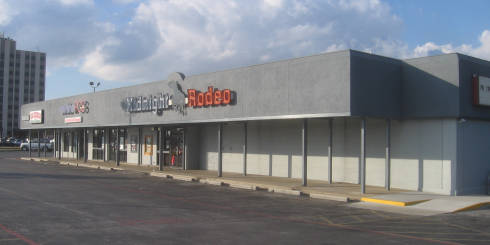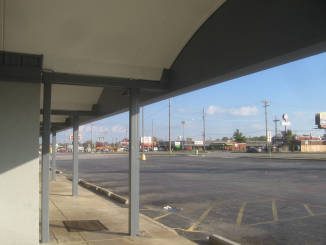 1773 S. Glenstone Ave., Springfield, MO
2016
One of Springfield's bygone Safeway stores was housed in a building that seems nondescript at first glance. Closer examination reveals a series of covered-over arches forming the walkway canopy, and period fieldstone accents by the front doors. This was an alternative 1960s Safeway design commonly used for Safeway/Super-S combination stores. The structure may have been subdivided and remodeled, but the original accents are still intact!
---
The saga of Dominick's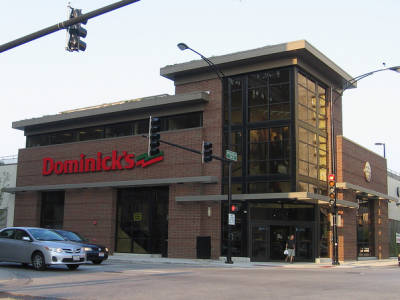 5201 N. Sheridan Rd., Chicago, IL
2011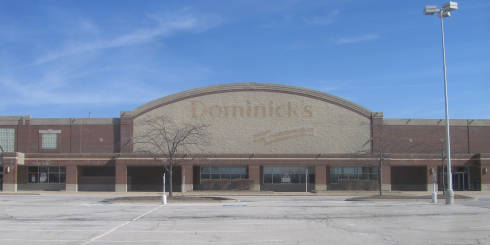 19965 S. La Grange Rd., Frankfort, IL
2016
More than a decade after ending any pretense of doing business in the midwest, Safeway attempted to re-secure a toehold in 1998 by buying out Dominick's, a Chicago institution founded in the Windy City eighty years earlier. The sale did not go over well, and the years that followed were characterized by clashes of cultures, negatory changes in service and merchandising, rows of store closings, and aborted attempts by Safeway to mitigate its losses and resell the chain. Dominick's came to a final end in 2013, closely presaging Safeway's own implosion as an independent company.
The pictured Chicago store hails from Safeway's period of ownership, opening on 11 Nov. 2010 and featuring rooftop parking and novel energy-saving interior features. The Frankfort store has since been reoccupied by a cinema, of all things, while the Chicago store was sold to Roundy's of Milwaukee and currently sells groceries under the Mariano's banner.
---