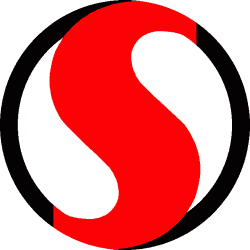 The Safeway grocery chain evolved into existence through the 1920s merging of three companies: The Sam Seelig Company of southern California, Skaggs Cash Stores of Idaho, and the Sanitary Grocery Company of Washington, D.C. A Canadian division was established in Manitoba in 1928. The next ninety years have been characterized by expansions, retrenchments, iconic store designs, and corporate foibles.
Although there was never any "gentlemen's agreement" between the two, it's interesting to note that Safeway's historical trade area was fairly exclusive of A&P's: Safeway was strong in the west, A&P was strong in the east, and only occasionally did the two companies compete directly with one another. A&P today no longer exists at all, and Safeway no longer exists as an independent company: Their Canadian operations were sold to Sobeys in 2013; their US operations were sold to Albertsons a year later, and there is no longer a connection between the two.
This feature is focused heavily on the chain's history in Winnipeg, which is both Safeway's oldest Canadian market and one with a physical record that rivals any city in North America. Unless noted otherwise, all photos on these pages were taken by Andrew Turnbull.
---
1920s and 1930s Spanish tile stores

Throughout the first half of the twentieth century, Safeway was essentially the grocery chain in much of the west. The company was also one of the very first to commission and build its own stores in accordance with its own blueprints, doing so as early as the 1920s in some cases. For this reason, early Safeway sites had a consistency that's almost without precedent for their era. Throughout western Canada, the design seldom varied: A squat one-storey storefront on a busy street, decorated by Spanish tile edging and two towers topped with trefoils and serrated shield-like decorations.
Safeway's first two 1930-era stores in Thunder Bay featured this facade. I'm unclear, however, whether this design was used in the US: It ought to have been (the Spanish tile is a homage to the international chain's southern California roots, after all), but I have yet to confirm it.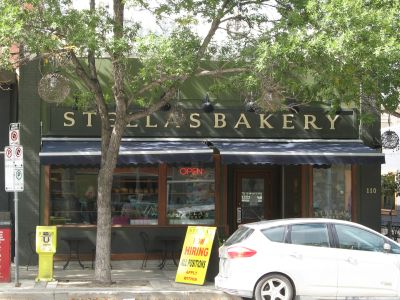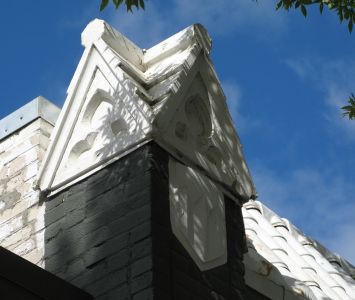 110 Sherbrook St., Winnipeg, MB, Canada
2021
This is it, folks: This is where it began! Wait, what?! Read on.
This store opened on 18 October 1929 in tandem with seven Winnipeg locations tied as the first Safeway stores in Canada. This property is also listed on the Manitoba Historical Society website, which notes that it was number 501 in the chain: The first store number in the Winnipeg division. The building is a well-preserved and representative example of Safeway's early Canadian architecture, with Spanish tile edging and corner towers topped with serrated shields and trefoils. It presently houses a bakery in Winnipeg's attractive West Broadway neighbourhood, and appears to be under excellent upkeep.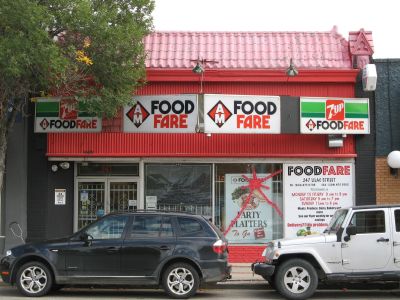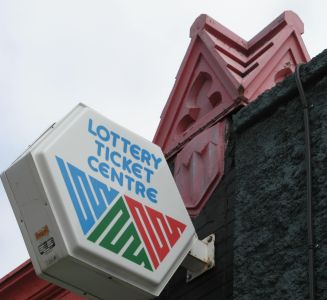 247 Lilac St., Winnipeg, MB, Canada
2021
Opened 18 October 1929 as store 502 in the chain (tied as the first in Canada). Also of note is the fact that the building still houses a food store today under auspices of AM Food Fare, a local Winnipeg chain. What can I say? 92 years of business is a damn good run! MHS link.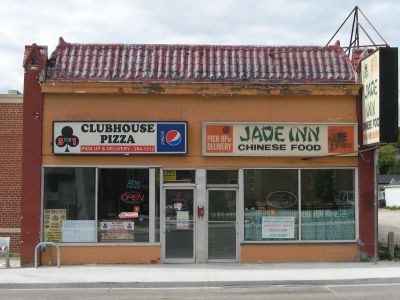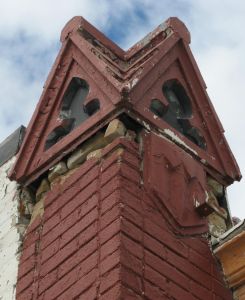 535 Osborne St., Winnipeg, MB, Canada
2021
Opened 18 October 1929 as store 504 in the chain (tied as the first in Canada). Presently subdivided between two restaurants. MHS link.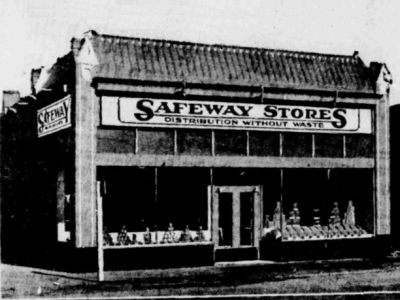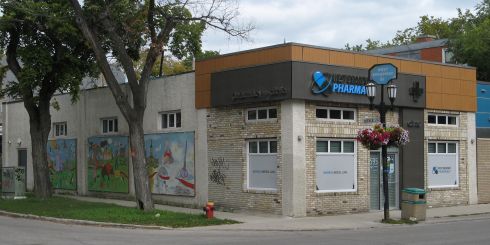 595 Broadway, Winnipeg, MB, Canada
1929 (advertisement, Winnipeg Tribune), 2021
Opened 18 October 1929 (tied as the first in Canada); replaced in 1940.
This property is listed on the Manitoba Historical Society website, which notes that it was number 506 in the chain. Regrettably, the original upper facade with Spanish tile and corner decorations was obscured in a recent 2015 renovation.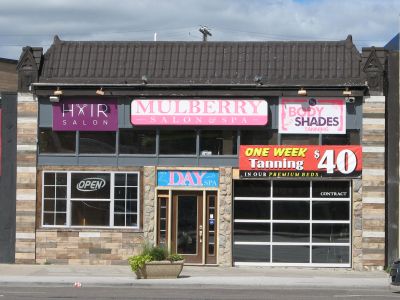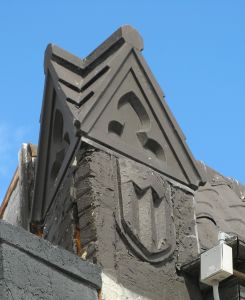 893 Portage Ave., Winnipeg, MB, Canada
2021
Opened 2 November 1929 as store 507 in the chain; replaced in 1951 by a new store next door.
Note that the angle of the left wall and facade is less than 90 degrees, an artifact of an irregular plot and the fact that Portage Avenue predates Winnipeg's street grid by an order of magnitude. MHS link.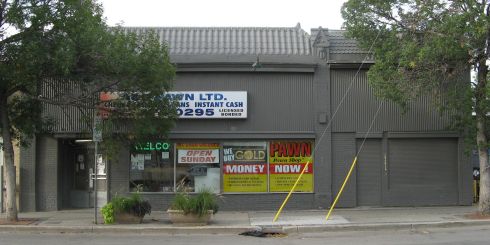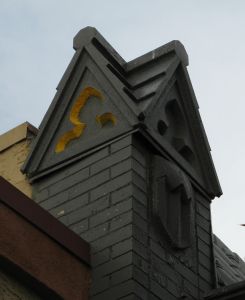 577 Sargent Ave., Winnipeg, MB, Canada
2021
Opened November 1929 as store 513 in the chain. Perhaps the most interesting thing about this store is that it bears obvious evidence of being expanded early in its operational history, with a not-exactly-matching tile roof presiding over an extension of the frontage.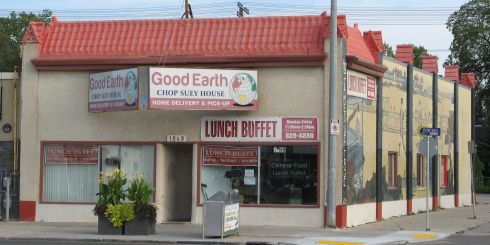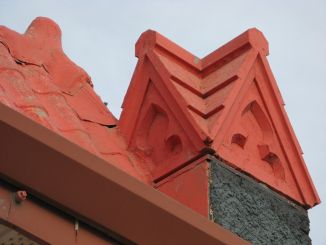 1849 Portage Ave., Winnipeg, MB, Canada
2021
Opened 16 November 1929 as store 515 in the chain. As with 1409 Main Street, this store occupies a corner lot and has a side wall decorated by a continuation of Safeway's early "trefoils and shields" motif. This particular store easily bears the most extensive detailing of any of Winnipeg's early locations: The roof edging wraps around to be visible from the side, and each side buttress is topped by a tiled peak. MHS link.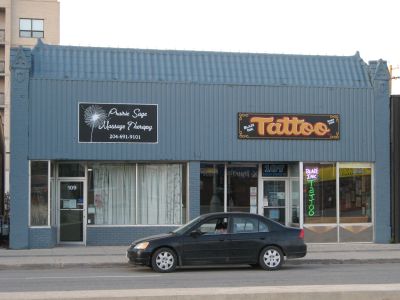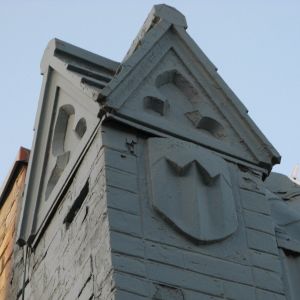 107 Regent Ave. W., Winnipeg, MB, Canada
2021
Opened in 1929 as store 517 in the chain. This store originally stood in the town of Transcona, which was amalgamated with Winnipeg in 1972. It apparently had an unusually-long operational life, too: Winnipeg directories reference the address as a Safeway location as late as 1961! MHS link.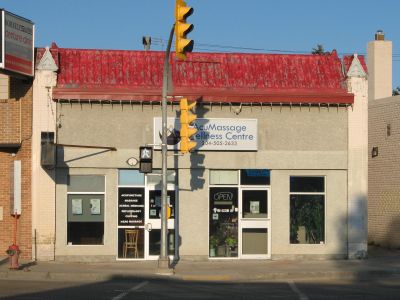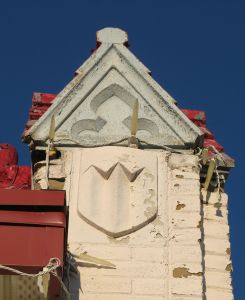 1 St. Anne's Rd., Winnipeg, MB, Canada
2021
Opened 21 December 1929 as store 521 in the chain. MHS link.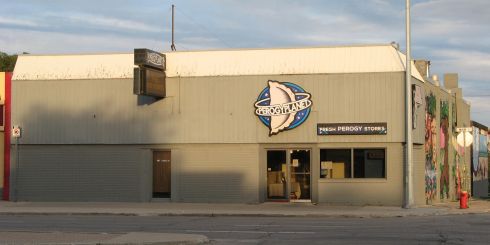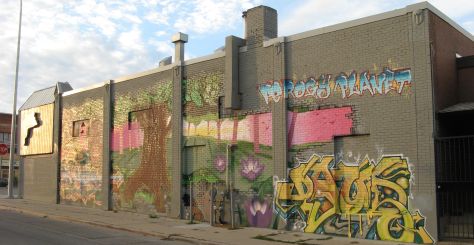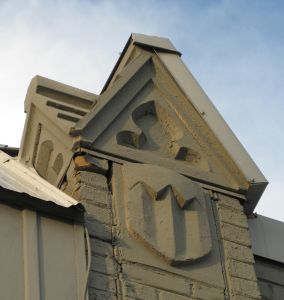 1409 Main St., Winnipeg, MB, Canada
2021
Opened 14 December 1929 as store 523 in the chain. This building has been expanded frontward (and rearward, for the record), and the original Spanish tile edging has been hidden from view. The original side wall is still present, though, and it bears Safeway's telltale shield motifs at the top of each buttress. MHS link.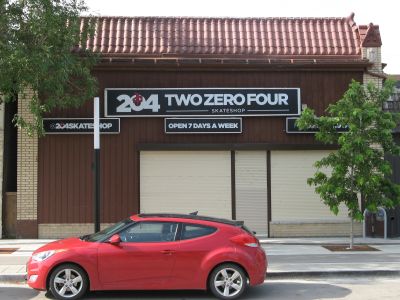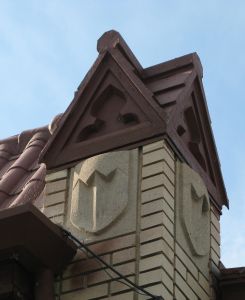 240 Manitoba Ave., Selkirk, MB, Canada
2021
Built in 1929, and now housing a skate shop. MHS link.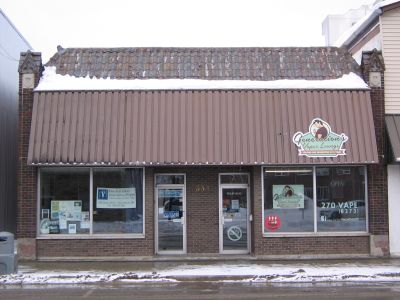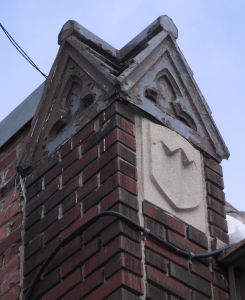 334 Scott St., Fort Frances, ON, Canada
2020
Winnipeg was Safeway's first market in Canada, and the Canadian subsidiary of the company was initially headquartered there. Before the first stores had even opened, however, the company made a ploy for land and locations from Lake Superior to the Strait of Georgia and everywhere in between...giving the company a footprint across all of western Canada almost from the very outset. As such, this northwest Ontario store most likely opened in early 1930 in tandem with companion locations in Fort William, Port Arthur, and Kenora.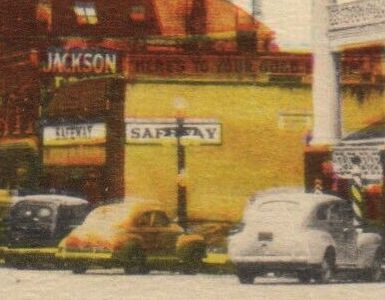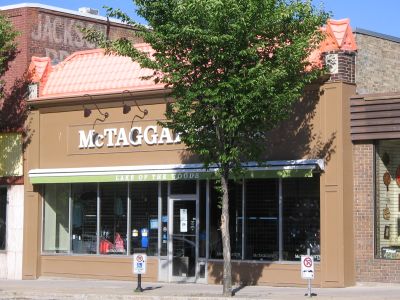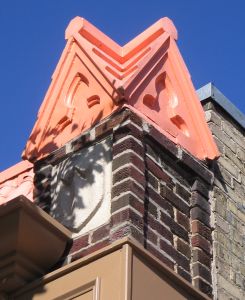 133 Main St. S., Kenora, ON, Canada
c1940 (postcard), 2020
A Safeway store with identical details opened 150 kilometres north of Fort Frances in Kenora, Ontario on 24 January 1930. This building also survives, and is currently occupied by a clothing store. The "Jackson" ghost sign on the adjacent building (which likely predates Safeway by an order of magnitude) also survives.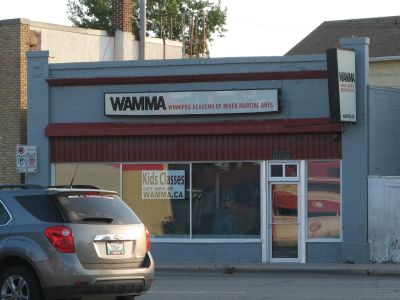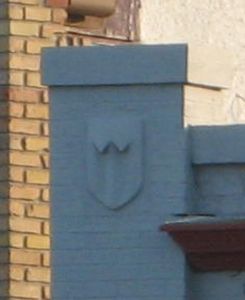 222 St. Mary's Rd., Winnipeg, MB, Canada
2021
Opened 5 November 1932 as store 529 in the chain. This facade lacks the Spanish tile edging and corner peaks that characterize Safeway's earliest stores...although I'm unclear whether these elements were stripped from the beginning in the midst of renovations over the last eighty-odd years, or if this was a later store that never had these elements to begin with. If the latter is true, this building is an interesting transitional piece...as the telltale serrated shield decorations in each upper corner remain intact. MHS link.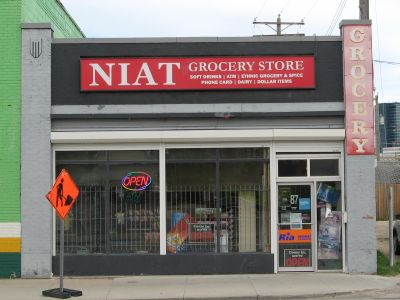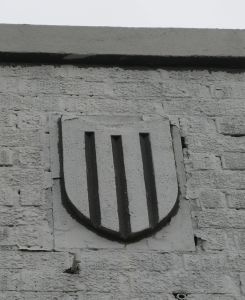 87 Isabel St., Winnipeg, MB, Canada
2021
Opened 21 November 1936. This store is rather diminutive in frontage even by the standards of its time. Each corner of the upper facade bears simpler, abstracted interpretations of the "serrated shields" that decorated early Safeway storefronts, suggesting that by 1936 the company was indeed economizing its architecture. In spite of its size, it still houses a grocery store today! MHS link.
This Safeway location had a fairly tumultuous early existence. In its first 18 months of operation, it was broken into and looted ten times.
---
1940s shoebox stores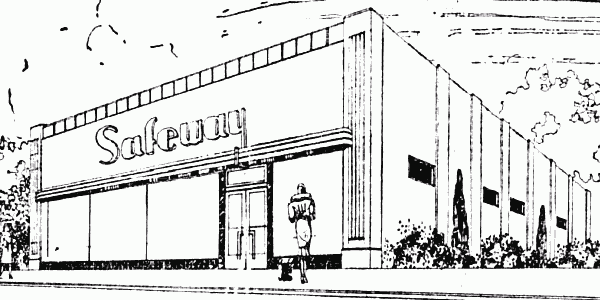 1940 (Winnipeg Tribune)
As the 1930s drew to a close, Safeway's architecture began to evolve. Buildings became slightly larger in footprint, and began to incorporate amenities such as adjacent parking lots and central air conditioning. While the Spanish tile edging of the chain's earliest Canadian stores was abandoned, their architects maintained a flair for ornate details. Many 1940s Safeway stores had facades flanked by vertically-grooved pilasters, sometimes accompanied by matching grooves on the cornice.
Relatively few new stores were built in the early 1940s, as much inessential construction was halted due to the Second World War. This began to change by decade's end, as the U.S. and Canada alike entered a postwar building boom.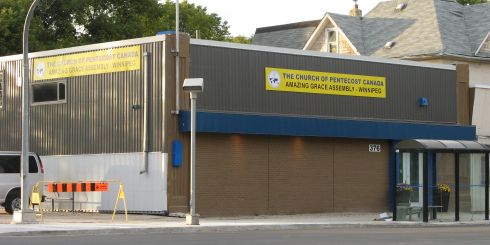 376 Salter St., Winnipeg, MB, Canada
2021
Opened 29 February 1940 (yes, a leap day). Until recently, this building served as quarters for a branch of the Royal Canadian Legion.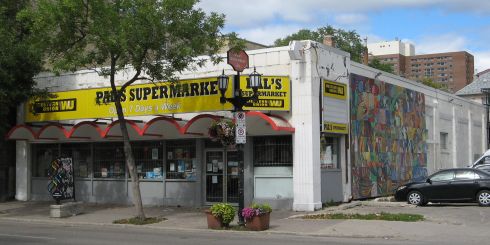 619 Broadway, Winnipeg, MB, Canada
2021
Opened 29 March 1940, replacing a smaller Piggly Wiggly store under Safeway management that had stood on the same site. The multi-arched canopy was most likely retrofitted in the early 1960s as a way to modernize the store, which remains open today as an independent supermarket. This address number is given as 623 in some sources.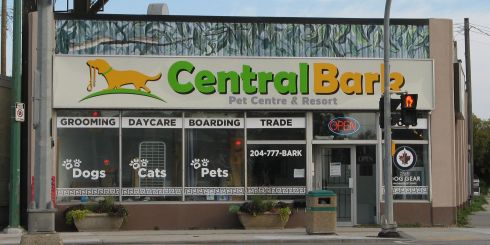 1333 Portage Ave., Winnipeg, MB, Canada
2021
Opened as Safeway by 1941. Built on the site of an earlier Mutual food store, which one of several early chains that Safeway absorbed during Winnipeg's 1930s years. MHS link.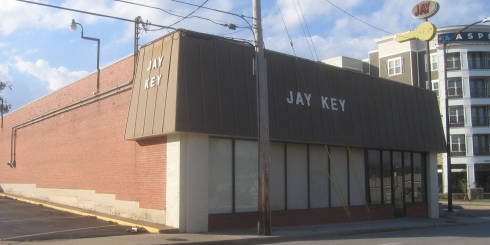 1106 E. St. Louis St., Springfield, MO, US
2016
Most examples of Safeway's purpose-built supermarkets from this era were slab-faced brick structures with textured detailing near the edges. This stateside store in Missouri is typical of the lot, and probably dates to the late 1940s.
Due to Safeway's late 1950s and 1960s push for modernization, it's doubtful that this store (or most others like it) survived very long in operation before being replaced.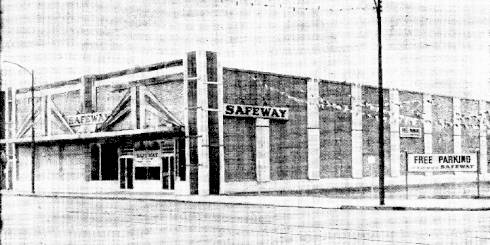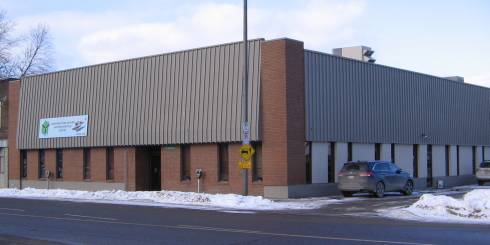 901 Victoria Ave., Thunder Bay, ON, Canada
1950 (Fort William Daily Times-Journal), 2019
Opened 24 August 1950; replaced in 1966. Apart from increased frontage, Safeway's stores essentially looked the same at the dawn of the 1950s as they had a decade earlier.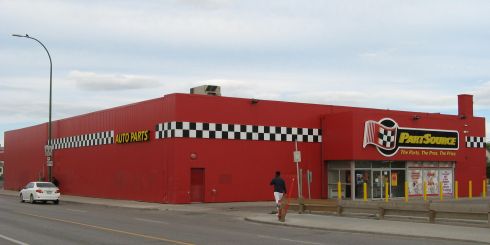 45 Isabel St., Winnipeg, MB, Canada
2021
Opened 6 October 1950. This store building has obviously been renovated to oblivion: The original facade is obscured; the footprint has been expanded on the left side, and the right side wall has been recast as the building's new "front." The rear incinerator smokestack, however, is a telltale of its original layout and purpose.
---