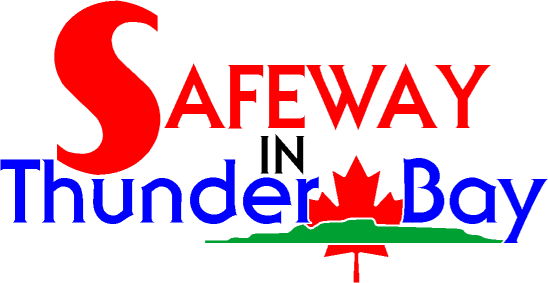 The First 90 Years
---
1 January 2020 marks the fiftieth anniversary of Thunder Bay's existence as an amalgamated city on the Lake Superior shore. 17 January 2020 marks the ninetieth anniversary of Safeway's existence in Thunder Bay. Indeed, for nearly a century the history of Safeway and Thunder Bay have been so intertwined as to be inseparable.
The role of grocery stores in impacting the history of cities is often overlooked: They're part of the mundane day-to-day backdrop of life, and are often taken for granted. Yet, grocery stores are indespensable as the purveyors of a commodity needed for survival. Everyone must eat.
The buildings they're housed in function as massive "canvases" for contemporary architectural trends, as grocery retailers vie for customers' attention. Grocery stores are also microcosms of the communities they serve, paralleling larger urban and suburban development trends.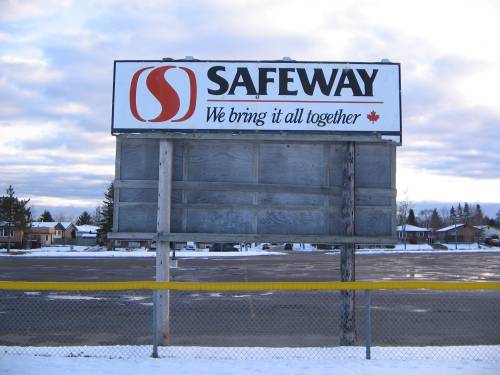 The Safeway company itself has a long history, much of it spun south of the border. In 1911, Sam Seelig opened a food store in Los Angeles, California. Four years later, Marion B. Skaggs opened a store in American Falls, Idaho. Both retailers operated on a "cash only" basis, in contrast to earlier food stores that sold goods to customers on credit and obligated them to pay a grocery bill each month. Both retailers also opened branch stores, and expanded aggressively.
In 1925, the Sam Seelig Company became known as The Safeway Stores, Incorporated. One year later the company merged with Skaggs, forming a unified chain of 700 stores throughout the western US. In 1929 Safeway expanded into Canada, opening its first five stores in Manitoba that year. The company had its eyes pointed east towards future expansion...and in 1930, Safeway entered the Lakehead area.
Sixteen Safeway stores have opened in Port Arthur, Fort William, and Thunder Bay over the last ninety years...and currently, these are the easternmost Safeway stores in Canada. Some were large; some were small; some have been demolished and forgotten; some still survive. All are part of the fabric of the cities they served.
Unless noted otherwise, all contemporary photos on these pages were taken by Andrew Turnbull.
---
Safeway #1: 259 Arthur Street (Red River Road), Port Arthur
Safeway was not the first large corporate chain to open a food store on the Lakehead. The T. Eaton Company of Toronto had beaten them to the punch, opening self-service "Groceterias" in Port Arthur and Fort William simultaneously in 1927.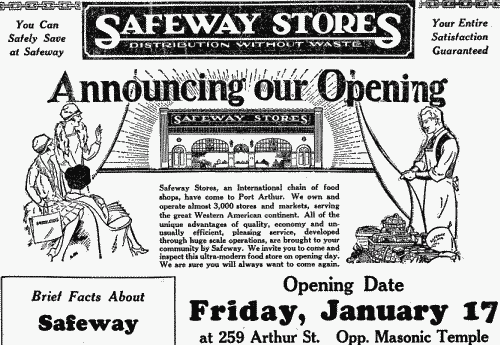 16 Jan. 1930 (Advertisement, Port Arthur News-Chronicle).
Anti-chain sentiments were widespread in the late 1920s and early 1930s, and the entrance of Safeway was undoubtedly regarded with suspicion by many Port Arthurians. In order to "soften" its entrance, Safeway took out five- and six-column ads in the News-Chronicle in the lead-up emphasizing that its stores were "owned and operated by a Dominion company," operated "on a plan of profit-sharing with employees," and were "immaculately clean, unusually attractive and conveniently arranged."
Port Arthur's first Safeway store opened on 17 January 1930 on the busy streetcar strip then known as Arthur Street. It was very modest in size by today's standards, yet about twice as large as many of its independent competitors as Safeway emphasized volume to keep prices low. Unusually for a food store of this era, it was housed in a purpose-built building designed and constructed to Safeway's own blueprint, with Spanish tile roof edging serving as a subtle nod to the chain's southern California origins. John V. Russler signed on as manager.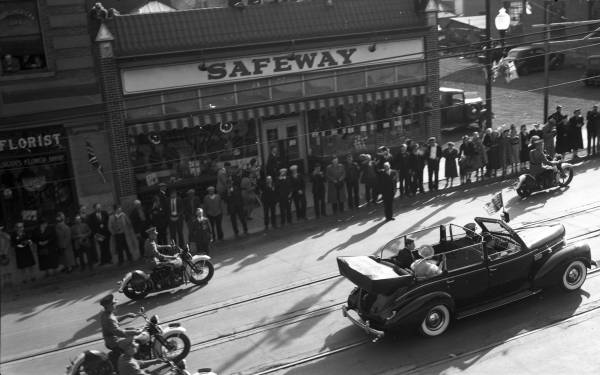 1939 (Thunder Bay Museum collection, accession no. 984.53.538).
King George VI and Queen Elizabeth are escorted past Safeway in Port Arthur on their 1939 royal tour of Canada...which, incidentally, was the first time any reigning monarch of Canada had stepped foot in the country.
Note the Spanish tile roof edging, and the decorative towers on the upper corners of the facade. These elements were employed on many early Safeway stores built throughout western Canada.
Safeway's first Port Arthur store was prominently featured in images of King George VI's 1939 royal tour of the city. It also had an unusually long life, surviving in operation for twenty-two years before being replaced in 1952. The building was subsequently repurposed, housing the Lakehead Supermart and Town & Country furniture stores through the course of the 1950s, 1960s and 1970s. Ultimately however, the building was demolished, and a parking lot now sits on the site.
---
Safeway #2: 125 Syndicate Avenue South, Fort William
Port Arthur and Fort William were rivals as well as twins, and every retail chain that established a presence in one was obligated to also establish a presence in the other. Safeway was no exception...and on the exact same day they opened up shop in Port Arthur, they opened a companion store in Fort William.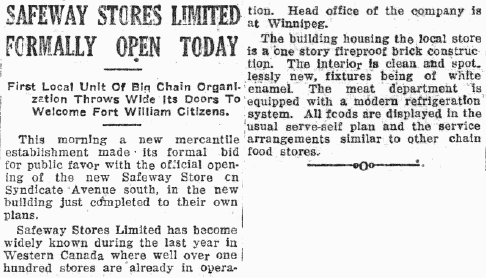 17 Jan. 1930 (Fort William Daily Times-Journal).
Fort William's Safeway store was located on Syndicate Avenue South, a stone's throw from Chapples Department Store and other mainstays and landmarks of the city's downtown. Which store came first? It's impossible to say. A period write-up in the Daily Times-Journal gushed with detail about the fixtures and amenities: "The interior is clean and spotlessly new, fixtures being of white enamel. The meat department is equipped with a modern refrigeration system. All foods are displayed in the usual serve-self plan and the service arrangements similar to other chain food stores." If surviving photographs are any indication, the Fort William and Port Arthur stores were identical to each other in every detail.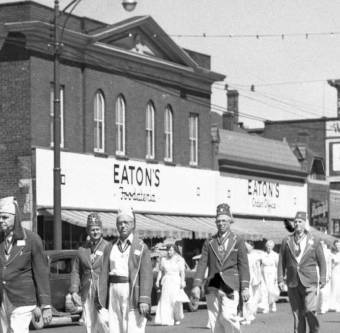 1951 (T. Bay Museum acc. no. 978.43.104)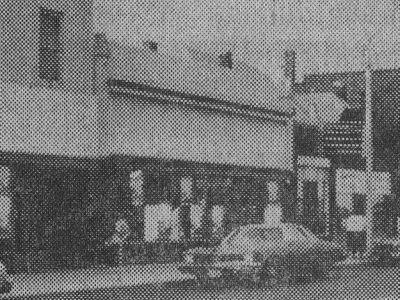 ca. 1978 (T. Bay Chronicle-Journal)
Fort William's original Safeway store was almost as long-lived as Port Arthur's, lasting in operation twenty years until being replaced in 1950. Upon Safeway's closure, the property was reoccupied by the T. Eaton Company to house its order office. The building was demolished in the name of "urban renewal" in the late 1970s, leaving nothing of itself but memories. The Victoriaville Mall Parkade now stands on the site.
---
Safeway #3: 625 Simpson Street, Fort William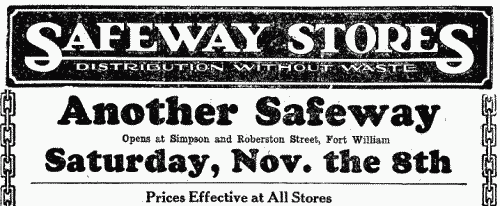 7 Nov. 1930 (Advertisement, News-Chronicle).
Less than a year after the company entered the Fort William market, Safeway decided to saturate its presence in the city by opening a second store at the corner of Simpson and Robertson, a block from the Canadian Pacific railway tracks. This store was a bit smaller than the company's Fort William and Port Arthur flagships. It was housed in a pre-existing storefront, and opened on 8 November 1930.
The Depression years were not kind to business and industry in Canada...and the western provinces that made up the backbone of Safeway's trade area were disproportionately hard-hit. This had ramifications for the chain and the Simpson Street store was short-lived, closing by 1938. It would be the last new store that Safeway would open in the Twin Cities for nearly twenty years: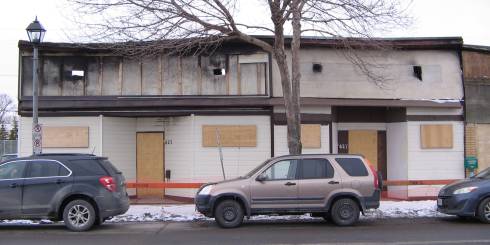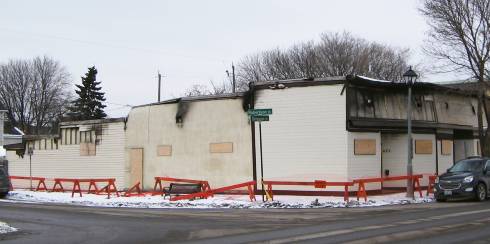 2019 (photos by the author).
The storefront itself had a fairly long post-Safeway afterlife, housing Lakehead Butchers & Grocers for many years. Eventually it fell vacant, and in the early morning hours of 15 August 2019 the building was gutted by fire. The charred walls remained standing until 3 December 2020, when the city commissioned a demolition of the property.
---
Safeway #4: 901 Victoria Avenue East, Fort William
The early postwar years saw a boon of commercial development in Fort William and Port Arthur. Simultaneously, the grocery industry was affected by new trends in store design. Shoppers were starting to migrate from city centres to outskirts and suburbs...and retailers were ready to follow them. New stores began to appear with purpose-built architecture, air-conditioned interiors, large adjacent parking lots, and footprints larger than ever before. A&P called them "Super Markets," Dominion called them "Master Markets." Safeway, which had always been ahead of the curve on store sizes and retailing trends, called them "Deluxe."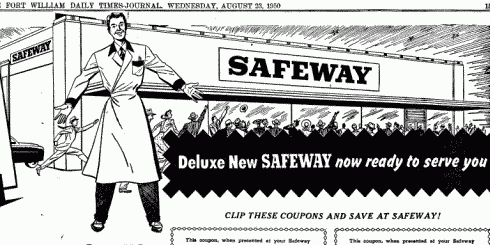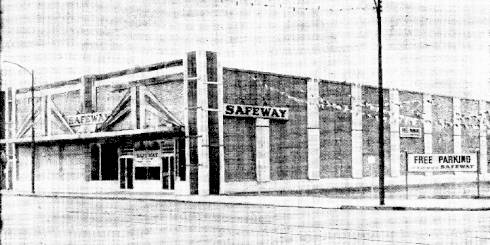 23 Aug. 1950 (Advertisements, Fort William Daily Times-Journal).
By the turn of the decade, Safeway's wave of postwar store modernization was ready to envelop the Lakehead. On 24 August 1950, the company closed its original 1930-era Fort William location and opened a brand-new store on Victoria Avenue with seven checkout stands, "hundreds of attractive nesting carriers," and self-service packaged meats. The company wasn't quite ready to abandon downtown Fort William yet, so the new store was located just two and a half blocks from the old one. It spanned a footprint of 10,200 square feet (948 mē), with an adjacent 11,500 square foot parking lot that actually took up more space than the store itself.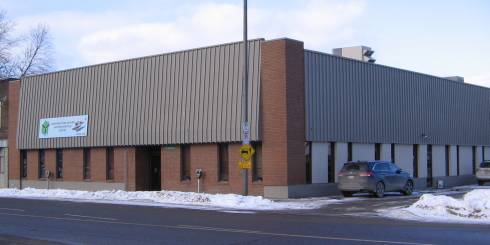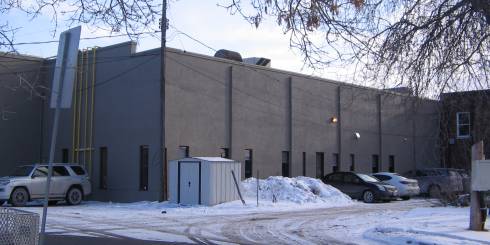 2019 (photos by the author).
Safeway's first postwar store would endure in operation until 1966, when it was replaced yet again. The building was duly repurposed as a Canadian Tire Associate Store, and later as a branch of the Business Development Bank of Canada. Presently, it houses the Northwestern Ontario Aviation Heritage Centre. The facade has been altered severely, but original structural buttresses are still visible on the structure's west side.
---
Safeway #5: 18 Court Street North, Port Arthur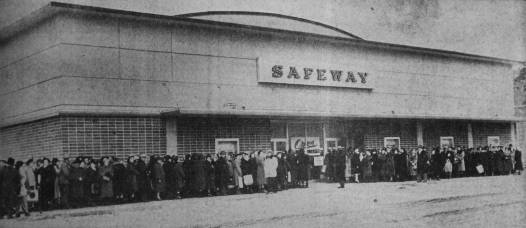 1 Dec. 1952 (News-Chronicle).
Note the somewhat fantastic depiction of the store in a period newspaper ad, including a structural pylon that wasn't part of the actual construction. Also note that Safeway's "red S" logo had made its first appearance in copy by this time...though it was still a few years away from appearing on the actual stores!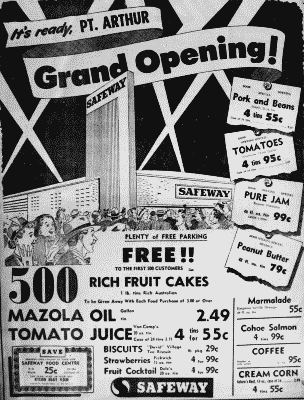 29 Nov. 1952 (Advertisement, News-Chronicle).
Two years after Fort William got a new store, Safeway's modernization train made its way north to Port Arthur...and on 29 November 1952, the company's last original 1930s store was replaced by a new and modern structure on Court, scarcely a block away. And that's not all that was new: In the interest of presenting a consistent image to shoppers, Safeway adopted a uniform, enlarged store design replicated throughout the U.S. and Canada. This store followed suit...and to ensure a column-free floorspace across its massive footprint, it featured an arched bowstring-truss roof reinforced by side buttresses.
Port Arthur's postwar Safeway lasted about a decade in operation, succumbing to another round of store replacement in 1962. The building was demolished after closure to make way for a municipal parking lot, and by 1963 the address had been banished from city directories as though it had never existed at all. Today, the site is occupied by a four-level parkade.
---
Safeway #6: 111-121 Frederica Street East, Fort William
For all the buzz that went on about Safeway's store construction in the first half of the 1950s, the company had yet to engage in any actual expansion: All the new stores it had opened on the Lakehead thus far were replacements for pre-existing locations. This changed on 25 January 1956, with the opening of a brand-new Safeway supermarket in Fort William's thriving Westfort neighbourhood...the first time Safeway had more than one store in Fort William since the closure of its ill-fated Simpson Street location in the 1930s.
Architecturally, the store was representative of where Safeway was at the time. The store occupied an almost perfectly square footprint of 100 by 100 feet (994 mē)...and like its progenitor from two years before, it featured a bowstring-truss roof. Side windows supplemented the fluorescent interior illumination with natural light. Frederica East was also the first Safeway in the area to feature the company's recently-introduced red "S" trademark on its signage and facade.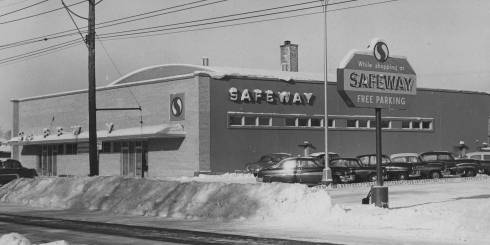 24 Jan. 1956 (Daily Times-Journal).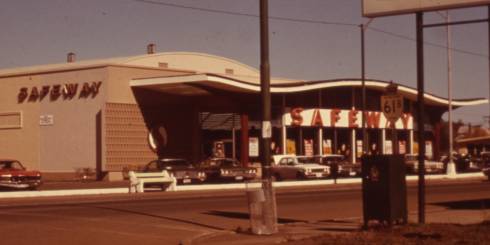 c1972 (Thunder Bay Museum slide collection).
By all means, Safeway's Westfort Village store appears to have been a successful location...so much so that by 1964, the company had expanded and modernized the store with a side addition and a curvaceous new glass facade in the "Marina" style that was applied to new stores for much of the following decade. As far as the company's accountants were concerned, however, this success was a fleeting one. Safeway made the decision to close the store on 22 October 1977, much to the consternation of many in the neighbourhood. The closure coincided with the opening of a new supermarket two kilometres away at Green Acres Plaza, and the company elected to consolidate the locations.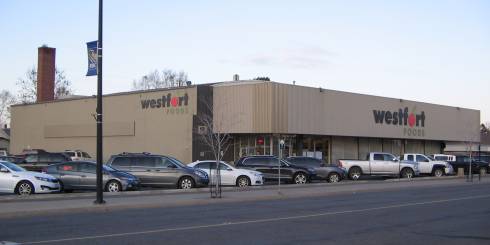 2019 (photo by the author).
The store didn't stay dark forever. By 1983 the property had been reoccupied by a new grocery retailer called Food Warehouse, which gave way to Westfort Foods by 1999. Westfort Foods remains in business today...making this the oldest former Safeway location still housing a food store. Unfortunately, the building's appearance today is a pale shadow of its former self, with the attractive mid-century modern elements of its 1960s renovation now buried under an aesthetically-dubious veil of siding.
---
Safeway #7: 320 Arundel Street, Port Arthur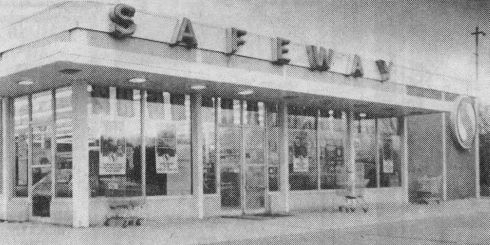 16 Nov. 1983 (Thunder Bay Chronicle-Journal).
Safeway's next foray into intra-city expansion happened 11 September 1958, with the opening of a small store to serve the Current River neighbourhood on Port Arthur's northeast end and adjacent Shuniah Township. This area was isolated by geography and underserved by retail stores, so the new Safeway occupied a practical niche in its surroundings that it would serve for the next 27 years.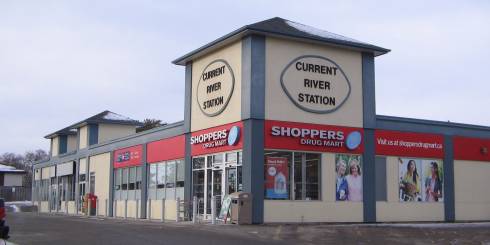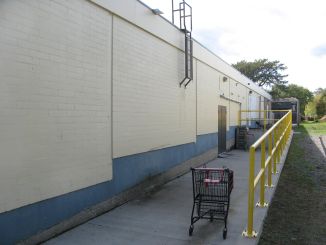 2019, 2021 (photo by the author).
In 1983, Canada Safeway acquired a number of western store units from the struggling Dominion chain. As a condition of the deal, Safeway was also required to sell several of its own stores. By 1986, the Current River Safeway had closed and the property reoccupied by an independent store called Current River Foods. Current River Foods endured until the late 1990s, when the building was subdivided and renovated severely. Today, the site is home to a Shoppers Drug Mart store. Original "panel" brickwork remains visible on the building's north side.
---
Safeway #8: 115 Arthur Street West (Green Acres Plaza), Fort William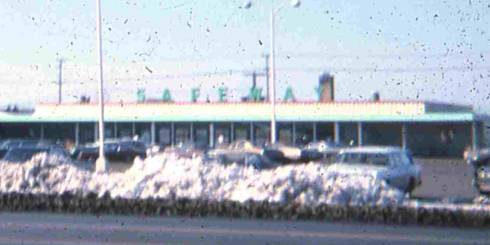 1975 (Thunder Bay Museum acc. no. 2007.8.92).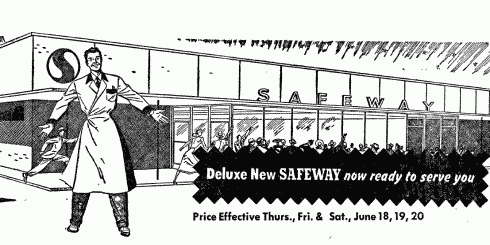 17 June 1959 (Advertisement, Daily Times-Journal).
On 18 June 1959, Safeway's store tally in Fort William inched up from two to three with the opening of a store on Arthur Street, the east-west thoroughfare that then carried Highway 17 through the city. Period illustrations and photographs show the store having an understated design, featuring a flat roof and full-width canopy with teal accents. Herb Derksen was appointed as manager, and the first 500 customers through the door received a free 2-pound tin of strawberry jam.
2019, 2021 (photos by the author).
By the early 1960s this Safeway and the retail stores that surrounded it had become branded as the Green Acres Plaza. In 1977 the store was demolished and rebuilt on the same site. 42 years later, a Safeway supermarket still remains on the site today. Moreover, a visible artifact of the original 1959 store still stands in front: An ornate googie sign with a six-sided frame, visually modernized but clearly hailing to an earlier era.
---
---