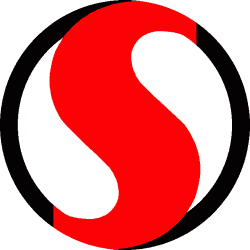 Unless noted otherwise, all photos on these pages were taken by Andrew Turnbull.
---
Other 1960s and 1970s stores
Although the vast majority of Safeway stores that opened their doors to shoppers in the 1960s were built to the ranch and Marina designs, the company also commissioned stores bearing other forms of architecture...whether due to site constraints (such as the imposition of shopping centres) or local prerogative. Many of these one-off designs were aesthetically ambitious, and fascinating in their own right.
Safeway built fewer stores in the 1970s than in the 1960s, as the company's trade area became saturated. The prevailing building design in this era was a subdued brown-brick affair with a false mansard over a canopy or window line, almost indistinguishable from a period A&P store or any number of small-chain supermarkets. Due to the ease of modification, many of these buildings were later renovated beyond recognition. Safeway withdrew from central U.S. markets in the 1980s, making these stores the last to leave an impact in many areas.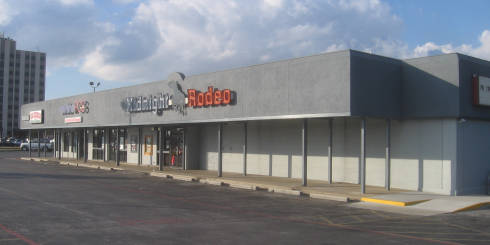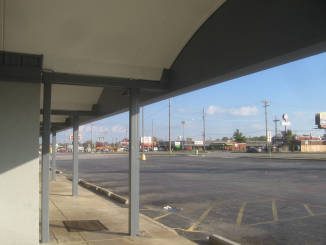 1773 S. Glenstone Ave., Springfield, MO, US
2016
One of Springfield's bygone Safeway stores was housed in a building that seems nondescript at first glance. Closer examination reveals a series of covered-over arches forming the walkway canopy, and period fieldstone accents by the front doors. This particular store opened by 1959, and represents an alternative Safeway design commonly used at the time for Safeway/Super-S combination stores. The structure may have been subdivided and remodelled, but the original accents are still intact!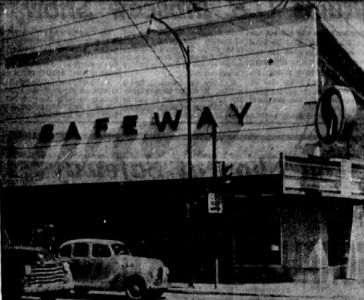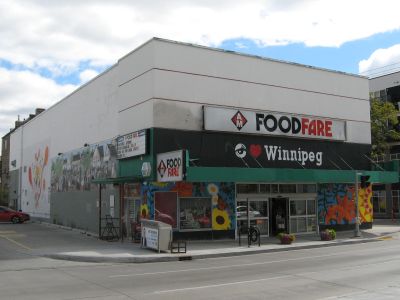 115 Maryland St., Winnipeg, MB, Canada
1959 (Winnipeg Tribune), 2021
This unique store opened 11 August 1959 in a building that had originally housed the Tivoli Theatre, a Famous Players venue that had operated from November 1927 to March 1959. The cinematic heritage of the building is still evident from its modest footprint and two-storey height. The facade has changed little from the building's Safeway days, and the former theatre still houses a food store today. MHS link.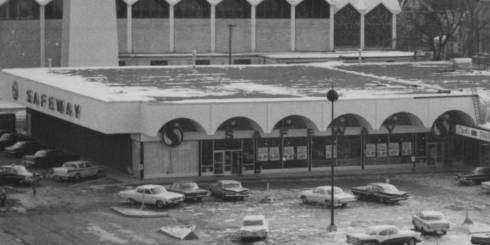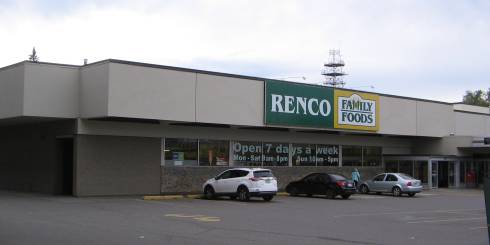 146 Centennial Sq., Thunder Bay, ON, Canada
1966 (Fort William Daily Times-Journal), 2019
Opened 25 January 1966; closed without replacement in 1988. Some original 1960s interior signage survives.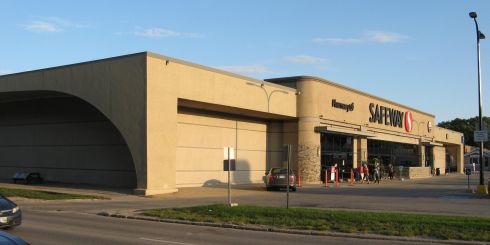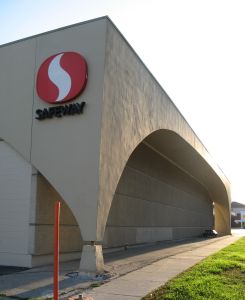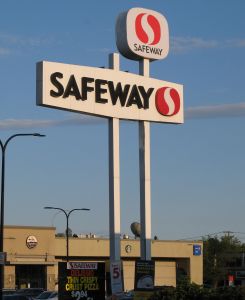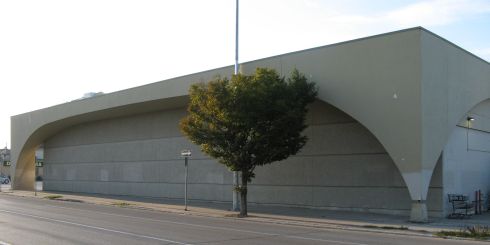 285 Marion St., Winnipeg, MB, Canada
2021
This swooping store is certainly one of the most expressive non-Marina structures that Safeway commissioned in the 1960s. It opened 22 September 1966, and remains in operation today. Although the front facade of the building has been altered, the original side and rear styling (as well as the original twin-pole sign) remain intact.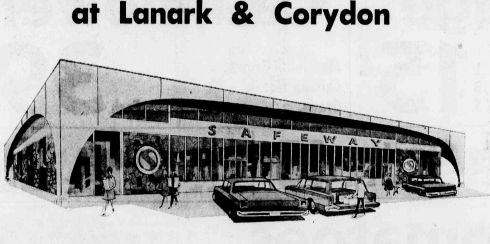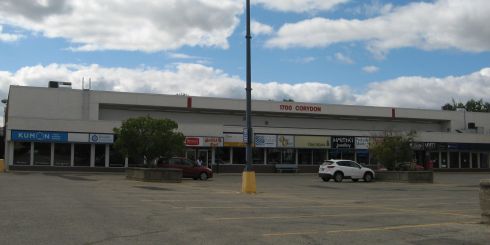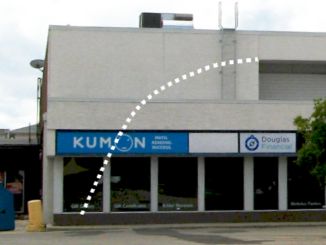 1700 Corydon Ave., Winnipeg, MB, Canada
1969 (ad illustration, Winnipeg Tribune), 2021
The "swoopy" architecture of Winnipeg's Marion Street store was used on multiple retail sites in that city. One example opened its doors on Corydon on 20 August 1969, replacing a 1956 store on the same site. Although this location closed as Safeway in the 1980s and had its building facade modified, the cut line of the original curved wall (highlighted by the dotted line) is still visible upon close examination.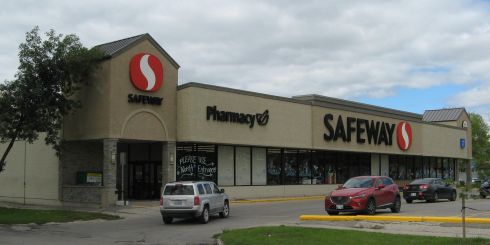 655 Osborne St., Winnipeg, MB, Canada
2021
Opened 12 July 1971 on the site of a 1956 predecessor store, and still in operation. It's difficult to perceive what the original appearance of this flat-roofed store may have been like due to the wealth of subsequent alterations, but its size and layout channel the past.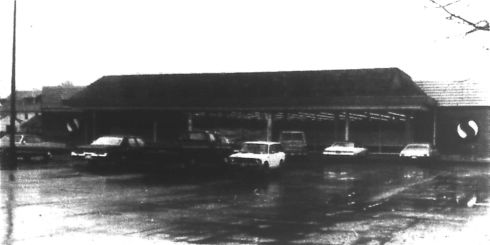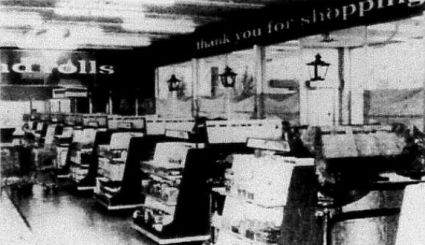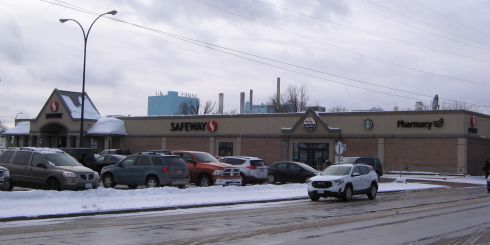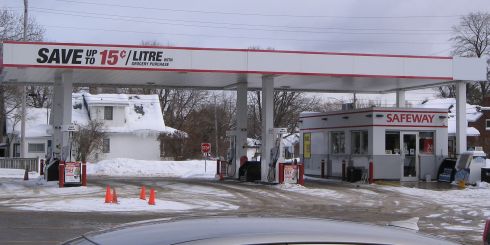 417 Scott St., Fort Frances, ON, Canada
1977 (Fort Frances Times), 2020
Of the five Safeway stores that still exist in Ontario, two are in Thunder Bay. Three more exist in the vast expanse between Thunder Bay and the Manitoba border...including this one, serving the town of Fort Frances on the U.S.-Canadian border. This store opened on 25 April 1977, and was later expanded on the left side and given a new facade. Inside, it features a drop ceiling with enormous circular ventilators that harken to the past. The pre-2005 Safeway wordmark is still visible on the store's gas bar.
---
1980s and subsequent stores
The 1980s decade took a toll on Safeway. The corporation racked up debt fending off leveraged buyouts by corporate raiders, and drummed up cash by divesting markets. By 1990 Safeway had withdrawn from Europe, Australia, southern Ontario, southern California, and the U.S. midwestern and plains states, retaining entrenched trade areas in western Canada, northern California, the Washington D.C. metro area, and a smattering of the western U.S.
The company "re-imaged" itself with a new "ribbon leaf" logo in 1982. Safeway's early- to mid-1980s stores however were even more austere than their 1970s stores had been, with simplistic rectangular forms and little flair other than a backlit sign. After Safeway financially stabilized itself, it began contemplating new designs and store development yet again. Newly-constructed and renovated stores in the 1990s began to feature cavernous footprints, vaguely cathedral-like architecture with peaked entrance portals, and new service departments such as restaurants.
In 2005, Safeway unveiled yet another new logo and initiated the "Lifestyle" format, characterized by beige and brown colours with subdued lighting. Nearly all active stores would be brought in accordance with the Lifestyle format by the early 2010s. No sooner did this happen, however, when the company was in trouble yet again. In 2013 Safeway shuttered its Dominick's division, an ill-fated acquisition in Chicago that had dogged the company for years. Next to go was the Canadian division, sold to Sobeys (and by some accounts, screwed up) the same year...an alarm if there ever was one, since Canada Safeway had been the healthiest part of the company!
The much-reduced rump of Safeway Inc. persisted for a few more months, until the other shoe dropped and corporate raiders once again came banging on the door. The suitor this time was Cerberus Capital Management, a "private equity" group that unhatched a plan to merge Safeway's remaining American assets with the Albertsons chain and run both slowly into the ground. So it came to pass, and the two once-connected halves of Safeway have led an uneasy life ever since.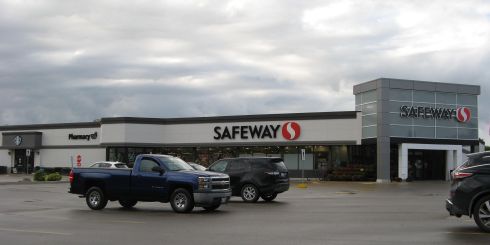 3900 Grant Ave., Winnipeg, MB, Canada
2021
This store was originally a western unit of the Dominion chain that was divested to Safeway in 1983. It's the recipient of a recent Sobeys-style exterior renovation, with neutral colours and a grid-style sign backing over the main entrance.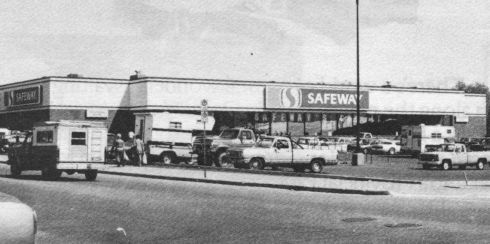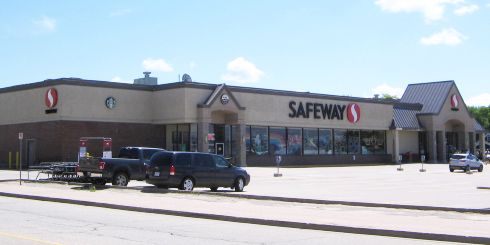 75 Whyte Ave., Dryden, ON, Canada
1985 (advertisement, Dryden Observer), 2020
Opened in the 1980s, and still in operation. As this before-and-after comparison demonstrates, this store has undergone a fair amount of "gingerbreading" over the years with the addition of peaked entrance embellishments and updated signage...without being altered too severely in the bargain.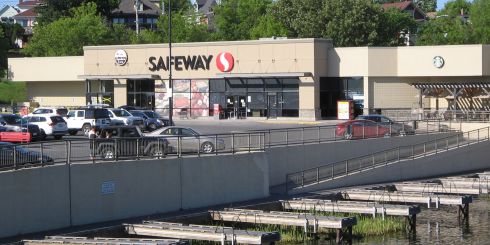 400 1st Ave. S., Kenora, ON, Canada
2020
You've scrolled past pictures of Marina-type Safeway stores. But how about a Safeway with its own literal marina? This unique store faces the Lake of the Woods in the town of Kenora, renowned as a haven for fishing and water recreation. The building itself most likely hails from the 1980s (with few alterations other than signage and paint), and was built on the site of—what else?—a 1960s Marina store.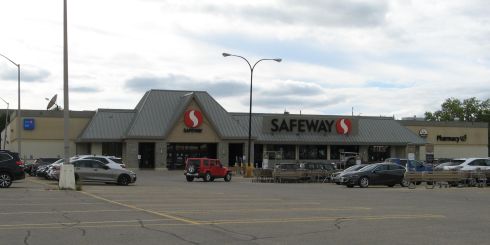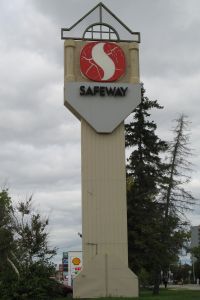 2155 Pembina Hwy., Winnipeg, MB, Canada
2021
Opened by 1985. I suspect that the mansard (technically a false mansard, since true mansards have double slopes) is an original part of the structure.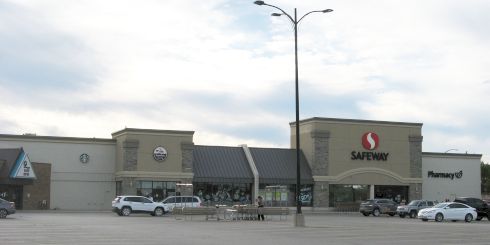 850 Keewatin St., Winnipeg, MB, Canada
2021
Opened by 1985. The slanted trim over the window area is a part of the original facade, but the boxy embellishments over each entrance were not added until the building's "Lifestyle" makeover in the late 2000s.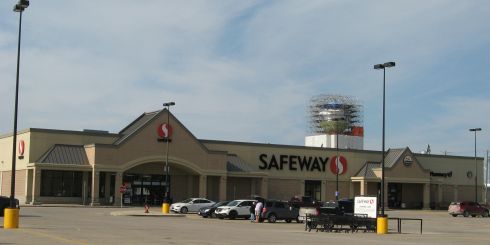 318 Manitoba Ave., Selkirk, MB, Canada
2021
I'm unclear when this store was built, although its size (38000 square feet, 3500m²) most closely implies an 1980s pedigree. Of course, the building has gone through its fair share of renovation and embellishment.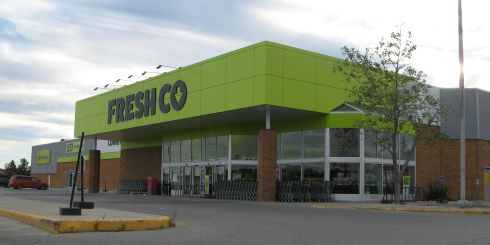 920 Jefferson Ave., Winnipeg, MB, Canada
2021
This store was originally a unit of Food Barn, which was a short-lived Safeway "no frills" discount concept of the mid-1980s. By 1990, it had been converted to a conventional Safeway store. Converted yet again to Sobeys' Fresh Co. discount banner in 2019, effectively bringing the story full circle.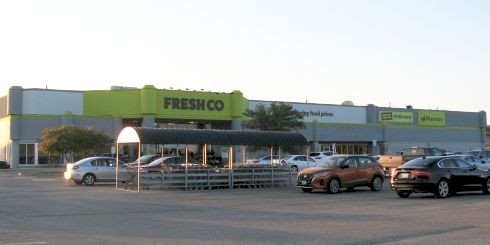 1615 Regent Ave. W., Winnipeg, MB, Canada
2021
Opened by 1990. Converted to Sobeys' Fresh Co. banner in 2019.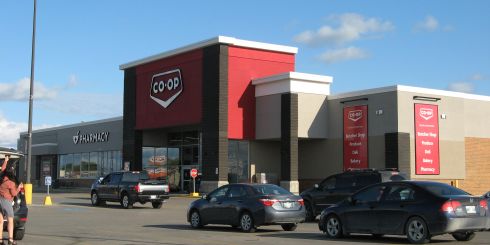 77 Vermillion Rd., Winnipeg, MB, Canada
2021
Opened by 1990, and originally featured a symmetrical facade with peaked entrance "portals" at both ends. The store was converted to an asymmetrical entrance configuration in the mid-2000s. In 2014 this store was transferred to the Red River Co-Op in order to maintain competition in the wake of Sobeys' purchase of Canada Safeway, resulting in a new name and further changes to the facade.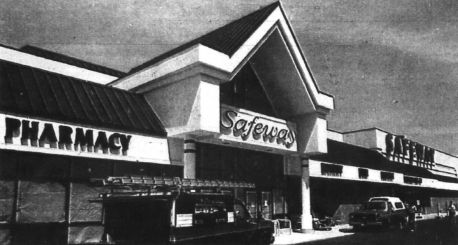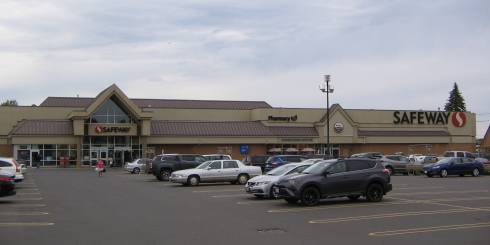 115 Arthur St. W., Thunder Bay, ON, Canada
1992 (advertisement, Thunder Bay Chronicle-Journal), 2019
2019
Opened 25 May 1992 on the same site as two predecessor stores; still in operation. A modification of the signframe from the store's 1959-era predecessor continues to stand in front.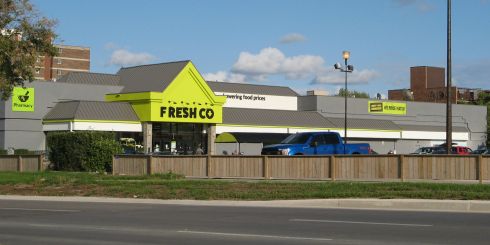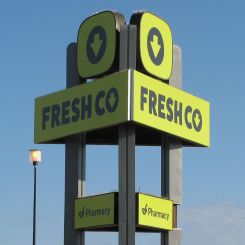 2 Alpine Ave., Winnipeg, MB, Canada
2021
A Safeway first opened on this site in 1968; however, I've a feeling that the current store is a rebuild from the early 1990s since its massing is identical to that of the Thunder Bay store above. The massive three-sided parking lot sign was likely carried over from the original store, although it has been modified. In 2021 this location became one of several older Safeway properties converted to Sobeys' Fresh Co. banner, a move met with consternation by many as the conversions removed service departments and invalidated pre-existing labour agreements.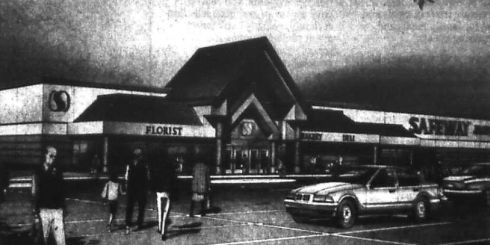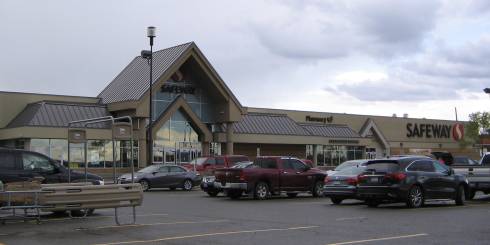 1015 Dawson Rd., Thunder Bay, ON, Canada
1995 (ad illustration, Thunder Bay Chronicle-Journal), 2019
Opened 10 December 1995; still in operation.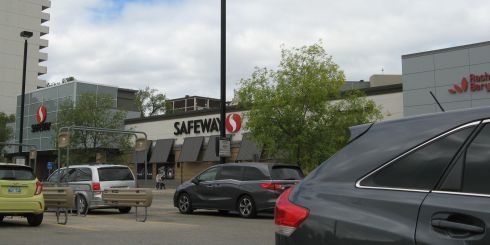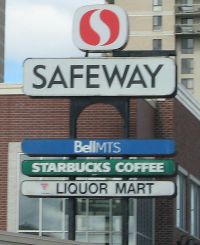 499 River Ave., Winnipeg, MB, Canada
2021
This store is nestled against the south bank of the Assiniboine River, and is the Safeway store closest to Winnipeg's downtown core. Safeway has operated on this site since 1960; however, I suspect the store itself was rebuilt from scratch several times over, most recently in the 1990s or early 2000s. It is also the recipient of a recent Sobeys-style exterior renovation; hence, the grid-style sign backing.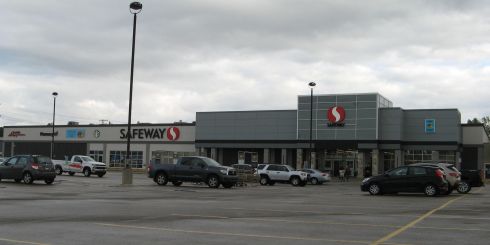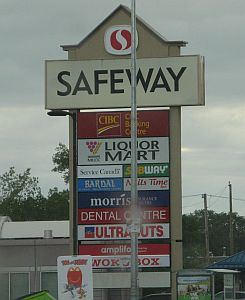 3393 Portage Ave., Winnipeg, MB, Canada
2021
This site was originally home to the Crestview Shopping Centre, which opened in 1966 and featured a Kmart and Dominion food store side-by-side. Safeway converted and reoccupied the Dominion property following that chain's 1983 exodus from western Canada. Following Kmart's 1998 withdrawal, the centre was redeveloped extensively.
I strongly suspect that the current Safeway store was either carved out of the beams and bones of the previous Kmart building, or built anew circa 2000. It's also the recipient of a recent Sobeys-style exterior renovation, with neutral colours and a grid-style sign backing over the main entrance.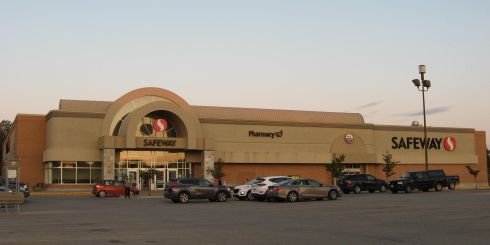 654 Kildare Ave. E., Winnipeg, MB, Canada
2021
Opened by 2000. The unique rounded facade of this store has undergone few alterations.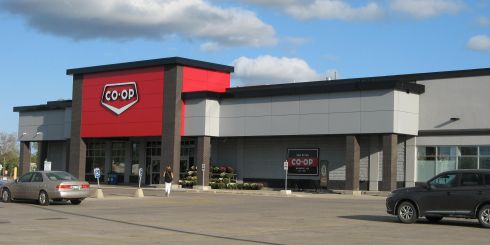 850 Dakota St., Winnipeg, MB, Canada
2021
Opened by 2000. In 2014, this store was transferred to the Red River Co-Op in order to maintain competition in the wake of Sobeys' purchase of Canada Safeway. The store was later given an exterior makeover to "de-Safewayize" its appearance, largely by building over its peaked entrance portal.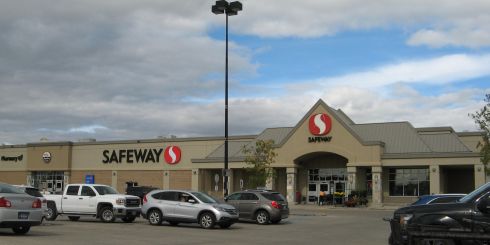 1625 Kenaston Blvd., Winnipeg, MB, Canada
2021
Opened by 2005, and little-changed since apart from paint and signage.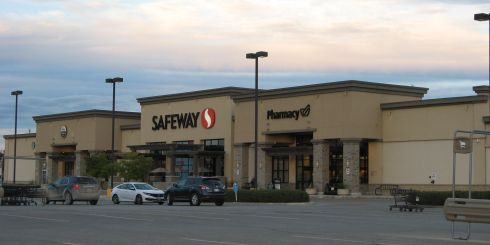 1441 Henderson Hwy., Winnipeg, MB, Canada
2021
Opened in 2011 on the site of the River East Plaza, a bygone shopping centre once anchored by Kmart and a 1972 predecessor Safeway store.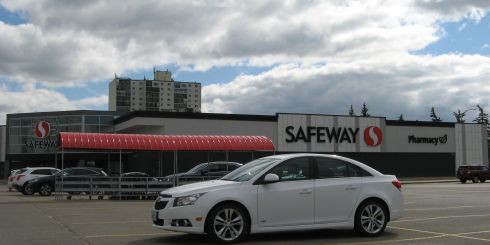 2025 Corydon Ave., Winnipeg, MB, Canada
2021
This store anchors the Tuxedo Park Shopping Centre in the Winnipeg neighbourhood of the same name. Safeway has operated a store at this centre since 1962; however, the store has been rebuilt at least once in the intervening years, and its present appearance is largely the factor of a post-2018 Sobeys-style exterior renovation.
---
The saga of Dominick's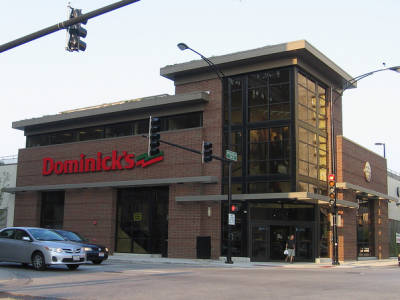 5201 N. Sheridan Rd., Chicago, IL, US
2011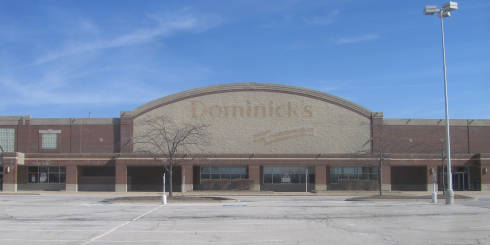 19965 S. La Grange Rd., Frankfort, IL, US
2016
More than a decade after ending any pretense of doing business in the midwestern US, Safeway attempted to re-secure a toehold in 1998 by buying out Dominick's, a Chicago institution founded in the Windy City eighty years earlier. The sale did not go over well, and the years that followed were characterized by clashes of cultures, negatory changes in service and merchandising, rows of store closings, and aborted attempts by Safeway to mitigate its losses and resell the chain. Dominick's came to a final end in 2013, closely presaging Safeway's own implosion as an independent company.
The pictured Chicago store hails from Safeway's period of ownership, opening on 11 Nov. 2010 and featuring rooftop parking and novel energy-saving interior features. The Frankfort store has since been reoccupied by a cinema, of all things, while the Chicago store was sold to Roundy's of Milwaukee and currently sells groceries under the Mariano's banner.
---
Links:
A huge acknowledgement goes out to Christian Cassidy's West End Dumplings, which blazed a trail in 2010 by being the first website to decipher the history of Safeway's Winnipeg operations in detail.
Thanks also to David Gwynn and Charles Hathaway for their extensive research in the 2000s on Safeway's California locations, and to the custodians of the long-defunct "DC Grocery" group on MSN. All of you helped stimulate my interest in this topic, paving the way for the architecturally-focused feature that you're reading now.
---
---