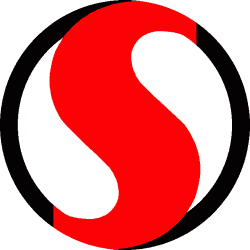 Unless noted otherwise, all photos on these pages were taken by Andrew Turnbull.
---
1950s pylon and pylon-era stores
As the 1950s progressed, Safeway's store designs became larger, design-focused, and increasingly elaborate. Many of the stores built in this period were constructed with integral brick and steel pylons serving as signs. Bowstring-truss "barrel" roofs were widely employed through mid-decade, enabling column-free floorspaces and lending an arched profile. Safeway architecture also became increasingly consistent: Identical stores began to be constructed throughout the company's trade area from California to Virginia and from Ontario to BC. Safeway's iconic red "circle-S" logo made its first appearance in copy in 1952, and made its way to storefronts shortly thereafter.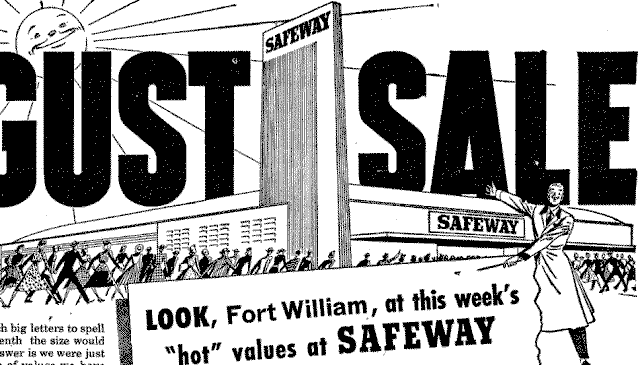 1951 (Ad illustration, Fort William Daily Times-Journal)
Safeway advertising copy of the early 1950s embraced the integral pylon...featuring it on drawings of archetypal stores even in markets where the actual local store buildings lacked the feature.
Another distinctive feature of stores built during the early part of this period were the three groupings of ridges in the brickwork directly under the pylon, usually adjacent to a corner entrance. Although this motif was short-lived, it serves as a "tell-tale" hallmark of the company's buildings nearly as distinctive as the trefoils and serrated shields that mark the firm's early-1930s stores.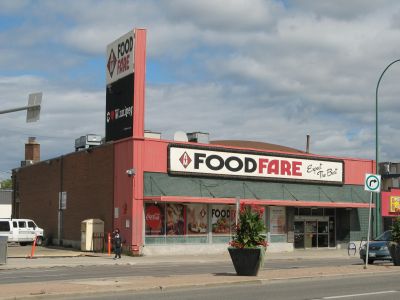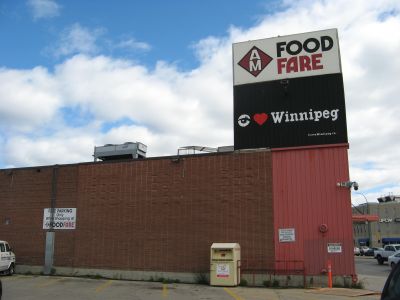 905 Portage Ave., Winnipeg, MB, Canada
2021
Opened 26 July 1951; closed as Safeway in 1985. This quintessential example of Safeway's prime early-1950s architecture had a long operational life, both in and outside the Safeway fold. After ceasing to be part of the chain in the mid-1980s, this store continued in operation as an independent supermarket...and with several owner and banner changes since, it remains in operation today! The building's footprint and unpainted brickwork also remain largely original, including the three telltale groupings of ridges visible on the side wall.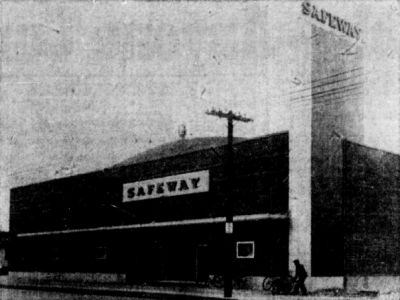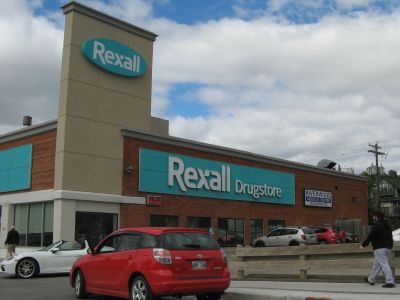 971 Corydon Ave., Winnipeg, MB, Canada
1952 (Winnipeg Tribune), 2021
Opened 28 May 1952. Only two pylon-type Safeway store buildings in Winnipeg survive; happily, both are excellent specimens. Like its Portage Avenue compatriot, the Corydon Avenue store survived in operation into the 1980s. It presently houses a Rexall (née Pharma Plus) drugstore...whose sign backing unfortunately covers the telltale brick ridges up.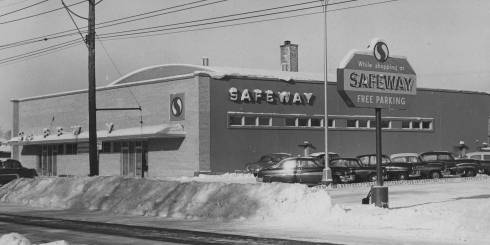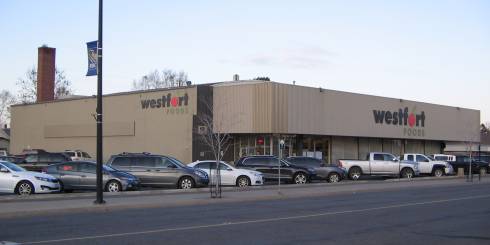 111 Frederica St. E., Thunder Bay, ON, Canada
1956 (Fort William Daily Times-Journal), 2019
Not every Safeway store in the 1950s had an integral pylon. This comparably-plain store on the Lakehead opened on 25 January 1956, was expanded by 1964, and closed without direct replacement in 1977. It presently houses an independent store called Westfort Foods.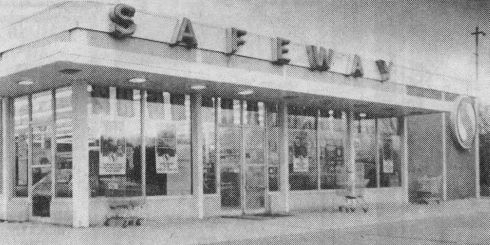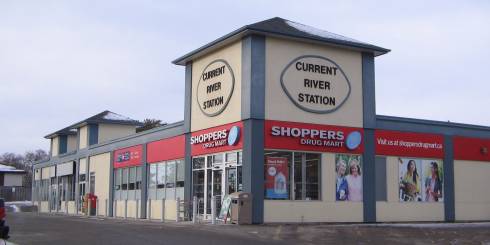 320 Arundel St., Thunder Bay, ON, Canada
1983 (Thunder Bay Chronicle-Journal), 2019
Opened 11 September 1958; closed without replacement by 1986. By this point, Safeway had returned to flat roofs with interior columns.
---
1960s ranch-style stores
Safeway was on the up and up at the dawn of the Space Age. The company's North American footprint was at close to its height, and the company took on new initiatives in retail concepts (such as Super-S drugstores) and in international expansion. Nowhere was this optimism more visible than in the field of store design: Safeway stores of the 1960s were conceived to be striking, inviting, and even futuristic.
One of Safeway's designs of this period, often used for smaller stores, featured a shallow pitched roof over a glass or mostly-glass facade. This style of store was pioneered in California during the late 1950s, and it saw sporadic use alongside other designs into the early part of the next decade.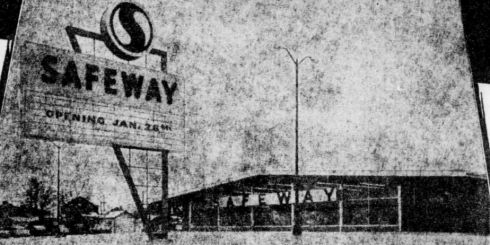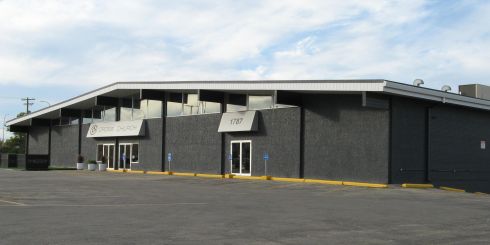 1787 Logan Ave., Winnipeg, MB, Canada
1960 (advertisement, Winnipeg Tribune), 2021
Opened 28 January 1960. This ranch-style store was the scene of a robbery attempt in 1983, and it likely closed shortly thereafter. The building presently houses a church, and is the only reasonably-intact known example of this building design in Manitoba.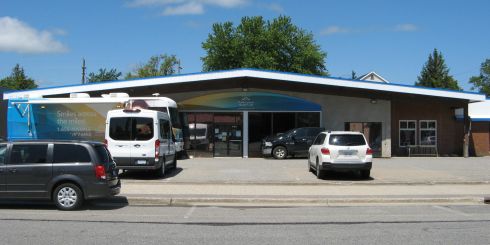 396 Scott St., Fort Frances, ON, Canada
2021
Opened 11 February 1960, and confirmed as a Safeway location on a 1961 Northwest Ontario fire insurance map. This was the only ranch-style store ever built in Ontario. Replaced in 1977.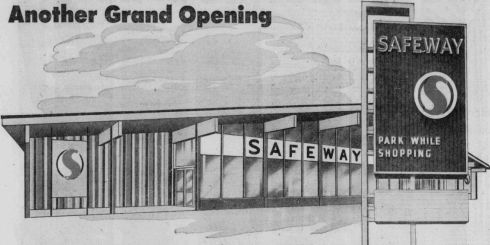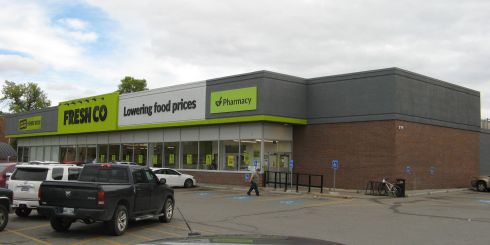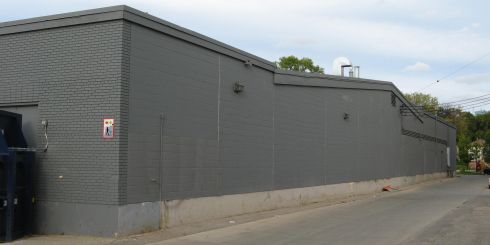 600 Sargent Ave., Winnipeg, MB, Canada
1960 (ad illustration, Winnipeg Tribune), 2021
Opened 28 September 1960. Expanded and false-fronted in 1983, obscuring its original appearance except from behind. Converted to chain owner Sobeys' Fresh Co. banner in 2021.
---
1960s Marina stores
This section represents the very pinnacle of Supermartifacts: Supermarkets at their most distinctive, attractive...and evocative of a now-bygone time.
In 1959, a Safeway store designed by architects Wurster, Bernardi & Emmons opened its doors in the Marina District of San Francisco. Far removed from the shoebox-like buildings that had defined supermarkets to that time, this new store was a aesthetic marvel: A curved roof with wings on either end, arching gracefully over a glass facade. The aesthetics carried over to the interior, where the soaring roofline was repeated in an arched ceiling supported on laminated beams.

1963 (Ad illustration, Winnipeg Tribune)
This became the "Marina" style of architecture: A prototype for hundreds of unapologetic mid-century modern stores erected throughout Canada and the U.S. during the 1960s decade. Variations of the buildings exist with horizontal or upturned wings, as well as flat-roofed variants and retrofits of pre-existing structures.
Although few of these buildings remain operating within the Safeway fold, many more survive repurposed by other businesses in various states of condition. Of all the things to look for on road trips, Marinas just might be my favourite roadside sights.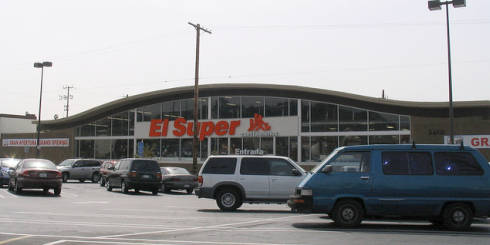 5610 York Blvd., Los Angeles, CA, US
2010
Confusingly, it seems that a Safeway store operated at this address as early as 1955, suggesting that the store in question was later rebuilt into this style. Currently home to El Super Mexican supermarket.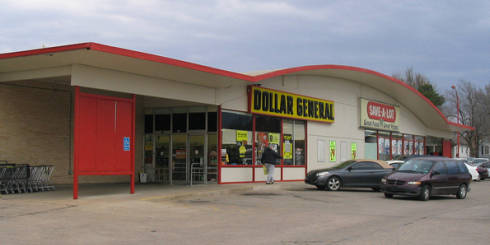 400 Sunset Dr., El Reno, OK, US
2010
Subdivided, and now reportedly half-vacant.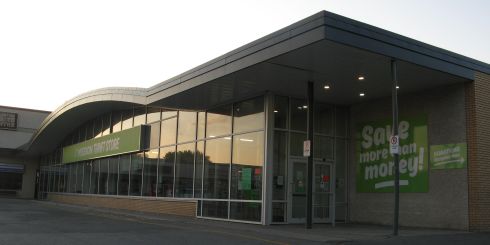 701 Regent Ave. W., Winnipeg, MB, Canada
1961 (Transcona: On the Horizon of a Great Future), 2021
Opened in March 1961, replacing an original 1929 store. Divested to Loblaws and converted to Extra Foods in the 1990s, which it remained until closing in 2016. Alone among Winnipeg-area Marina stores, the facade of this specimen is perfectly intact with complete original glass. The sharp-eyed might notice that the 1961 photo lacks the entrance vestibules with separate inner and outer doors that were later added to the building...probably right after the first Winnipeg winter hit!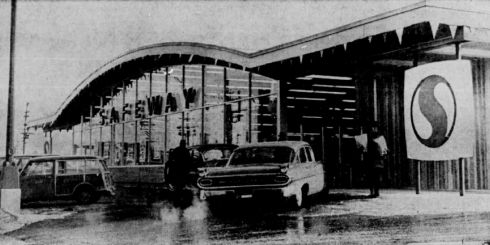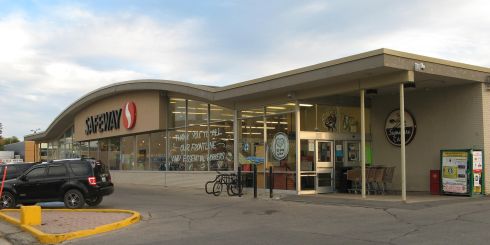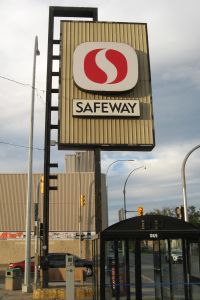 594 Mountain Ave., Winnipeg, MB, Canada
1962 (Winnipeg Tribune), 2021
Opened 13 February 1962. This store is presently the only Marina-style Safeway in Winnipeg that is still in operation with a (mostly) original facade. It also features an unusual 1960s-modernist sign that is also original.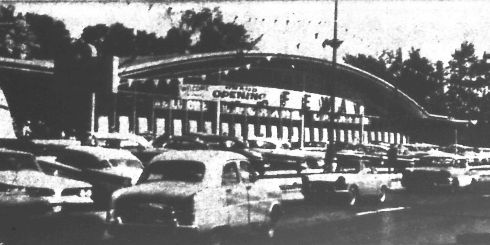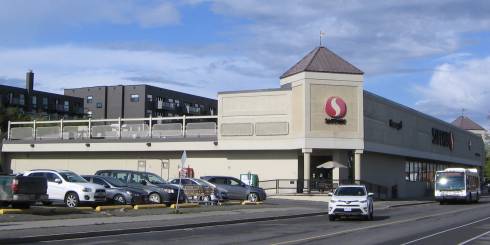 70 Court St. N., Thunder Bay, ON, Canada
1962 (Port Arthur News-Chronicle), 2019
Opened 14 June 1962. This store was still in operation (albeit false-fronted) as Safeway until 2021, when it became earmarked for conversion into Sobeys' Fresh Co. discount banner.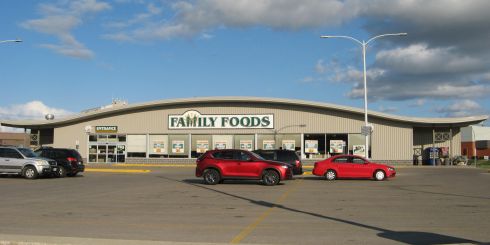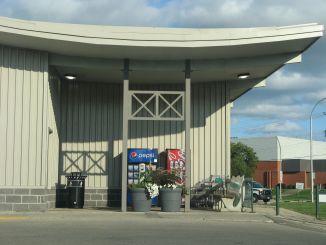 1099 St. Mary's Rd., Winnipeg, MB, Canada
2021
Opened 11 June 1963. Although this store ceased to operate as Safeway by the mid-1980s, the location has continually remained in business as an IGA or Family Foods store to this day. From this point forward, newly-built Safeway stores were usually built with "wings" that were up-turned instead of horizontal...in Canada, anyway.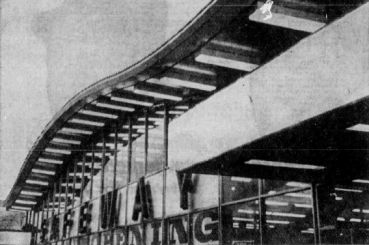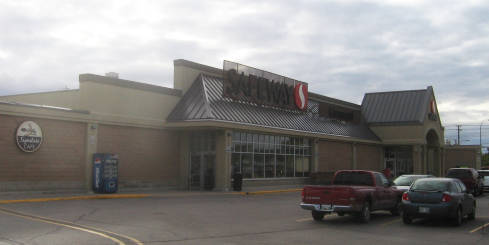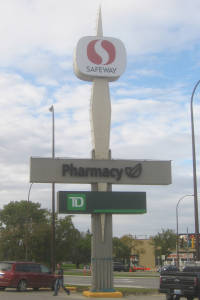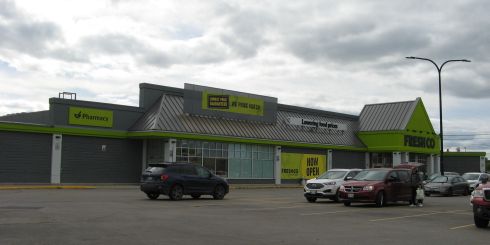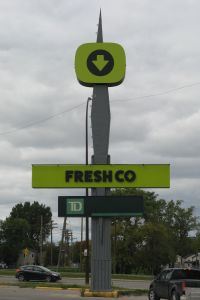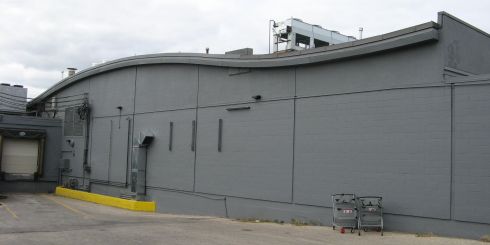 1319 Pembina Hwy., Winnipeg, MB, Canada
1963 (Winnipeg Tribune), 2015, 2021
Opened 26 November 1963. An older Safeway that's still in operation! Well, almost. There's a Marina store buried somewhere behind that modern facade, but you may have to take my word for it. Converted to Sobeys' Fresh Co. banner in 2021. The original googie sign by the roadside also still stands, though modified and shorn of flash.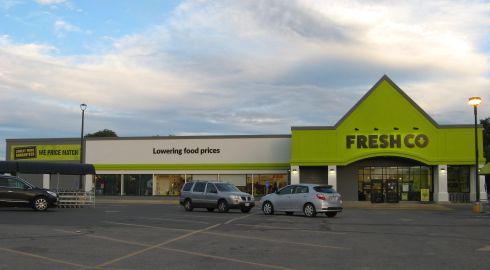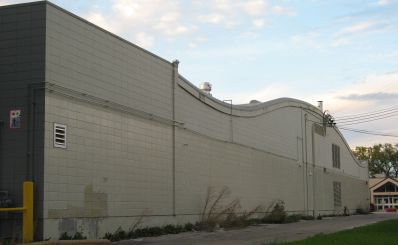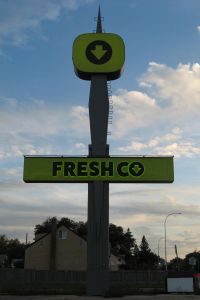 731 Henderson Hwy., Winnipeg, MB, Canada
2021
Opened 11 February 1964, and later expanded and false-fronted. Converted to Sobeys' Fresh Co. banner in 2021 after several years of vacancy. A googie sign identical to that of Safeway's 1319 Pembina Highway store survives, modified in the exact same way.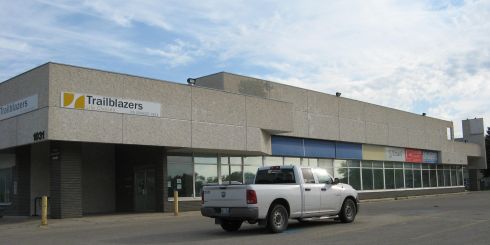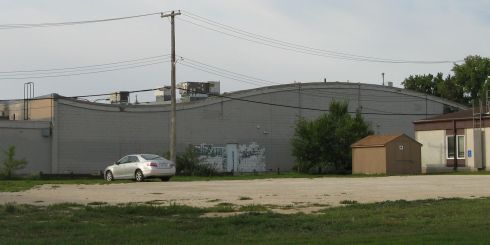 1031 Autumnwood Dr., Winnipeg, MB, Canada
2021
Opened 27 February 1964. Later false-fronted, and replaced by 1985.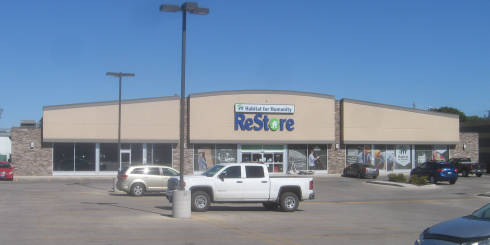 1081 Ellice Ave., Winnipeg, MB, Canada
2015
Opened 5 November 1964; closed as a Safeway in 2008. The building was subsequently gutted and re-fronted for a new tenant, but the arched roofline is still clearly visible.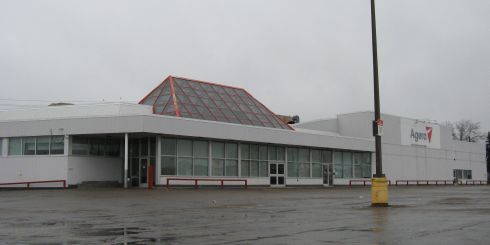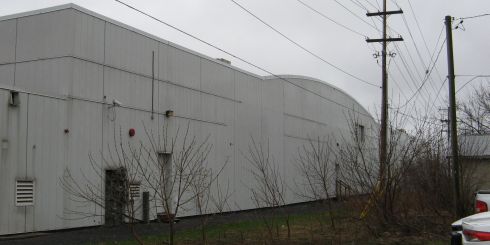 475 Pim St., Sault Ste. Marie, ON, Canada
2023
In the 1960s, Canada Safeway pursued eastern expansion with the opening of a Marina store in Sault Ste. Marie, Ontario...despite the fact that the nearest warehouse able to supply it was two days away in Winnipeg! The expansion was less than successful, and in the 1980s this store was divested and converted to the Golden Mile Loeb IGA.
Loeb managed to "de-Safewayize" the property through the addition of a side expansion and a new "glass pyramid" facade, although the original curved roofline remained visible in back. The store closed for good after 2000, and was last used as a call centre.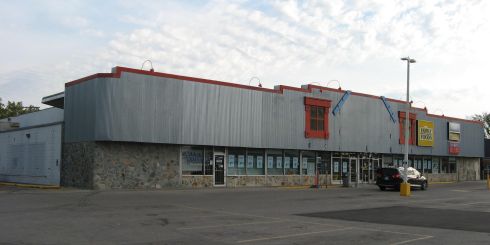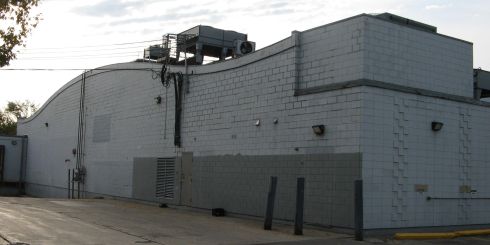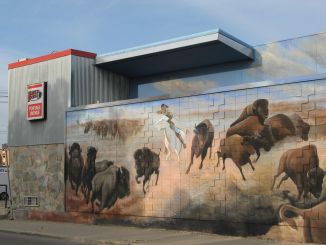 1881 Portage Ave., Winnipeg, MB, Canada
2021
Opened 24 November 1964. Although this store ceased to operate as Safeway by 1990, the building remains in use by a Family Foods supermarket to this day. The outboard edges of the "wings" of the original facade are still visible from the sides of the store, one of which is decorated by a mural of bison.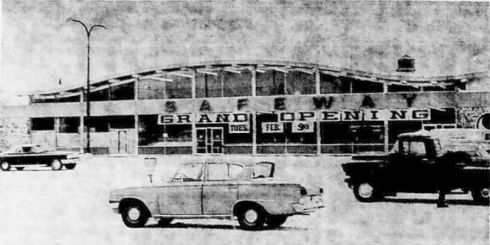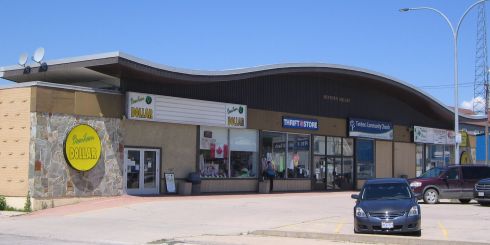 36 Whyte Ave., Dryden, ON, Canada
1965 (Dryden Observer), 2020
Opened 9 February 1965 as the first Safeway in the city; replaced in the 1980s. This is an "off-model" building built with a curved front, but a flat roof. Regardless, it looks the part! This also happens to be the only Safeway or ex-Safeway with an intact Marina facade in the entirety of Ontario. The original fieldstone trim is still intact, and even the original circular frames for the circle-S symbols have been reused.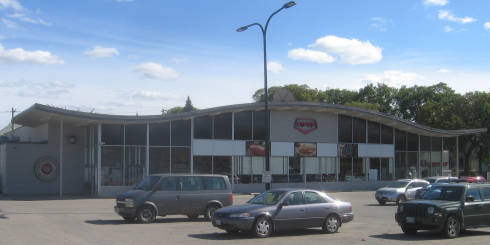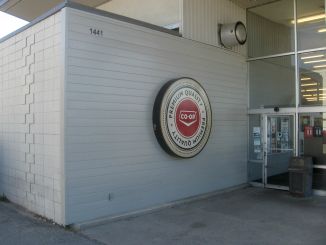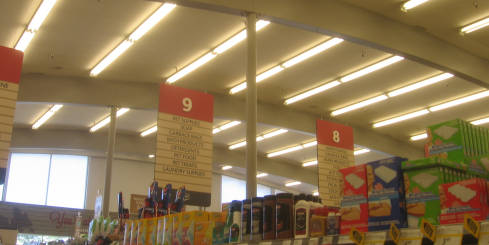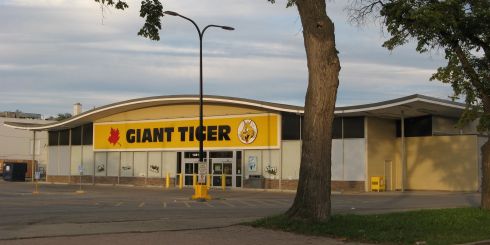 1441 Main St., Winnipeg, MB, Canada
2015, 2021
Opened 13 April 1965; closed as a Safeway in 2014. At the time I first photographed it this store had been reoccupied by the Red River Co-Op, which continued to operate a supermarket in much the same fashion as before. Unfortunately a 2016 lease dispute led to the co-op being evicted from the premises in favour of a Giant Tiger store, and it is unlikely that this building will ever house a conventional food store again.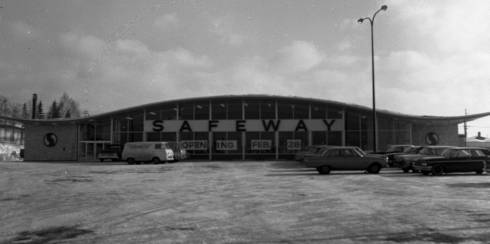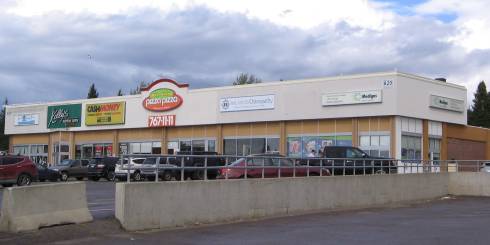 820 Red River Rd., Thunder Bay, ON, Canada
1967 (Thunder Bay Museum acc. no. 984.80.1251), 2019
Opened 28 February 1967. Later false-fronted, and replaced in 1995.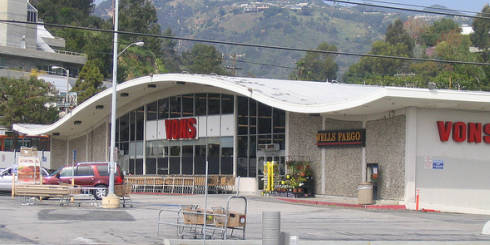 17380 Sunset Blvd., Pacific Palisades, CA, US
2010
This store is situated next to the Pacific Ocean, and may quite possibly be the most picturesque supermarket ever built. Still in operation as a Vons store under Safeway ownership.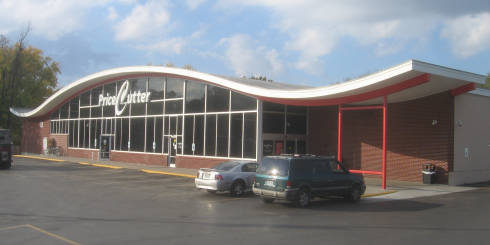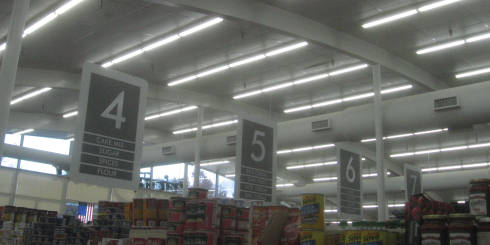 712 W. Commercial St., Springfield, MO, US
2016
An almost pristine Safeway Marina of the mid to late 1960s, still serving groceries under auspices of Missouri's local Price Cutter chain to this day. It features loopy wings, and only one entrance...the far corner is built out, and I assume from the configuration of the lot that it had always been this way. The seven panels for the S-A-F-E-W-A-Y lettering (and the portal by the entrance for the circle-S symbol) are plainly visible.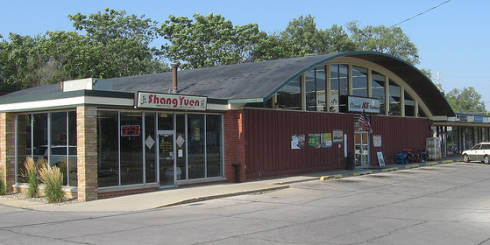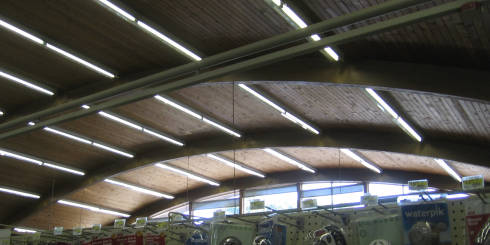 5707 Hickman Ave, Des Moines, IA, US
2012
This narrow and wide-winged variation on the Marina design is one of the few Safeway artifacts that survive in the capital of Iowa. It wasn't originally a Safeway, though: It was built in 1952 as a Thriftway supermarket, a Des Moines-area chain. Safeway bought Thriftway in 1958, and converted their stores to the Safeway name. Some stores were given substantial updates as part of the "Safeway-izing"...and public data suggests that the curved Marina roof was somehow grafted onto the walls in a 1965 "might as well have demolished and started over" renovation.
---