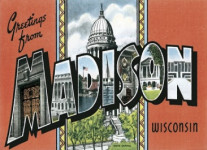 Sometimes, I think that the sociopolitical difference between Madison and the rest of Wisconsin is overplayed. The beliefs people hold, the preferences they act upon, and the attitudes they express are dictated by the amount of knowledge they hold and the level of critical thinking they possess...not geography.
Or is it? These qualities don't happen in a vacuum...they're contingent upon other factors as well; factors that are not equal in all places alike. Divisions exist...and at no time was that division more stark than when the availability of civil rights went up for popular vote in 2006.
---
Referendum 1 was the piece of legislation that inserted the following quotation into the permanent record of the Wisconsin State Constitution: "Only a marriage between one man and one woman shall be valid or recognized as a marriage in this state. A legal status identical or substantially similar to that of marriage for unmarried individuals shall not be valid or recognized in this state." Therefore, gay and lesbian couples who love each other are not allowed to marry...or even be endowed with any semblance of "separate but almost equal" legal and financial benefits according to the state. In spite of fervent protests and persuasions by fair-minded citizens in the lead up, a majority of voters in seventy-one of the state's seventy-two counties voted this piece of bigoted garbage into law on November 7, 2006. Dane County, home of Madison, was the sole exception.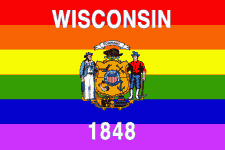 Bear in mind, this was the exact same state that enacted the very first protections against anti-gay employment and housing discrimination in the country; signed into law by Republican governor Lee Dreyfus in 1982. The exact same Wisconsin whose policies by and large in the intervening time period earned it the nickname of "The Gay Rights State." The exact same Wisconsin that was one of only seven states in the lower 48 never to have had an anti-miscegenation law in effect in its history. Though a few other happenings have added themselves to the list since, Referendum 1 was and is a thorough embarassment to Wisconsin's record and reputation.