Welcome to LOST A WHOLE YEAR, the most definitive stop for all your Third Eye Blind fan needs! New and interesting stuff is (not) destined to be added all the time.
---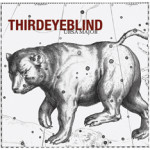 In Brief:
Ursa Major is the San Francisco band's fourth studio album, in stores now! It has been released on both CD and LP, and features twelve original tracks. The CD release features cardboard digipak packaging with a twenty-page lyric booklet. The first single (and video) to be spawned from this new work is the topical track titled "Don't Believe a Word."
News:
August 17, 2009: Ursa Major has been released. The discography and FAQ will be updated shortly. Get your copy today!
August 15, 2009: At the last minute, the street date of the new album was pushed up by one day...so you could see it in stores as early as Monday the 17th.
Due to Circumstances Beyond My Control, I won't have the means to update the site again for a few days at least. In the meantime, enjoy Ursa Major!
August 13, 2009: "Private Sessions: Third Eye Blind" airs on the A&E cable network August 16th at 9am ET/8am CT. And remember, folks: Ursa Major comes out on August 18th. Yes, the moment that we've been waiting six years for is less than a week away!
July 17, 2009: A preview of exclusive Ursa Major merchandise packages from the Third Eye Blind website was revealed today. The packages run the gamut from a basic CD and T-shirt bundle to a "premiere" package complete with multiple backstage passes for $200. (Just one question, though: What the hell is a "USB Ursa Major Bear?")
July 13, 2009: "Planet Verge" is sponsoring a contest to meet the band at the New York Central Park show and Good Morning America taping on Friday. A special thanks to Jessica for the news!
Also, just a heads-up that a video for "Don't Believe a Word" has been produced. You can see it here.
July 6, 2009: On July 17th, Third Eye Blind will put on a free, semi-televised concert as part of the Good Morning America Summer Concert Series.
June 30, 2009: Lending further credence to the theory that Ursa Major is actually nearing release is the fact that the album is now listed for pre-ordering on Amazon.com. A track listing is stated as well; though as always it remains to be seen if it's been completely set in stone.
June 17, 2009: A Third Eye Blind concert special is apparently being filmed for broadcast on A&E August 16th as part of its "Private Sessions" series.
June 9, 2009: Cover art for Ursa Major was unveiled today; courtesy of one of the group's many online fronts.
June 8, 2009: For those who missed the HDNet "Ten Years Down" performance from a year and a half ago and have access to the channel, the program will be rerun on June 21 at 5 p.m. ET. For those who missed it because they don't have access to the channel; a DVD is hopefully still somewhere on the planning ledger...
June 4, 2009: Over the years, my interest in Third Eye Blind has waxed, waned, and waxed again several times over. Happily, it's securely on the wax once more.
After ten years of wait, I finally saw Third Eye Blind perform in concert last weekend at the Riverside Theater in Milwaukee. Without exaggeration, it was a dream come true.
After years of being stuck in a ditch of inactivity, Third Eye Blind's official website was completely redesigned a little while ago. The new site features a number of interactive features for fans, a slick and attractive layout, and periodic updates from the band. Not surprisingly, the release date for Ursa Major shifted yet again...first to March, then to June, then to August 18, 2009. Stephan has assured that the album has been finished, so it may just be a matter of time before we're all holding it in our hands.

November 18, 2008: Our first new taste of 3EB in years comes today through the "release" of Red Star, a three-song "EP" of sorts consisting of "Non-Dairy Creamer," "Red Star," and "Why Can't You Be?" The catch? It's a digital (i.e., iTunes) exclusive, with no actual physical media in sight; leading me to have a hard time believing that this is an actual release. Make of it what you may...
October 7, 2008: New developments...and boy, are there a lot of them!
First of all, a distribution contract has been secured. Ursa Major will be distributed by Sony Music through the band's vanity imprint, RED. (Please don't ask me what RED stands for. I don't know.) Its release date is currently slated for February 2009; whether or not this date will be ultimately adhered to remains to be seen.
Recording developments: As of last July, "Non-Dairy Creamer," "Don't Believe a Word," "Red Star," "Monotov's Private Opera," "Now I Don't Know," "Swimming," and "Carnival Barker" had all been committed to tape (or nearly so) for the record, and no doubt quite a bit of further progress has been made since then.
Finally: In an intriguing "leak" that might well be the first of its kind, the band provided unmixed instrument stems of "Non-Dairy Creamer" to interested parties on Indaba, a music collaboration website. Participants have the option of mixing their own incarnations of the song, and submitting them in a contest.
May 13, 2008: Five years from the release of Out of the Vein, new projects continue to simmer on the back burner. The new studio album tentatively titled The Hideous Strength is now known as Ursa Major, and is apparently due to be accompanied by an album of session "leftovers" titled Ursa Minor. A live CD and (once again) a DVD remain tensely awaited, although I've heard little specific news about them.
Some of the new songs that could possibly appear on the new release include: "About to Break," "Alright Caroline," "Away," "Bonfire" (a.k.a. "Campfire"), "Break Me," "Carnival Barker," "Don't Believe a Word," "In the Skin," "Jesse 2K," "Monotov's Private Opera," "Non-Dairy Creamer," "Now I Don't Know," "Persephone," "Red Star" (a.k.a. "So Pretty"), "Second Born," "A Sharp Knife," "Standing Up for You," "Stevie Ray Vaughan," "Summer Town," "Swimming," and "Why Can't You Be."
In terms of site updates, I have the pleasure of adding a new site to the links page. I've also posted a rant of sorts concerning the band's disposition as well.
November 14, 2007: An update about the televised concert broadcast on HDNet: Officially titled "Third Eye Blind - Ten Years Down," the program is now being scheduled for broadcast on December 2 at 8:30 pm EST. For those of us without access to this channel, a DVD release will presumably be around the corner.
October 25, 2007: "Third Eye Blind at the Fillmore" has been tentatively scheduled for broadcast on HDNet, a limitedly-available cable and satellite channel, on December 9. Meanwhile, work on The Hideous Strength is evidently moving along, although a number of questions...namely, the release date and what label it would be released on...remain up in the air.
April 30, 2007: Some bits of information to have unfolded in the recent past:

First: Live at the Fillmore - March 13-14, 2007, a coffee-table book of pictures from the aforementioned concert, is available for purchase from Blurb. Second: Break out the champagne; a new album is on its way! According to a San Francisco Chronicle article, the record is tentatively titled "The Hideous Strength," is "more political," and will arrive "soon."
January 18, 2007: Coming this spring, it will have been ten years since Third Eye Blind's first album was released. According to The Village Church Yard, the band will play a pair of concerts at the Fillmore in San Francisco on March 13 and 14 in honor of the occasion. Filmed footage and a fan event may come out of this, so stay tuned!
August 31, 2006: Recently, bassist Arion Salazar has been absent from Third Eye Blind concert performances, and the band have relied on a "substitute" bass player in the meantime. Although the circumstances of this complication are unclear, it seems that Arion's departure was motivated by personal struggles; not animosity, and it is entirely possible that he will eventually return to play with the band.

July 18, 2006: Third Eye Blind: A Collection, the band's first compilation album, is in stores! Unfortunately, the prospect of a bonus DVD was dropped. Read our comments for more information about this album.
June 2, 2006: More information about the upcoming greatest-hits album just in, which sounds very encouraging:
The title will be Third Eye Blind: A Collection. The track listing consists of eighteen or nineteen cuts spanning the band's major radio hits, favorite album cuts, and the added incentive of a scattering of rareties and B-sides. In addition, the CD will be bundled with a DVD containing virtually all of the band's music videos. The package will be released by Rhino, Warner's de facto reissue division.
June 1, 2006: Even more news: VH-1 have published an article containing excerpts from a new interview with Stephan Jenkins. A fourth album is definitely in the works, although the circumstances of when precisely it will be finished and how it will be released still seem to be a question mark. Finally: Though not through new material, Third Eye Blind will return to the record stores this summer through the release of a greatest-hits album. More details will come forth in due course.
May 9, 2006: New news from the band...no, really! First of all, Third Eye Blind now have an official webpage at (gulp) MySpace.com: It may be very clunky, but it's a source of up-to-date information. Second of all, "Persephone," an unreleased cut from the Out of the Vein sessions, is available (for now) as a legitimate download from the same site. Enjoy!
---
"So can you take me into days I never knew...Let's start a riot...Let's start a riot, me and you." - Can You Take Me