June 1, 2009: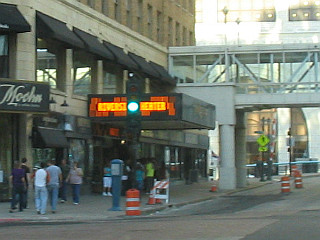 A little over 24 hours ago, I was in Milwaukee. This time I wasn't passing through the city on the way to Indiana, Michigan, or West Virginia, however: I was there for a reason. A reason to let a dream that had been corked up for the last ten years finally come true.
That dream, quite simply, was to see Third Eye Blind in concert. Back when I lived in the strip-mined armpit of rural West Virginia and lacked the means of transportation or proximity to any viable entertainment venue, that seemingly-prosaic prospect almost seemed like an unattainable folly. Circumstances have a way of changing, however, and the scenario in 2009 was an entirely different matter: Nowadays I own a car, I live in Wisconsin, and (unfortunately) I have more free time available than I know what to do with. Upon discovering that 3EB were putting on a show at the Riverside Theater in downtown Milwaukee, I took swift action. I ordered my tickets a month in advance; although ironically they were still being sold through the box office when I walked in half an hour before the show.
Sensibly, I had the foresight to bring ear plugs along (I prefer hearing music; not distortion or ringing, after all). Due to paranoia over the stated "photography prohibited" policy, I left my digital camera in the car; though after I went in it became abundantly clear that enforcement was lax and other people were taking pictures throughout the entire performance.
The opening artist was an act by the name of Low vs. Diamond (not "Lowus Diamond," which I interpreted their band logo to read at first). Their music was similar to that of Third Eye Blind's, and I might have even mistaken them for them if they hadn't been a fivesome and I had been totally clueless and inept about the whole affair. I couldn't help but notice the keyboard player periodically taking sips from a bottle of New Glarus beer sitting on stage. The lead singer maintained a true sense of connection to the audience and the overall performance was very energetic throughout; although it seemed to last a song or two longer than I felt as though it should have.
The Riverside Theater is an aesthetically-significant and historic theater (much like the Capitol in Manitowoc), and it was pleasant just seeing the facility itself. General admission was provided, so there were no assigned seats. A group of enthusiastic participants congregated in an ersatz mosh pit between the front row and stage; and of course, being young and foolish, I joined them. At one point (after already being pinned in front of a couple rowdy guys holding open cups of the flavorless beverage called Bud Light), a girl in front of me turned around, looked up at me, patted my chest, and said without hesitation, "You are blessed to be so tall. Would it piss you off if I smoked?" I got scarcely more than an "uh" out before she carried out the desire. When she "warned" that she'd be singing along to every song, I started slowly inching away (though I eventually found myself doing much the same). Early on I was about six feet from the stage; though the distance seemed to expand to around twelve feet by the time Third Eye Blind actually went on.
After Low vs. Diamond departed, an intermission followed. Stage hands moved equipment, rearranged the set, and lit incense; filling the room with more smoke than a stray cigarette ever could. Patrons went to the bar for mixed drinks, or asked others to bring them back for them. After an extended wait, the lights were dimmed: It was time for 3EB. The set was decked out in a backdrop of stars (tying into the theme of the upcoming Ursa Major album), and even Brad's drum set was adorned with what looked like Christmas lights.
After a few more solitary appearances by stage crew, the band finally moved onto the stage under a mysterious cloud of darkness; only a stray spotlight or two illuminating the scene. Brad Hargreaves began with an impressive drum solo; soon leading into "Faster," the lead song off the 2003 record Out of the Vein (that is still technically the band's current album). From that point on, the entire stage and audience alike were alive. I confess that I've attended some mediocre rock band performances over the years; and that even for Third Eye Blind concerts, I've read my fair share of lackluster assessments by non-fans ("Oh, there was this band that played called Third Eye Blind, and they were awful! The lead singer had a lisp!"). But any preconceptions I had were thoroughly blown away from the outset: The band was in unabashedly fine form throughout.
The set list was a satisfying mix of old and new: Hit songs and fan favorites were both included; as well as new and occasionally topical material from the upcoming Ursa Major release, much of which was quite good. Stephan preceded one of the songs (titled "Don't Believe a Word") with a disclaimer to the audience that it was "dirty and filthy." Stephan's latter-mentioned comments on Milwaukee segued into "Motorcycle Drive By;" a fan favorite that's one of his most personal compositions. Among the other songs I remember being played through the show were "Semi-Charmed Life," "Jumper," "Graduate," "Wounded," "Never Let You Go," "Blinded," "Crystal Baller," and "Can't Get Away;" the latter three off of what Stephan inferred to be their most underrated album. At one point, Mr. Jenkins posed a question to the audience: "How's It Going to Be, or I Want You?" The crowd was unanimous in its shout of "I Want You" (the lesser-known, rarely-heard tune), and so that song was played. I wouldn't have minded hearing both, myself.
Throughout the show, lead singer Stephan Jenkins led himself in bursts of thoughtful commentary between songs. At one point he discussed his own childhood upbringing in Milwaukee, and how visiting the area that night had profound emotional significance to him. Through most of the concert, he wore a T-shirt emblazoned with the words "Younger Than Jesus." (Can't argue the point, but he is the same age as one of my aunts!) For those familiar with Third Eye Blind, I assure that Stephan did wear his famous top hat through some of the songs as well. Brad was wearing a fedora of his own, and almost looked a bit like Indiana Jones from some angles. (Drummer of the lost ark?)
As affairs were starting to wind down, Stephan thanked the audience for their devotion and reassured that a) Ursa Major had in fact been completed; b) it was going to be released this summer; and c) it felt really good to have it done. (He made a crowd dive somewhere along the line as well, though it lasted for about four seconds until he thought better of it and got back on stage.) Brad threw a drumstick into the standing crowd, and a short-lived tug-of-war erupted directly in front of me over the item's fate. The show ended with three encores: The vocal version of Slow Motion, God of Wine, and yet another new song. Oddly enough, some audience members were familiar enough with the new material to be singing along to it; even though it hasn't been released on disc yet.
When the lights came on and the band had finally left the stage, I was overcome by emotion and a bit of sorrow: I didn't really want to leave. I grimly inspected the floor to see if there were any guitar picks or other memorabilia among the plastic cups, beer bottles, and paper wads strewn about; but all I found were three cents. The trip home went by satisfactorily; though the immediate journey out of the ($8!) parking garage entailed me being trailed by a car full of bumper-riding, horn-honking idiots.
While some would no doubt dismiss it as "just another '90s post-grunge/alternative rock band," to me Third Eye Blind have always been more than that. Their music entered my consciousness at an impressionable time, and it helped pull me through some very difficult periods of my life. There have been times when I've been frustrated with their relative lack of output. There have been times when I've gone into withdraw from burnout, or been downright cynical about the band. Yet, unfailingly, I keep coming back.
The entire band was in top form: Stephan, Brad, Tony, and the "substitute" bass player (Abe Millett) alike. Although I still miss the pre-2000 Kevin Cadogan incarnation of 3EB, guitarist Tony Fredianelli was so comfortable and assured on stage that I had a hard time visualizing anyone else in his place. The real heart and soul of the band, however, laid at its co-founder: Stephan Jenkins himself. In addition to pulling off an energetic stage persona and flawless (and for that matter, lisp-free) vocals, his comments in between were intelligent and downright touching at times. Since I have family ties to Milwaukee myself, this night's concert served as a "homecoming" of sorts for me as well. It was an honor to attend the show: The only regret I have is not doing so sooner.