Welcome to the personal website of Andrew Turnbull. This outpost features tons of stupefying and trivial things pertaining to various and diverse interests of mine. Chances are, if there's something I know about or like that doesn't much other representation on the 'net...there's a bit of it here.
---
October-December 2021 Archive
---
2021 was a better year than 2020, but only because the latter bar was so low it's buried under the floor.
| What happened | How long ago it happened | How long ago it feels like |
| --- | --- | --- |
| Insurrectionist terrorism | 11 months | 3 months |
| The pandemic | 21 months | 9 months |
| Permanent residency in Canada | 2½ years | 5 years |
| The atrocity of 2016 | 5 years | 10 years |
| Graduating from high school | 18 years | 12 years |
| Death of my childhood (Bush, 9/11, Iraq) | 18-21 years | 14 years |
| Realizing I might not actually be straight | 23 years | 15 years |
| Achy Breaky Heart | 29 years | 20 years |
| Invisible Touch | 35 years | 25 years |
| Born | 36 years | 30 years |
---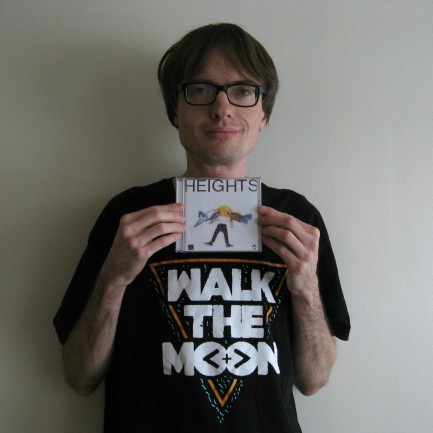 Uncork the champagne! Dance! Yes, these are tough times, but there's a reason to celebrate: Walk the Moon has a new album out! (Actually, it's been out for a month. More on that in a moment.)
Walk the Moon are a band of guys my age (more or less) who broke out in 2012 with the rock and alternative hit "Anna Sun." I wasn't listening to the radio in 2012, so the band evaded my notice...until 2015, when "Shut Up and Dance" rode the charts so high it was impossible to ignore. I travelled to Winnipeg that September...and radio there was playing the song once an hour, every hour. And I loved it: Much like Third Eye Blind's "Never Let You Go" from 15 years earlier (and Rick Springfield's "Jessie's Girl" from 19 years before that), "Shut Up and Dance" was an insanely catchy piece of perfect power pop. My "discovery" of the band was so tied in my mind to my excursion into Canada that I was almost disappointed to learn that the band weren't Canadian themselves: They're from Cincinnati, Ohio.
"Shut Up and Dance" could have been a flash in the pan, or a piece of "manufactured" pop. Happily, there was substance behind the sizzle. The Talking is Hard album was full of spirited tracks like the unapologetic queer anthem "Different Colors" and the ethereal "Aquaman," bound by a strong New Wave influence and DIY aesthetic. 2017's What if Nothing continued with more strong material in an introspective bent, and now the band is back yet again with Heights...sans Kevin Ray.
What is there to say about the record? Let's begin...
The record starts with a bang: The title track "Heights," an uptempo song about challenges with a pronounced Tears for Fears influence. It sets the pace of what's to follow.
"Can You Handle My Love??" is the danceable lead-off single (do "singles" still exist if everything's a digital file?). It's one of the more conventional songs here, and closely recalls the band's earlier work back to "Anna Sun."
The momentum continues with "Giants," a driving song about companionship and challenging oppressors against the odds...together.
"I'm Good" starts off as a jaunty, lyrically-dissonant track about a broken relationship and depression. After a left turn through a hook-filled bridge section, it segues into an emotional piano coda reminiscent of Joni Mitchell's "Two Grey Rooms."
"DNA (The Keys)" is a sparely-produced song with a plaintive keyboard line and pounding rhythm section. It's one of the weaker tracks on the record, but keeps the momentum flowing.
"Fire in Your House" is a sonically-lush masterpiece recorded with the late South African musician and anti-apartheid activist Johnny Clegg and his son Jesse. The danceable track recalls Lionel Richie's "All Night Long" among others, as well as the WOMAD-influenced work of Peter Gabriel. This is the album's follow-up single, and it'll be a travesty of justice if it doesn't chart.
Side 2 (yes, there's a cassette version with a Side 2) begins with "Don't Make Me," a slow cut that feels like a Sunday morning after a Saturday night. It wouldn't be out-of-place on Adult Contemporary radio, but it's one of the weaker songs here.
"Rise Up:" No, it isn't the 1983 Parachute Club song that every leftist Canadian knows by heart. Continuing the "morning after" vibe, this is a gospel-influenced song about dusting yourself off and reaching for the stars.
"My Kids" is a lighthearted funk track that wouldn't sound out of place on a Prince album from 1987.
That said, the last three songs are merely overtures for what comes next. "Someone Else's Game" is a five-minute piano-driven track about perseverance above despair that builds to a crescendo, before falling back into softness again. This song represents Heights' emotional climax, and it brings me to tears.
Finally we have the last two songs, which serve as a resolution to the record. The band wears their influences on their sleeve, and "What You Can't Look Up" evokes Rush from the Hold Your Fire era with a bit of Talking Heads scrubbed in for good measure. Finally, "Population of 2" is a fast-tempo synthpop song about simple pleasures and fresh starts.
Other thoughts...
Like the Weeknd and several other contemporary artists, Walk the Moon's music captures the spare fills and urgency that defined the New Wave music of the early 1980s (i.e. Depeche Mode, The Fixx, The Police). It also captures the dark feelings of that era...an era when Reagan and Thatcher were running roughshod over peoples' lives, and nuclear war loomed as an imminent threat. In a world threatened by Christian fascism, pandemic, climate change, and the facilitators of all of the above, these feelings are sadly as relevant and relatable now as ever. Yet, Heights doesn't dwell on doom and gloom: The overwhelming theme of the record is one of hope and perseverance, and this comes through in its songs.
Heights comes in a proper jewel case. No non-standard packaging! (Sorry, I've had it up to here with flimsy cardboard sleeves that scuff up the CDs they contain and don't stand on the shelf.)
Combing through the lyrics, I counted three "shits" and one "ass:" Not filthy enough to command a warning label, but probably enough to disturb my mother. :-P
Good luck finding a copy, though. If my experience is any indication, this album is extremely hard to find in Canada. I scouted out Heights on the week of release, much as I had done for What if Nothing four years before...but neither Sunrise Records nor The Mart of Wal had it in stock. Unfortunately, those were the only stores that sold new CDs in a 400-kilometre radius of Thunder Bay, Ontario. Amazon.ca's page for the album was initially a blank placeholder with no track listings or information, and I couldn't figure out at first whether Heights was available in Canada at all. Given my antipathy for Amazon (due to both labour exploitation and bad delivery experiences), I asked Sunrise if they could order it for me. They did, as a US import...and it took four weeks to arrive.
Walk the Moon occupy the same spot in my repertoire that Third Eye Blind once did (before that band fell apart in bad blood): Hook-filled songs with an emotional edge. They're niche enough to feel a personal connection with, yet popular enough to feel like a cultural phenomenon. Of course, there are differences: It took Third Eye Blind almost 13 years to release two great albums, one middling album, and a bland and forgettable fourth record. It took Walk the Moon under a decade to release the same amount of material...and all four of their albums (five, if you include their obscure self-released debut) are good to great. They haven't let me down yet.
---
---
Apparently, two of my cousins' children have caught COVID-19.
They live in Wisconsin.
I can't even...
---
---