Photolog:
Journey to the Land of Walk the Moon
---
Walk the Moon is an Ohio band founded and based in Cincinnati, and its members are natives of Ohio as well.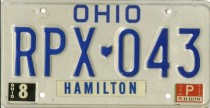 Of course, Ohio is a place with a rich musical heritage. Bands and artists as varied as the Isley Brothers, James Gang, Bootsy Collins, Tin Huey, Devo, Chrissie Hynde, Tracy Chapman, LeVert, Marc Cohn, Nine Inch Nails, Filter, and the Black Keys have all called the Buckeye State home. Ohio is also home to the Rock & Roll Hall of Fame...which Walk the Moon will be eligible for induction into in 2032.
In the late 2000s and early 2010s, I regularly took road trips through Cincinnati and southern Ohio en route between Wisconsin and West Virginia. Little did I know at the time that I was passing through the home turf of an amazing band, whose career was then just getting off the ground! Hell, I might have even walked past Nicholas Petricca on the street without realizing it...
---
All of these photos were taken between 2009 and 2013, during the Other Side, I Want! I Want!, and early self-titled era. Click on any image to enlarge: