presents
---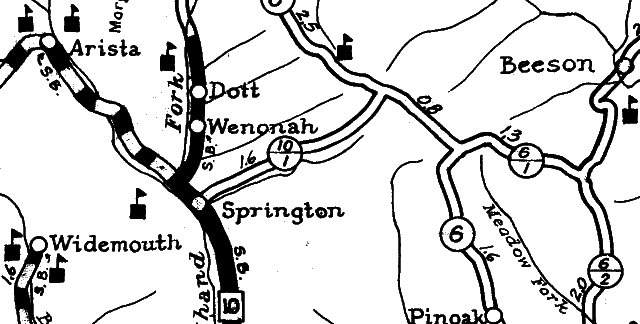 A mid-1930s State Road Commission map of western Mercer County provides a glimpse at how many small, rural schools were still in existence at the time. Also note the letters "S.B." on the map, indicating school bus routes.
In the early 20th century, the rural hinterlands of Mercer County, West Virginia were peppered with far many more schools than would ever seem conceivable today...with the caveat that most of these were archaic one-room schoolhouses. Few families lived more than a few miles away from a school, making walking to school a reasonable prospect for most rural students.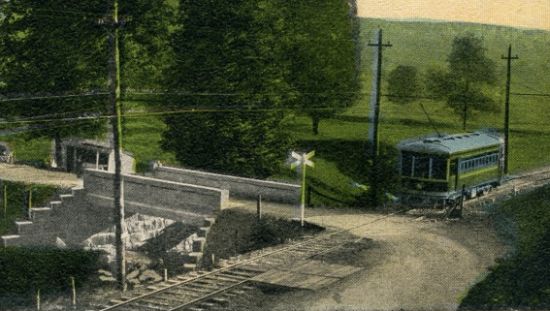 Princeton-Bluefield interurban trolley at Glenwood Park, early 20th century [postcard].
Within the cities of Princeton and Bluefield, students had the option of making use of public streetcar transportation. Streetcars were also accessible to students living in the Glenwood and Ceres areas, where interurban service existed along what is now signed as the Old Princeton-Bluefield Road.
Rural school consolidation, in combination with the unfortunate and undeserved decline of the county's rail transit system in the 1930s, made buses increasingly necessary. School buses or "kid hacks" had existed in various forms since the late 19th century, when they were drawn by horses. Early school buses were also privately-owned, and schools in Mercer County initially contracted with the Consolidated Bus Company and a number of other private school bus operators for their services. However, disparities persisted. Clearly, public school transportation was a public responsibility...and it deserved a public response.
In 1933, Mercer County's five public school districts were amalgamated into a single Mercer County Board of Education. In May of 1936, the board purchased seventeen buses from the Barrow-Stowers Company, a GMC dealership in Bluefield. Bus bodies were furnished by the Wayne Works of Richmond, Indiana. The Bluefield Daily Telegraph explained the rationale for the county's school bus system on 3 April of that year: "By owning and operating its own busses the board hopes to improve the bus schedules, and to shorten the school days of the rural children who are transported to school by getting them away from home later in the morning and home quicker after schools close in the afternoon."

Tasked with supervising and administrating the new system was former superintendent G. J. Wood, a veteran of the county's schools. Plans for operating the buses were laid down the following summer, and the county's new school bus fleet went into service at the start of the 1936-37 school year. Students living on the Princeton-Bluefield interurban trolley line were initially excluded from the bus routes...however, in 1938 the bus service was expanded to encompass them as well. Trolley service came to an end in Mercer County less than a decade later, leaving school and transit buses (and the rare, lingering passenger train) as the only public transportation modes available to local residents.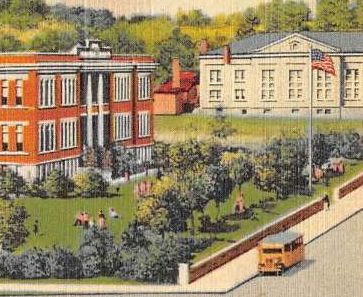 An early school bus is clearly visible at the curb in this detail of a widely-circulated 1930s postcard of Mercer School in Princeton, West Virginia. Quite likely, this is a representation of one of Mercer County's inaugural buses from 1936.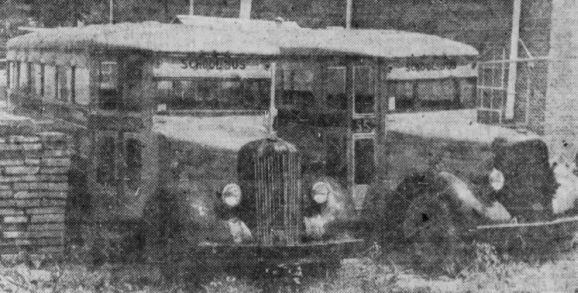 Two of Mercer County's original 1936 Wayne/GMC school buses, seen on their eve of retirement in 1955 after 19 years of heavy use. The fleet numbers #52 and #55 are barely visible on the entrance doors.
It's striking how so many of the characteristics of the template of modern school buses are already in place: Chrome yellow paint, a group of three identification markers (not required by federal dictate until 1968), and a "SCHOOL BUS" sign flanked by flashing lights. Given the early period of manufacture for the buses, it's possible that some of these features were added to them after the fact. Contrasting black fenders were a stylistic indulgence that would persist on West Virginia school bus livery until the 1970s. [Bluefield Daily Telegraph, 1955-09-04]
---
Although Mercer County's original fleet of 17 buses made up the backbone of its fleet in the late 1930s and 1940s, increased school transportation demands and the continuous wear and tear on vehicles meant that the county couldn't rest on its laurels...and accordingly, it continued to purchase new school buses. Interestingly, this continued through World War II: Local newspapers from 1944 mention "two 54 passenger buses have been added to the fleet of school buses already part of the school system." Corroborating this is a 1959 auction ad listing a 1944 Ford bus for sale. But how were these buses produced and procured, with civilian vehicle production suspended during the war?

New technological developments from school bus manufacturers in this era had a compound effect. Wood bodies gave way to much stronger all-steel bodies, which in turn yielded larger bodies with higher capacities. In 1941, Mercer County purchased its first 54-passenger school buses. Anything bigger than that, however, was still a few years from local fruition.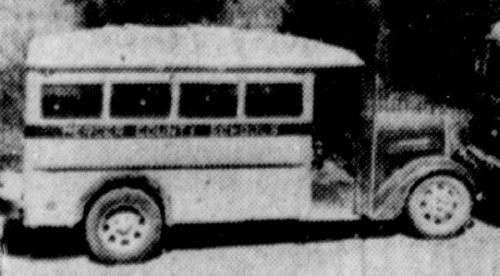 An early Mercer County school bus of unknown year and fleet number (though possibly one of the board's inaugural 1936 Wayne/GMCs), photographed in Princeton in 1948. Small, low-capacity school buses such as these were retained in the fleet for many years out of necessity because they were more nimble than larger buses on treacherous, winding mountain roads. [Daily Telegraph, 1948-02-26]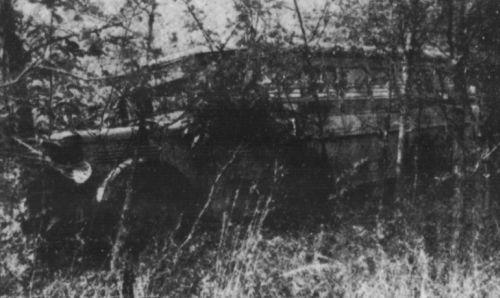 The inherent safety of Mercer County's school bus fleet was proven in 1945, when an automobile travelling on Route 52 near Bramwell collided head-on with a bus and sent it careening down a 60-foot embankment. The bus's all-steel body retained its integrity, and every student on the bus escaped injury apart from minor cuts and bruises. The model appears to have been yet another 1936 Wayne/GMC. [Daily Telegraph, 1945-10-02]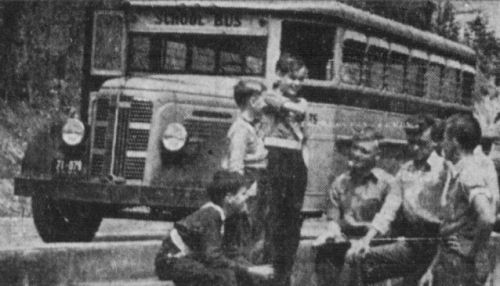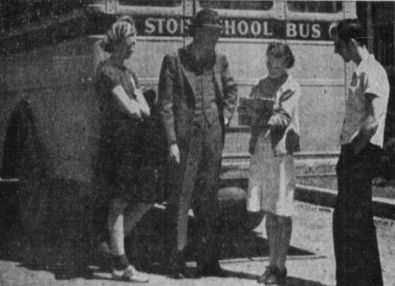 #75, a 42-passenger 1937 Wayne/GMC model bearing a Wayne body identical to that of the county's inaugural 1936 buses. This bus featured prominently in these promotional stills from Life's Too Short!, a single-reel road safety film produced by students of Oakvale High School in conjunction with the Ohio State University in 1940. This film has likely been lost, as there are no references to its existence in any known post-1940s publication. [Daily Telegraph, 1940-05-26]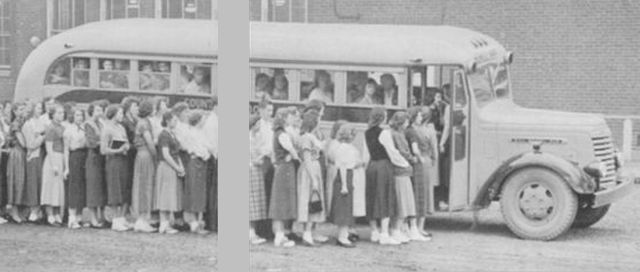 A 1940 model Mercer County school bus with a "streamlined" second-generation Wayne body and GMC chassis. The fleet number has been obscured, but the last digit is "7"...implying that this was either #87 or #97 in the fleet. Note that this bus has sashless windows that drop down directly into the body, similar to the windows on a passenger car. The flashing lights also have an incongruous "tacked-on" appearance, and it's possible that the rear flashers were retrofitted to the body between 1949 and 1953. [Matoaka High School yearbook, 1953]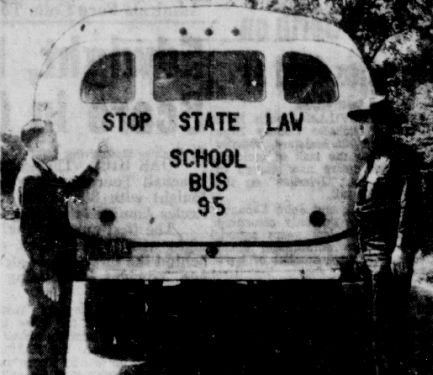 #95, a Wayne bus of unknown manufacture year with an appearance similar to the last. No rear flashers are visible, but the bus does bear the words "STOP—STATE LAW" that were added to all school buses statewide following the passage of a 1949 West Virginia law.
Note that the bus bears a regular West Virginia passenger-vehicle licence plate: Specially-designated licence plates for county-owned vehicles do not appear to have been introduced until the 1950s at earliest. Randy Robinette, Mercer County's school transportation director, is visible at left. [Beckley Raleigh Register, 1949-08-30]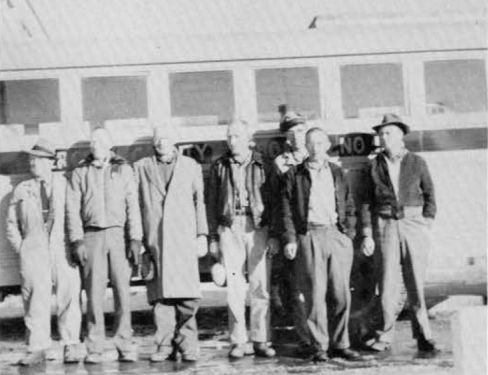 This bus body features sashless windows and thick pillars of similar design to the 1940 Wayne Matoaka example seen above, but differs slightly in material details and is of unknown manufacture. The fleet number is obscured, but appears to be in the 100 series. Mercer County fleet numbers hit three digits by 1941. [Athens High School yearbook, 1959]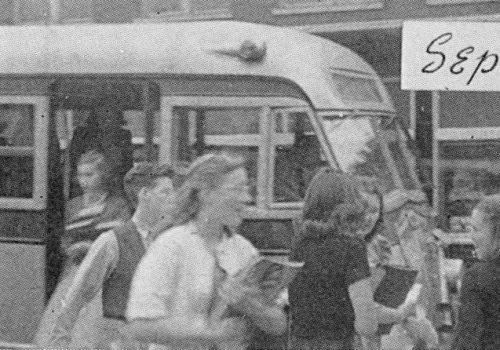 School buses weren't the only buses making stops at schools: Following the end of local streetcar service in 1937, Bluefield was served by White Model 706M forward-control transit buses with bodies by Bender. [Bluefield High School yearbook, 1942]
---
By 1941, the scope of the Mercer County school board's transportation system had grown to encompass 40 drivers and 5,000 riders. Fleet numbering had also taken hold, with the buses in service being numbered off from #50 through #101. Why the county chose 50 as the starting point of its numbering system instead of 1 is unknown.

52 buses seems like a lot for a county of this size to go through in five years...but there were circumstances at play that made such a number plausible. A full third of these buses consisted of the initial lot of 17 vehicles acquired in 1936. The county was more populous and more heavily skewed towards the rural in 1941 than it is now, resulting in an exceptionally-large contingent of students needing to be ferried home. School buses of the 1930s and early 1940s were also much smaller than modern equivalents, with many being scarcely bigger than a pickup truck with capacities of 25 passengers or less. Two or more buses may have been required in situations where in later years one would have sufficed.

That said, the county's numbering during the 1940s and early 1950s remains sheathed in a veil of mystery. In 1977, the Board of Education auctioned off a number of older vehicles...including a school bus #48, listed as a 1951 48-passenger International-chassis model. Did the county backfill low fleet numbers below 50, or did the typesetter mistake the capacity figure for a fleet number? I lean towards the latter.

Another numeric anomaly was a bus #128 corroborated by multiple sources in the 1977-78 timeframe. Chronologically, #128 ought to have been a circa-1953 model. Was the number reassigned to a new vehicle through oversight or error, or was Mercer actually using a 25-year-old bus in 1978?

| Bus | Year | Body | Chassis | Cap. | Notes |
| --- | --- | --- | --- | --- | --- |
| 50 | 1936 | Wayne | GMC | | Served Spanishburg. |
| 51 | 1936 | Wayne | GMC | | Served Matoaka. |
| 52 | 1936 | Wayne | GMC | 36 | Served Princeton. |
| 53 | 1936 | Wayne | GMC | | Served Bramwell. |
| 54 | 1936 | Wayne | GMC | | Served Bramwell. |
| 55 | 1936 | Wayne | GMC | | Served Matoaka. |
| 56 | 1936 | Wayne | GMC | | |
| 57 | 1936 | Wayne | GMC | | |
| 58 | 1936 | Wayne | GMC | | Served Oakvale. |
| 59 | 1936 | Wayne | GMC | | Served Princeton. |
| 60 | 1936 | Wayne | GMC | | Served Athens. |
| 61 | 1936 | Wayne | GMC | | Served McComas. |
| 62 | 1936 | Wayne | GMC | | Served Bramwell. |
| 63 | 1936 | Wayne | GMC | | |
| 64 | 1936 | Wayne | GMC | | Served Oakvale. |
| 65 | 1936 | Wayne | GMC | | |
| 66 | 1936 | Wayne | GMC | | Presumed to be the last of the county's 17 original buses. |
| 70 | | Unknown | | | Served Oakvale. |
| 71 | | Unknown | | | Served Bramwell. |
| 72 | | Unknown | | | Served Matoaka. |
| 73 | | Unknown | | | Served Oakvale. |
| 74 | | Unknown | | | Served Bluefield. |
| 75 | 1937 | Wayne | GMC | 42 | Served Spanishburg. Featured in Life's Too Short! |
| 76 | | Unknown | | | Served Athens. |
| 82 | | Unknown | | | Served Bramwell. |
| 91 | | Unknown | | | Served Bramwell. |
| 92 | | Unknown | | | Served Bluefield. |
| 93 | | Unknown | | | Served Matoaka. |
| 94 | | Unknown | | | Served Princeton. |
| 95 | | Wayne | | | Served Spanishburg. |
| 96 | | Unknown | | | Served Princeton. |
| 97 | | Unknown | | | Served Bluefield. |
| 98 | | Unknown | | | Served Princeton. |
| 99 | | Unknown | | | Served Bluefield. |
| 100 | | Unknown | | | Served Matoaka. |
| 101 | | Unknown | | | Served Matoaka. Newest bus in commission in 1941. |
---
Once the dust cleared from World War II, a change of personnel was in the air. After more than 30 years of service to Mercer County schools, G. J. Wood retired from his job as transportation director in June 1946. Replacing him in his post was Randy S. Robinette, who would administer the county's school bus system for the next twenty-five years.

In 1948 the Board of Education took delivery of its first modern 60-passenger buses, featuring Superior bodies. 1949 saw the passage of a West Virginia state law requiring all vehicles to come to a dead stop when approaching buses loading or unloading schoolchildren. The district also initiated the practice of keeping a limited number of "spare" buses on hand to account for breakdowns and to transport students to special events. With a wealth of chassis options available to school bus purchasers in this era, a variety of makes made an appearance in Mercer County's fleet: GMC, Ford, International, and even White and REO.

This 1947 GMC school bus is very similar to a modern bus in length and capacity, and has a Superior body bearing the fleet number 109. By this time, flashing lights had begun to appear on the rear of buses as well as the front. Also note the "black belt" containing the district lettering, a livery element that still persists in the neighbouring state of Kentucky to this day. [Daily Telegraph, 1948-02-26]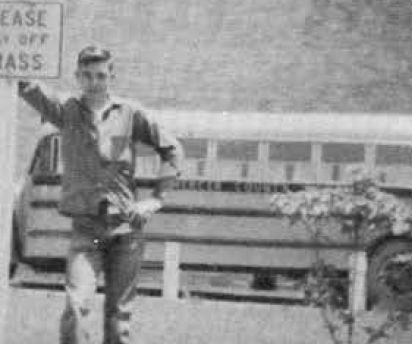 Another, similar example of a Mercer County school bus with a Superior body from the late 1940s or very early 1950s; fleet number and chassis unknown. The window pillars appear to be thicker and the "black belt" district lettering is of a different x-width, so it obviously hails from a different production order. As a matter of trivia, this bus features the same body style as the Partridge Family's bus. [Athens High School yearbook, 1959]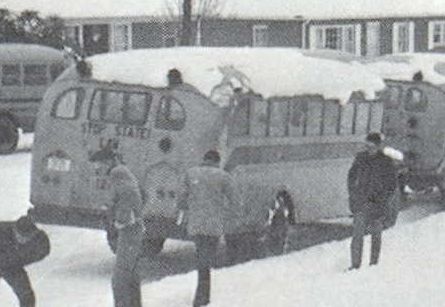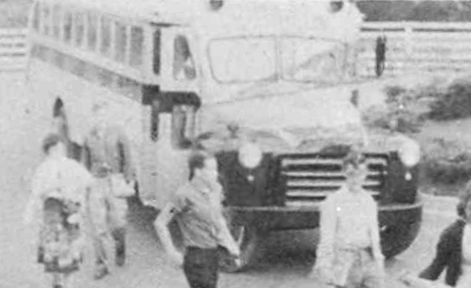 This round-roofed Wayne/GMC is numbered 127, and is most likely a 1952 model. Note the unusual rear lighting configuration with a single oversize brakelight to the right of the emergency door, which may or may not have been a short-lived state requirement. By the year the left-hand picture was taken, West Virginia had introduced specially-designated black-on-white licence plates for county-owned vehicles. [Princeton High School yearbook, 1961 and 1963]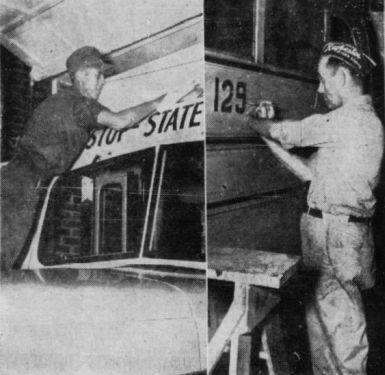 Frank Price (left) and George Rutledge (right) perform paint and maintenance work on two new Wayne buses on the eve of the 1953-54 school year, one of which quite evidently bears the fleet number 129. Note that the "black belt" for district lettering had been discontinued by this time, and the "STOP—STATE LAW" lettering required under the provisions of the 1949 West Virginia law was given the largest billing on the front roof cap. At the time, the Mercer County Board of Education operated 54 buses covering 129 routes. [Daily Telegraph, 1953-09-06]
| Bus | Year | Body | Chassis | Cap. | Notes |
| --- | --- | --- | --- | --- | --- |
| 109 | 1947 | Superior | GMC | 60 | |
| 122 | 1950 | Unknown | White | | Sold in 1979, most likely decades after it was last used in regular service. |
| 127 | 1952? | Wayne | GMC | | Served Princeton. |
| 128 | | Unknown | | | Numeric anomaly; see above. |
| 129 | 1953 | Wayne | GMC | 60 | Decommissioned and sold in 1974. |
| 134 | 1953 | Wayne? | GMC | 36 | Decommissioned and sold in 1968. |
| 135 | 1953 | Wayne? | REO | 60 | Decommissioned and sold in 1965. |
| 136 | 1953 | Wayne? | REO | | Sold in 1979, most likely decades after it was last used in regular service. |
| 137 | 1953 | Wayne? | REO | | Sold in 1979, most likely decades after it was last used in regular service. |
| 140 | 1953 | Unknown | International | 60 | Decommissioned and sold in 1965. |
| 141 | 1953 | Unknown | International | 60 | Decommissioned and sold in 1965. |
| 142 | 1954 | Unknown | Ford | | Sold in 1979, most likely decades after it was last used in regular service. |
| 145 | 1954 | Unknown | GMC | 60 | Decommissioned and sold in 1965. |
| 147 | 1954 | Unknown | GMC | 60 | Decommissioned and sold in 1968. |
| 148 | 1954? | Unknown | GMC? | | Served Montcalm. |
---
In 1955, Mercer County Schools began sourcing buses from a fledgling manufacturer quickly rising to prominence in the industry: Blue Bird, of Fort Valley, Georgia. The district would continue to purchase Blue Bird buses off and on for the next 67 years. Mercer County retired the last of its original 1936-model buses in 1955, and by decade's end they adopted the practice of purchasing five buses per year in order to continuously renew the fleet every 13 years.
There was another, decidedly less pleasant issue affecting the Board during this timeframe: The ugly undercurrent of racism. Mercer County's schools abided by a policy of segregation by skin colour until after the wake of Brown v. Board in 1954. School transportation had also been segregated, as described by Mercer County superintendent Pete Cooke in 1955: "Two school buses now are used exclusively for Negro children, and others haul white pupils on one trip and Negro pupils the next." [Daily Telegraph, 1955-08-28] The county eventually acquiesced to integration, but troubles continued...most viciously at Matoaka High School, where school bus unloading zones became the scenes of violent confrontations. White administrators also found ways to frustrate the spirit of integration by selectively shuttering historically-black schools, displacing black teachers, and leaving black students without social support...and this didn't end in the 1960s.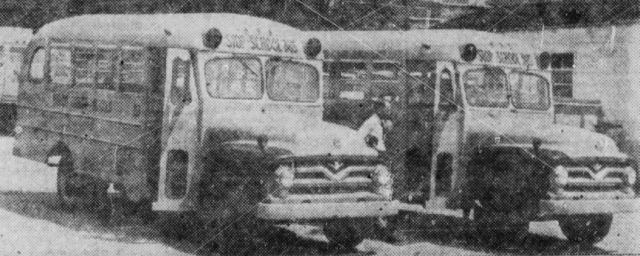 Mercer County's vehicle numbers had reached #153 by the time these buses entered the fleet, readily identifiable as 1955 models thanks to a year-specific grille shared with that year's light Ford pickups. The bodies were manufactured by Blue Bird of Fort Valley, Georgia, and bear ridged "visors" over each side window...a production characteristic of Blue Bird bodies through to the present day.
Other signs of evolution in statewide trends are apparent. The roof-mounted flashers have much larger lenses than those on earlier buses, and the roof cap lettering has been changed to read "STOP—SCHOOL BUS" in an attempt to reconcile the requirements of the 1949 state law with effective frontal identification. These buses were purchased as direct replacements for two of the school board's original 1936 models. [Daily Telegraph, 1955-09-04]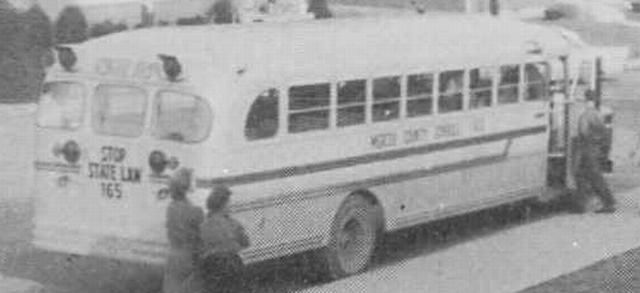 #165, a 60-passenger model. For 1958, the county once again procured bodies from Blue Bird of Georgia, similar in structure to the buses of 1955 but with protruding rectangular buckets around the flashing lights and a redesigned windshield. Blue Bird's iconic roof logo had also made its first appearance by this time. [Princeton High School yearbook, 1959]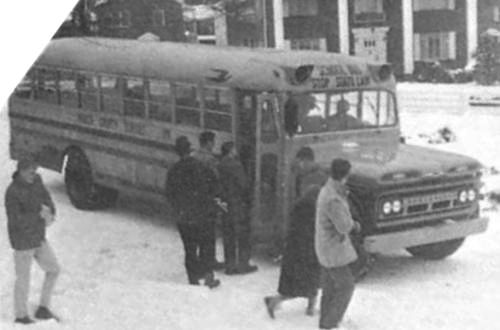 West Virginia's statewide school bus specifications continued to evolve by the dawn of the 1960s. Roof-mounted flashers began to be surrounded by visors similar to those on traffic signals in order to increase the contrast of the signals on sunny days. The roof cap lettering also changed to a cumbersome two-line "SCHOOL BUS/STOP—STATE LAW" legend in a shifting and evolving attempt to keep all requirements of state law happy.
This particular bus is a Blue Bird riding a 1960 Chevrolet chassis, and might have borne the fleet number 176. By 1971, these buses were the oldest in the county still being operated. [Princeton High School yearbook, 1961]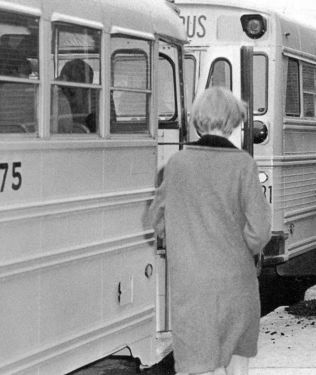 #175, another 1960 Blue Bird of identical design. This particular bus was repainted at some point in its nine-year operational life, and the black rub rails, roof logo, and side nameplate all bear evidence of being painted over. [Bluefield High School yearbook, 1969]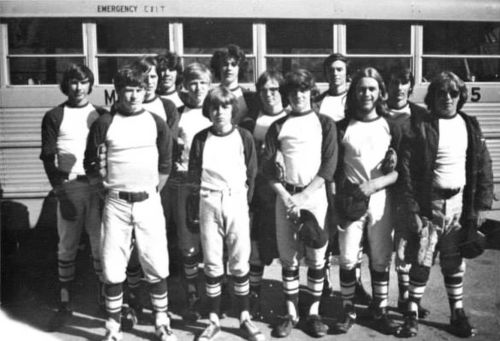 Enough of the fleet number is visible on this bus to reveal it as #185, a 1961 Superior/Ford. Also note the side emergency exit, which may have been retrofitted later in the vehicle's operational life. [Athens High School yearbook, 1973]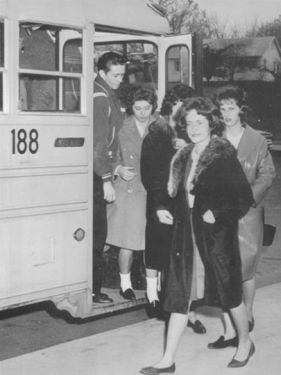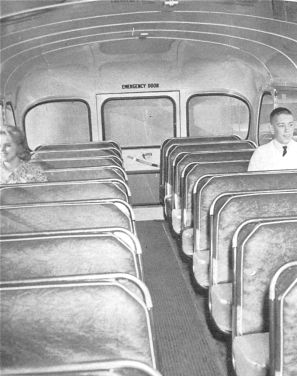 #188, a 1962 Blue Bird/GMC conventional model. Note the trapezoidal "Blue Bird" nameplate by the door, and the "half-out, half-in" door leaves that were a common configuration until jackknife and outward-opening door configurations began to dominate in the 1970s. Like the last, this bus features plain yellow rub rails with no black highlights. Black rub rails would not reappear on the state's school bus livery until the 1980s.
The second photo provides a glimpse at the interior accommodations that were typical for school buses of this era: Thinly-padded low-back seats with exposed steel backs, and frames with corner handles for standees. These seats would become archaic in the face of new safety standards a decade later. [Bluefield High School yearbook, 1963]
| Bus | Year | Body | Chassis | Cap. | Notes |
| --- | --- | --- | --- | --- | --- |
| 153 | 1955 | Blue Bird | Ford | 30 | |
| 154 | 1955 | Blue Bird? | Ford | 48 | Sold in 1977, most likely decades after it was last used in regular service. |
| 155 | 1956 | Unknown | Ford | 60 | Served Lashmeet. Decommissioned and sold in 1968. |
| 156 | 1956 | Unknown | Ford | 60 | Decommissioned and sold in 1968. |
| 157 | 1956 | Unknown | Ford? | | Served Brushfork. |
| 160 | 1957 | Unknown | Ford | 48 | Served Oakvale. Decommissioned and sold in 1974. |
| 161 | 1957 | Unknown | Ford | 48 | Served Spanishburg. Sold in 1977, most likely decades after it was last used in regular service. |
| 165 | 1958 | Blue Bird | Unknown | 60 | Served Princeton. |
| 166 | 1958 | Blue Bird | Unknown | | Served Spanishburg. |
| 169 | 1958 | Blue Bird | Ford | 48 | Sold in 1977, most likely decades after it was last used in regular service. |
| 173 | | | | | Served Bluefield. |
| 174 | | | | | Served Glenwood. |
| 175 | 1960 | Blue Bird | Chevrolet? | | Served Bluefield. |
| 176 | 1960 | Blue Bird | Chevrolet (or GMC?) | 60 | Served Princeton. Decommissioned and sold in 1974. |
| 177 | 1960 | Blue Bird? | Chevrolet (or GMC?) | 60 | Decommissioned and sold in 1974. |
| 179 | | | | | Served Bluewell, Glenwood. |
| 181 | 1961 | Superior? | Ford | 60 | Decommissioned and sold in 1974. |
| 183 | 1961 | Superior? | Ford | 48 | Served Matoaka. Decommissioned and sold in 1979. |
| 185 | 1961 | Superior | Ford | 60 | Served Athens? Decommissioned and sold in 1979. |
| 186 | 1962 | Blue Bird? | GMC | 60 | Served Princeton. Decommissioned and sold in 1974. |
| 187 | 1962? | Blue Bird? | GMC? | | Served Spanishburg. |
| 188 | 1962 | Blue Bird | GMC | 60 | Served Bluefield. Decommissioned and sold in 1974. |
| 189 | 1962 | Blue Bird | GMC | 60 | Decommissioned and sold in 1974. |
| 190 | 1962? | | | | Served Montcalm. |