presents
---
2004 was a year that would have massive ramifications for school transportation, in and outside of West Virginia. Early in the year, Navistar International discontinued the production of the 3800-series bus chassis, the literal foundation of Mercer County school buses for the past fifteen years. Navistar also owned a school bus body company: IC (née AmTran). As part of the program for the 3800's "3300" replacement, Navistar relocated the production of school bus chassis from the International factory in Springfield, Ohio to the vertically-integrated IC Bus factory in Tulsa, Oklahoma.
Doing so was highly convenient for IC production, since complete buses could be produced within the walls of a single plant. Doing so was highly inconvenient for third-party body builders...which by now had withered to Blue Bird alone since Wayne, Carpenter, Thomas, and Corbeil had all either discontinued the International chassis or gone out of business altogether in the preceding ten years. While Blue Bird offered the new International 3300 for districts willing to buy it, Navistar set the price of the chassis above and beyond what many cash-strapped school districts were willing to pay. Navistar also prioritized its own buses in its chassis production schedule, meaning that "bare" 3300s were difficult to secure even when money wasn't an issue.
Around the same time all of this was going down, changes were also affecting school bus sales and distribution. Matheny Motors, a Parkersburg-based dealership that supplied buses to school districts throughout the state, ended its 13-year business relationship as a Blue Bird distributor and switched affiliations to Thomas Built Buses of High Point, North Carolina. With Blue Bird, International, and Matheny all changing directions at once, the Mercer County Board of Education (or the state purchasing division, working on their behalf) was put into a bind...and purchase-wise, they reacted by simply taking the 2004-05 school year off and reviewing what to do.
The following year, the county resumed the acquisition of new school buses...and the contrast between these vehicles and the previous batch couldn't have been more startling. Electing to continue to buy buses from the same distributor, Mercer County Schools received delivery of their first Thomas Built Saf-T-Liner C2 conventionals. Based upon the modern Freightliner M2 medium-duty trucks, these buses featured a radical design with an enormous one-piece curved windshield, tapering body, tall windows, flush-mounted rectangular flashers, and an ergonomic dashboard resembling that of a car. The C2 challenged past paradigms of school bus construction, and the state actually had to amend its Minimum Requirements for Design and Equipment of School Buses in 2004 in order to permit the model's design characteristics. These were the very first Freightliner-based buses ever operated in Mercer County, as well as the first Thomas-bodied buses apart from one or two Dodge-chassis Mighty-Mites in the early '70s. All were powered by Mercedes-Benz six-cylinder diesel engines, and would go on to be an important part of the fleet for the next decade and a half.
In 2006, Mercer County school transportation director Eddie Hopkins announced his retirement after more than twenty years on the job. During his tenure, he had overseen major changes to routing and logistics posed by regional school consolidation. The advent of the Saf-T-Liner C2 seemed an appropriate backdrop to mark this end of an era. His replacement, Fred Scott, would oversee the next decade of history.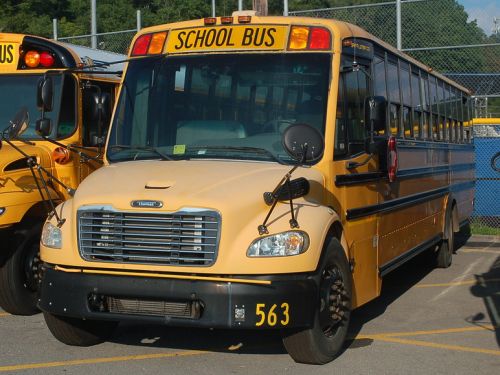 The inaugural Thomas C2 in Mercer County's fleet, #563. The very first time the author saw one of these buses in the mid-2000s, he was so taken aback by the design that he stared at it in amazement for a minute straight! Compared to Blue Bird's and IC's concurrent offerings which had a continuity of design back to the 1970s, the Thomas C2 looked and felt as if it had been snatched from the future. [Photo by Adam Ross, 2020]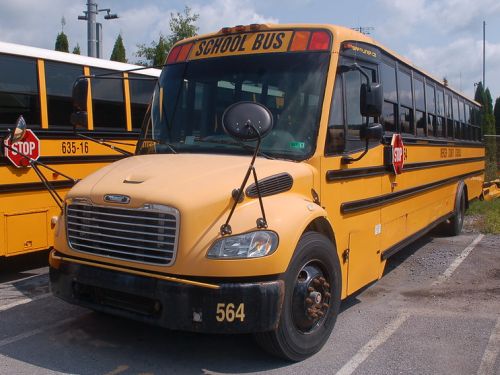 Due to the inflated model-year schedule Freightliner was under at the time, Mercer County's first Thomas C2s (like #564, shown here) were built and delivered in the 2005-06 school year, yet carried 2007 VINs. Coupled with the state purchasing division's one-year bus-buying hiatus, this gave the illusion of skipping over two years at once. [Photo by Adam, 2020]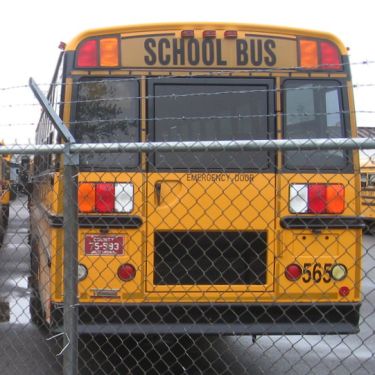 The rear end of the C2 also represented a departure from established design paradigms, with rectangular light clusters and tapered window glass as on #565 here. All West Virginia-spec C2s were equipped with four backup lights...even though according to the state's own driver's handbook, more than two backup lights are "illegal equipment" and grounds for an inspection failure! [Photo by the author, 2013]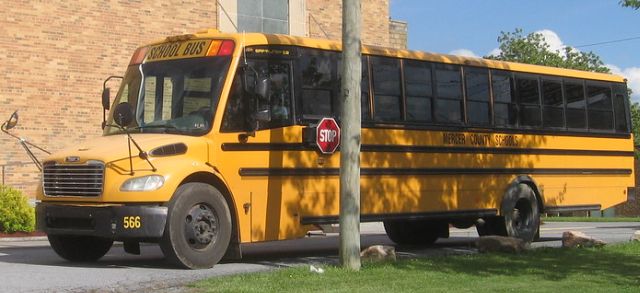 #566, a 71-passenger bus parked in the serene surroundings of Athens, West Virginia. [Photo by the author, 2013]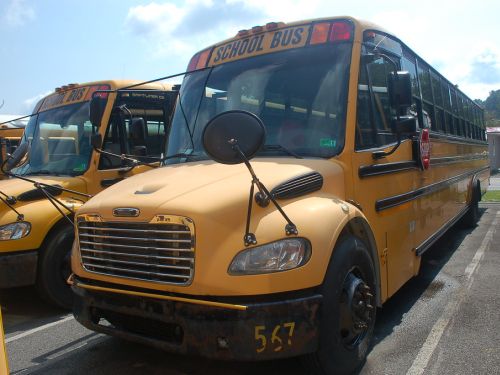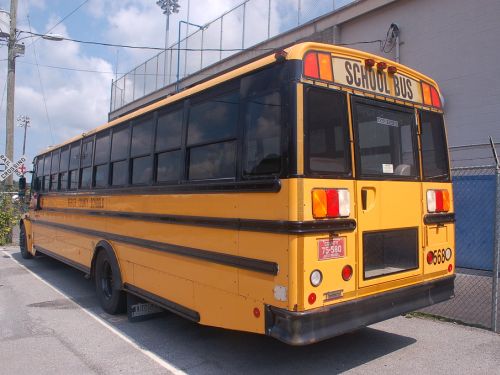 #567 and #568, more archetypal examples of early C2s. [Photos by Adam, 2020]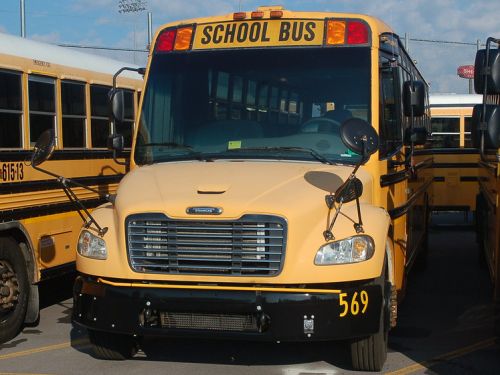 #569 sports a replacement bumper, conspicuous by the lack of rust and pitting. The curbside mirror may have also been replaced, since it lacks the forward offset for visibility seen on most newer West Virginia buses. [Photo by Adam, 2020]
| Bus | Year | Body | Chassis | Cap. | Notes |
| --- | --- | --- | --- | --- | --- |
| 563 | 2007 | Thomas | (C2) | 71 | 4UZABRCS67CW45059. Served Bluefield. Decommissioned and sold in 2021. |
| 564 | 2007 | Thomas | (C2) | 71 | 4UZABRCS27CW45060. Served Princeton. Decommissioned and sold in 2022. |
| 565 | 2007 | Thomas | (C2) | 71 | 4UZABRCS47CW45061. Served Princeton. Decommissioned and sold in 2022. |
| 566 | 2007 | Thomas | (C2) | 71 | 4UZABRCS67CW45062. Served Athens. Decommissioned and sold in 2022. |
| 567 | 2007 | Thomas | (C2) | 71 | 4UZABRCS87CW45063. Decommissioned and sold in 2022. |
| 568 | 2007 | Thomas | (C2) | 71 | 4UZABRCS67CW45109. Served Athens. Decommissioned and sold in 2022. |
| 569 | 2007 | Thomas | (C2) | 59 | 4UZABRCSX7CW45064. Served Montcalm. Decommissioned and sold in 2022. |
---
With Thomas' Saf-T-Liner C2 proving its utility and durability after a year of strenuous day-to-day service on mountain roads, the Mercer County Board of Education was evidently satisfied by the new model. So satisfied, in fact, that they purchased eight new C2s for the 2008 model year!
One way in which the 2008 C2s differed subtly from the previous year's was in the addition of a stiffening ridge to the panels above the entry door and driver's side window. Otherwise, the new buses were more of the same...as they should be. As of 2022, these buses are the oldest in commission in Mercer County's fleet.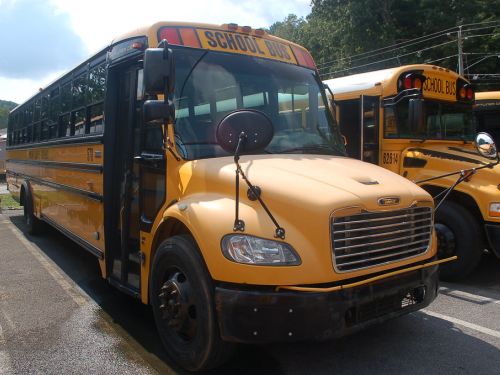 #570, a 71-passenger 2008 Thomas C2. As with all early C2s delivered to the county, it featured blacked-out window frames and a raised ridge above the windshield to accommodate incandescent clearance marker lights. [Photo by Adam, 2020]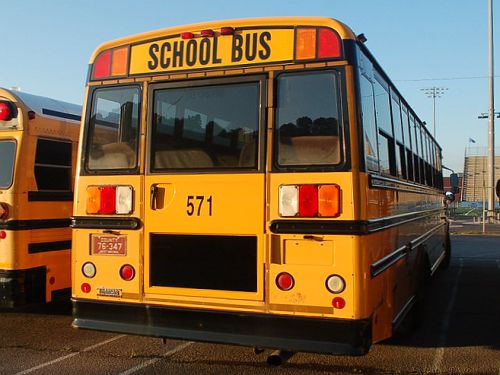 #571. Although the C2 was modern, some of its design features were throwbacks to the past. One of these was a fixed rear-side window...a detail that was common to school buses across a broad swath of manufacturers until the 1970s. Another, subtler throwback evidenced here is the placement of the fleet number on the rear emergency door...which Mercer County had also done in the 1950s! [Photo by Adam, 2020]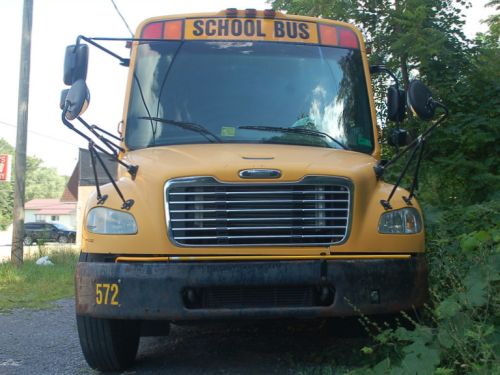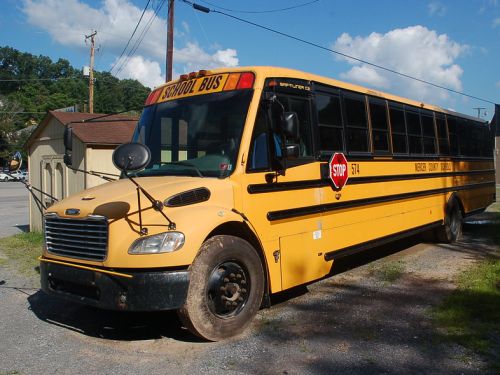 #572-574, all from Mercer County's "class of 2008." A subtle change affecting these buses was the relocation of the front fleet number from the traffic side to the curb side of the bumper. [Photos by Adam, 2020 and 2021]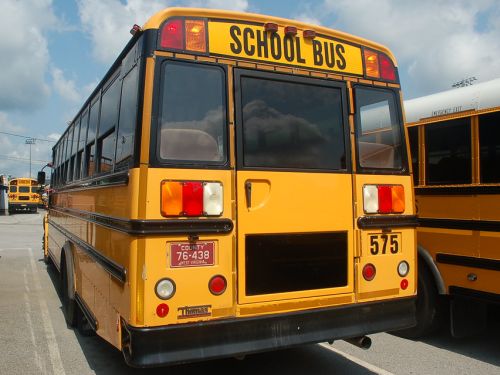 #575, a shorter 59-passenger example. The fleet number positioning is not always consistent between buses. [Photo by Adam, 2020]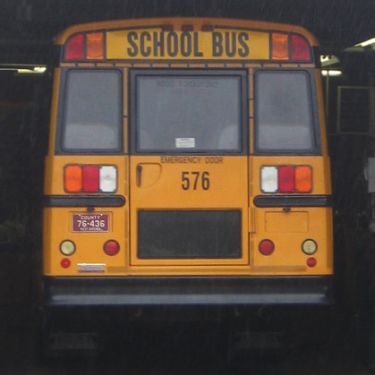 #576. Peek-a-boo! [Photo by the author, 2013]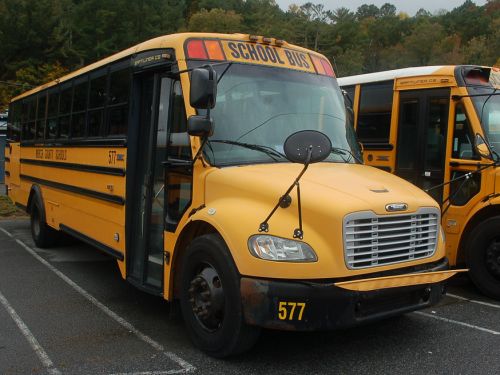 One more 2008 C2 to round out the set, featuring both a wheelchair lift and a unique crossing gate with warning stripes for enhanced visibility. Crossing gates have been a standard feature of West Virginia school buses since at least 1994. [Photo by Adam, 2021]
| Bus | Year | Body | Chassis | Cap. | Notes |
| --- | --- | --- | --- | --- | --- |
| 570 | 2008 | Thomas | (C2) | 71 | Served Bluefield. |
| 571 | 2008 | Thomas | (C2) | 71 | 4UZABRCSX8CY49705. Served Princeton. Decommissioned and sold in 2022. |
| 572 | 2008 | Thomas | (C2) | 71 | Served Matoaka or Montcalm. Decommissioned in 2023. |
| 573 | 2008 | Thomas | (C2) | 71 | Served Athens. Decommissioned in 2023. |
| 574 | 2008 | Thomas | (C2) | 71 | Served Princeton. Decommissioned in 2023. |
| 575 | 2008 | Thomas | (C2) | 59 | Served Montcalm. |
| 576 | 2008 | Thomas | (C2) | 59 | Served Athens. |
| 577 | 2008 | Thomas | (C2) | 59 | Rear wheelchair lift. |
---
Thomas Built Buses continued to incrementally improve and refine the C2 design in its fourth year of production (and its third in the county's fleet). One change affecting 2009 models was that clearance lights began to be recessed into the bodywork, eliminating the raised ridge above the windshield that had been a feature of earlier models. The "School Bus" sign also began to be set in FHWA-compliant Series B characters instead of the generic typeface used earlier. The more exciting local news, however, was the addition of the first new Type D bus to the fleet in many years.
Fuel prices soared during 2008, wreaking havoc with school board budget shortfalls throughout the state. Whether the county investigated electric hybrid buses or other alternative energy sources in the wake of this, however, is unknown.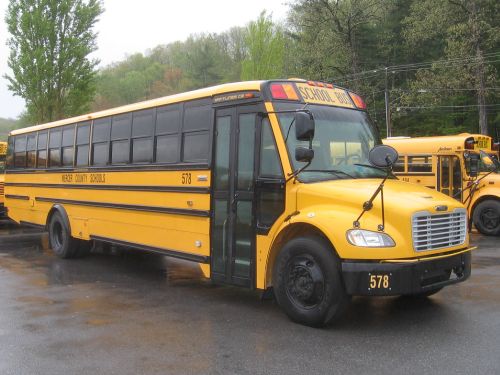 #578 sports the smooth roof edge and recessed clearance lights that visually mark all 2009 Thomas C2 buses. Its specification differs slightly from Mercer County's other 2009 C2s, however, with black edging around the "School Bus" sign. [Photo by the author, 2013]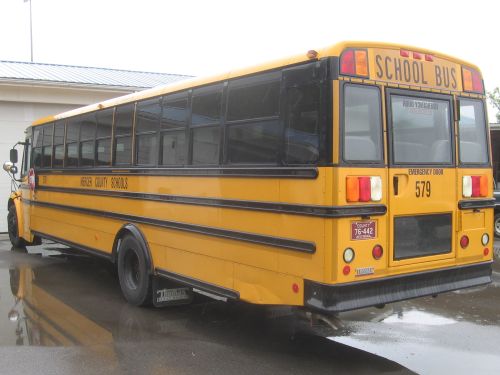 #579, one of five similar (if not identical) 2009 71-passenger buses in the fleet. [Photo by the author, 2013]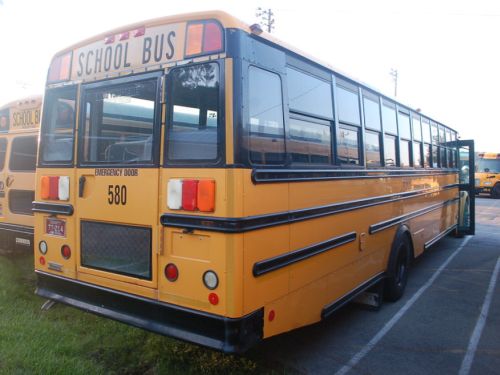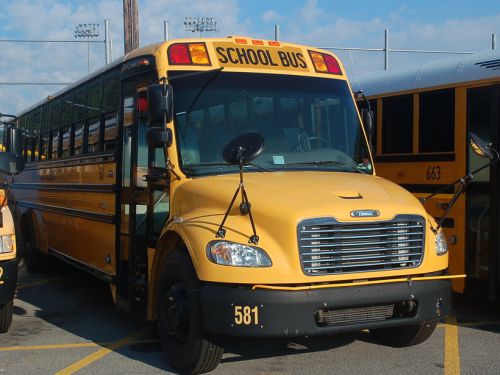 #580 and #581. Most of the district's 2009 model C2s feature yellow edging around the front and rear "School Bus" signs, possibly to enhance the visibility of the upper corners of the bus. [Photos by Adam, 2020]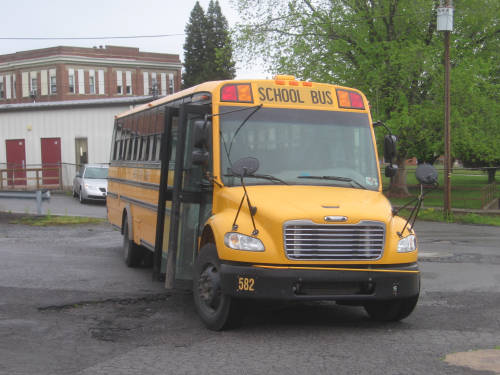 The future meets the past: Bus #582, a modern Thomas Saf-T-Liner C2 model, parked within the shadow of the historic 1912 Mercer School in Princeton. [Photo by the author, 2013]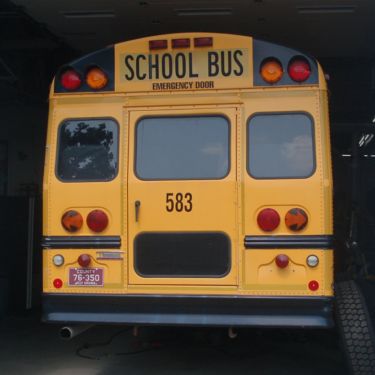 Not all this year's new buses were C2s. 2008-09 saw the addition of the very first Thomas transit-style Type D bus to Mercer County's fleet, #583...a Saf-T-Liner EF model. This bus is unique within the county, and retains Thomas' traditional pre-C2 body design. [Photo by Adam, 2020]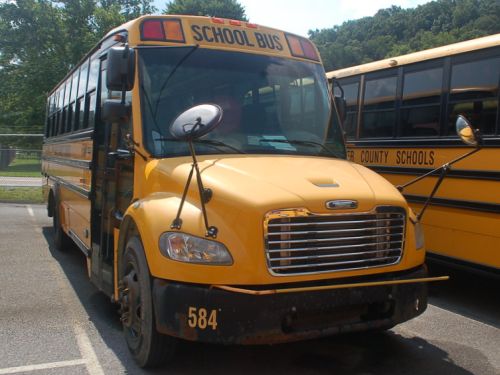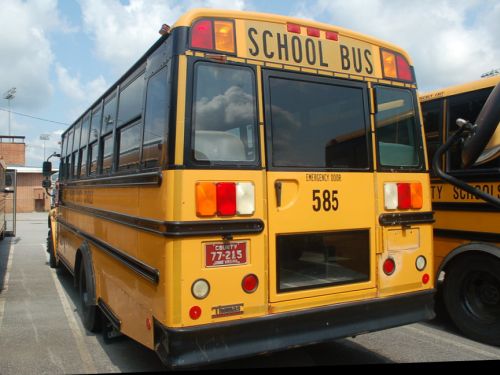 #584 and #585 are identical 47-passenger adaptations of the C2 design. [Photos by Adam, 2020]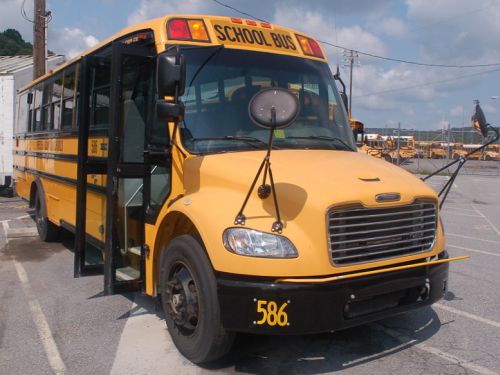 #586 is a wheelchair-accessible model featuring a lift access door. With a number like this, it begs to be nicknamed the "Pentium bus." (Er, sorry.) [Photo by Adam, 2020]
| Bus | Year | Body | Chassis | Cap. | Notes |
| --- | --- | --- | --- | --- | --- |
| 578 | 2009 | Thomas | (C2) | 71 | |
| 579 | 2009 | Thomas | (C2) | 71 | Served Princeton. |
| 580 | 2009 | Thomas | (C2) | 71 | 4UZABRDJ59CZ86493. Served Bluefield. |
| 581 | 2009 | Thomas | (C2) | 71 | Served Princeton. |
| 582 | 2009 | Thomas | (C2) | 71 | 4UZABRDJ99CZ86495. Served Bluefield. |
| 583 | 2009 | Thomas | (Type D) | 89 | Served Princeton. |
| 584 | 2009 | Thomas | (C2) | 47 | 4UZABRDJ69CZ86499. Served Athens. Decommissioned and sold in 2021. |
| 585 | 2009 | Thomas | (C2) | 47 | 4UZABRDJ99CZ86500. Served Athens. Decommissioned in 2023. |
| 586 | 2009 | Thomas | (C2) | 53 | 4UZABRDJ49CZ86498. Rear wheelchair lift. |