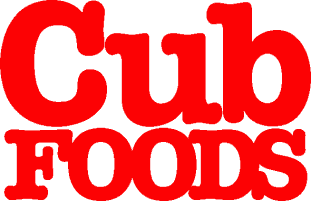 The Cub Foods grocery chain originated in Stillwater, Minnesota in 1968. The original concept was unique: Rather than feature service departments and amenities that increased overhead, Cub had a bare-bones warehouse format where shoppers loaded products off of pallets onto flatbed carts and marked prices with grease pencils. Initially, the stores didn't even carry frozen foods or produce...they were dry goods only. But, they saved customers money.
In 1980, Cub Foods was acquired by their Minnesota-based supplier, Super Valu. With Super Valu's financial backing, Cub expanded its reach throughout the American midwest and to places as far afield as Huntington, West Virginia. With time, the stores also lost their "warehouse" ambiance and ultimately became indistinguishable from conventional supermarkets.
In 2006 Super Valu purchased the financially-troubled Albertsons chain, transforming a humble regional wholesaler into the second-largest supermarket operator in the US...and plunging the company into $6 billion of debt as the economy was in recession. For the next several years, the Cub division bore the brunt of corporate bloodletting with various divestments and the closure of all stores in Wisconsin, where Cub had operated for 30 years. Although Cub Foods still operates in Minnesota, the chain today is a shadow of its former self.
Unless noted otherwise, all photos on these pages were taken by Andrew Turnbull over a period of more than 10 years.
---
1980s stores
Cub Foods stores of the 1980s had fairly consistent architecture, always with a rectangular backing for the "Cub Foods" sign. Often, this was integrated into an oversized frontal canopy for vehicle loading.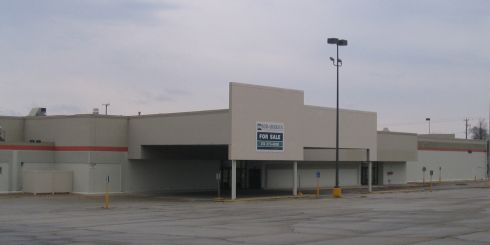 1616 W. Mason St., Green Bay, WI
2010
This was the site of the first Cub Foods in Wisconsin, opening on 12 February 1982...and promptly running afoul of a 1939 state law requiring foods to be sold at a minimum 6% markup to avoid disadvantaging independent competitors. Closed in 2009. Later subdivided and repurposed by multiple retail tenants.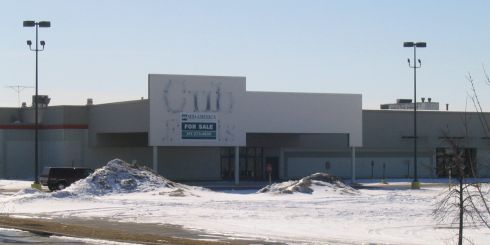 2280 E. Mason St., Green Bay, WI
2010
Opened 26 March 1982. Both of Green Bay's Cub Foods stores were planned and built simultaneously, and this is evident from their appearances: Even the parking lot lights are identical! It also closed in 2009, and was later subdivided and repurposed by multiple retail tenants.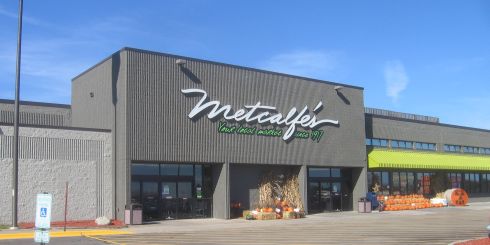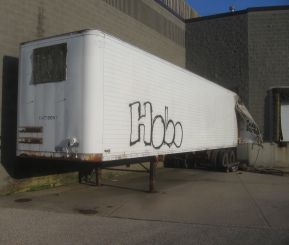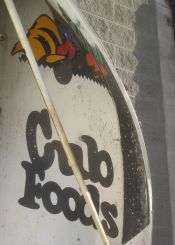 7455 Mineral Point Rd., Madison, WI
2015, 2016
This Madison west-side store happened to be the tenth in the chain, opening on 8 October 1982. It was Cub Foods' last surviving store in Wisconsin, closing its doors in January 2012 after nearly thirty years of business. The building was sold and reoccupied later the same year by Metcalfe's, a local Madison grocer, and remains as such today. A 1974-vintage Cub Foods trailer remained moored behind the store for some time after that.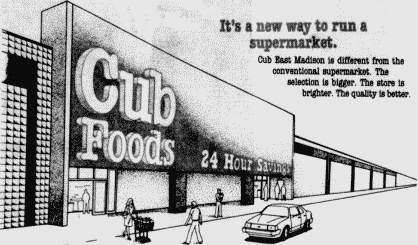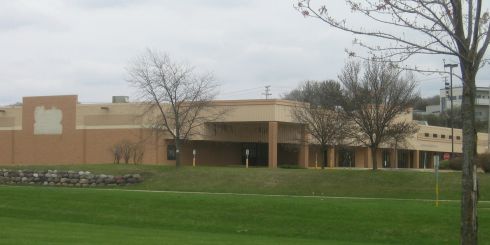 4141 Nakoosa Trail, Madison, WI
1987 (idealized newspaper ad llustration), 2015
Opened 11 February 1987; closed in December 2011. The property is still vacant as of 2021.
---
Contemporary Cub Foods stores
Cub Foods stores built in the 1990s and beyond became increasingly deluxe with lavish service departments and gingerbreaded exteriors; a far cry from their utilitarian warehouse origins! As of 2021 the extant rump of the chain consists of 106 stores, all but one of which are in Minnesota.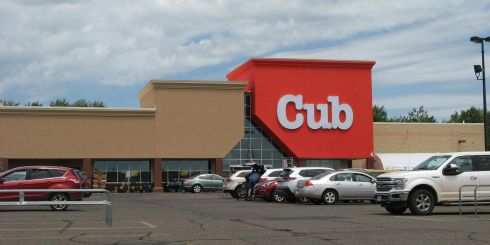 615 W. Central Entrance, Duluth, MN
2022
Opened by 1995. Surprisingly, this is the only Cub Foods store that has ever existed in Duluth...a city with a population of over 86,000.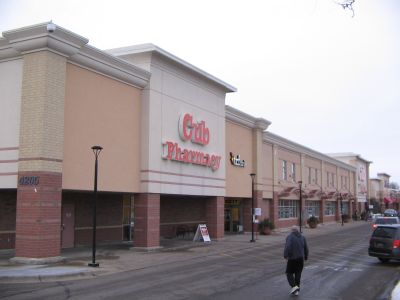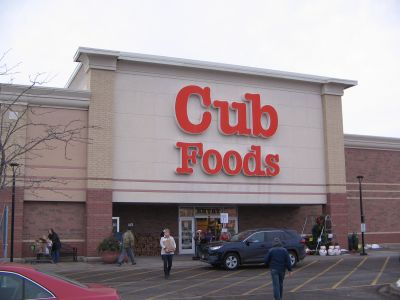 4205 Pheasant Ridge Dr. N.E., Blaine, MN
2019
Hey, a Cub Foods store that's still in business! Must be Minnesota. Just try not to think about how this was in Michele Bachmann's fecid congressional district.
1540 New Brighton Blvd., Minneapolis, MN
2019
A quick and literally dirty shot of an extant Cub Foods store at the Quarry Mall on Minneapolis' northeast side. In recent years Super Valu has been branding stores as simply "Cub," with no additional qualifier.
---