What's New in Firefox 1.5
Over a year's worth of development separates version 1.5 of the Netscape-descended Mozilla Firefox web browser from 1.0, and a variety of new features and miscellaneous changes are in this new version.
First of all, the software actually runs a bit faster than Firefox 1.0, and "Back" and "Forward" navigation is faster as well.

Individual tabs for web pages appearing on the tab bar can now be rearranged through dragging and dropping.

Thumbnails now appear in the location field and on the tab bar when individual images are loaded in the browser window.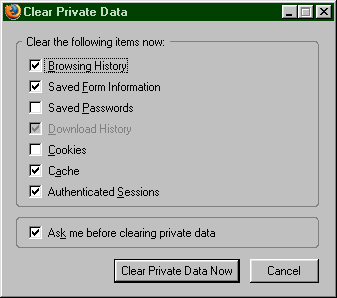 A "Clear Private Data" privacy feature, easily accessible from the Tools menu, allows logged information such as browsing history to be removed if desired.
This version introduces a thoroughly revised software update system. The new system is automated, downloads small incremental updates rather than the entire package when a newer version is available, and runs automatically or through an option in the Help menu (seen in the screenshot at bottom).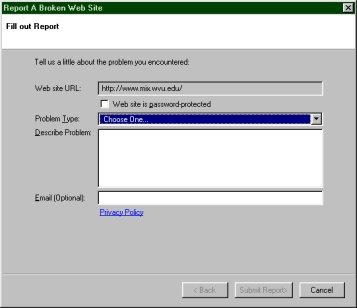 Another new tool is the "Report a Broken Web Site" wizard, which helps document any websites that do not support or work properly with Mozilla Firefox and allow developers to work with webmasters to eliminate these problems.

The icon that appears on websites that offer Live Bookmarks has been relocated from the status bar to the location field of the toolbar.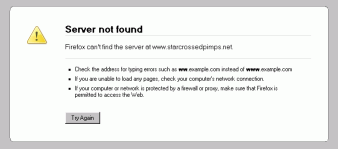 Pop-up error messages have been replaced with dialogues such as this appearing within the browser window.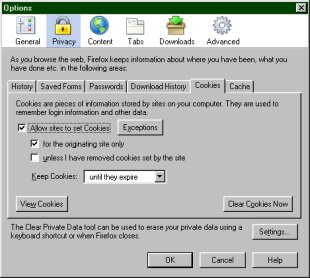 The options dialogue has been redesigned in a horizontal tab-like fashion, arguably more convenient to use than the unconventional vertical arrangement of earlier versions.
Firefox 1.5 includes support for DHTML accessibility and accessibility products such as Window-Eyes 5.5, a screen reader capable of reading information aloud or showing it on a Braille display.
As expected, there are a host of rendering-related and other technological improvements. There are even better CSS2, CSS3, and JavaScript capabilities, as well as new native support for SVG, a vector graphic technology.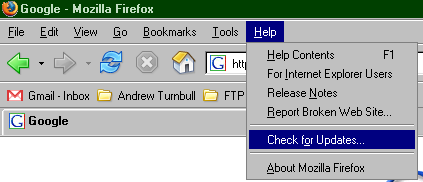 One change regarding appearance is that in the Windows version the menus now carry a two-dimensional appearance, ostensibly to more closely match the "Luna" theme of Windows XP. Fortunately for users of other Windows versions and themes, it is not difficult to revert menus back to their pre-1.5 appearance.
The title bar and taskbar icon bug on Windows 95, 98, and ME systems has finally been fixed. Firefox will now display its own icon (as any quality application should) instead of a generic icon when run on these versions of Windows.
Performance has been improved on the Mac OS X platform, including tools for importing profile data from Safari and Internet Explorer. Unfortunately, Firefox 1.5 is only capable of running on Mac OS X 10.2 and higher.
Finally, there are plenty of security enhancements and bug fixes to go around.
---
Altogether, Mozilla Firefox 1.5 is a noteworthy and desirable upgrade for users of Firefox 1.0.x and other browsers (such as Netscape and Internet Explorer). Like all Netscape and Mozilla browsers since 1998, it is available for free, and can be downloaded here.