Of the regional grocers that emerged in Detroit, Michigan's early postwar years, Chatham is easily one of the most remembered...both for its rise, and for its fall.
Peter Weisberg founded the chain as "Chatham Village" in 1947. After an inauspicious start, the business grew by leaps and bounds, expanding to 31 stores in Wayne, Oakland, and Macomb counties by 1971 and 45 by 1980. Chatham also benefited from the 1967 exit of Loblaws' National division from Michigan, cherry-picking many of their bygone rival's best locations.
Chatham started faltering financially in the face of intense competition as the 1970s gave way to the 1980s. In 1985 the Weisberg family sold the chain to Nu-Trax, a company that owned the Hamady food stores in Flint and was chaired by Alex Dandy. Dandy clinched absolute control of the company a few months later...and promptly began raiding its assets. What followed was a sordid, Trump-esque train wreck, best told by the Sixth Circuit U.S. Court of Appeals:
Defendant Dandy also diverted numerous Chatham/Nu-Trax assets to himself causing Chatham/Nu-Trax to sell tractors, trailers, and other equipment to its suppliers at very low prices. He then directed the suppliers to pay the remaining value of this equipment to his wholly-owned corporation, ADI International, as "consulting fees," even though ADI International provided no consulting services. He also directed Chatham/Nu-Trax to pay ADI International over $275,000 in bogus "consulting fees."
By 1986, it was clear that bankruptcy was inevitable for Chatham/Nu-Trax. Defendant then sold his worthless option on Chatham/Nu-Trax's remaining stock back to Chatham/Nu-Trax, forcing it to pay him cash and transfer real estate worth over $7 million. However, he kept his proxy for exactly one year and one day in order to prevent Chatham/Nu-Trax from declaring bankruptcy during the one-year period within which his option sale could be rescinded as an avoidable transfer under bankruptcy law. Chatham/Nu-Trax and Hamady declared bankruptcy in 1987.
Dandy then declared on his 1986 income tax returns the $7 million he had received for the sale of the option as a capital gain, thereby reducing the tax declared. However, he omitted from the return income he had received in the form of kickbacks, payments by suppliers for personal services, and sham salaries paid to his son-in-law and his son's girl friend.
In November 1991, Alex Dandy was convicted guilty of tax evasion, mail fraud, and bankruptcy fraud and sentenced to 23 years of imprisonment. It was faint justice for the company's 2000-plus employees. But many of the chain's buildings have survived, a testament to the Weisbergs' effective store development.
Chatham assigned sequential numbers to each store in the chain, and these numbers (when known) are included below. Unless noted otherwise, all photos on these pages were taken by Andrew Turnbull.
---
1950s-1970s stores
Early Chatham stores took on a wide variety of appearances, ranging the gamut from 1950s street-flush supermarkets with integral structural pylons to early shopping-centre developments and repurposed National stores. The chain made use of fairly generic architecture for much of this period, making its built history difficult to identify by appearances alone.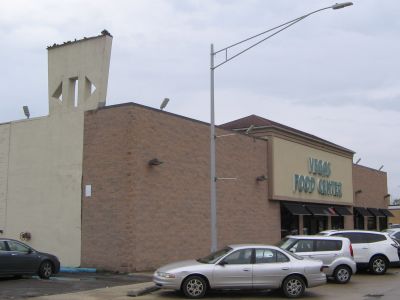 19700 Kelly Rd., Harper Woods, MI
2019
Chatham #5 was one of the oldest store locations in the chain, opening before 1958. It's also one of the most interesting to look at by far, with a unique pylon demarcated by three cutouts resembling the Walk the Moon logo. (OK, that might be a stretch...) Remarkably, the building continues to be home to a supermarket today.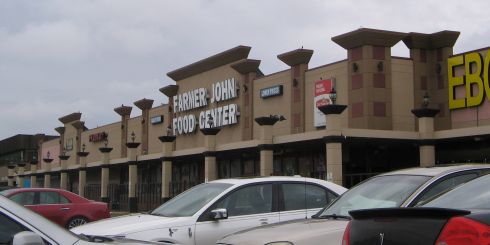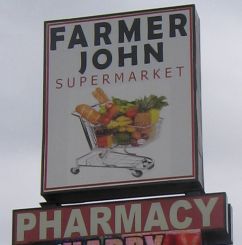 9731 Harper Ave., Detroit, MI
2019
Chatham store #10 was built in 1961 (per municipal data), and was the third of the chain's stores to be built in the city of Detroit itself. Sold to Farmer Jack during Chatham's 1986 implosion. Of course, Farmer Jack later went out of business, too...and the building now hilariously houses an independent supermarket called "Farmer John!"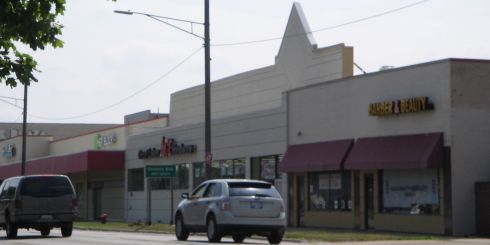 3584 Fort St., Lincoln Park, MI
2019
Chatham #22 is presently the site of an Ace Hardware store. The property has been expanded and reconfigured: The original, street-facing storefront is now the "back," while the store's original back (facing the parking lot, with access one block west) is now the "front." I've a hunch this was originally built as a National store, but no definitive proof...yet.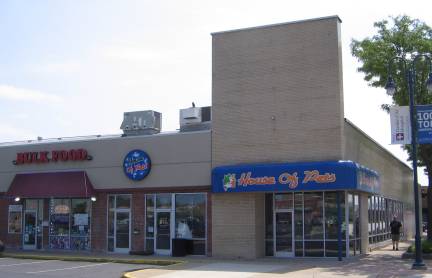 5736 Middlebelt Rd., Garden City, MI
2019
Chatham #23 was originally a National food store, and is shown on the corresponding page. Several small stores have been carved out of the side, but the front of the building is completely original and intact.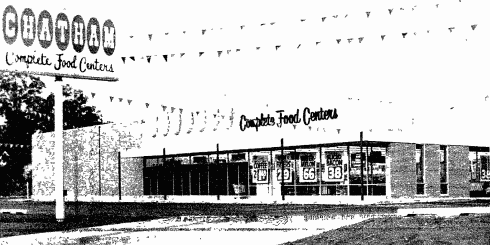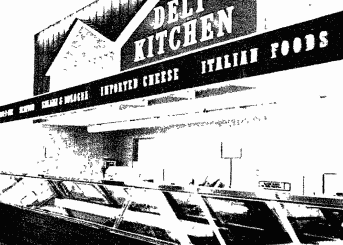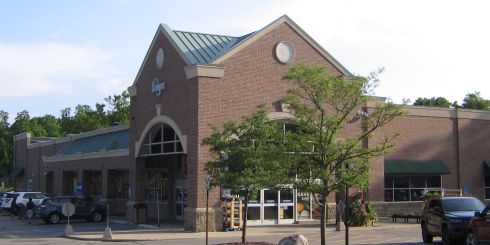 425 N. Center St., Northville, MI
1971 (Northville Record-Novi News), 2019
Chatham #31 opened 25 Aug. 1971; closed in 1986 as the company circled the drain. Sold and reopened later the same year as Shopping Center Market. Expanded (and renovated beyond recognition) in 2003. Sold yet again to Kroger in 2015.
Since 1976, this has been the only supermarket within Northville's city limits.
---
1970s-1980s store design
By the tail end of the 1970s, Chatham had worked up a distinctive architectural prototype with a 3-level slanted/vertical facade, providing a recognizable visual "signature" for new and renovated buildings. Relatively few of these stores were built before the chain hit the skids in the following decade. Those that remain, however, are among the most visible reminders of Chatham's legacy in Metro Detroit.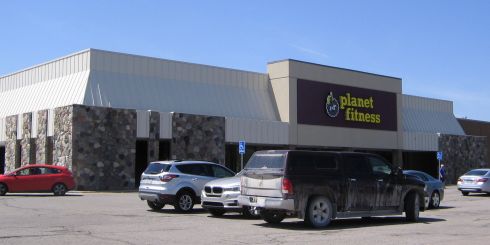 37685 5 Mile Rd., Livonia, MI
2019
Chatham store #4 is an excellent example of this style, likely built as a replacement for a 1950s-era store with the same number. Sold to Farmer Jack in 1986. Now home to Planet Fitness, which seems to be a common fate for supermarket buildings in the midwest.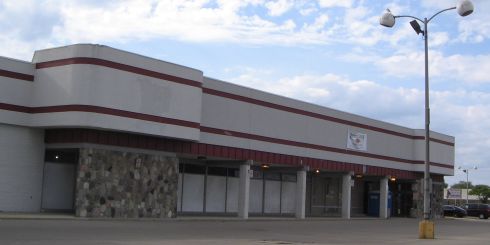 25225 Van Dyke Ave., Center Line, MI
2019
Chatham #39 has been "disguised" with the addition of a new upper facade, but bears fieldstone details and vertical windows identical to the Livonia store. A new independent supermarket named Cattleman's moved in shortly after these pictures were taken, making this one of at least four former Chatham properties still selling groceries.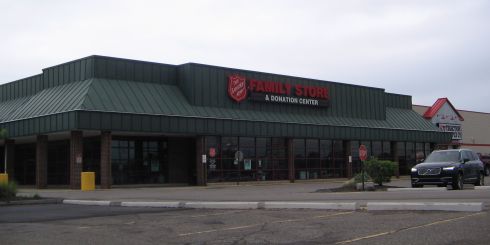 3000 Van Horn Rd., Trenton, MI
2019
Chatham #43 bears another variation on the characteristic "slanted/vertical" facade, with a wide sign backing. It also lacks the fieldstone details and may be slightly newer in construction, though it was open by 1980. Currently subdivided between Tractor Supply Co. and the Salvation Army.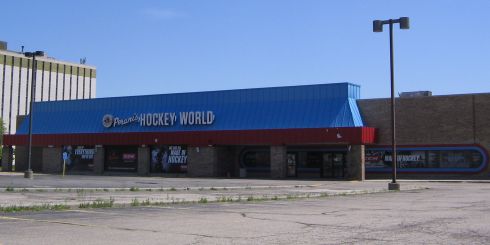 19330 Middlebelt Rd., Livonia, MI
2019
Chatham #50 is another good example of this style, with an upper facade almost perfectly preserved from the building's 1980s heyday. It is currently home to Perani's Hockey World, just across the street from the old Livonia Mall. A portion of the building was also once home to a Kids "R" Us store, evidenced by the oblong window strip.
---
Related links:
Former Retailers of Michigan's Chatham/Pak-N-Sav page.
---