Some of these may eventually be developed into full-fledged features. For now, though, they're a dumping ground where "anything goes."
---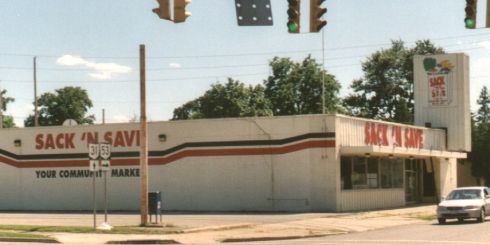 111 W. Espy St., Kenton, OH
Former location, 2008
Albers
Cincinnati-based Ohio supermarket chain, founded by former Kroger president William Albers in 1933. Allegedly the first chain to use the "super market" name [citation needed]. Acquired by Colonial Stores in 1955, resulting in co-branding. Colonial wound down the division in 1974.
---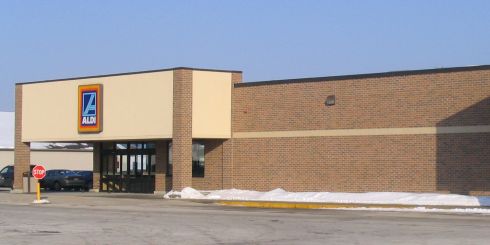 3309 Calumet Ave., Manitowoc, WI
2010
Aldi
German limited-selection chain, founded by the Albrecht family with origins dating back to 1913. In the 1960s the company was split into two separate entities called Aldi Nord und Aldi Süd, each with a different geographical footprint. Both then expanded internationally, with Aldi Süd opening its first U.S. store in 1976.
---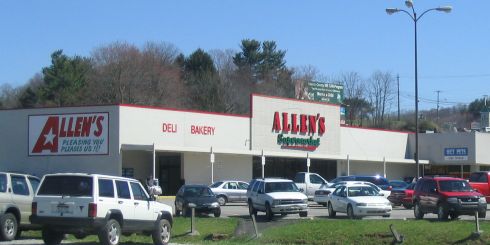 154 Athens Rd., Princeton, WV
2009
Allen's
A very small "chain" of two stores in Princeton, West Virginia owned by Allen Griffith. Originally an IGA affiliate. A small fish by any standard, but deserving a special mention as a lot of the author's formative "grocery experiences" were forged in this store.
---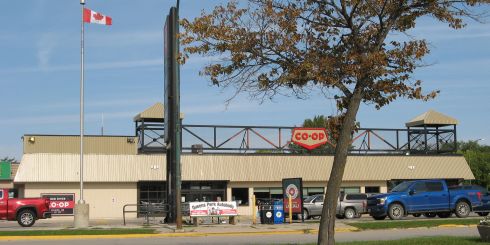 335 Main St., Selkirk, MB
2021
Co-Op
Numerous retail cooperatives exist worldwide, distinguishing themselves from conventional retail businesses by being owned by the members they serve. In Canada, the "Co-Op" name is used predominently by the constituents of Federated Co-operatives Limited, such as the Red River Co-Op in Winnipeg, Manitoba.
---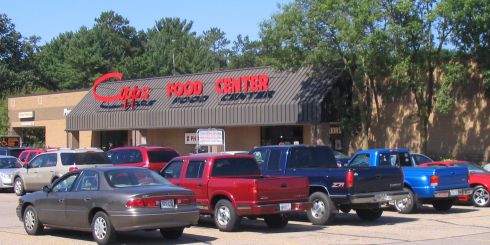 3256 Church St., Stevens Point, WI
2010
Copps
Wisconsin chain, founded by E. M. Copps (not a typo) in Stevens Point. Experimented with food and general merchandise combination stores (à la Meijer) in the 1960s and 1970s. Boasted "Lowest Legal Food Prices" back when the notion of legally-dictated minimum markups was a thing. Later reformed as a food-only business, and sold to Roundy's of Milwaukee in 2001. Subsequent owners phased out the Copps name by 2019.
---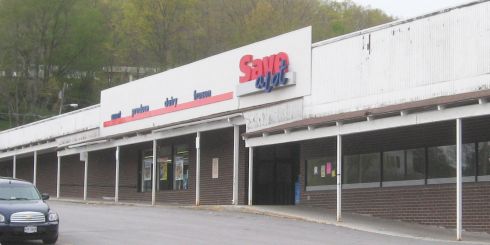 Airport Square, U.S. Rte. 52, Bluefield, WV
Former location, 2013
Deskins
Small Appalachian chain with stores in southern West Virginia and southwest Virginia, founded by John and Bill Deskins in 1946. The chain ceased to exist after filing for bankruptcy in 1999.
---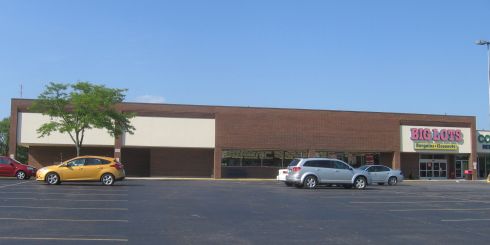 400 W. Rollins Rd., Round Lake Beach, IL
Former location, 2018
Eagle
Formerly-ubiquitous midwestern chain, based in the Illinois-Iowa Quad Cities. Purchased many of Kohl's Chicago area stores in 1982. Spent its later years in contraction, withdrawing from Wisconsin by 1985 and closing all remaining operations in 2003.
---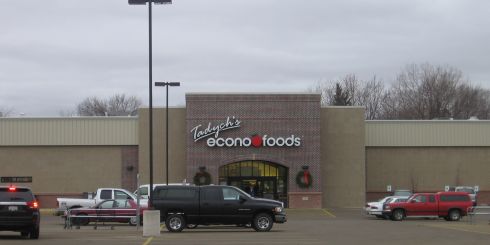 109 S. Main St., Brillion, WI
2011
Econo Foods
One of several names used in the upper midwestern U.S. to label stores supplied by the Nash Finch Company of Edina, Minnesota and its successor, SpartanNash. Nearly defunct as of the 2020s, thanks to store sales and rebranding.
---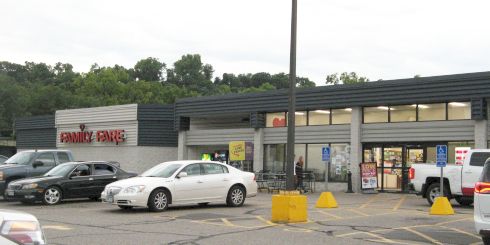 615 Main St., Red Wing, MN
2023
Family Fare
A chain of corporate-owned supermarkets controlled by Grand Rapids-based Spartan Stores and its successor SpartanNash; most common in rural Michigan but also appearing sporadically in other midwestern and plains states. A fair number of Family Fare locations are conversions from other Spartan and Nash Finch banners, including Econo Foods and Glen's.
---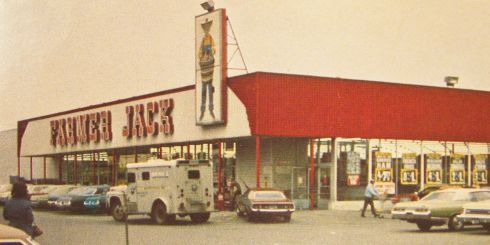 25960 Gratiot Ave., Roseville, MI
1975 (Progressive Grocer, Borman Archives)
Farmer Jack
Detroit, Michigan chain founded by the Borman family in 1924. Stores initially took on a variety of names (including Food Fair) before standardizing on the Farmer Jack brand in 1967. Commendably, the chain continued to serve nonwhite populations in Detroit for decades after competitors such as Kroger bailed from the city. A&P bought the company in 1989, merging its pre-existing Michigan division into Farmer Jack. The chain continued to thrive for some time after that, but by the mid-2000s A&P's financial problems and increasingly-poor management had taken a toll on its competitive standing. The last Farmer Jack stores shut their doors in 2007; A&P itself would follow eight years later. Borman's archives are presently held at the Bentley Historical Library in Ann Arbor.
---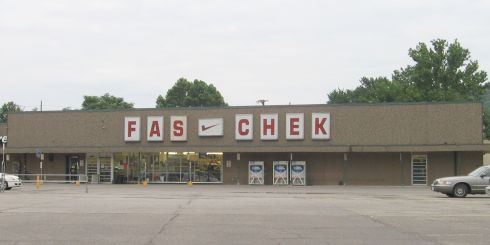 23 MacCorkle Ave., St. Albans, WV
2011
Fas-Chek
West Virginia chain that emerged in Charleston in 1965, growing in the 1970s and 1980s by reoccupying store locations vacated by larger outfits such as A&P and Kroger. Founded and headed by Don Tate, who later became infamous for unrelated reasons.
---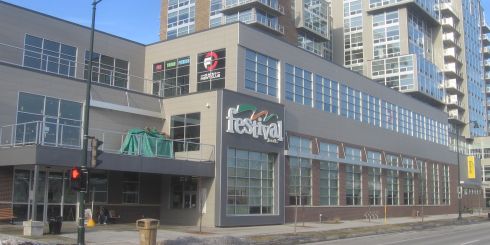 810 E. Washington Ave., Madison, WI
2017
Festival Foods
A brand name used confusingly by two separate chains (Knowlan's in Minnesota and Skogen's in Wisconsin), both with an identical logo and a supply relationship with Super Valu. Also the place where the author flubbed an interview in 2009. :P
---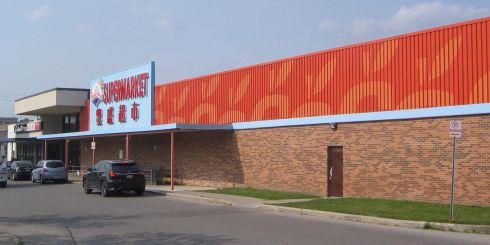 530 Oxford St. W., London, ON
Former location, 2018
Food City and Price Chopper
Food City was the name of a defunct southern Ontario grocery chain owned by the Oshawa Group and linked to Towers department stores (with a common wordmark). By the 1990s, many stores began to be "downloaded" as franchises to individual owners and rebranded as EMA, IGA, or Price Chopper, which eventually became the Oshawa Group's primary brand. Sobeys purchased the company in 1998, and the last store bearing the Price Chopper name closed in 2020. The "Food City" and "Price Chopper" names have also been used by unrelated American chains.
---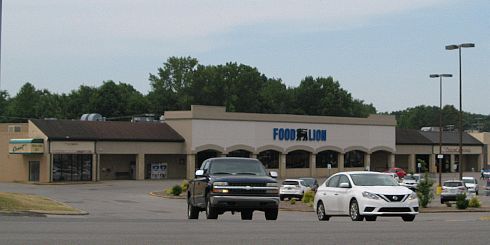 2304 Madison St., Clarksville, TN
2022
Food Lion
A low-priced chain, founded as Food Town in Salisbury, North Carolina in 1957. Acquired by the Belgium-based Delhaize Group in 1974, who lent their lion logo to the storefronts. In 1992 the chain was rocked by an ABC News exposé that brought its growth to a halt. Presently, Food Lion operates in 10 states in the mid-Atlantic and south.
---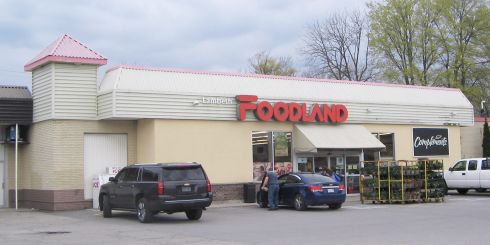 2295 Wharncliffe Rd. S., London, ON
2019
Foodland
A trade name for independent franchised stores, with a scattered and confusing existence on both sides of the border. In the United States, Foodland was an outgrowth of Clover Farm, an IGA-like buyers' cooperative founded in Cleveland in 1926. The brand later withered, although a few stores in western Pennsylvania continue to bear the name. In Canada, both the Foodland and Clover Farm names are controlled by Sobeys of Nova Scotia as a brand for rural stores.
---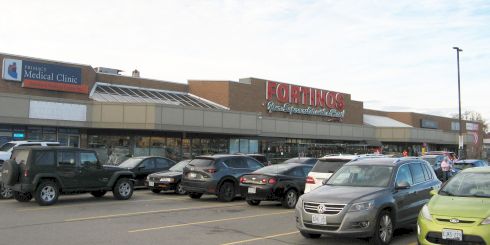 50 Dundurn St. S., Hamilton, ON
2022
Fortinos
Upscale Hamilton, Ontario-based chain, founded by immigrant John Fortino in 1961. In 1988 the company was acquired by Loblaws, which expanded the division and hastily rebranded some of their own stores under the Fortinos name.
---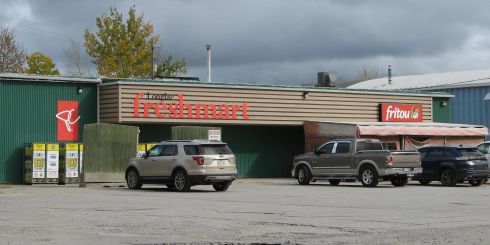 103 Hamel Ave., Longlac, ON
2021
Freshmart
Yet another Loblaws-controlled banner, used as an umbrella brand for small, independently-operated stores in rural areas.
---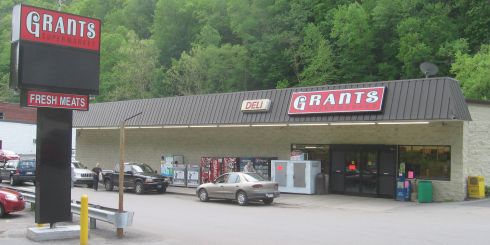 Main St., War, WV
2013
Grant's
West Virginia-Virginia grocery outfit, originating in 1949, based in Bluefield, and morphing into a chain of multiple locations by the 1990s. Has a hermit crab-like tendency to reoccupy stores vacated by competitors due to the long-term economic decline of the area.
---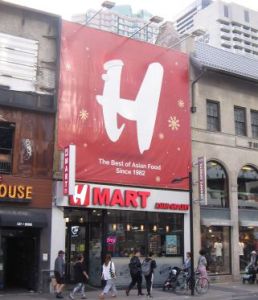 703 Yonge St., Toronto, ON
2019
H-Mart
Asian specialty grocery chain founded in New York City in 1982, presently with over 100 locations in the United States, Canada, and the United Kingdom. The company name stands for the Korean phrase "han ah reum", or "armful (of groceries)."
---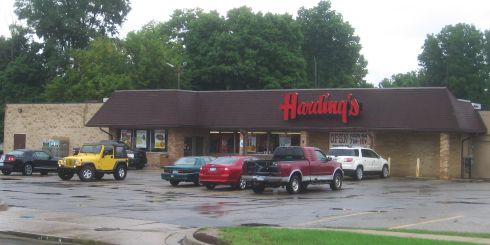 64 W. Michigan Ave., Galesburg, MI
2018
Harding's
Western Michigan chain, based in Plainwell with a trade area extending into northwest Indiana. Supplied by SpartanNash.
---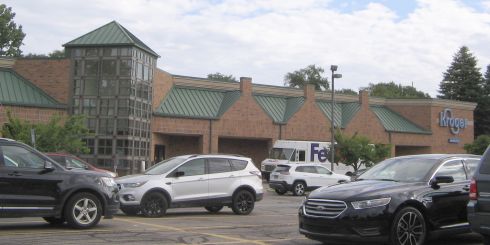 15455 Haggerty Rd., Plymouth, MI
Former location, 2019
Hiller's
Small upscale Detroit-area chain, founded by Sidney Hiller and originally known as Shopping Center Market. The chain sold out to the Kroger Company in 2015, and its stores were unceremoniously converted.
---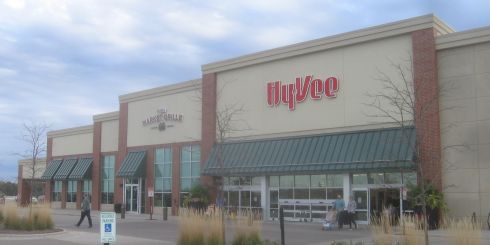 2920 Fitchrona Rd., Fitchburg, WI
2016
Hy-Vee
Iowa chain founded in 1930 by Charles Hyde and David Vredenburg. Currently in 8 U.S. states.
---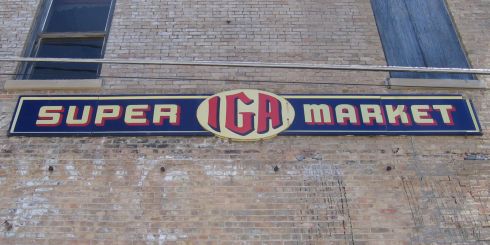 129 N. Cecil St., Bonduel, WI
Former location, 2012
IGA
IGA is the Independent Grocers' Alliance, founded in 1926 as a way for independent grocers to band together under common marketing to compete against nascent chains. Given the nature of this business arrangement, IGA stores in the United States take on extraordinary variation in size, appearance, and merchandising. There's more consistency in Canada, where years of attrition resulted in most remaining IGA stores being controlled by Sobeys in a seeming subversion of the "Independent" mantra.
---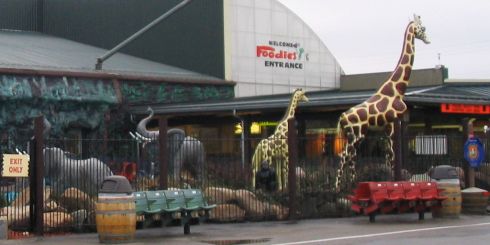 5440 Dixie Hwy., Fairfield, OH
2009
Jungle Jim's
There are supermarkets, and there are supermarkets. Jungle Jim's International Market falls into the latter category. Located near Cincinnati, the main store spans more than 300,000 square feet and contains decor-themed departments that stock virtually every food item known to mankind. Aisles are decorated with lavish sets, statues, and Animatronics, and the market functions as a food store and theme park in one. A satellite store opened in 2012.
---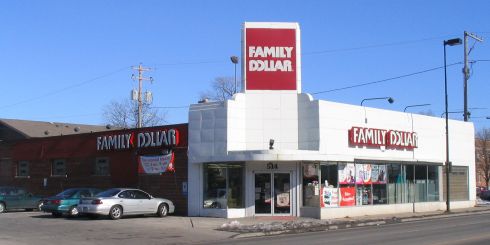 514 W. Walnut St., Green Bay, WI
Former location, 2010
Krambo
A Wisconsin chain founded by the Kramlich family in Appleton, with a trade area encompassing the lakeshore from Green Bay to Racine at its height. The company was sold to Kroger in 1955, who phased out the name by 1963 and squandered the division's competitive standing. The pictured store predated the Kroger sale, and featured art deco embellishments until being remuddled in the 2010s.
---