Some of these may eventually be developed into full-fledged features. For now, though, they're a dumping ground where "anything goes."
---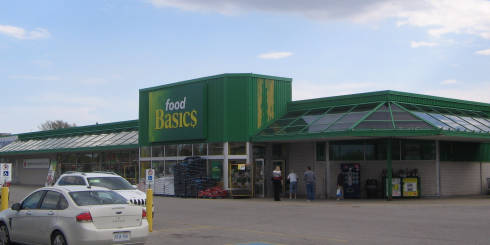 448 St. Clair St., Chatham, ON
Former location, 2019
Loeb
Ottawa-based IGA franchise that eventually grew into a chain of its own. Sold to Provigo of Quebec in 1977, then resold like a hot potato to Metro in 1999 following Loblaws' purchase of Provigo's operations. Many Loeb properties in southern Ontario were closed and converted to non-supermarket purposes at that time.
---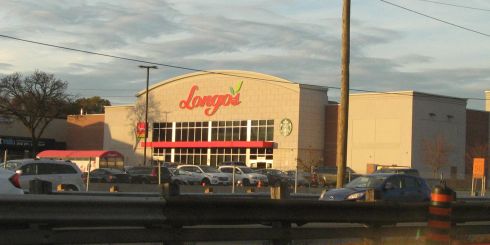 1125 N. Service Rd., Mississauga, ON
2022
Longo's
Smaller Toronto chain, founded in 1956 as a family-owned fruit stand. Independent until 2021, when the corporate parent of Sobeys acquired a 51% stake of the company.
---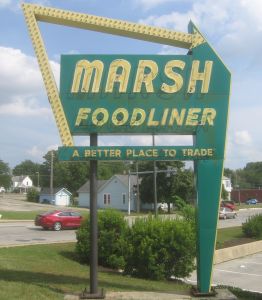 500 S. Buffalo St., Warsaw, IN
2016
Marsh
A long-established Indiana company, founded in Muncie and serving markets in both western Ohio and the Hoosier State. In 1974, Marsh made the history books when a store in Troy, Ohio became the site of the first UPC scan transaction. The chain benefited from the 1982 exit of Loblaws' Standard division from Indianapolis, with Marsh buying Standard's warehouse and selected stores. But the company succumbed to financial strain in the 21st century, selling itself to corporate raiders (er, "private equity") in 2006 and liquidating ten years later.
---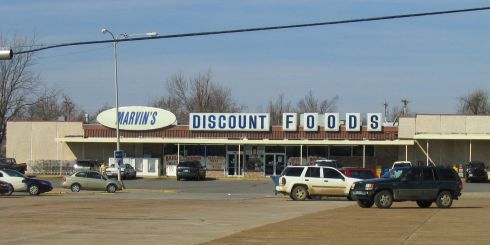 929 A St. N.W., Miami, OK
2010
Marvin's
A now-defunct chain of 21 stores in Arkansas, Kansas, and Oklahoma. Sold to Harps Foods in 2021, also based in Arkansas.
---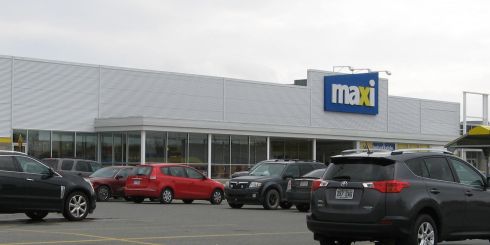 255 3e Av. E., La Sarre, QC
2021
Maxi
Yet another entry in the seemingly-eternal list of banners owned by Loblaws in Canada. Maxi is a Quebec chain of discount supermarkets founded by Provigo in 1984; similar to No Frills, but corporate.
---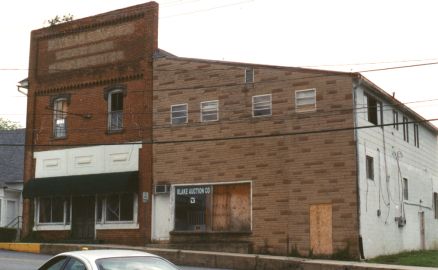 133 Vermillion St., Athens, WV
Former location, 2006
Mick-or-Mack
A once-sizeable "cash and carry" grocery chain based in Roanoke, Virginia, and founded in 1927. The company went on an expansion spree throughout southwest Virginia and southern West Virginia in the 1930s and 1940s, although few of these stores lasted long. (The pictured location ceased carrying the Mick-or-Mack name in 1949.) The chain later retrenched to the Roanoke Valley, where it remained a major player until the 1980s. Most stores were then sold or closed, but a single location retained the name until 2020.
---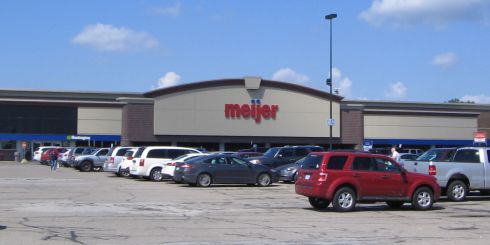 20401 Haggerty Rd., Northville Twp., MI
2019
Meijer
A Michigan institution of 240 stores founded by anarchist activist Hendrik Meijer. The company is notable for its slow and careful expansion, growing from Greenville, Michigan into Grand Rapids proper in 1949, the Detroit Metro area in 1974, Ohio in 1981, Indiana, Illinois, and Kentucky in 1994-96, and Wisconsin in 2015. Pioneered the "Thrifty Acres" concept of food and general merchandise in 1962.
---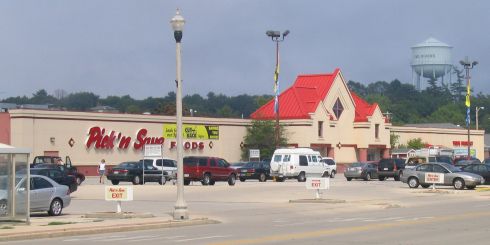 1010 22nd St., Two Rivers, WI
2009
Pick 'n Save
Pick 'n Save is in many ways the Wisconsin equivalent to Minnesota's Cub Foods, founded by a regional wholesaler (Roundy's) as its brand for low-frills "warehouse" stores. Roundy's later pivoted from wholesaling to retailing, taking the stores it supplied under its own wing and recasting them as conventional supermarkets. The brand is now owned by Kroger.
---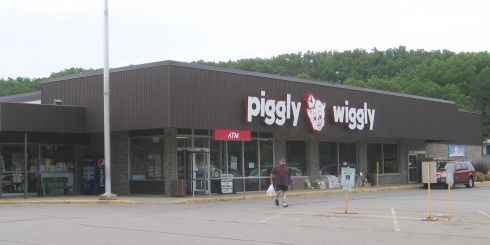 149 Wells St., Darlington, WI
2012
Piggly Wiggly
In 1916, Clarence Saunders' Piggly Wiggly store in Memphis, Tennessee opened its doors as the first self-service grocery store in the world. The history of Piggly Wiggly itself is a confusing one, however: The brand was more of a concept than a cohesive chain, used by different licensees in different markets at different times. As it stands today, the Piggly Wiggly name is owned by C&S Wholesale Grocers and licensed to independent stores and "chains within a chain" in the midwestern and southeastern US. Stores in Wisconsin and Illinois are supplied by Piggly Wiggly Midwest, which was largely autonomous until being sold in 2021.
---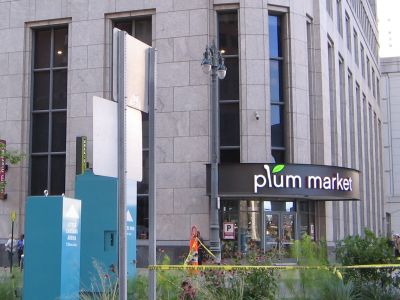 500 Woodward Ave., Detroit, MI
2019
Plum Market
A specialty grocery store in the Detroit Metro area, with the first location of the chain opening in Bloomfield Township, Michigan in 2007.
---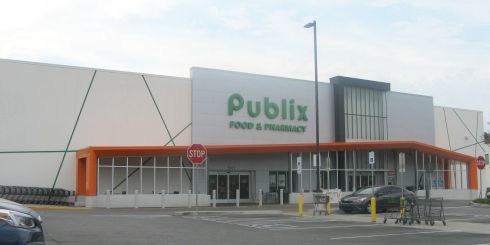 1111 Gallatin Ave., Nashville, TN
2022
Publix
Florida chain familiar to midwestern and Canadian snowbirds, now operating in eight southeast and mid-Atlantic states. Notorious for its nonexistent protections for LGBTQ workers. Sobeys uses a suspiciously-similar wordmark.
---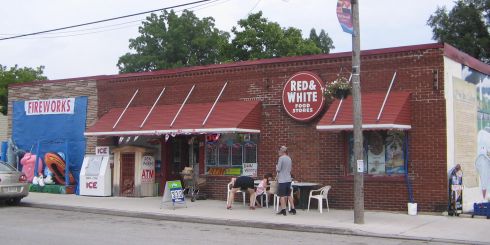 28 Robinson St., Port Burwell, ON
2018
Red & White
Both an IGA-like "voluntary chain" of independent stores sharing common marketing, and a brand for store-name products. Now essentially defunct, in spite of the occasional sign jogging the memories of passerby. In Canada the Red & White name ultimately passed into the control of Loblaws, like uncountable other brands.
---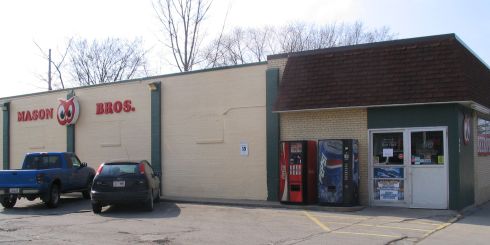 923 9th St., Green Bay, WI
2009
Red Owl
Upper midwest chain with a cute mascot, founded in Rochester, Minnesota and based out of Hopkins in later years. Red Owl's stores contained a mix of corporate and franchised operations. The company was sold to Super Valu in 1988, largely for its distribution assets. The Red Owl brand was phased out of use soon afterwards, but a solitary store in Green Bay, Wisconsin retains the name to this day.
---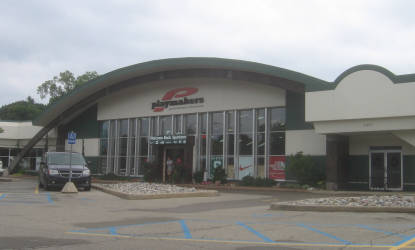 2299 W. Grand River Ave., Okemos, MI
2016
Schmidt's
Small chain in Lansing, Michigan, founded by Paul Schmidt in 1919 and lasting until 1993. An Kohl's-esque arch-roofed store in Okemos opened in 1958, although this appears to have been a one-off.
---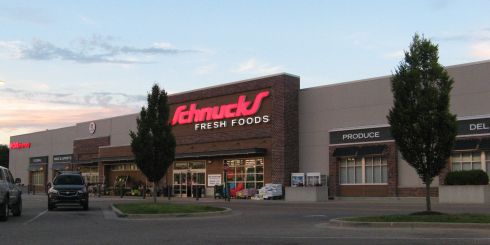 600 E. Boonville-New Harmony Rd., Evansville, IN
2022
Schnucks
Missouri company, founded and based in St. Louis with operations in four midwestern states. Expanded locally through the acquisition of Bettendorf-Rapp in 1970 and the St. Louis division of National in 1995, the latter being the transaction ending Loblaws' presence in the United States.
---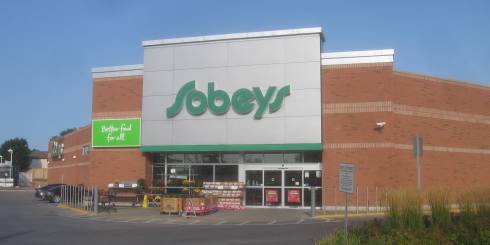 1595 Adelaide St. N., London, ON
2017
Sobeys
Nova Scotia-based chain, part of the Empire Company, one of the "big three" supermarket conglomerates (with Metro and Loblaws) that oligopolize groceries in Canada. Expanded to Ontario in the 1980s, then grew nationally through the purchase of the Oshawa Group (stewards of the Food City and Price Chopper chains) in 1998 and Canada Safeway in 2013.
---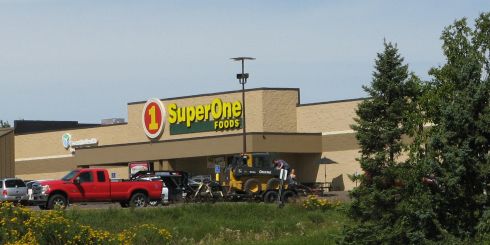 802 11th Ave., Two Harbors, MN
2023
Super One Foods
A chain centred around Duluth, with stores in northern Minnesota, northern Wisconsin, and upper Michigan. The parent company has also run stores under the U-Save and Piggly Wiggly brands, and purchased several former store locations of Jubilee Foods (a chain with a similar geographical footprint) in 2006.
---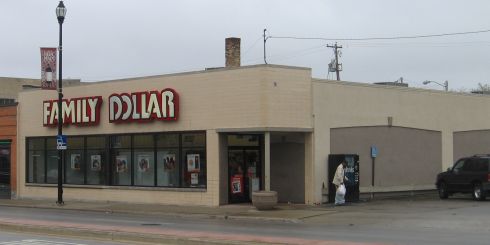 1285 Main St., Green Bay, WI
Former location, 2011
Sure Way and Jubilee
Speaking of which...a tangentially-related grocery chain in the upper midwest was Sure Way, based in Green Bay, Wisconsin. The Sure Way name disappeared in favour of Jubilee by 1998, and the local stores closed several years later.
---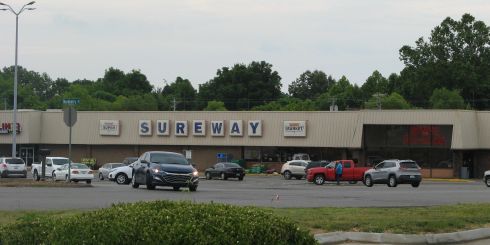 1050 Thornberry Dr., Madisonville, KY
2022
Sureway (Kentucky)
Very small chain of five stores in western Kentucky, one of several owned by the Houchens group of Bowling Green.
---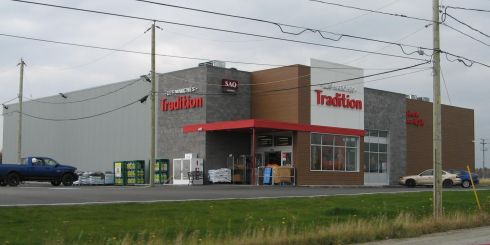 126 Rue Principale E., Palmarolle, QC
2021
Tradition
Les Marchés Tradition is another Quebec-exclusive grocery banner, used by the Oshawa Group (and later Sobeys) to brand smaller stores operated by independent owners as franchises. The word "tradition" has the same spelling and meaning in both French and English, and was probably chosen as a brand for this reason.
---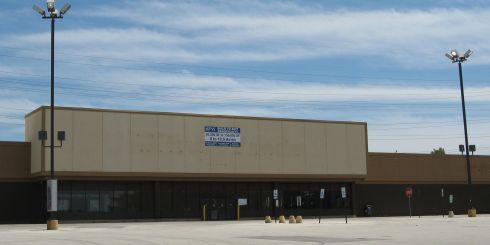 8401 Indianapolis Blvd., Highland, IN
Former location, 2022
Ultra Foods (Illinois)
Not to be confused with the Ultra Mart banner used by Steinberg in Ontario, Ultra Foods was a Chicago-area chain operated as part of the Central Wholesale Grocers retailers' cooperative. Went out of business in 2017.
---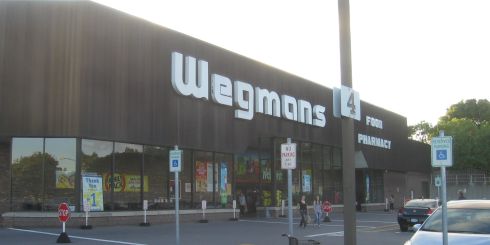 2200 E. Ridge Rd., Rochester, NY
2014
Wegmans
The seeming gold standard of supermarkets in nigh every Consumer Reports survey. Founded in Rochester, New York in 1916, their trade area presently covers eight states in the northeast and mid-Atlantic.
---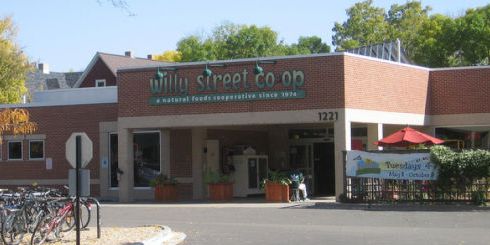 1221 Williamson St., Madison, WI
2012
Willy Street Co-Op
A Madison institution, the Williamson Street Grocery Co-op was formed in 1974 as part of the countercultural wave seeking alternatives to conventional food stores by elevating local, organic, and bulk products. As it turns out, the Willy Street enterprise was so successful that the store eventually became a supermarket in its own right (complete with produce, dairy products, and meats)...and even became a chain, with the establishment of two satellite cooperative stores.
---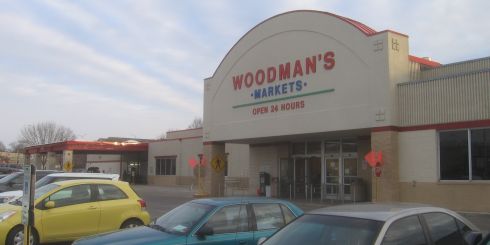 3817 Milwaukee St., Madison, WI
2017
Woodman's
A very different kind of supermarket, known for extremely large and broad selections (including extensive aisles of international foods), high volumes, and low prices, all delivered in a no-frills (if not bare-bones) environment. Founded in Janesville, and encompassing 19 stores in Wisconsin and northern Illinois.
---