The Second Week
Today as a day certainly started out strange. Last night I had some odd dreams tying in with the next morning's anticipated events, whereby I stockpiled sacks of Scottish money and floated from my room to the train platform without effort or, unfortunately, a change of clothes. I was woken up or disturbed about a dozen times over the night, ranging from my roommate's frequent coming-ins and going-outs to visits from others on the floor paranoid about everyone getting up on time. ("Hello?" "It's a quarter past 4." "So what?")
The drama didn't end when we got up, either. We needed to transfer from one Tube line to another before boarding our train to Edinburgh at King's Cross, but we heard an announcement that the Underground train would not stop at King's Cross for whatever reason. Once we got off at the next station over, we immediately heard another announcement...that whatever problem that existed had been rectified and that trains would stop at King's Cross yet again. Eventually we did get to King's Cross...just in time to see our train move out of the station without us on board. We waited three-quarters of an hour for another train and got on that.
The train ride wasn't too eventful, but I dozed off most of the way, saw one passenger who looked too much like Margaret Thatcher for comfort, and also saw a foreign woman with three noisy children sit in front of me, evidently unable to read the sign directly overhead that indicated that we were in the "Quiet Coach."
The Edinburgh train station that we eventually arrived at didn't have any trash cans, which was weird (not to mention messy!) to say the least. After our final excursions (waiting pointlessly at the sation for half an hour, walking a few blocks, waiting for a bus, riding that bus, and walking a few more blocks), we arrived at the University of Edinburgh campus to stay overnight. Our accomodations here are much nicer than those at Schiller...single, comfortable, hotel-style rooms with a sink and amenities. Too bad I can't stay here longer!
Unfortunately, my sore throat and headache were still wearing me down. With my body not its best, I elected to take a break with an extended nap that afternoon rather than partaking in routine activities, and borrowed a couple pain reliever pills from someone else in the group, which helped somewhat. How will tomorrow go, though?
I want to go home!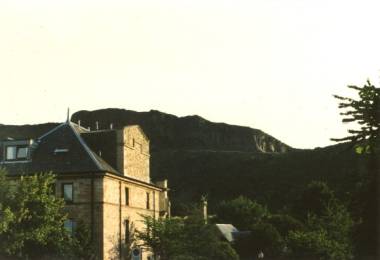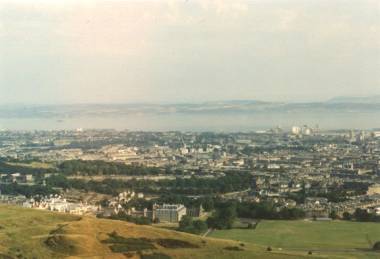 Left: A view from Edinburgh. I climbed all the way to the top of that rock before breakfast! Right: The view below.
I had a good night's sleep last night. The first thing we did in the morning was go on a long walk up a rocky crag overlooking Edinburgh and down again...phew! A sight to see, though.
After that, we ate breakfast. The University of Edinburgh offered eggs, pancakes, beans, cereals, juices, and more. It all tasted great, too! Schiller could stand to learn a thing or two, or three, or fifteen, from Edinburgh about food and accomodations.
After-breakfast attractions began with a brief tour of the new Scottish Parliament building, and I also viewed the Holyrood House. The adjoining chapel is in ruins: It seems that late in the church's functional life, they "improved" it by adding stone roofing that couldn't support itself and caved in soon afterwards, taking out everything under it in the process. Oops.
Finally, I got a good chance to walk up and down the city streets, exploring and checking out the local book and record shops as I went along. One store had a couple of uncommon David Bowie CDs on RCA...priced at £15, marked down from £40: Thanks but no thanks. I did get a smile walking past a drum shop that had a large figure of Animal in the display window (You know, this guy), posing with their equipment, though.
"Are you awake?" "Yes." "Are you awake?" "Yes!" "ARE YOU AWAKE?" "YES!!" My alarm had gone off earlier, but before I could convince myself to move out of bed I had slipped back to sleep with a dream that had an Inspector Morse-like mystery plot. This last-minute plot to make me wake up, however, was entirely successful, and I soon rejoined the group before departing.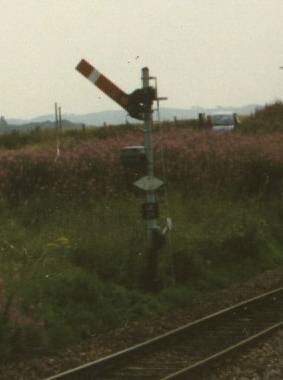 Semaphore railway signals survive at Luchars Station!
I still can't get over how good the breakfast food at the University of Edinburgh was, even if the pancake syrup was a little rich. Eventually, after making it out we boarded a train and transferred to a series of taxis to take us to our final destination in Scotland: St. Andrews, no relation to me. While I had no interest whatsoever in golfing, I did enjoy myself by visiting the beach and going on my usual romp around town before we departed in mid-afternoon back to Luchars Station for the long train ride home. That ride was offset by delays, extra stops, and other factors conspiring to bring us home no sooner than 11:00 in the evening.
Back in London for good now. Today I had a busy day visiting clichéd landmarks and attending a theatrical show.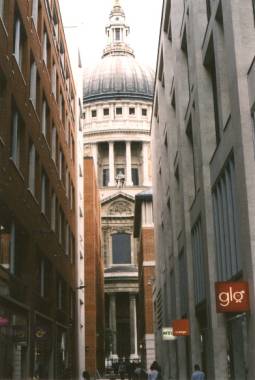 St. Paul's Cathedral was certainly an impressive sight from inside and out. Of course, I climbed up to the very top of the dome. It's funny that graffiti was scrawled on the exterior walls up there...that's one thing you won't see from the ground!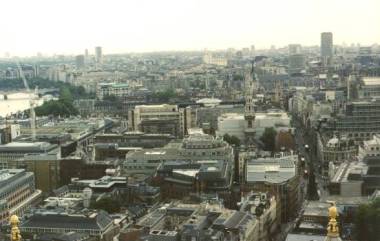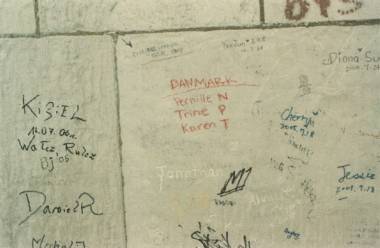 Left: The excellent view from the top of the St. Paul's Cathedral dome. Right: Something you won't see from the ground!
I also visited the Tower of London, another structure that should need no introduction. I was nearly in tears seeing the crown jewels and royal exhibits. The infamous torture devices and almost-overwhelming information about the history and context of the structures kept me fascinated until my aching legs had had enough.
A random thought on food: Is it a British custom to use corn (maize) as a pizza topping? I had a pizza with corn on it today, and I did in Edinburgh as well.
We went downtown to see "Phantom of the Opera" at Her Majesty's Theatre this evening. Unfortunately, I missed the group departure by twenty seconds with scarcely a clue to draw upon. Nevertheless, I consulted my notes and reference material for pointers such as where the theater was, and managed to get there on time on my own. The show itself was quite satisfying, with excellent music, acting, and effects making up for the indignities of folding my legs into a cramped balcony seat for over two hours straight.
Today was a much less action-packed day, but there were still a few highlights.
I went to see the Kew Gardens (although before today I had no idea where the Kew Gardens were, what they comprised, or what their purpose was). I couldn't help but notice the many low-flying jet planes overhead...I'm sure there's a major airport nearby. The large, sprawling gardens with their wide, paved paths would seem to be an ideal place to go bike-riding, but bicycles are inexplicably prohibited in the garden! (Unless you're an employee, that is.)
My throat is feeling slightly better now, which can only be a good thing.
The Schiller cafeteria workers constantly defy expectations. You tell them to put something on the side; they put it on another plate. You tell them to put something on another plate; they put it on the same plate right on top of your ravioli. You tell them explicitly "No chips," and they give you a plate full of them. Idiots.
Just as I thought my cold (or whatever it is) was getting better, I woke up this morning to find that my left ear feels as if it's underwater. That's a fine "how do you do."
I tried visiting the London Transport Museum this morning on my own, but the place was closed for renovation.
Most of the events and festivities for the day, however, were over in Oxford. After an hour's train ride, resident madman White proceeded again in leading us on a hurried, stopless trek throughout town, before arriving at Christ Church College, where we individually dispersed. I looked around the city much as I always do, raising my eyebrow upon noticing a poster at the Town Hall advertising a "Record and CD Fair"...that, unfortunately, was held only on the first Saturday of the month. (This was the last Saturday!) I also saw the Oxford University Press bookshop, which was filled with floors of nothing but Oxford University Press books.
I had most of my Schiller-packed lunch (working around the ham sandwich) for a rather late lunch, and had a large doughnut for "dinner." Inexplicably, cyclists are also banned from the Christ Church College grounds. What's with that?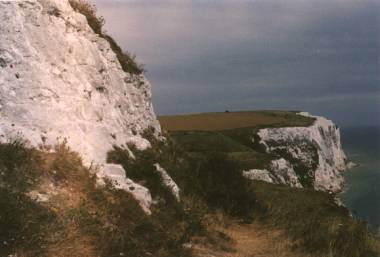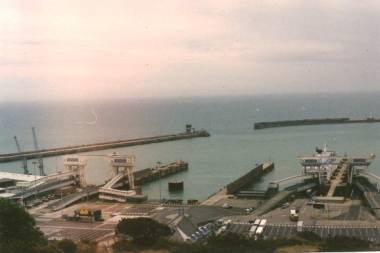 Left: The white cliffs of Dover. Right: A view of the docks down below.
Today's trip was a train ride southeast to Dover, in Kent. After stepping off the platform, we proceeded on a very long and mostly uphill walk to the chalk cliffs of the same name. The experience was exhilerating, at the very least! There's nothing quite as remarkable as crawling over to the edge of the cliff wall and looking down, straight to the stony shoreline hundreds of feet below. I wouldn't be surprised if a few unlucky souls met their demise here, but I guess they're not as litigiously-minded in the U.K., and I'm thankful of that!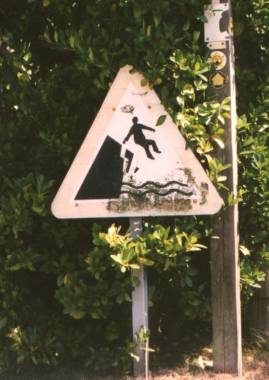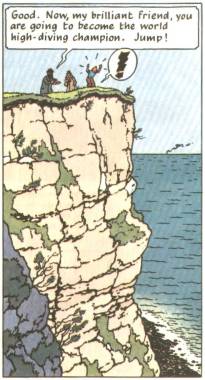 Left: A sign warns visitors of obvious dangers. Right: Obviously, my visit to Dover was much more pleasurable than Tintin's was!