The Third Week
For the record: My roommate went in and out of the room several times last night, inadvertently exposing me to the sound of drunken German girls on our floor. My left ear still feels as if it's plugged, with constant ringing now to boot. My sore throat may be coming back. Other than that, I feel great. (Rolls eyes)
Today was the beginning of our overnight trip to Wales. Upon arriving at Cardiff Central station, I was struck by a not wholely-unpleasant feeling that I hadn't experienced before on this trip: The feeling of being chilled. That feeling soon went away as White made us go on an inefficient and largely pointless 40-minute walk to our accomodations for the night on the sprawling, difficult-to-navigate campus of Cardiff University (Prifysgol Caerdydd).
This was not one of the better days of my trip: I didn't feel good to begin with, and it was raining cats and dogs on a day I hadn't brought a coat. We did get a brief tour of Cardiff Castle, but the massive walking to and from the university made me too exhausted to enjoy it, particularly with the weather conditions being what they were. I did get a good bite to eat at a pub called the Goat Major, but on the way back I got only as far as Cardiff University before getting massively lost: I couldn't remember the convoluted path (complete with wrong turns) Dr. White had guided us on in getting there, the residential campus was massive and had an idiosyncratic road and path layout, I had no map, all the buildings looked the same, and I stumped a resident student's vocabulary by asking where the reception office was. I must have walked in circles in the rain for over an hour before I finally found my way. Right now I'm sick, wet, and exhausted. I want to go home.
Happy birthday to me. The major event today, upon waking up in Cardiff, was a visit to the National Assembly for Wales, which in spite of unique architecture and geothermal heating characteristics I didn't find particularly interesting.
Today was a better day than yesterday...at least not much rain fell to the ground. On the train back to London, I inadvertently acquired a newspaper (The Independent) when the gentleman sitting next to me let me borrow it and then got off at the next station without retrieving it or asking for it back. Once I did get back to Schiller, I was presented with a small cake and two cards; one from my parents and one signed by the others on our trip. Small comforts.
Today I woke up feeling rather constipated (You didn't need to know that, I'm sure), but fortunately things didn't get worse than that. This morning we visited Westminster Abbey. I don't know if I feel extra cranky at this point in the trip or not, but the Abbey was very crowded with people and certain portions were cordoned off, although there was a large amount of wood and stone sculpture that I did enjoy seeing.
Speaking of art, our group then convened around noon to view a large Salvador Dalí exhibit in a gallery on the South Bank. Structured group-oriented activities for the day ended there; the plans listed for the day on our tentative itinerary ("spend the afternoon at British Museum/National Gallery/Buckingham Palace") were things I either didn't feel like doing or had done earlier on my own time.
This evening I did finally get a chance to wash some of my clothes. The washing machine was an odd one with a capacity about a fifth of that of the dryer it was next to, and the timer behaved in mysterious ways: Once it jumped back from "0h01" to "0h11" without explanation, and ten minutes seemed to elapse between the moment it actually reached "0h00" and when it actually let me open the door. Stupid machine...and I paid £1 to use the thing!
My day today began with a little twist: An amusing lecture to our group on the basics of British politics by Andrew Blackwood, resident teacher and international friend of Dr. White's. After that, we moved right on to a tour of Parliament. Security was very tight, as I expected: I'm glad I didn't bring my camera with me this time, as the film probably would have been destroyed if not confiscated. The sights inside, however, were breathtaking...it's almost hard to believe that the architecture is less than 200 years old. I'm glad I got to see it, and without the noisy politicians that crowd the interior whenever I see it on TV.
This afternoon I went aboard the London Eye, an oversized Ferris wheel overlooking the Thames and (from the top of the arc) the entire London area right out to the lonely radio transmitters in the distance. The sights were quite a treat to behold, and were just as good as those I saw earlier from the top of the St. Paul's Cathedral dome.
Not long ago, several new people moved in on my floor; the "drunken German girls" I alluded to once before. Not sure how true that statement is, but they do have habits of slamming and knocking on doors, listening to loud bursts of music at irregular intervals, flagrantly ignoring the pictographic "Men only" sign for the WC, and being unusally close-knit and silent to others. Oh well, I do have earplugs.
Today marked my last complete day in London. Tomorrow I'll cross the channel for a three-day visit in Paris before flying back home.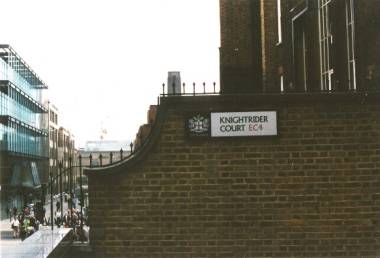 A street sign near St. Paul's Cathedral. Is this where KITT parks? Tate Modern is lurking in the background, too washed out to be easily visible.
I was a little apprehensive today, since a "final exam" was spelled out for the day on our itinerary. Surprisingly, that "test" proved to be nothing more than a directive to visit two area museums on our own time.
I spent much of my morning at the Victoria and Albert museum (which I recall had a selection of cast-iron decorations and keys on display) and the afternoon at the Tate Gallery of Modern Art, in a converted power-plant building across the Thames from St. Paul's Cathedral. Interestingly, they alluded to the building's past by piping industrial sounds into parts of the interior by speaker.
One of the works of art on display at the Tate Modern was..."Water Lilies" by Claude Monet. There, I am absolutely convinced that that painting follows me around. It was also one of the oldest works on display, with most of the viewable collection deriving from diversified art of the last fifty years.
In between, I decided to visit Harrod's Department Store, which is relatively close to the V&A. That store is quite the place...an almost mystical edifice where almost anything could be found if you walked in the right direction. I was less than thrilled about the haughty and unpermissive atmosphere of the lower floors, however. I opted to eat lunch while I was there, rather than accepting the ham-sandwich bag Schiller had perpared for me that morning. Later that day, I wrote up an account that let Schiller know what I thought of their food and facilities in no uncertain terms.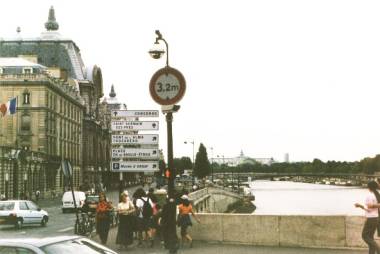 The "Paris Option" was not something I had explicitly in mind when I signed up for the UK trip, and I remain a bit nervous and reserved about it. This morning, I left London's Waterloo station by high-speed Eurostar train for a surprisingly short, direct trip into the heart of France. The trip through the Chunnel alone took only 21 minutes. Unlike most of my experiences in the last 20 days, in Paris there is no common language (I can read some German and Spanish, but can barely understand French), no professor supervision, no preconceived itinerary of things to do, and no map that I have, placing myself at a loss at the very least. Furthermore, I'm stuck sharing a hotel room with two other guys, and only one keycard to go around. At least it'll be for only two nights. But will I use that time well, or spend it huddled in the hotel?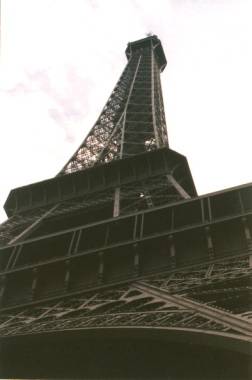 A structure that should need no introduction.
Early on, I made sure that the latter didn't happen if I could help it. Soon after arriving, I decided to go on a self-inflicted journey to the Eiffel tower by a variety of transportative means. Unlike the squeaky-clean London Underground, Paris's Metro is a lot dirtier and more decrepit in appearance. It's much harder to navigate, too, thanks to inconsistent sighage and maps that don't list all the lines. Ultimately I did reach the tower and took a few pictures when I was there, although I didn't go up it because the line was too long, it looked like you had to pay money to do so, and I was utterly exhausted.
It's awkward and intimidating not to know any of the native language when you want to speak it; namely, when you're buying anything. I already made a fool of myself in the first restaurant I tried sitting inside, and ultimately would up eating at McDonald's (cringe).
I'm still in Paris. Today I opted to visit that destination of destinations for art connoisseurs: The Louvre. I had hoped to be able to walk right in, but unfortunately this was one of the most famous museums in the world on one of the few days when admission for everyone was free. As such, the line up to the entrance wrapped around several courtyards and down the street, and I ended up waiting an hour and twenty minutes just to get through the door. (Later I heard one of the idiots I was sharing the hotel room with gloat about how he cut in that line, which made my head explode.) Once I was in, however, there was plenty to see and I had no problem spending four or five hours browsing the collection without even touching all the floors. Yes, the Mona Lisa was there, and as I expected it was surrounded by several layers of glass and ropes and a cloud of people. I could easily see the painting over everyone else's heads, however...sometimes I don't mind being 6'4".
My impression of the Paris Metro was not improved when the train I was on broke down for a few minutes part of the way back.
We needed to leave our Paris hotel room by 11:30, but our train didn't leave until 3:19 in the afternoon. I can't speak for the others, but I plugged the gaping four or so hours by going on a walk along a canal and down a winding street where an old toilet and other trash had been piled on the curb in a couple of places. Lovely.
I made my way through the train station with ease, but one of the idiots in our group was conspicuous by his absence...before mysteriously appearing ahead of me on the train itself. I have a feeling that there was an explanation for that, and I have a feeling I don't want to hear it.
The Paris option was an experience, if nothing else, but I found it to be disappointing. In retrospect, I would have rather spent the time within the United Kingdom traveling on my own to Manchester, or something else along those lines. This weekend trip made me homesick for London, which is a feeling I never expected to have.
Only one more day! I still need to pack, though...that ought to be a project in and of itself!
All things must come to an end, and this trip was no exception. Aside from an earlier start in the morning (and a shorter wait for a plane), today's events were essentially the same as the first day and a half's in reverse. By 10:30 I was in the air, aboard U.S. Airways flight 95 leaving Gatwick.
I was pleased to have seen my last of Schiller food and their terrible ham sandwiches, but as soon as the second round of airline food went around on my flight, I was presented with...a ham sandwich. For what it's worth, I left it there for the next person to board the plane. After eight hours wide awake, I landed in Charlotte for a van ride the rest of the way home.