Potpourri
I've accumulated a modest collection of license plates over the years, primarily from North America. Lately I've been expanding and improving my collection, and this is a "catch-all" of some highlights, in and outside of my direct collecting interests:
---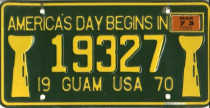 I'll begin with what I consider to be the most visually-interesting license plate I own, from the Pacific island and U.S. territory of Guam. This issue was used from 1970 to 1973 and depicts a pair of latte stones, which formed the foundation for ancient houses on the island. This was actually on my dad's Hino Contessa when he had an opportunity to study and work in Guam in the early '70s. ♦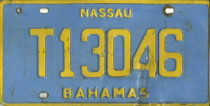 I've never been to the Bahamas...or anything in the way of "exotic" island locales. My cousin, however, has, and took the time to fetch this souvenir for me during her time there. (Thanks!)
So, what to make of it? Obviously, it's from the Bahamas. It's also from Nassau; the capital inhabiting the island of New Providence. The "T" prefix indicates that it was a truck registration. The lack of a validation sticker suggests that it was a front plate. The drilled hole at upper left suggests that it was mounted to a vehicle in an unusual way; perhaps on a European-specification car with a different license plate mounting arrangement. Colors are yellow on reflective robin's egg blue; an unusual scheme also used on some West Virginia non-pass plates I have. Finally, the lack of a lower-right bolthole indicates that perhaps the die used to cut it broke in the midst of manufacture, or perhaps that the people who make the plates are just sloppy about details! ♦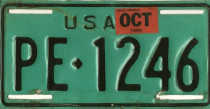 Here's something you wouldn't see on the road around here any day: No, it's not a "generic" American plate; rather, it's one of the sort used on vehicles by U.S. Forces stationed in Germany in the 1973-83 timeframe. Note the extra-long bolt slots; presumably to facilitate fastening the plate to either American or European cars, and the bilingual "Expires (Verfaellt)" notation on the validation sticker. The character dies on this plate are actually similar to those on 1952-57 District of Columbia license plates. Whether that's just coincidence or not is hard to say, but many U.S. Forces license plates were made by the Lorton Penitentiary in Virginia, which made D.C. plates for decades. ♦
These early 1980s license plates from the Canadian province of Ontario are favorites of mine...and not only because of the very cool alphanumeric combinations. I quite like the design itself, which in spite of (or perhaps because of) its simplicity just manages to have a lot of character. Note the variation regarding the presence or absense of the date and fully-enveloped sticker box in the lower corners; as well as the use of a combined month-year sticker on the newer plate. You can still see Ontario license plates like this on the roads...although seeing license plates like this that haven't been eaten by rust is another matter! ♦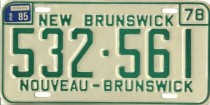 New Brunswick is notable for being the only province to issue bilingual license plates (as this 1985 example would attest), and for making the unusual move of going through several issues in the '70s that were completely identical to each other aside from the year stamped in the corner. License plates manufactured in correctional institutions are typically the exception to the rule in Canada: This particular plate (along with the two below) looks to have been made by Waldale Manufacturing, a company that has made plates for every province aside from Ontario at some point or another. ♦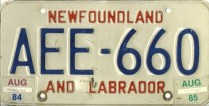 From an even more easterly corner of Canada is this Newfoundland and Labrador license plate. The embossed province name and plate number are painted in different colors, requiring a manufacturing process more complicated than usual but producing a very distinctive design as a result. ♦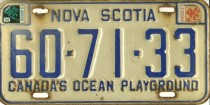 According to Joe Sallmen, Nova Scotia license plates of the '70s were subject to a replacement procedure that I find somewhat interesting. Non-reflective plates with numbers in the 2-00-00 to 38-49-99 range were supposedly replaced in 1979 with new ABC-123 format tags; reflective plates with numbers around 38-50-00 to 65-00-00 were likewise replaced in 1986. Why were they replaced? Because they rusted in the salty air of "Canada's Ocean Playground" like nobody's business! ♦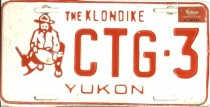 Yukon ho! The depiction of a prospector panning for gold has been used on Yukon Territory license plates since 1952. The "C" prefix indicates a light commercial vehicle registration; though unless you're an expert you'd probably never deduce that just from looking at the plate. To complete the motif, this plate has a dab of gold paint hand-applied inside the pan: See it? ♦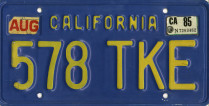 On to the United States: Yellow on blue California license plates were issued from 1969 to 1986, and (for lack of anything better to say) are a common sight on vehicles in '70s and '80s TV shows. This particular variation, with wide letter dies and a thick stroke, was made only in 1977 and 1978. Given how prone to fading the month stickers were in the California sun, there isn't much way of telling that this example expired in August 1985. (Upgrade, anyone?) ♦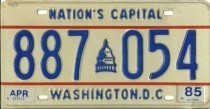 Here's a nice example from the District of Columbia. I find the understated design attractive, with stripes reminiscent of the D.C. flag and the U.S. capital dome embossed in the middle. Washington, D.C. license plates are not always easy to obtain, due to a combination of low registration figures and tight controls on recent plates.
A bit of oddball trivia: On most Washington, D.C. license plates until the late '80s, the last three digits of the tiny serial number on the originally-issued validation sticker (in this case, 017054) are the same as the last three digits of the license plate itself. ♦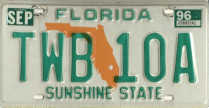 There's something to be said for simple, elegant license plate designs in a place like Florida that's flooded with trendy-yet-tacky optionals. Plates such as this with green lettering and an orange map were issued from 1978 to 1986 and again from 1992 to 1997; a similar design with red lettering and a green map was issued for the six years in between. During this timeframe, the "Sunshine State" slogan appeared only on plates from Dade and Bay counties issued in 1995-97: All others had the respective county name embossed along the bottom. ♦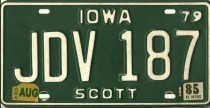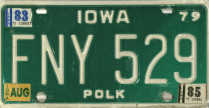 This style of Iowa license plate was issued from 1979 to 1985. The catch was that this style was in fact two styles with not-exactly-subtle differences in production method: Half the counties received fully-reflectorized debossed plates, while the other half received embossed plates with glass bead reflectorization. The embossed plates must have proved more successful in terms of durability, since by the end of the series even counties that had previously issued debossed plates such as Scott (shown here) had switched over to the embossed route. ♦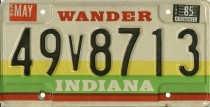 A 1985-expiring Indiana plate bearing one of the most unusual invitations of recent memory: "Wander Indiana." A strange slogan that was if there ever was one, but at least one that showed more creativity than "www.IN.gov." These plates are sometimes found with one month sticker in the corner covering another up: This is because in 1986 Indiana switched from staggering six expiration months out of the year to staggering ten, and re-assigned them accordingly. The "49" prefix is a code indicating Marion County, the largest in the state. ♦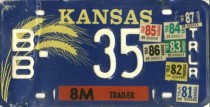 Evidence that as far as stickers go, some people don't know when to stop. One interesting thing about Kansas plates of the late '70s and early '80s is that the non-passenger sticker colors were a year "behind" those on month-staggered passenger plates: The truck and trailer stickers for 1976 through 1982 followed the same colors as the car stickers for 1977 through 1983. Another is that stickers are distributed by county, and low plate serials usually correspond to low sticker serials as well: All the stickers on this plate have serials with four leading zeroes. "8M" indicates a maximum weight class of 8000 pounds, while "BB" indicates Bourbon county: Don't drink and drive! ♦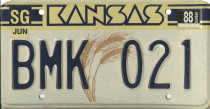 Another Kansas plate that is unique for several reasons. The design itself (which I actually like) employs one of the most bizarre-looking state name scripts around...you'd think the DMV paged through their record collection for inspiration when picking a font to use! This base was introduced in 1988 for expiration in 1989, and a screened "89" designation actually appears under the sticker in the upper right corner. Complicity abounds, however: Kansas assigns expiration months to motorists using the initial of their name as criteria, and some new registrants in 1988 thus got new plates expiring later in the year with an "88" sticker over the "89," and would have then needed an additional "89" sticker to go over the "88!" As a final fact of note, the "SG" sticker in the upper left corner is a code indicating Sedgwick County, home of Wichita. ♦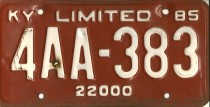 An example from the "interesting non-pass" category: "Limited" plates are issued in Kentucky for forestry vehicles and others subject to a limited area of operations and, thus, a lower fee. The embossed "22000" designation at the bottom is a code indicating the weight class in pounds. Since the vehicles these plates are issued to often don't even get on the road, owners often don't even bother bolting them onto their equipment. This one, however, was clearly used, complete with a nice little crater in the "A" as an artifact! ♦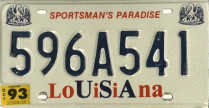 An ordinary, typical Louisiana plate from the early '90s, right? Not quite.
The first 90,000 plates manufactured in this graphic style (including this one) have a sticker well in the lower left corner meeting the outside edge of the plate, while all later examples have an inset well in the other corner. How's that for variations? The "A" in the middle of the serial is a geographical code corresponding to the Baton Rouge police troop area. Another point: Louisiana issued four-year passenger validations for a brief stretch in the late '80s, thus explaining why a plate issued in 1989 would have a natural "93" sticker. ♦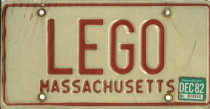 I'm not the biggest fan of vanity plates, but considering what another hobby of mine is, some combinations are too good to resist! ♦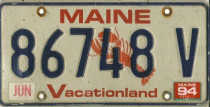 The infamous Maine "lobster" plate was issued from 1987 to 1999 in serial blocks from 1 P to 99999 Z, 1 AA to 9999 ZZ, and 1 AB to 2999 ES. Perhaps the most interesting facet of this plate, however, is found on the back: A pale green coat of paint. According to David Nicholson, these "greenbacks" were made primarily in the late "V" serial block range (though some were made in the "Q" and "W" series as well) and were probably just a consequence of the state getting hold of a bunch of plate blanks in 1987 that just happened to be painted green. Why? We may never know. ♦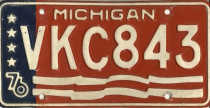 The state of Michigan issued these red, white, and blue license plates in 1976 in commemoration of the U.S. Bicentennial that year. I think this was a unique and attractive design that was certainly appropriate for the occasion. This plate is made of aluminum; by contrast; all other Michigan plates I have are steel. Finally, this is actually a front plate: The companion rear plate of this number (with validation sticker) was last seen folded in half as a birdhouse roof in my grandfather's backyard. ♦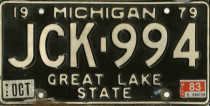 The colorful bicentennial-themed plate above was replaced in 1979 with this much plainer black-and-white design. There really isn't anything else to say about it, other than that the state eschewed front plates halfway through the base's run and two distinct die sizes for the "Great Lake State" slogan exist. ♦
These white on blue license plates were introduced in 1982 and 1983, and habited the roads of the Water Wonderland until political pressures culminated in a switch to a lackluster, generic, fully-reflectorized issue. The "MTT" suffix plate was issued soon after the original set of plate allocations were made, while the "WJV" prefix plate is nearly twenty years newer. Obviously, a few changes were made in the interim: The serial dies got narrower and thinner in stroke; the "Great Lakes" slogan was made larger, and the sticker wells disappeared.
Trivia: Michigan license plates expire on the vehicle owner's birth month. And am I the only one who has noticed that these serial dies (on the MTT plate, at least) are almost identical to those used on Missouri license plates such as the one two plates below? ♦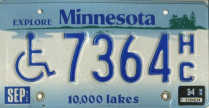 Want to know something nutty about this Minnesota handicapped plate? The person to whom it was issued colored in the blue "94" sticker with a black magic marker; making it look like a black 1995 sticker from more than a couple feet away. A crafty if legally-dubious way to earn an extra year out of a plate; no doubt! ♦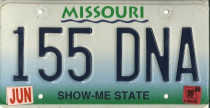 A Missouri license plate expiring in June 1999. Interesting letter combination, although I'm resorting to stating the obvious by this point... ♦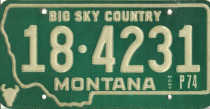 This Montana plate (issued in 1973 and validated through 1974) is yet another favorite of mine. Almost all Montana license plates issued since 1933 have featured a border in the shape of the state outline. In addition, it uses the uncommon production method of debossing: The background of this plate is what's raised and painted; not the serial. Lastly, the "18" prefix in the serial is a county code; indicating Beaverhead county. ♦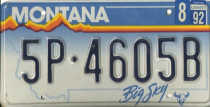 Another Montana plate from just eighteen years later. I've always liked this distinctive 1990s "sky and mountain" graphic design a lot myself, although I wish that the state outline was more visible and easier to pick out. "5" indicates Lewis & Clark county, while the "P" after it indicates a passenger vehicle and serves as a mechanism to prevent inadvertent duplication of numbers: Before this issue, you could have had "5-14605" issued in one county and "51-4605" in another. Better watch that dash! ♦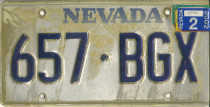 Sometimes, even the most foul-looking plates will have a few interesting features about them. This well-worn Nevada passenger is an artifact of the mid-1980s period when the state was shifting between serial spacing gaps, variations of background sheeting, and serial paint shades at seemingly insane frequency. In addition to being a member of the "dark blue, wide-spaced serial with sheep right of the bolthole" class that I've only confirmed in the BGD to BHY series or so, it managed to evade ultimate replacement in 2001 (albeit by only a few extra months) by bearing a "2-02" sticker. ♦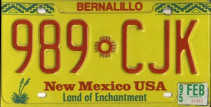 Another worthy candidate for the "distinctive and legible" category: You're sure not to mistake this New Mexico license plate, with its lemon yellow color, "zia" symbol, and turquoise trim, for one from any other state. This issue was introduced in 1991 and is still in use today. ♦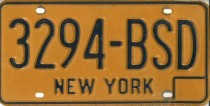 I got this undated New York passenger plate for my 1985 birthyear run. I have a gut instinct that this serial may have been issued in early 1986 instead of 1985, but with a letter series like this, how can you resist? ♦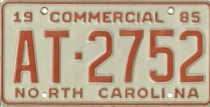 A non-passenger North Carolina license plate, noteworthy chiefly for the fact that 1) it has my birthyear on it and 2) it has my initials on it. Unlike passenger plates (which became renewed with stickers after 1975), commercial plates in North Carolina were replaced annually for many years after that...until 2006! It almost seems disconcertingly anachronistic that fully-embossed, annual license plate issues with the year split between the corners were still in evidence in one state just a few short years ago; but I'm not one to complain! ♦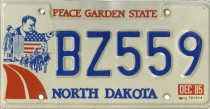 This is the famous North Dakota "Teddy Roosevelt" plate of the mid '80s, featuring a graphic of the Rough Riders and Teddy himself pointing and looking stern. It commemorated the life of the president, who spent several years living in the North Dakota Badlands in his youth. Ironically, these plates were produced in South Dakota using their distinctive dies of the era. ♦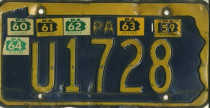 Validation stickers are something we all take for granted nowadays...and indeed, some states have been issuing them for over fifty years. Evidently, the temptation to go nuts decorating a plate with the annually-issued, colorful decorations isn't new either, as this 1958-base Pennsylvania plate would attest. Not only did this motorist place each of the six successive stickers in a different place, but he (she?) managed to place the first right over the embossed "58" designation for good measure! ♦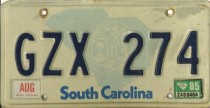 Here's a bit of trivia I learned in a recent column by Scott Broady in ALPCA's Plates magazine: The 1980-85 South Carolina passenger series was issued in number blocks from 101 to 500 only, thus leaving over half of the series unused. This is a license plate from the series in question, with the state outline and seal design printed lightly in the background and with stickers expiring on my birth month. The design wasn't used for passenger plates any longer than that, although I believe some non-passenger classes (such as Disabled Veteran) maintained the design for many years after. ♦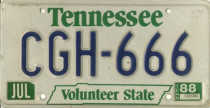 A repetitive serial combination from Tennessee. The plate itself is a late-period "supplementary series" 1983-88 issue with a three letter/three number format (issued whenever a county ran out of their allocation of plates); surely more legible than the bizarre "1-A2B34" or "12-3A45" format numbers with county coding that most plates of this series had. I always thought that green and blue looked good together, although I may be alone in that regard! ♦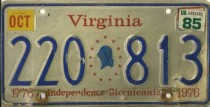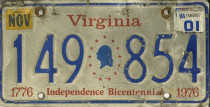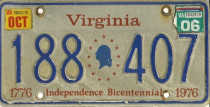 These Virginia "Independence Bicentennial" plates were first issued in 1975 for motorists looking to snazz up their bumpers for an extra fee. Most Virginia plates are made in-state, but these plates were made by the Irwin-Hodson Company of Oregon using the same dies found on Alaska license plates. The vast majority were issued in the first two years, although they remained available to motorists well into the early '80s.
It's been a slight preoccupation of mine to find the most recent validation possible on one of these plates: It seems that at each plate meet I go to, I'll find one with a sticker newer than what I had before. Judging by the recent tags evidenced at left, some of these could still conceivably be in use today, over thirty years on! This presents a strange circumstance, since in spite of this evidence and living ten miles from Virginia for a good chunk of my life, it's been years since I actually saw one of these firsthand on the road! ♦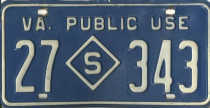 This is the sort of mysterious, distinctive, and utilitarian-looking plate that I really like: A circa 1970s Virginia "Public Use" license issued to state-owned vehicles (hence, the diamond-enclosed "S.") This is an obsolete issue; the plates used on Virginia state government vehicles today have a blue-on-light blue color scheme, move the "S" to the end, and eschew the diamond around it. ♦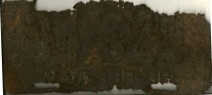 When going for a bike ride once in my latter days of living in West Virginia, I noticed an ancient wooden shed that had just been torn down. "Gee," I wondered, "I wonder if there were any license plates in that shed?" So, I pedaled over and took a look at the site. There wasn't much left, but I did notice a piece of crumpled metal amongst the rubble and pulled it out.
That crumpled piece of metal is what you see here: A 1938-39 West Virginia license plate, number 34-629. After presumably spending 68 years on the ground, it's...well, what you'd call a "filler." Funnily, you can still make out the errant chip of yellow paint if you stare hard enough. ♦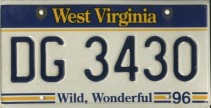 Back in 1994 (still very much in my West Virginia days), I remember seeing a photograph of prototypes for potential new license plate designs in the paper. The prevailing design at the time, I seem to remember, had a colorful sunset-and-mountain design (similar to what eventually became the extra-cost "scenic" issue) and reintroduced the "Mountain State" slogan that had last been in 1976. The actual design obviously turned out to be more than a bit different.
These plates were first issued in December 1994 for expiration in 1996 and remain in use today. While I think the design is a bit dull, these plates are very legible and are holding up much better over time than most earlier plates (Map, anyone?) did. The "D" on this plate, of course, indicates a December expiration.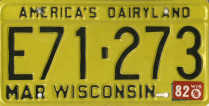 Since I currently live in Wisconsin (where I'm in the midst of combing through plates backward and forward), it only makes sense for me to present at least a rudimentary specimen from my Wisconsin collection. These black-on-yellow plates were issued from 1979 to 1986 and were in use as late as 1993. The month of expiration is noted both in the form of an embossed abbreviation and a code in the serial, whereby plates beginning with A or B expired in January, C or D in February, and so on. The color was such that my dad used to refer to this as the "butter" plate (Why not?), and the dies were such that the stamping on no two plates (or serial characters, for that matter!) seemed to be exactly alike.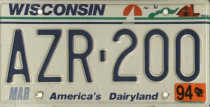 Exhibit two: This graphic plate design was introduced in 1986. Early plates featured a color scheme of blue characters against a white background...just like Illinois! In fact, there were so many complaints by law enforcement over the similarity of the two geographically-adjacent states' designs that the serial color was changed to red less than a year later. This "AZR"-series plate was among the last ones made before this change...and I've always liked this version more; to tell the truth. As a final wrinkle, the back of this plate is painted blue; which I find unusual.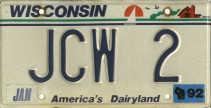 An early personalized plate on the graphic base. Although the state made a valiant attempt at weeding out blue-character plates, and vanities in particular, from circulation...allegedly, they went to the effort of restamping all personalized plates in red after the gaffe and giving them out in 1988...they weren't exactly successful. I have in my possession another blue-letter vanity that was stickered to 2000, and I actually spotted one in current use (albeit on the front bumper only) in the last year.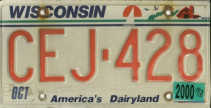 While the change to red characters addressed concerns about the plates resembling those of other states, the red paint was also prone to fading, and in fact a few years ago I witnessed a fair number of plates that had faded to the point of having white characters on a white background. These plates began to be replaced with a new design (similar, but with a black serial and red state name and slogan) in 2000 starting with the oldest plates, and are still being slowly phased out today...though a few late-period plates (mostly in the U to W series) still hold on for now.