WV 123
---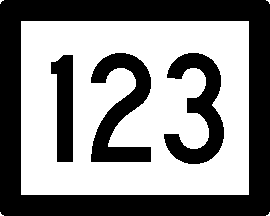 | Highway | Start | Terminus | Length (km) |
| --- | --- | --- | --- |
| WV 123 | Tazewell County, Virginia state line west of Brush Fork | US 19 and US 460 south of Princeton, near Green Valley | 16 |
---
Overview
WV 123 is an east-west highway running parallel to US 19 between Green Valley and the Virginia state line, where it morphs into VA SR 643. The highway was commissioned in 1975 as a connecting link for the Mercer County Airport, located near 123's halfway point due north of Bluefield. It is known as Airport Road.
Prehistory
The Mercer County Airport opened in 1954. Airport Road was constructed in tandem with the airport, and it had been open to traffic for more than two decades before WVDH belatedly assigned it a state highway number.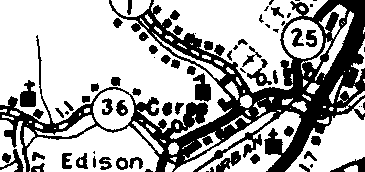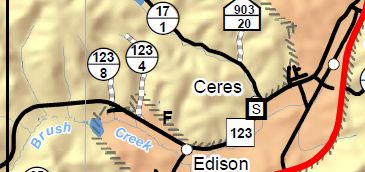 (WV SRC, 1945) (WVDOT, 2019)
Airport Road was built on a newly-constructed course and alignment between US 52 in Brush Fork and the Middle Fork of Brush Creek west of Edison. The road's eastern leg made use of pre-existing infrastructure; specifically a segment of CR 36 between Middle Fork and Edison and a portion of CR 25 (itself a former alignment of US 19 and US 21) between Edison and US 19 in Green Valley.


(WV SRC, 1945) (WVDOT, 2019)
When WV 123 was commissioned in the 1970s, the highway was also extended west of Brush Fork to encompass a segment that had previously been part of CR 23. Both CR 23 and CR 25 survive on the map in truncated form.
Etymology
The "123" number was probably chosen because a portion of the highway had previously been numbered as CR 23.
---
Points of interest

All photos by the author, 2013: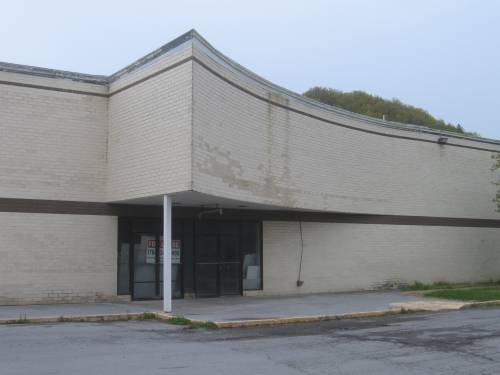 A: The Mercer County Airport lends its name to Airport Road and to the Airport Square Shopping Centre, which stands at a crossroads north of Bluefield where there once was a drive-in theatre. The North Carolina-based Roses chain opened a discount store here in the early '80s...which now stands abandoned. No loss: Roses had its assets snapped up in the 1990s by fascist bankroller and climate denialist Art Pope, who's been wreaking havoc on humanity ever since.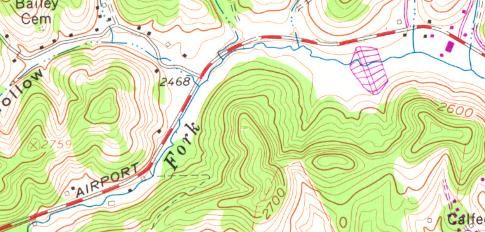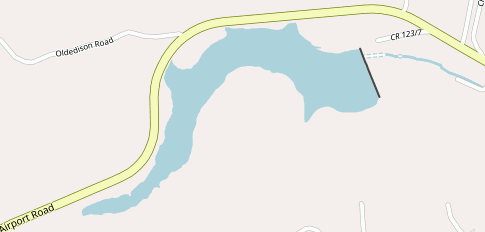 (USGS, 1979) (Open Street Map, 2019)
B: Just downstream from the airport lies the site of WV 123's only realignment: The Kee Dam, also known as Brush Creek Structure No. 19a, built between 1974 and 1976 to supplement Bluefield's (privatized) drinking water supply. The resulting reservoir flooded the site of the original road, forcing WVDH to relocate a section of the highway to higher terrain. A short stub of the original road (CR 123/7) survives as an access road to the dam itself.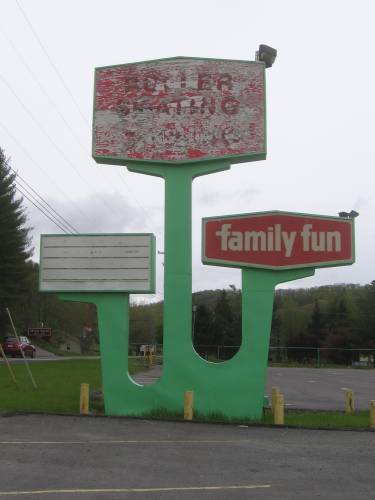 C: An illegible sign for a bowling alley and roller rink stands on Route 123. This place had a sickly look when I passed by in 2013, and I assumed it was closed and abandoned...until I pulled up the address on Google in this midst of researching this feature, promptly finding that a) it was still open for business, and b) the owner had painted the word "TR*MP" across the back wall of the bowling lanes, twice over, for white supremacists and rabid homophobes to gaze at with wholehearted approval.
Do I need any other evidence to demonstrate why I fled this area with my life?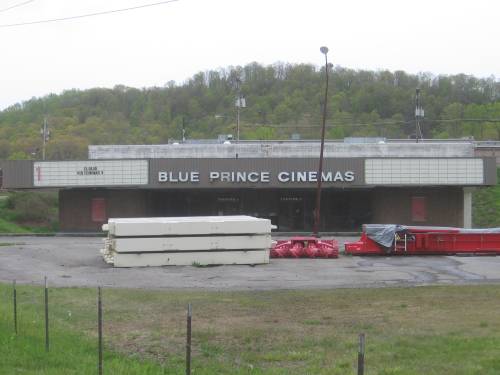 D: And speaking of "closed and abandoned," here's Route 123's most famous bygone ruin. The Blue Prince Cinema opened in 1976, complementing the adjacent Blue Prince Plaza (discussed on the US 19 page) and hastening the demise of Bluefield's last two downtown theatres by decade's end. For a brief time around 1980, this was the only first-run indoor cinema in the county: If you wanted to see The Empire Strikes Back, this two-screen shoebox was where you had to go.
The Blue Prince Cinema closed by the early 2000s, its own demise being hastened by a co-owned multiplex at the nearby Mercer Mall and the area's coal-induced, seven-decade-long socioeconomic decline. The building stood deteriorating for over a decade and then some, and was demolished in 2015.
---
Fractional spur roads

| Road | Names | Start | Terminus | Length (km) | Notes |
| --- | --- | --- | --- | --- | --- |
| 123/1 | Evangelism Rd. | WV 123 | dead end | 2 | |
| 123/2 | Victory Rd. | WV 123 | WV 123 | insignificant | |
| 123/3 | Nichols Rd. | WV 123 | dead end | insignificant | |
| 123/4 | Shermanoaks Rd. | WV 123 | dead end | insignificant | |
| 123/5 | (unknown) | | | | |
| 123/6 | (unknown) | | | | |
| 123/7 | Charnell Way | WV 123 | dead end | insignificant | Former alignment of WV 123, partially flooded by the construction of the Kee Dam. |
| 123/8 | Duff Hollow Rd. | WV 123 | dead end | insignificant | |
---