WV 4 and US 19
---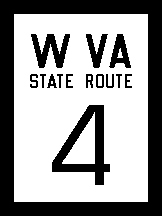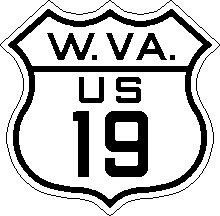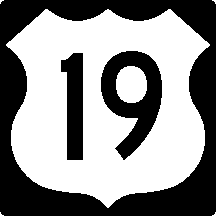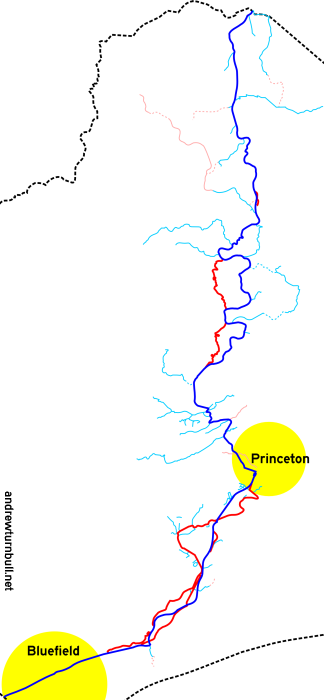 | Highway | Start | Terminus | Length (km) |
| --- | --- | --- | --- |
| US 19 | Raleigh County line near Flat Top | Tazewell County, Virginia state line, Bluefield | 58 (62 for pre-1930s alignment) |
---
Overview
US Route 19 is an original United States numbered road from the AASHO's 11 November 1926 interstate numbering plan. Like the vast majority of U.S. numbered highways, Route 19 has a lengthy trajectory that cuts across several states. Its northern terminus is in Erie, Pennsylvania, a hop, skip, and jump from the Lake Ontario shore. Its south end is in Memphis, Florida, just south of Tampa. Needless to say, it's a route that's popular with Canadian snowbirds.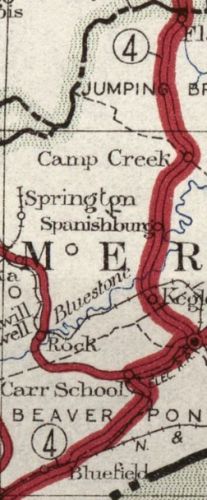 (WV State Road Commission, 1922)
West Virginia's state highway system preceded the AASHO's U.S. highway system by four years, and the future course of US 19 was briefly, fleetingly signed in the 1920s as WV 4. Until the latter highway was truncated north of Wytheville, Virginia in 1974, US 19 followed a concurrency with US 21 for the vast majority of its distance in Mercer County.
Given that US 19 has existed as a highway for more than 90 years and is paralleled by Interstates for much of its distance, it's almost incredible how stable its routing has been! From the Raleigh County line south to Princeton, its alignment has basically been unchanged (barring minor straightenings) since the day it was commissioned. The stretch between Princeton and Bluefield is another story, however. Its course has changed three times: Once in the 1930s to straighten the course of the highway and move it off of an interurban trolley right-of-way, once in 1977 when its concurrency with US 460 was expanded to a four-lane divided arrangement as Appalachian Development Corridor Q, and once more in 1997 when a notoriously treacherous curve on Corridor Q was bypassed by a rock cut.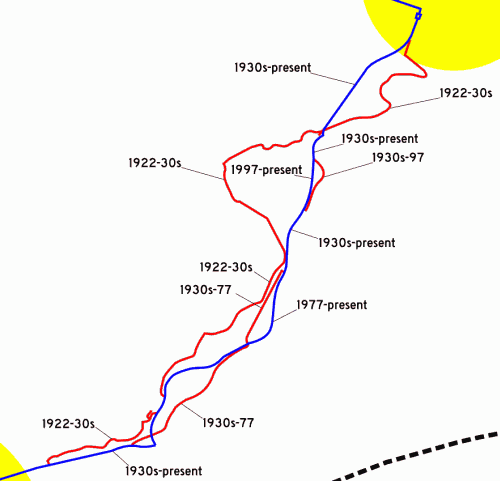 The original 1920s course of WV 4 and US 19 is now numbered variously as CR 19/29, CR 19/33, WV 123, or CR 25 and signed as variations of "Old Bluefield Road," "Old Princeton Road," and "Old Bluefield-Princeton Road" for much of its distance. Meanwhile, the bypassed portions of the 1930s alignment that replaced it are now CR 19/49, CR 19/54, CR 19/33, and WV 112.
Prehistory
The majority of West Virginia's original 1922 highway system was routed atop pre-existing infrastructure, and WV 4 was no exception. Most of the roads making up its alignment north of Princeton were already in place by 1887. South of Princeton, things were more scattered: Some segments of the future 4 and 19 were in place by 1895, but they were not connected into a coherent road until the interurban rail line opened astride it in 1916. The 1930s realignment consisted overwhelmingly of new construction, although some portions immediately south of Princeton were again built up over pre-existing roads.
---
Points of interest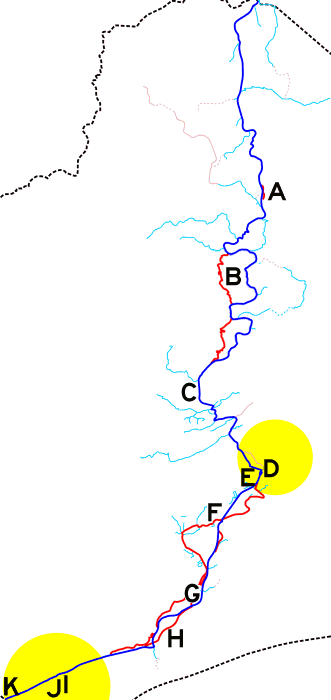 All photos by the author, 2013 (except as otherwise noted):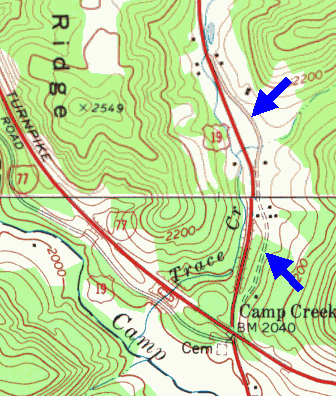 A: US 19's course in northern Mercer County is an extremely twisting course that runs parallel to the West Virginia Turnpike. Near the final crossover at Camp Creek itself, a brief segment of old highway presents itself as a parallel side road. US 19's routing has changed so little over the years that this is the only section of old alignment north of Princeton that tangibly exists! (USGS, 1968)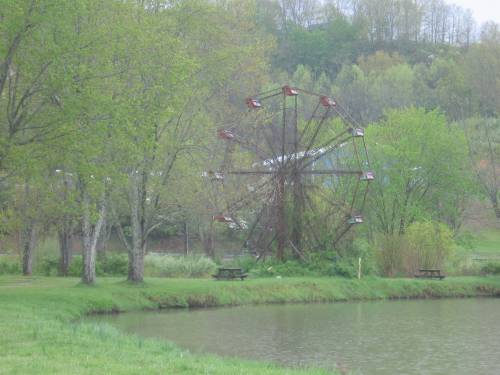 B: Eighteen kilometres of twists and turns south of Camp Creek, US 19 passes by its intersection with WV 10...and with it, the area's creepiest ruin. The Lake Shawnee Amusement Park opened in 1926, closed in the 1960s, briefly reopened in the 1980s, and has basically been in stasis for the last thirty years. Its location has a fair amount of local infamy as the place where the first white settlers in the vicinity met a grisly demise in the eighteenth century. The park is also reportedly atop an indigenous burial ground, which hardly reduces the heebie-jeebie factors.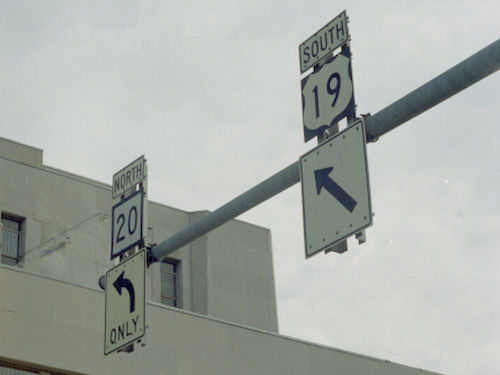 C: After finishing its winding course through the Bluestone River Valley, US 19 climbs the grade of Black Oak Mountain north of Princeton and approaches the city on Honaker Avenue. It circles the Mercer County Courthouse, touching WV 20 in the process. (Photo by the author, 2000.)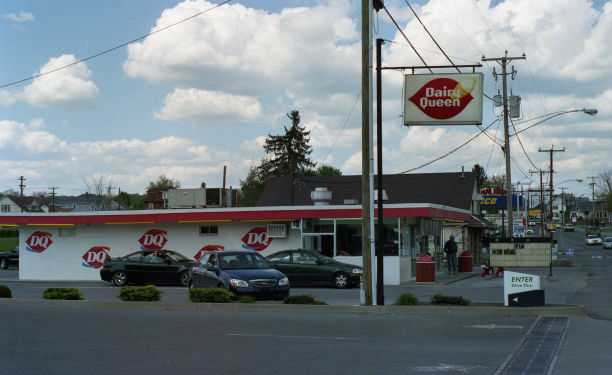 D: South of Princeton's courthouse, Route 19 passes by the site of the bygone mid-century Princeton Airport (still alluded to in a side street named "Airport Drive"), and also passes this ancient Dairy Queen (since remodelled, alas). This is the point where 19's pre- and post-1930s alignments diverge. (Photo by the author, 2008.)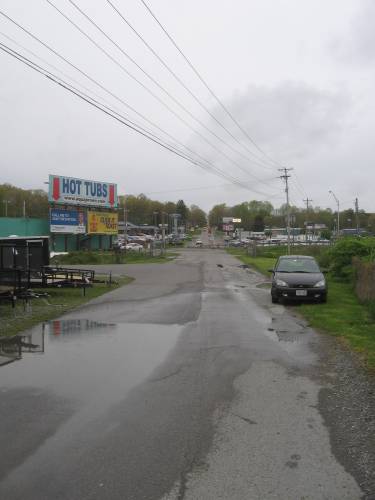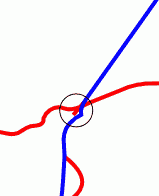 E: US 19's post-1930s alignment takes a straight tack southwest out of Princeton where it merges with US 460 via Appalachian Development Highway Corridor Q. When the intersection with Q was completed in the late 1970s, a bit of US 19 ended up getting cut off in the process, leaving a short stub of old road dubbed Expert Circle (CR 19/49). Here is that stub, looking back in the direction of Princeton. A guard rail bisects the road in the distance, separating old stub from still-extant highway.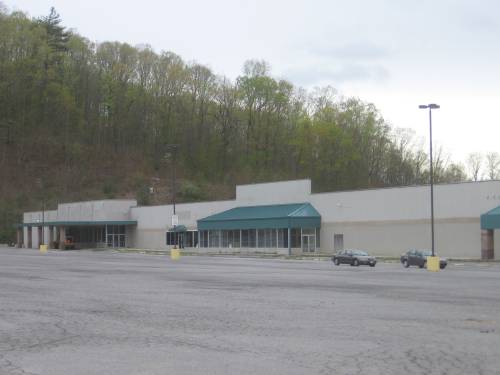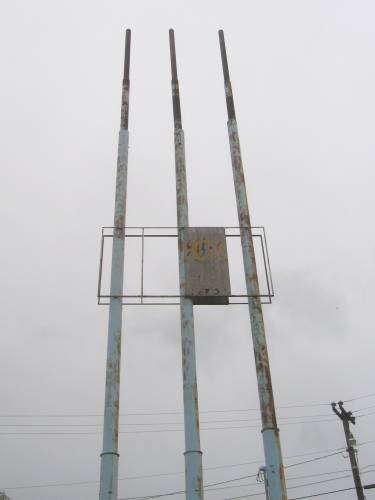 F: Some portions of Corridor Q were built directly atop US 19's prior alignment. Others however were bypassed entirely...dooming whatever economic activity once happened astride them.
This was the site of the Blue Prince Plaza, a shopping centre halfway between Princeton and Bluefield that opened in 1967 alongside the busy highway. Blue Prince boasted Hills and G.C. Murphy as anchors, and spent the 1970s bustling as the area's premiere shopping attraction. Then...US 19 and US 460 were rerouted to a new bypass, eliminating Blue Prince's sight lines from the highway and sucking out all the through traffic. The much larger and enclosed Mercer Mall opened down the road in 1980, stealing Hills as an anchor seven years later. By the late 1990s, Blue Prince was a ghost town. All that's left now is the building (which appears to have been repurposed for industrial or warehousing activities), and the triple-pole sign carcass for the Hills sign in the parking lot.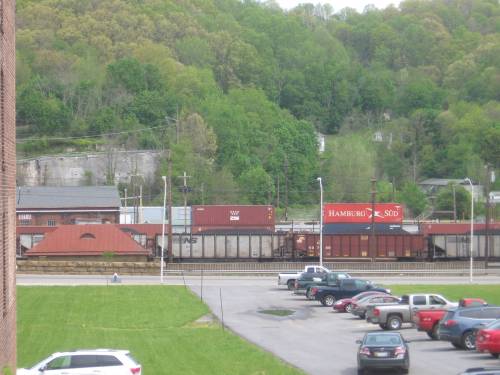 G: Now we're overlooking Princeton Avenue in Bluefield, which is also the place where US 19's 1920s, 1930s, and 1970s alignments all congeal back into one. Wide empty spaces abound downtown...though it didn't used to be that way. In 2009 the city's abandoned Matz Hotel literally collapsed, taking out the front half of the city's abandoned Colonial Theatre in the process. Both buildings were eventually razed, along with a disused parking garage that once stood on the next block.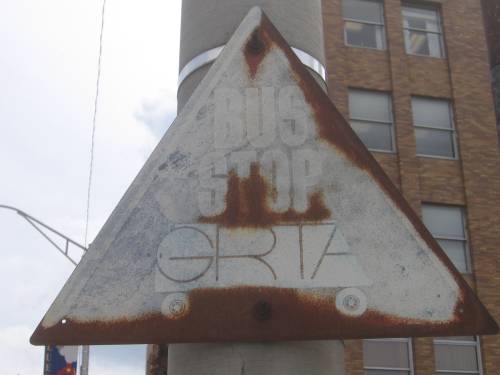 An extremely faded and rusted Bus Stop sign still clings to a pole on Princeton Avenue, reminding observant passerby that Bluefield's bus system was known as GRTA (Gateway Regional Transit Authority) from 1974 until 1991. Ever since trolleys disappeared in the 1940s, Mercer County's public transit offerings have fluctuated between cursory and nonexistent.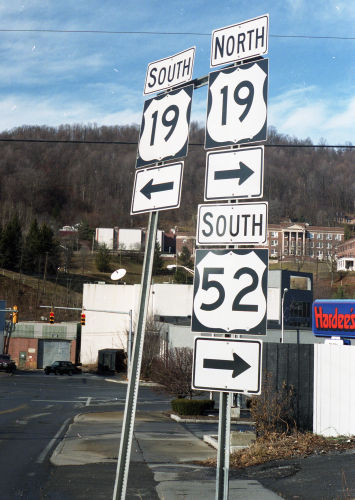 H: Downtown Bluefield is the place where US 19 crosses paths with US 52, running concurrently for several blocks in such a way that the "south" course of one road is the "north" course of the other! (Photo by the author, 2000).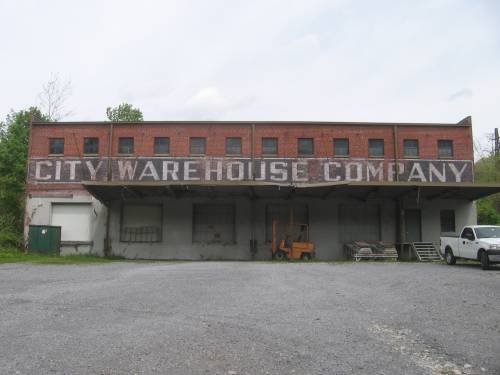 Numerous warehouses and industrial buildings once bounded US 19's course in Bluefield, backing up to the Norfolk & Western railroad tracks that run alongside. This scene is typical of the lot, and it's also one of those cases where you can't tell if the building is living or dead.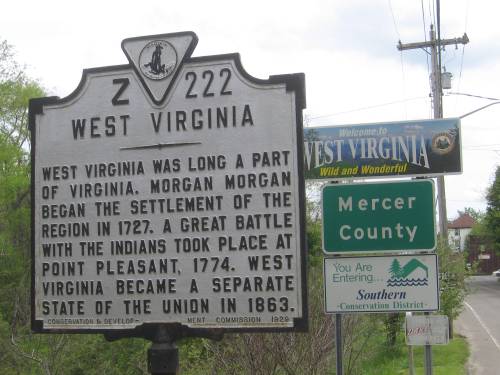 I: After following a straight course for 9 kilometres, US 19 finally exits West Virginia. The town that touches on the Virginia side of the border is also named Bluefield, though it had the more distinctive name of Graham until 1924. And that's where our tour leaves off...
---
Fractional spur roads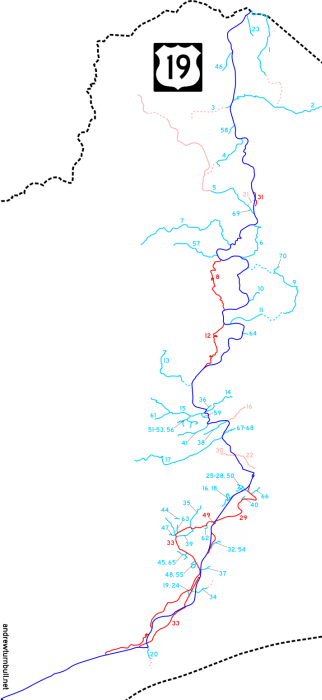 CR 19/1 through CR 19/20 were numbered off southly from Raleigh County to Bluefield as part of the original fractional number allocation circa 1935, with higher-numbered roads being later additions. Another group of roads worth pointing out are CR 19/3 through CR 19/5: These once traversed the depths of Camp Creek State Forest, and have since been reclassified as park and forest roads that are open to hikers and bikers but not through vehicular traffic. One fractional number (19/16) was later reassigned to a different road.
| Road | Names | Start | Terminus | Length (km) | Notes |
| --- | --- | --- | --- | --- | --- |
| 19/1 | Ellison Ridge Rd., Elizabeth Branch Rd. | US 19, Flat Top | dead end (originally through to CR 19/2) | 7 | Original 1930s assignment. Southern end decommissioned and impassable. |
| 19/2 | Fairview School Rd., Old Schoolhouse Rd. | US 19 south of Flat Top | CR 4 | 7 | Original 1930s assignment. Impassable? |
| 19/3 | (unnamed road) | US 19 near Camp Creek State Forest | dead end (originally through to CR 1/2) | 3 | Original 1930s assignment. Decommissioned and impassable through Camp Creek State Forest. |
| 19/4 | Clark School Rd. | US 19 near Camp Creek State Forest | dead end (originally through to CR 19/5) | 3 | Original 1930s assignment. Decommissioned and impassable through Camp Creek State Forest. |
| 19/5 | Camp Creek Rd. | US 19, Camp Creek | CR 1/5 (including CR 1/7 and Park Road portions) | 11 | Original 1930s assignment. Portion is now CR 1/7 and Park Road 802; impassable through Camp Creek State Forest. |
| 19/6 | Wolf Creek Rd. | US 19, Camp Creek | US 19 south of Camp Creek | 3 | Original 1930s assignment. |
| 19/7 | Stovall Ridge Rd. | US 19 | CR 5 | 7 | Original 1930s assignment. |
| 19/8 | Maynard Rd. | US 19 | CR 5 | 3 | Original 1930s assignment. Former alignment of US 19's predecessor road. |
| 19/9 | Cornbread Ridge Rd. | US 19 | CR 7/4 | 5 | Original 1930s assignment. Western end decommissioned and impassable. |
| 19/10 | Mill Dam Rd. | US 19 | dead end | insignificant | Original 1930s assignment. |
| 19/11 | Maxey Rd., Spanishburg-Kyle Bowling School Rd. | US 19, Spanishburg | CR 7/4 | 4 | Original 1930s assignment. Impassable? |
| 19/12 | Old Spanishburg-Shawnee Rd. | US 19, Spanishburg | US 19 north of Princeton | 4 | Original 1930s assignment. Former alignment of US 19's predecessor road. |
| 19/13 | Cabin Branch Rd., Reese Harmon Ridge Rd. | US 19, Lake Shawnee | CR 12/3 | 4 | Original 1930s assignment. |
| 19/14 | Keatley Rd. | US 19, Kegley | CR 7/1 | 2 | Original 1930s assignment. |
| 19/15 | Kegley School Rd. | US 19, Kegley | CR 10/7 | 4 | Original 1930s assignment. |
| 19/16 (old) | Sharps Turn Rd. | US 19, Kegley | CR 16/4 | insignificant | Original 1930s assignment. Now part of CR 7/1. |
| 19/16 | City View Heights Rd. | US 19 (Courthouse Rd.), Princeton | Hunter Park south of Princeton | insignificant | |
| 19/17 | Black Oak Rd. | US 19 north of Princeton | CR 71/4 | 6 | Original 1930s assignment. |
| 19/18 | Penmar Ave., Grove St., Kirkwood Ave. | CR 19/16 | itself (loops) | insignificant | |
| 19/19 | Mapledale Ln. | WV 123, Green Valley | dead end (originally through to CR 34) | 2 | Original 1930s assignment. Truncated due to the construction of Corridor Q in 1978, and impassable. Part of the former road is now CR 19/34. |
| 19/20 | Cumberland Pike | US 19 east of Bluefield | dead end (originally through to former CR 29, now US 52) | insignificant | Original 1930s assignment. Truncated due to the construction of Corridor Q in 1977. |
| 19/21 (old) | (unnamed road) | US 19, Camp Creek | CR 19/5, Camp Creek | insignificant | Added by 1945. Obliterated by the construction of the West Virginia Turnpike |
| 19/22 (old) | Raleigh Rd. | US 19, Princeton | N. Walker St., Princeton | 2 | Added by 1945. Technically ended at Princeton city limits, which have since subsumed the road. |
| 19/23 | Dud Lillys Rd. | US 19, Flat Top | dead end | insignificant | |
| 19/24 | Coconut Rd. | CR 19/33 (former US 19), Green Valley | WV 123, Green Valley | insignificant | |
| 19/25 | Emory Ave. | US 19 (Courthouse Rd.), Princeton | Princeton Youth Park loop | insignificant | |
| 19/26 | Hillside Dr. | US 19 (Courthouse Rd.), Princeton | CR 19/25, Princeton | insignificant | |
| 19/27 | Middlesex Ave. | CR 19/25, Princeton | dead end | insignificant | |
| 19/28 | Summit St. | CR 19/26, Princeton | dead end | insignificant | |
| 19/29 | Old Bluefield Rd., Glenwood Park Rd. | US 19 and WV 104, Princeton | CR 19/33, Glenwood | 7 | Former alignment of US 19. West leg also a former alignment of WV 71. |
| 19/30 | (unknown) | | | | |
| 19/31 | Trace Creek Rd. | US 19, Camp Creek | dead end | insignificant | Former alignment of US 19 |
| 19/32 | Shelter Rd. | CR 19/54 (former US 19) south of Princeton | dead end | insignificant | |
| 19/33 | Country Girl Rd., Blue Prince Rd., Maple Acres Rd. | WV 112 east of Bluefield | WV 20, Glenwood | 8 | South leg is former alignment of US 19 & 460; middle leg (north of WV 123) is former alignment of US 19 and WV 71; north leg is former alignment of WV 10 and WV 71. A mix of US 19's pre- and post-1930s alignments. |
| 19/34 | Green Valley Rd. | US 19/460, Green Valley | dead end | insignificant | Formerly part of CR 19/19, and formerly through to CR 34. |
| 19/35 | Glenwood Haven Rd. | CR 19/29, Glenwood | Pigeon Roost Trail | insignificant | |
| 19/36 | Asbury Rd. | US 19 north of Princeton | dead end | insignificant | |
| 19/37 | Rainbow Rd. | US 19/460, Green Valley | | insignificant | |
| 19/38 | Hollyhill Rd. | US 19 north of Princeton | dead end | insignificant | |
| 19/39 | Old Pepsi Rd. | CR 19/29, Glenwood | CR 19/33, Glenwood | insignificant | Follows alignment of interurban tracks |
| 19/40 | (unnamed road) | CR 19/29, Princeton | dead end | insignificant | |
| 19/41 | Ross Branch Rd. | US 19, Kegley | dead end | 2 | |
| 19/42 | (unknown) | | | | |
| 19/43 | (unknown) | | | | |
| 19/44 | Olen Ave. | CR 71/9, Glenwood | dead end | insignificant | Does not intersect with US 19 |
| 19/45 | Redsky Rd. | CR 19/33 south of Glenwood | dead end | insignificant | |
| 19/46 | Toad Level Rd. | US 19 south of Flat Top | dead end | insignificant | |
| 19/47 | Glenwood Park Rd. | CR 19/33, Glenwood | dead end | insignificant | |
| 19/48 | Shade Tree Circle | CR 19/33, Maple Acres | itself (loops) | insignificant | |
| 19/49 | Expert Cir. | CR 19/29 south of Princeton | dead end | insignificant | Former stub of US 19 |
| 19/50 | Union St. | US 19 (Courthouse Rd.), Princeton | CR 19/29 (Old Bluefield Rd.), Princeton | insignificant | |
| 19/51 | Acorn Ln. | CR 19/15, Kegley | dead end | insignificant | |
| 19/52 | Mountain Top Rd. | CR 19/51, Kegley | dead end | insignificant | |
| 19/53 | Blackberry Ln. | CR 19/52, Kegley | dead end | insignificant | |
| 19/54 | Frontage Rd. | US 19/460 south of Princeton | dead end | insignificant | Former alignment of US 19 & 460 bypassed 1997. |
| 19/55 | Countryside Rd. | CR 19/33, Maple Acres | Celtic St., Maple Acres | insignificant | |
| 19/56 | Golden Ln., Golden Gate St. | CR 19/51, Kegley | dead end | insignificant | |
| 19/57 | Bob Byrd Rd. | US 19 | dead end | 3 | |
| 19/58 | Twin Oaks Ln. | US 19 near Camp Creek State Forest | dead end | insignificant | |
| 19/59 | Former Delta Rd. 40 | CR 19/15, Kegley | dead end | insignificant | |
| 19/60 | (unknown) | | | | |
| 19/61 | (unknown) | | | | |
| 19/62 | Orange Ln. | CR 19/29 south of Princeton | dead end | insignificant | |
| 19/63 | Summerfield Rd. | CR 19/29, Glenwood | dead end | insignificant | |
| 19/64 | Miller St. | US 19, Spanishburg | dead end | insignificant | |
| 19/65 | Elkview St. | CR 19/45 | dead end | insignificant | |
| 19/66 | Tabor Ave., Tiger Dr. | CR 19/29 (Old Bluefield Rd.), Princeton | CR 27 (Ingleside Rd.), Princeton | insignificant | |
| 19/67 | Little Fox St. | US 19 north of Princeton | dead end | insignificant | |
| 19/68 | Creekledge Ln. | CR 19/67 | dead end | insignificant | |
| 19/69 | (unknown name) | CR 19/5, Camp Creek | dead end | insignificant | |
---