WV 80 and US 21
---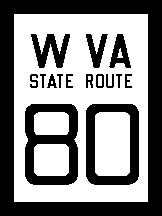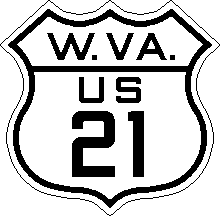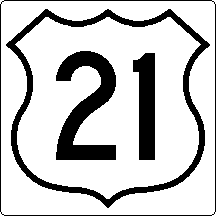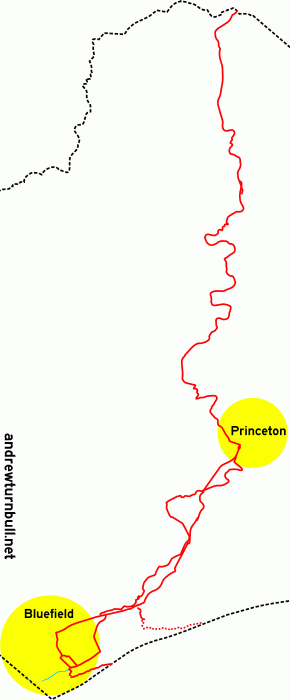 | Highway | Start | Terminus | Length (km) |
| --- | --- | --- | --- |
| US 21 | Raleigh County line near Flat Top | Bland County, Virginia state line southeast of Bluefield | 61 |
---
Overview
US Route 21 was an original United States numbered road from the AASHO's 11 November 1926 interstate numbering plan, running north-south from Cleveland, Ohio to Yemassee (later Hunting Island), South Carolina.
US 21 was always a somewhat redundant highway, with large portions of its course being signed as concurrencies with other roads. In Mercer County, it was co-signed with US 19 from the Raleigh County line south to Bluefield, where it took an easterly turn over East River Mountain. The East River Mountain portion also became a co-signed highway when US 52 was extended south of Bluefield in 1932. In the 1960s, Interstate 77 was built, displacing US 21 as the preferred north-south route throughout its course. This wound up being the final straw for the old road, and US 21 was decommissioned north of Wytheville, Virginia in 1974.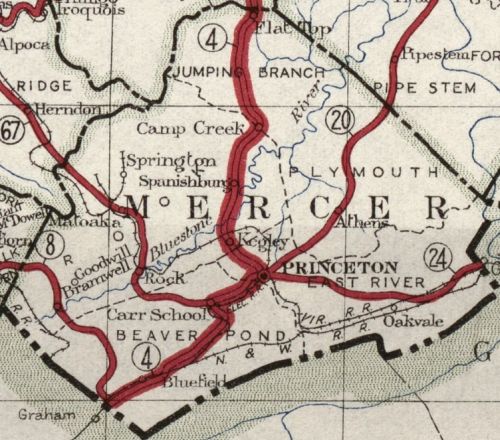 (WV State Road Commission, 1922)
Mercer County originally had no direct West Virginia state or U.S. highway connection to Bland County, Virginia at all. East River Mountain functioned as a near-impenetrable barrier that motorists (and horses) were better served going around than over, and a connecting link was omitted from the map.
In 1925 the state belatedly gave Bland County a highway connection by commissioning a new road, WV 80, that ran from WV 4 near Bluefield southwest to the state line. One scant year later, the U.S. highway system was unveiled. WV 4 became a part of US 19, and WV 80 became a part of US 21.
Prehistory
US 21's original concurrency north of Bluefield was routed on pre-existing roads, many of which dated to the 1880s or earlier. The portion between Princeton and Bluefield was realigned and reconstructed in the 1930s. US 21's course over East River Mountain was also built anew in the 1930s, replacing a nineteenth-century road (discussed below).
---
Points of interest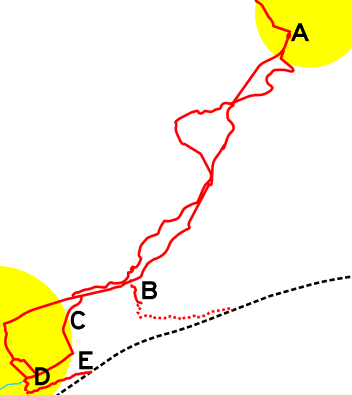 All photos by the author, 2013 (except as otherwise noted):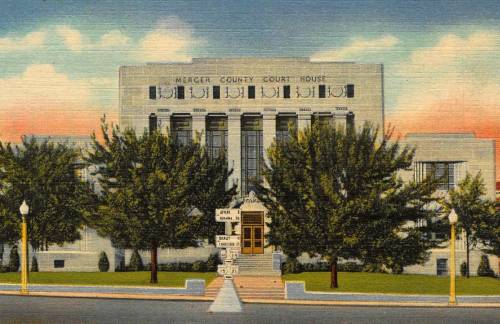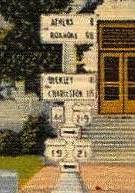 A: As part of its concurrency with US 19 in Princeton, US 21 was routed around the Mercer County Courthouse...seen here in a heavily-airbrushed early-1940s postcard picture. A cutout route marker for US 21 is clearly visible in the foreground, along with signs for WV 44 (later renumbered 20), US 19 (still extant), and US 219 (truncated in 1967).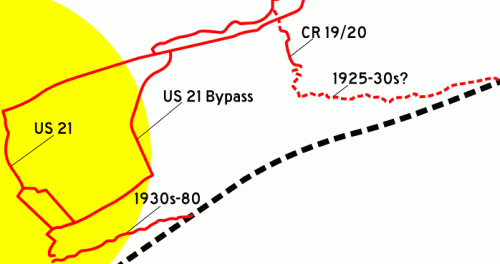 Being a concurrency, US 21 was affected by the reroutings of US 19 and US 52 in and between Princeton and Bluefield in the 1930s...as well as a few route changes of its own: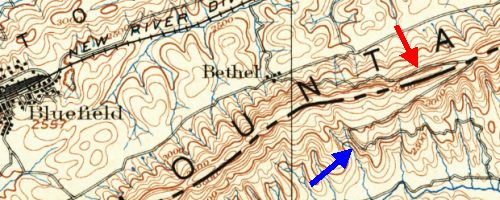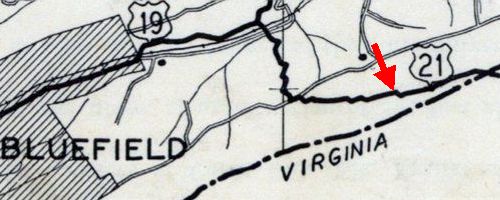 (USGS, 1895) (Clarksburg Publishing Co., 1933)
B: Two road passages over East River Mountain have existed over the years. The first was in place by the 1880s and approached the mountain east of Bluefield from a long-vanished crossroads village named Bethel, roughly where the US 52-460 interchange is now. The mountain passage featured a hair-raising, zigzagging course with multiple switchbacks. There's ample evidence that US 21 was routed this way during its earliest years of existence: It's shown following this course in a 1933 West Virginia atlas and a 1932 Virginia State Highway Commission road map.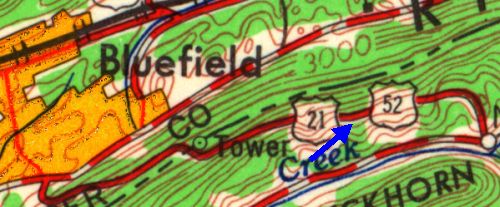 (USGS, 1957)
By 1935, the original switchback-strewn East River Mountain passage had been abandoned in favour of a slightly tamer course that started in Bluefield instead of bypassing the city entirely. US 21 and 52 were placed atop this new alignment, which followed a fairly straight path over the ridge before rejoining the course of the original 1880s road partway down the Virginia side (blue arrow).
The pre-1930s road vanished quickly from the maps, and it no longer exists on the West Virginia side at all aside from a short segment numbered CR 19/20 functioning merely as a billboard service road. On the Virginia side, the old road is discernable as an unpaved path at the edge of a field of old school buses. (I'm not making this up.)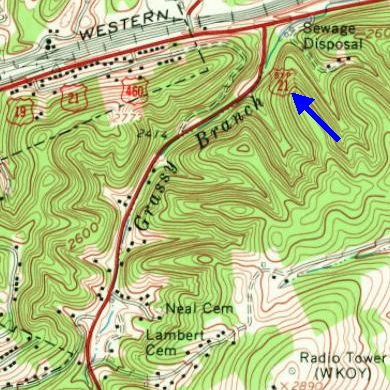 (USGS, 1962)
C: By 1945 a new alignment of US 21 had opened east of Bluefield in the Grassy Branch creek valley. Strangely, this new segment was signed as an auxiliary "Bypass" route while US 21's primary course continued to be routed through downtown Bluefield to the end. This was the only portion of US 21 in Mercer County that was never part of any other state or U.S. highway. Today, this road is part of CR 25.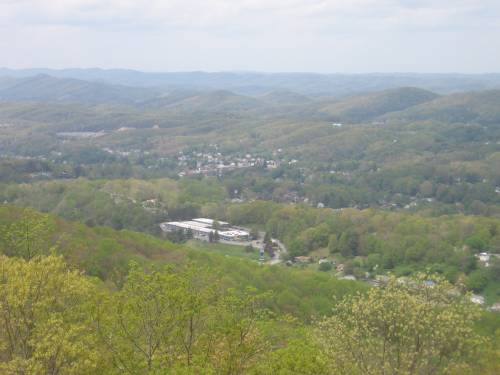 D: Now we're on top of East River Mountain once more, looking back towards Bluefield below. US 21 followed this route for its last four decades of existence in Mercer County, while US 52 followed it for four and a half. It is now signed as WV 598.
---
Fractional spur roads

Since US 21's near entire course in Mercer County was a concurrency with US 19, very few 21-prefixed fractional roads exist. The two sole exceptions are both entirely within Bluefield city limits, and neither is signed as a county road in the field:
| Road | Names | Start | Terminus | Length (km) | Notes |
| --- | --- | --- | --- | --- | --- |
| 21/1 | W. Cumberland Dr. | US 52 (former 21), Bluefield | dead end | 2 | Original 1930s assignment. End of road truncated due to construction of Corridor Q, 1977 |
| 21/2 | Leatherwood Ln. | College Ave., Bluefield | Tazewell County, Virginia state line, Bluefield | insignificant | |
---