WV 598
---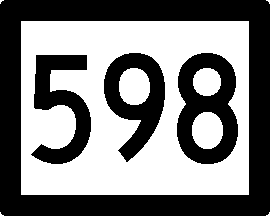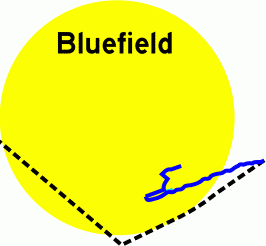 | Highway | Start | Terminus | Length (km) |
| --- | --- | --- | --- |
| WV 598 | US 52 (Bland Rd.), Bluefield | Bland County, Virginia state line south of Bluefield | 5 |
---
Overview
WV 598 is Mercer County's only overland connection to Bland County, Virginia. It came to exist in 1980 when US 52 was rerouted along WV 290 and through the East River Mountain Tunnel, necessitating its old route being "demoted" to a state highway.
The highway begins at the south end of US 52's course on Bland Road in Bluefield. After tracking westward on Cumberland Road a bit, 598 bears south on Washington Street, follows US 460 for a very short concurrency (necessitated by grading added for Corridor Q in the 1970s), then bears east for a climb of over 300 metres in elevation to the summit of East River Mountain. The road continues at the state line as a Virginia state highway, and works its way down the mountain's far face before ending at the US 52 exit just south of the East River Mountain Tunnel's Virginia portal.
The total combined distance of WV 598 and VA 598 is 11 kilometres.
Prehistory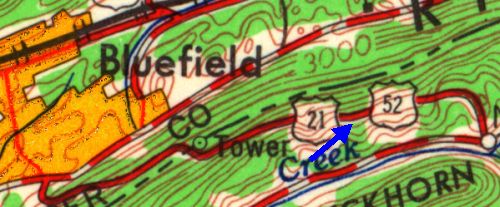 (USGS, 1957)
WV 598 and VA 598 follow the pre-1980 course of US 52 (as well as the pre-1974 course of US 21) for their entire route. The pass over East River Mountain was evidently built in the early 1930s, replacing an even hairier (and abandoned) 19th-century mountain pass slightly further east. This is discussed in greater detail on US 21.
Etymology
"598" is a bit of a numeric anomaly. Of the approximately 126 numbered West Virginia state highways that exist, only 51 have 3-digit numbers and less than half of those 51 have numbers above 300.
Since over half of the bypassed course of US 52 laid within Virginia, it's probable that the Virginia Department of Highways and Transportation had dibs over West Virginia when a new number was chosen. Consequently, Route 598 was numbered in accordance with Virginia's informal policy of assigning higher numbers to "lesser" roads. VA 600 and above are reserved for secondary highways, and VA 599 is unassigned. This leaves VA 598 as the highest-numbered primary state highway in Virginia.
---
Points of interest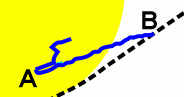 All photos by the author, 2013 (except as otherwise noted):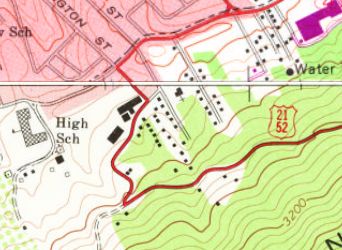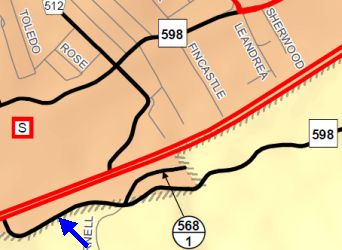 (USGS, 1977/79) (WVDOT, 2019)
A: Until the completion of US 460's Corridor Q bypass in 1977, US 52 took a more direct path from Washington Street to East River Mountain. The grading for US 460 necessitated the East River Mountain road gaining a westward jog (blue arrow) and a short concurrency along the newer highway. This happened shortly prior to WV 598 replacing US 52.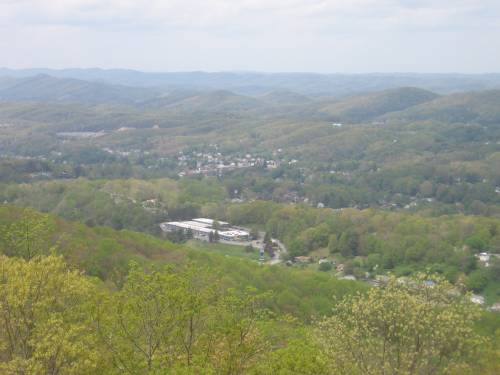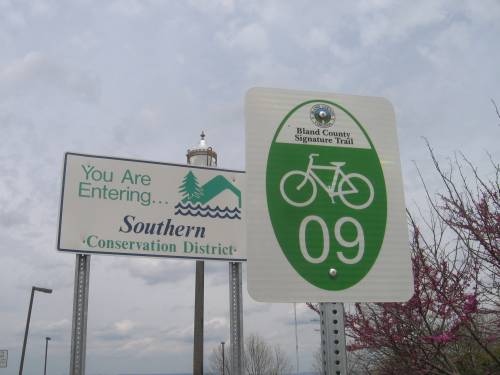 B: Immediately south of Bluefield, East River Mountain rises above the skyline dividing West Virginia from Virginia...and WV 598 traverses the mountainside to it summit more than 300 metres above the streets below. Though the tacky hilltop tourist attractions that once beckoned passerby on the state line are now gone, the views are still spectacular. The road is also signed on the Virginia side as a bicycle route...quite a surprise, since West Virginia and southwest Virginia highways have never been hospitable to cyclists. (Think: Steep uphill grades, no shoulders, no dedicated lanes, traffic zipping by around you at 80 km/h, all while douchebros in pickups are yelling homophobic epithets in your direction. I never was able to enjoy cycling much in West Virginia.)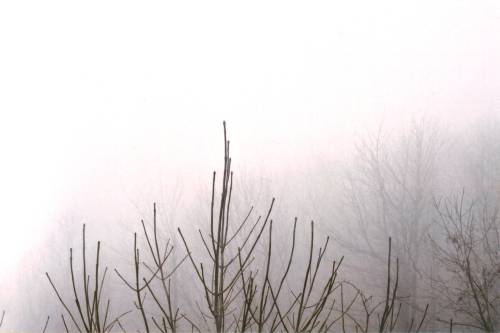 (Photo by the author, 2000.)
On an unlucky day, the view from WV 598 looks like...this. Fog rolls in easily and early at such high elevations, resulting in dangerously low visibility on a roadway strewn with switchbacks.
Many an unlucky traveller met a grimly demise on East River Mountain back in the pre-tunnel days...and the Virginia side of the mountain is still strewn with the wreckages of ancient cars that lost their way on the road.
---
Fractional spur roads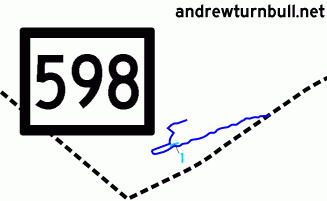 Because of WV 598's short history as a highway and the fact that the only "side roads" on East River Mountain amount to gravel access paths for radio antennas, only a single "598"-prefix fractional spur exists. It is not signed in the field.
| Road | Names | Start | Terminus | Length (km) | Notes |
| --- | --- | --- | --- | --- | --- |
| 598/1 | Parnell Rd. | WV 598 south of Bluefield | dead end | insignificant | Stub of old US 52 realigned by the construction of Corridor Q. |
---