It's important to note that through 1940, Wisconsin made no distinction between police vehicles and municipal vehicles not used in law enforcement: The hollow star shape was used on plates for both. Municipal plates from 1941 to 1948 can be identified by a diamond symbol placed before or after the number, while later examples are captioned as such. Plates were issued or validated annually until 1969; since then, two series of semipermanent bases have been issued. Oddly enough, Municipal plates are issued singly.

(at)3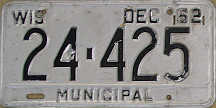 (at)4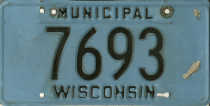 ca. 1972-77 (at)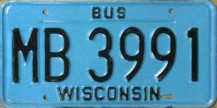 ca. 1972-77 bus (at)3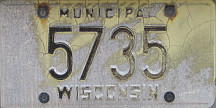 ca. 1989-94 (at)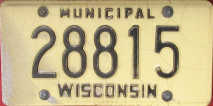 (at)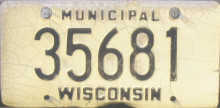 (at)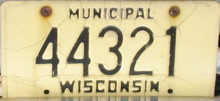 (at)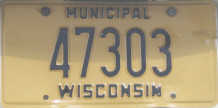 Changeover to narrow dies by 45689. (at)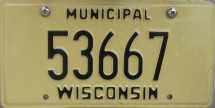 ca. 1994- (at)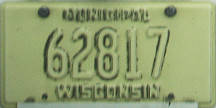 Must be Avery sheeting. (at)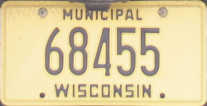 (at)

Cut down to size. (at)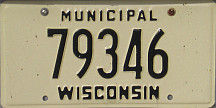 (at)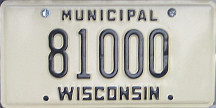 (at)
As previously stated, distinct "Official" plates for law enforcement vehicles date back no further than 1941: Earlier "hollow star" plates could be used on police and non-police vehicles equally. In spite of the distinction posed since, Official plates have consistently followed the same colors and replacement cycles as Municipal plates.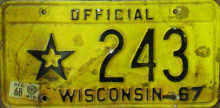 (at)3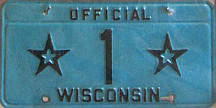 Governor Patrick Lucey's plate. (at)9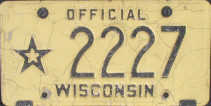 ca. 1989-94 (at)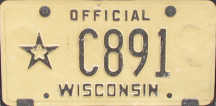 ca. 1994- (at)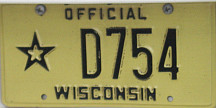 (at)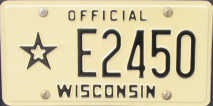 Series run up to 9999 from E on. (at)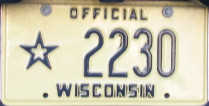 Remake (at)
Municipal motorcycles have long been issued numbers in the 4000 block. During the years of annual validation, these plates were identical in appearance to ordinary motorcycle plates with the exception of the 1967 issue; which featured a different, non-reflective color scheme. Unlike with municipal and official car plates, no distinction between plates issued to motorcycles for police and municipal non-police use is made.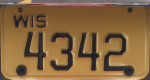 ca. 1989-2003 (at)
State Owned plates were (apparently) first issued in 1981. They have a distinctive reflective-red color scheme, and (like Municipal plates) are issued singly.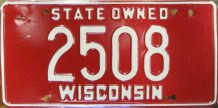 ca. 1981-84 (at)3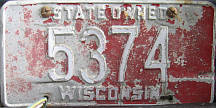 Ratty, but still in use. (at)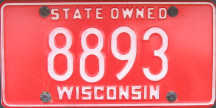 ca. 1984-87 - no slot (at)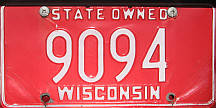 (at)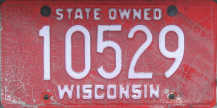 ca. 1987-94 - no border (at)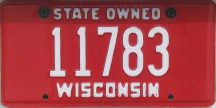 ca. 1994- (at)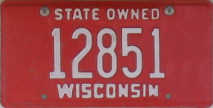 (at)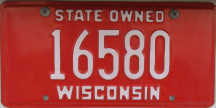 (at)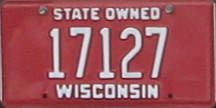 (at)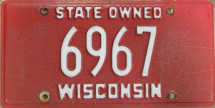 Remake (at)3
When the Wisconsin Motor Vehicle Department was created by legislative statute in September 1939, it was organized into three divisions dedicated respectively to registration and licensing, highway safety promotion, and inspection and enforcement on public highways. The lastmost division was the Wisconsin State Traffic Patrol, and initially involved a staff of 46 inspectors statewide.
Several different series of State Patrol plates have been issued over the years; with die variations. Since plate numbers are coded by district and are routinely recycled or remade, there are no clear cutoffs between varieties.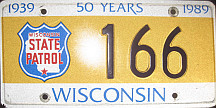 1989-94 (ME)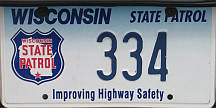 2000- (at)