WV 104
---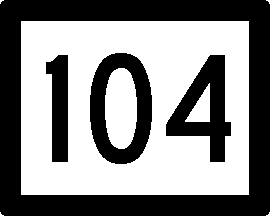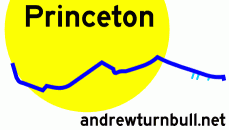 | Highway | Start | Terminus | Length (km) |
| --- | --- | --- | --- |
| WV 104 | WV 20, Princeton | US 460 east of Princeton | 6 |
---
Overview
West Virginia Route 104 is a local access road in Princeton, linking together several disparate commercial areas and bypassing the city's downtown. It was probably commissioned in 1978, when US 460's four-lane Corridor Q bypass opened south of the city. However, only a portion of WV 104 is a former alignment of US 460.
The highway has five distinct segments, all of which were cobbled together from pre-existing roads or various streets:

Oakvale Road (1.7 km). This portion is a pre-1978 alignment of US 460 (as well as US 219, and WV 24 if you turn back the clock far enough), running westward from US 460's current alignment to the WV 20 crossroads at the eastern edge of Princeton's city limits. Because of its proximity to I-77 and the West Virginia Turnpike, the east end of this road has seen a disproportionate number of restaurants, gas stations, and motels materialize over the last 40 years.
Rogers Street (1.1 km). This segment passes under the Virginian railroad trestle and ends at Brush Creek. The area it passes through is primarily industrial.
Brick Street (400 m). This is the shortest segment, and is interesting mainly for the fact that it featured a railroad grade crossing until the 1980s.
Stafford Drive (1.5 km). A three-lane concourse built in the late 1960s and early 1970s as an extension of Lazenby Avenue. Stafford Drive was nepotistically named in 1972 after Jack Stafford, Assistant State Highway Commissioner of the time. It features Princeton's longest continuous strip of retail stores and restaurants as well as its first shopping centre, which opened in 1969.
Morrison Drive (1.1 km). WV 104's westernmost segment, built in the 1970s on the site of the former Princeton Airport. Morrison Drive provides access to Princeton Community Hospital (birthplace of the author), and terminates at WV 20 on Princeton's western edge.
WV 104 touches WV 20 at two points in its course.
Prehistory
Being an "urban" highway, the history of WV 104 is tied to the outgrowth of Princeton's commercial development and street grid:
Oakvale Road, of course, is the former route of US 460, US 219, and WV 24. The general course of the road was already in place by 1924, though that course featured a number of curves that were straightened out either in or after the 1930s.
Rogers Street was briefly classified as CR 219/11 in the 1940s. Both it and Brick Street first appeared on maps by the early 1920s.
Though Stafford Drive wasn't completed until 1972, its two easternmost blocks were already in place by 1913...meaning that they're the single oldest portion of the highway!
Morrison Drive also hails from the 1970s, and once again it has the distinction of being built on the grounds of a former airport. Its leg north of the hospital, though, was built over a pre-existing street.
Etymology
"104" appears to have been arbitrarily selected as a number. It also runs afoul of the state's "even = north-south" rule, so it's doubtful that WVDH put much thought into it.
---
Points of interest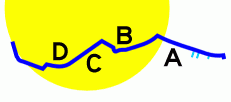 All photos by the author, 2013 (except as otherwise noted):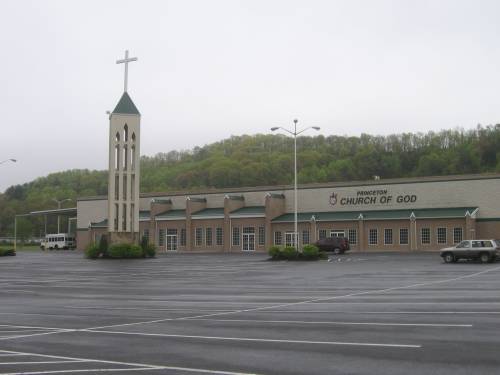 A: Is this Six Flags Over Jesus? In the 1990s, this fugly box was a Lowe's home improvement warehouse store. Now, it's a freaking church...that just happens to have a freaking lumber loading dock on the side. It also spans a dozen acres, all of it exempt from taxes.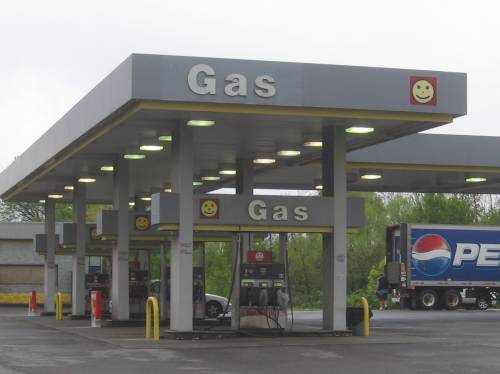 B: Is this a Shell gas station? No, it's a generic gas station with smiley faces mounted where the Shell signs used to be. It's been like this for over 20 years.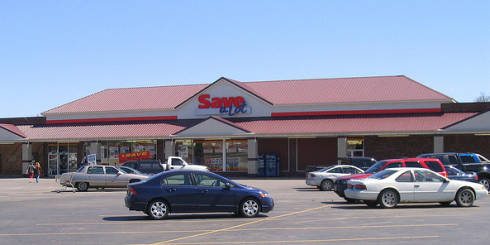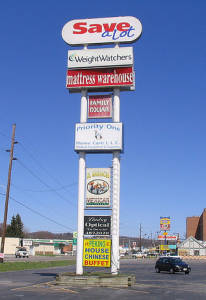 C: Development of the Stafford Drive strip began in earnest with the construction of the Princeton Shopping Center in the late 1960s. The plaza was initially anchored by A&P, who opened one of their characteristic "early American"-style stores in September 1969. A&P closed in December 1981 when the chain withdrew from southern West Virginia, and the building has housed a revolving door of other grocers since. (Photos by the author, 2009.)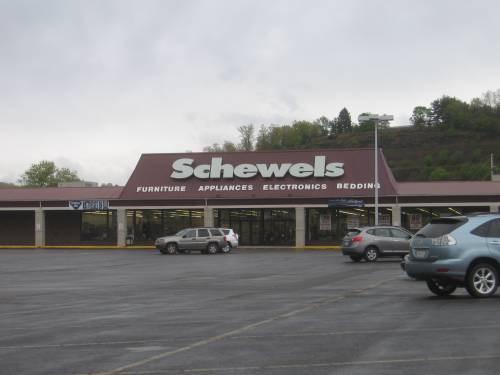 In 1976 the Princeton Shopping Center expanded with the addition of a Heck's department store, housed in the building you see here.
Heck's was a West Virginia-based discount chain that thrived in the 1970s, foundered in the 1980s, and liquidated its assets by the start of the 1990s. At some point along the way, the remnants of the chain were sold to the owners of Jordache Enterprises (yes, that Jordache), who rebranded the stores under the fanciful name of L.A. Joe...just before they shut down for good.
Am I the only one who remembers this? Maybe so...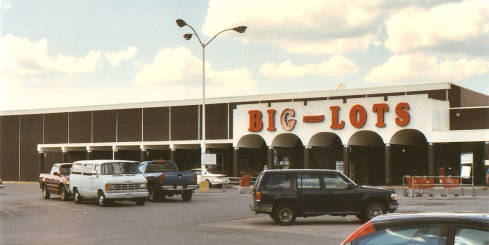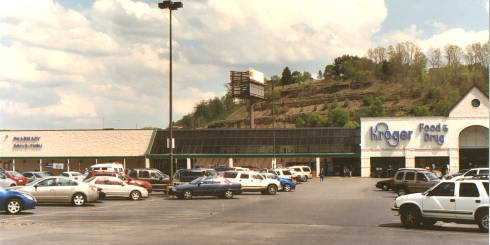 D: Not to be outdone, A&P's arch-rival Kroger followed in the footsteps of its New Jersey competitor by relocating its Princeton store to Stafford Drive in January 1977. The initial "Superstore" was short-lived, as the company jumped ship to a new new store with undue haste in February 1985. This is currently the only Kroger supermarket left in the county. (Photos by the author, 2008.)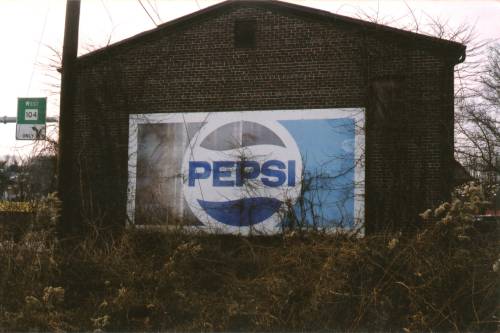 I don't know what purpose this Pepsi-hawking building once served, but it was old, and it was a landmark of Stafford's west end for many years. It's gone now. Note the overhead sign in the background directing WV 104 traffic to Morrison Drive. (Photo by the author, 2000.)
---
Fractional spur roads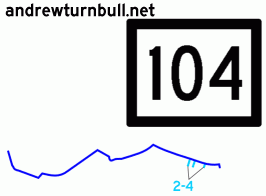 Few "104"-prefix fractional roads exist. Most of WV 104 is either within city limits (where county highways are superfluous), or was formerly part of US 219 (resulting in "219"-prefix numbers).
| Road | Names | Start | Terminus | Length (km) | Notes |
| --- | --- | --- | --- | --- | --- |
| 104/1 | (unknown) | | | | |
| 104/2 | Greenback Ave. | WV 104 | dead end | insignificant | |
| 104/3 | Island St. | WV 104 | dead end | insignificant | Missigned as 219/20 |
| 104/4 | Vine St. | WV 104 | dead end | insignificant | |
---