Do you want to feel old? Then just remember that Back to the Future Part II was set in the present day. Still want to go on? Well, then let's talk about this car.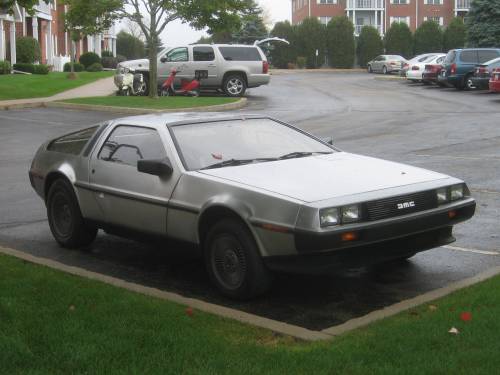 The tale of the DeLorean is a tale that's been told time upon time before and interwoven with plenty of soap-opera woe. John DeLorean, of course, is the name of the man behind it; an auto executive known for his flamboyant demeanor and his track record at General Motors. He left GM in 1973, subsequently dictating his thoughts to Patrick Wright for a scathing memoir of the corporate works thereof. The book was littered with references to an "ethical sports car."
It's debatable how ethical a person DeLorean was (his reputation was one of a con man by the end); but in the short term, he produced results. DeLorean somehow drummed up millions of dollars from friends and celebrities to bankroll his Motor Company through a convoluted web of holding companies. He somehow got a plant to be built in Northern Ireland; showering himself in subsidies while the Troubles raged. He somehow convinced the world's top designers (Giorgetto Giugiaro and Colin Chapman) to assist with his car. And he was able to fill the feature list with cynical gimmicks designed to make people swoon over what could have otherwise been an orthodox automobile: A rear-engined layout; gullwing doors; wheels that were smaller frontward than back. You could order a DeLorean in any color that you liked, as long as it was unpainted stainless steel: Impossible to rust, impossible to repair, impossible to clean.
Of course, that was just on the outside. What engine was to be used within? Various options like a rotary were tabled, then the Peugeot-Renault-Volvo (PRV) V6 was hastily plucked off the shelf and stuffed in the engine bay after other plans fell through. The power it provided was probably adequate, but it didn't offer sports-car performance to match the looks and was disturbingly trouble-prone. (You might think that anything with "Volvo" in the name would be as reliable as a brick, but there's a reason why you never see 260s or early 760s on the road any more.)
After five years of gestation, the DeLorean DMC-12 (as it was called) finally went on sale in January 1981. And the DeLorean did debut with a bang...but it was expensive, unreliable, and hardly quick. The American economy plunged into recession the same year, and people who could have bought the cars weren't biting any more. Sales forecasts were so optimistic and emotions were running so high that the company was ill-prepared for the ill situation to come.
By the dawn of 1982, cars were sitting unsold and the DeLorean company was bleeding red. A stock issue was halted; the company entered receivership, then shut down entirely. John DeLorean resorted to becoming involved in a cocaine smuggling conspiracy as a last-ditch effort to save his company, but was arrested in a sting. With the company gone, the remaining cars and parts were shipped to Ohio and sold as closeouts by the corporate parent of Big Lots. You can't make this shit up if you try.
Which brings us up to Back to the Future, and an important question: How much of the car's popular fame and enduring appeal was due solely to its exposure in the film series? If Christopher Lloyd had never driven one on the screen, would the DMC-12 have endured in the popular consciousness at all?
In one word: No. One needs only look at the DeLorean's 1970s gullwing forebear, the Bricklin SV-1, to have a sense of what would have happened in a slightly different reality. Though similar to the DeLorean in many ways (concept and corporate malfeasance alike), the Bricklin has languished in obscurity and never really achieved the same status as a pop icon.
Besides the movie connection, was there anything good about the DeLorean at all? In one word: Yes. Cars can have emotional appeal, and the DMC-12 is no exception.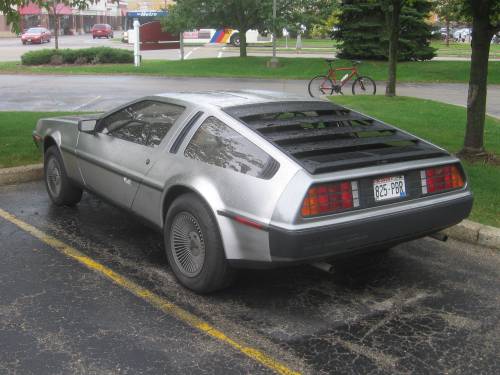 The DeLorean looks good. There, I said it. It's sleek, and its styling perfectly epitomizes the technological optimism of the 1970s and 1980s. The rear end is especially evocative, with a steeply-raked window and massive rump punctuated by bold cubed taillights that glow like afterburners. It looks fast, its profile is like nothing else on the road, and it looks like it means business.
Not all the goodness is on the outside, either: The interior features clear gauges, ergonomic dashboard controls, surprisingly contemporary-looking seats trimmed in cushy gray leather, and lots of legroom.
The DeLorean was durable. Stainless steel doesn't easily rust, and about three-quarters of the DMC-12's total production run survives. Parts are still available, and the reliability and assembly problems that struck the DMC-12 as new cars have long been weeded out and fixed by enterprising owners. (Speaking of new cars, you can actually buy a "new" DeLorean today refurbished from new-old stock parts.)
And frankly, it's not that bad a performer, either.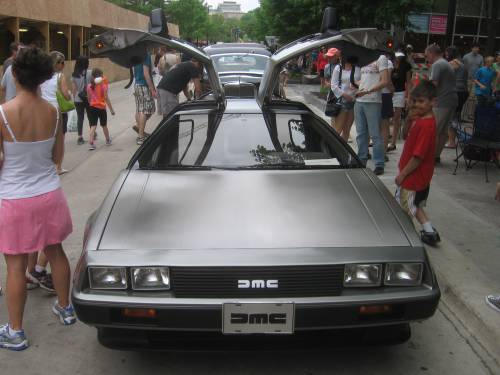 I spotted both of these cars locally around Madison: One in the wild, and one at a car show. (They might actually be pictures of the same car in two different places, though without having the ability to compare license plates or serials it'd be impossible to know for sure.)
The DeLorean is undoubtedly an automobile with enduring appeal. It resonates with me, and I don't even like the Back to the Future films.