While I debate whether or not I'll muster the patience to attend a local license plate meet again, here are some glimpses into the meat and matter of last weekend's event: The displays!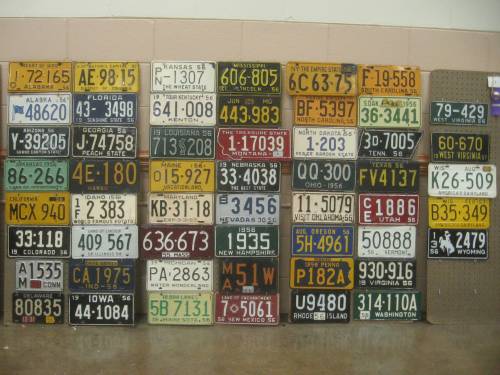 One of the largest things on display was this 53-piece U.S. passenger run from 1956; the twilight era of inconsistent shapes and sizes. But there were 48 states in 1956: Where did the five extras come from? Alaska and Hawaii were both included in the run in spite of their territorial status, as was the District of Columbia (which ought to be a state, but which may never be). And West Virginia and Wisconsin were represented by two plates apiece because each design saw an equal amount of use during 1956. (Nevada could have been represented by two plates as well, but you can't win 'em all.)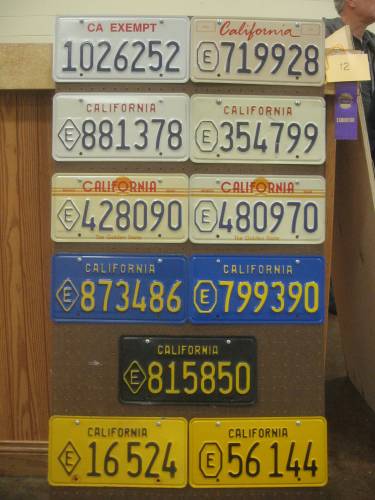 California exempt plates of the last 60 years, in both state (diamond-E) and local government (octagon-E) varieties. The numeric progression of these is rather haphazard, with serials in the 1980s and 1990s jumping between high and low serial blocks at random.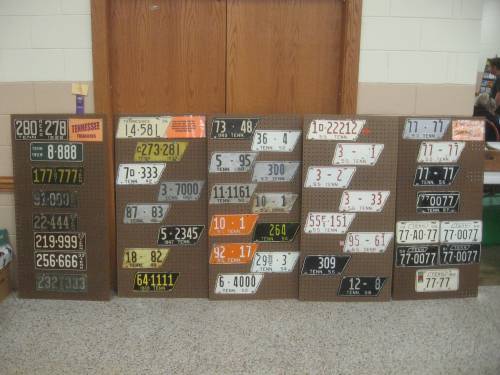 A Tennessee run spanning years from 1926 to 1965; including a good sampling of the 21-year span of state-shaped plates: Good luck finding one of those that hasn't been priced in solid gold by now.
The most interesting portion of the display was the rightmost panel, which was a series of symmetrical plates belonging to a motorist from Overton County (#77) who evidently had connections! Tennessee used both county and weight class coding in this era and changed systems frequently; witnessed in the fact that the guy's number morphed from 77-77 in 1953-56 to 77-0077 in 1957 to 77-A0-77 in 1958, back to 77-0077 in 1959-61, and full circle to 77-77 again for 1962-65.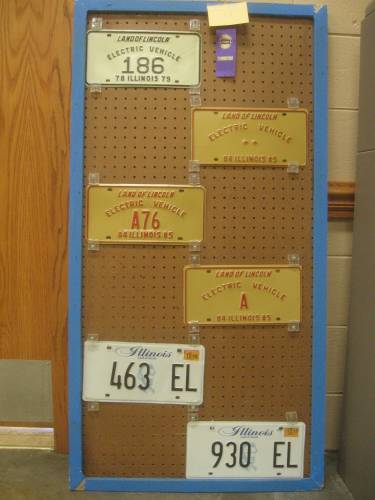 What people collect demonstrates the type of people that they are, and I'd theoretically like to collect these...but Electric Vehicle plates are more difficult than hen's teeth to get; even if you live in Illinois and own an electric car.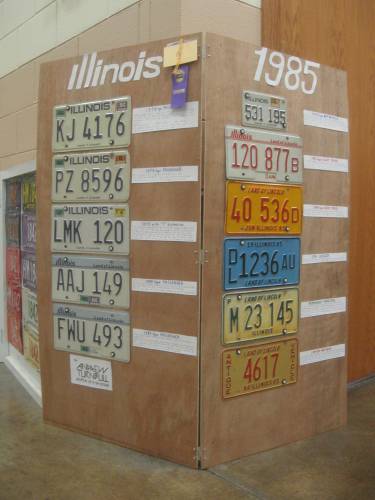 Last but not least, here's my display! The two panels were split thematically, with the left side expounding upon the idiosyncrasies of the passenger plates of 1985, and the right side cutting a swath across the non-passenger color schemes of the year. It didn't win an award, but I was happy about the way it came together.
In the future, I'd like to assemble a larger display. But I'm limited by the materials I'm easily able to find, and the length of what can fit in the back of my car. Are there any suggestions or good construction ideas out there?