My license plate collecting interest waxes, wanes, and shifts. I find it impossible to be enthusiastic about the license plates of a state unless I'm enthusiastic about the state...and any last vestige of enthusiasm for Wisconsin was torched and burned when my adversaries spent three times handing the state to Governor Voldemort for the kill.
It had been a very long time since I had last attended a regional plate meet...since September 2014, to be precise. But when an invitation appeared on the license plate collectors' listserv to attend "the largest MAPA meet ever" in the northern Illinois map-speck of Peotone, I figured...why not? After all, it would be a chance to get out of town, showcase a display, be around people with similar interests, and find a few things for the themed runs I've been trying to put together. Right?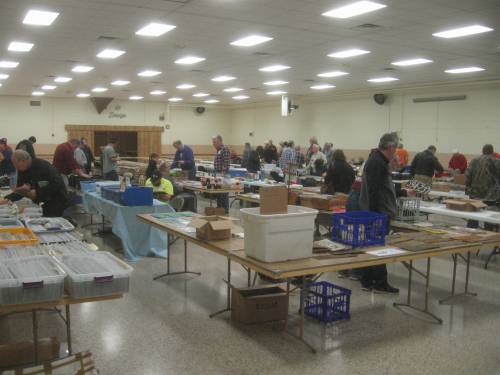 I pulled myself out of bed at a ridiculous hour (4:20 in the morning) and pointed the car in a direction somewhere between Chicago and Kankakee. The temperature hovered around the zero mark (in the sensible Celsius system), with no snow visible until I was south of the Windy City. After three and a half hours, I was there...just in time to find people rushing into the building and snapping up all the closest tables before the "official" 8 a.m. opening time had even begun.
I lugged my two-panel display out of the back of the car and set it upright so that I could free my hands and fetch something else. Suddenly there was a gust of wind, and...CRASH! The display landed face-down on the pavement. Fortunately the license plates on it were little-damaged, suggesting that my decision to overbuild the display with thick rubber washers and protruding sheet-metal screws wasn't in vain.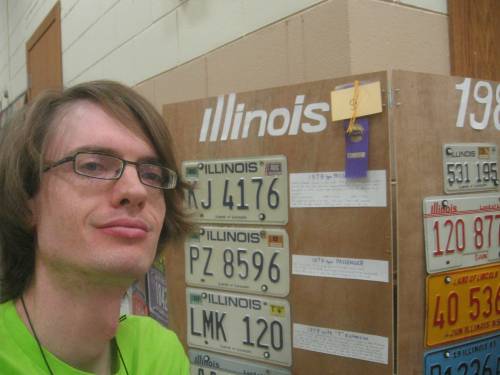 To make myself easier to spot, I had dressed in a bright green T-shirt and bright green shoelaces. I wound up back-to-back with Roy Michalik, a collector from Michigan who outdid me in both wardrobe (his was a bright pink T-shirt) and travel distance. A third collector admitted to actually driving overnight to get to Illinois from Virginia; a sleepless shot from 6 p.m. to 6 a.m. It wasn't fun getting up at 4:20 in the morning, but the tenacity that other collectors have in getting to their destinations continually surprises me.
What else went on? I was able to plug the most embarrassing hole in my Marriage Equality Run (Illinois) and found a few ancillary things to work into the birthyear collection. I was tormented by an equal number of near misses; including Nebraska and Ohio plates with expirations one month off from the DOMA strike-down of June 2015 and an Iowa that was three off from containing my ALPCA number. Unfortunately, close only counts in horseshoes. It only took an hour for me to comb through all the tables and traders ("largest meet" pronouncements notwithstanding), and by lunchtime, it was over.
The silver lining of the day? I actually sold license plates at this meet; enough of them to more than offset my admission fee and travel expenses. I don't know if I'll come back to Peotone, but maybe I should dress in bright green more often.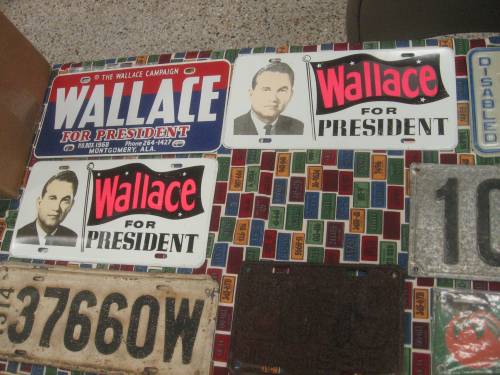 While I was there, one attendee went on a minute-long rant about her contempt for the poor and how much she hated the homeless and jobless people who beg for food on the streets of her city in Wisconsin: It's people like her who vote for Walker, applaud his sadistic food-stamp cuts, and measure the worth of politicians by the amount of cruelty they can inflict on "undesirable" demographics. A second collector made the point of sticking a "NOBAMA" bumper sticker prominently to the side of his trade box...a personal affront, considering that the target of his vitriol has done more to support my health and civil rights as a queer guy than any president in history. A third person was selling memorabilia from the 1968 presidential campaign of George Wallace...the opportunistic Alabama asshole responsible for the quote "segregation today, segregation tomorrow, segregation forever."
Multiple cars in the parking lot were bearing obnoxious license plates emblazoned with the exclusionary "In God We Trust" slogan; whether from Indiana, Missouri, or my unwilling home state of Wisconsin. There were no Confederate flags this time, but just about all the other squares on my "angry white Christian bigot" bingo card were filled in by the end of the event.
With an atmosphere like this, I question why I bother being involved in the license plate collecting community at all.