The final day of the ALPCA convention always feels like a downer: Collectors pack up and move out, and an air of finality lingers in the air. It wasn't all bad news, though, since it was a time for awards.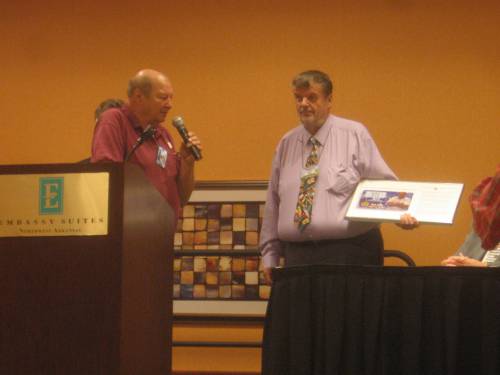 Morning ceremonies began with two new inductions into the group's Hall of Fame. First on the list was Dick Pack...a forty-year veteran of ALPCA who also helped establish the Illinois-based Mid-America Plate Association chapter in the 1970s.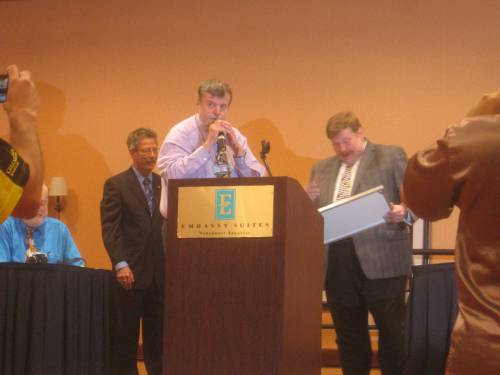 Mike Naughton, a longtime ALPCA president and officer (and another Illinois MAPA luminary) was second on the list. There have been a total of 31 inductions since the Hall of Fame was established in 2004, both living and posthumous.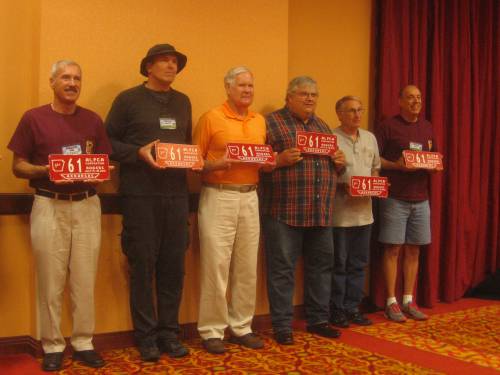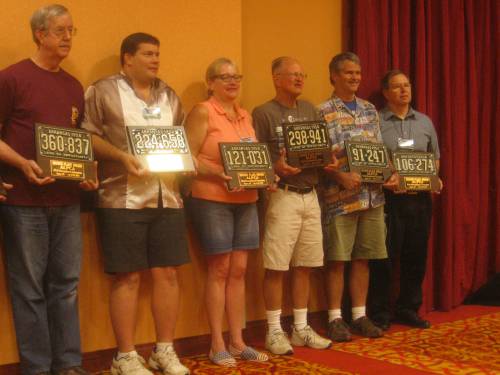 Next came the display awards. First-place winners received an attractive porcelain-enamel souvenir styled similarly to a 1938 Arkansas license plate, while second-place winners received plaques with actual 1954 Arkansas plates mounted to them. 1954 was the founding year of ALPCA, making this the 61st club convention.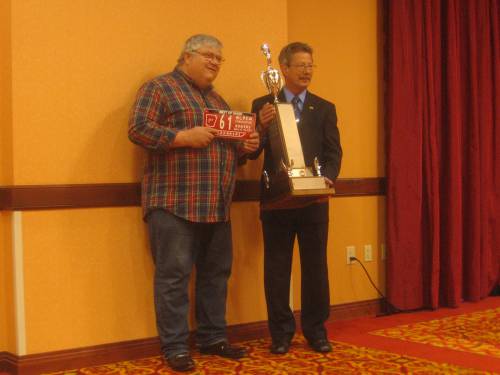 Oh, and there was one more prize: The "Best of Show" award which, like the Stanley Cup, is a traveling trophy for super-duper achievements ordinarily unattainable by mortal men. By no one's surprise, it went to Gus Oliver. (Maybe the judges liked the NASCAR cut-outs after all.)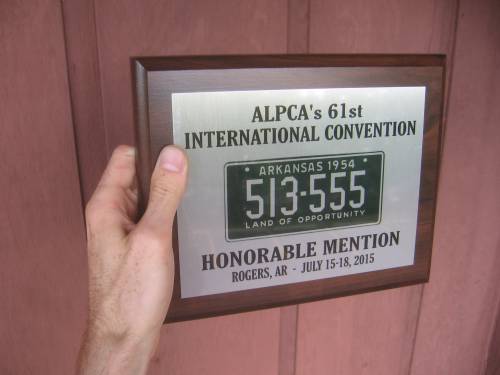 As for yours truly? My eyes and ears were directed to the stage, waiting and burning with anticipation...until suddenly, I heard the words "Andrew Turnbull" be called. My display (or more precisely, the "Canada in the Year 1985" portion) won a third-place prize: "Honorable Mention," in ALPCA-speak. Even so, I was excited: This was the first very time I had ever received an award for a license plate display in the nine years I've been attending hobbyist meets and conventions, and it was a perfect way to crown the week.
The main convention hall reopened at 10 a.m., but the scene was decidedly sleepier than it had been the previous three days: A fair number of collectors had picked up their tables the evening before, others were hurriedly spending the next morning doing the same, and there was very little left to see. After making one final round of the hall to make sure I left no stone unturned and bidding a final adieu to a few other collectors, I bowed out at high noon and set off on the long drive home...where I would receive more unexpected excitement on the road.
But that's a story for another day.