Now that I've recouped some strength, what better way is there to wrap up the last weekend than to discuss the things I found? Most are tangentially related to my birthyear run, which is starting to spiral out of control.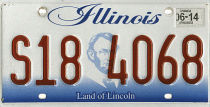 As I alluded to earlier, I plugged the most embarrassing hole in my marriage equality run—Illinois—at the Peotone meet. Whether or not I'll actually finish the run in time to exhibit it this summer in Mike Pence's RFRA-cursed state is anyone's guess, but I can try...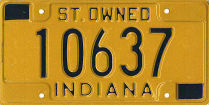 And speaking of Indiana, here's a gold-colored plate intended for use on state-owned vehicles. I'm not entirely sure when this plate would have been manufactured or used; though the squared corners would appear to indicate 1973 or later. Most Indiana plates until the 1990s were made of steel; however these were aluminum as they were intended for long-term use.
I've long wondered why Indiana embossed painted rectangles in the corners of its plates for many years. It's one of the peculiar design idiosyncrasies of the midwest; alongside ideological rival Wisconsin's extraneous slots and grooves.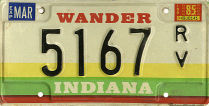 I believe that RV plates were the only Indiana non-passenger plates of the 1980s that were revalidated with stickers instead of being wastefully replaced every year. As if to reinforce the fact that there was something out of the ordinary going on, the sticker on this plate is yellow on red...a different color scheme from the passenger stickers of 1985, which were black.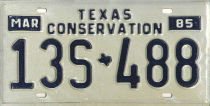 Texas is one of those states that quietly issue dozens of arcane non-passenger classifications for every type of vehicle use imaginable. These annual "conservation" plates certainly fit that bill, and they were reportedly issued to soil conservation machinery. But it's more fun to imagine it hanging on the back of a Citicar or some other Texas-stereotype-defying transportation appliance.
I doubt more than a limited number of these were ever issued at any one time, and this specimen is in unused condition.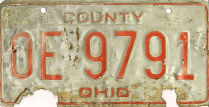 Another worthy subject for the "interesting non-pass" category: An Ohio county vehicle plate that was likely issued in the 1970s, but still in use in 1985. Horrible shape; but for a dollar, I couldn't lose.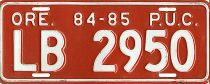 I also decided to get one of those Oregon PUC permits that were once ubiquitous on the front of big rigs. 1984-85 was the last biannual issue and the last low-profile plate; measuring precisely 12 by 30.5 centimeters in dimension.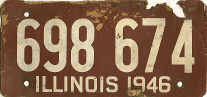 My most surprising find of the day was another deal in a dollar box, surrounded by uninspiring 1960s and 1970s scrap-metal fare: A 1946 Illinois fiberboard plate, made out of a soybean composition precipitated by World War II-era metal rationing concerns. Legend and lore has it that goats and other farm animals used to eat these off the bumpers, so maybe I should be content that this one has only a slight bite...
That's all for now, but there will be more someday.